The Virgin Experience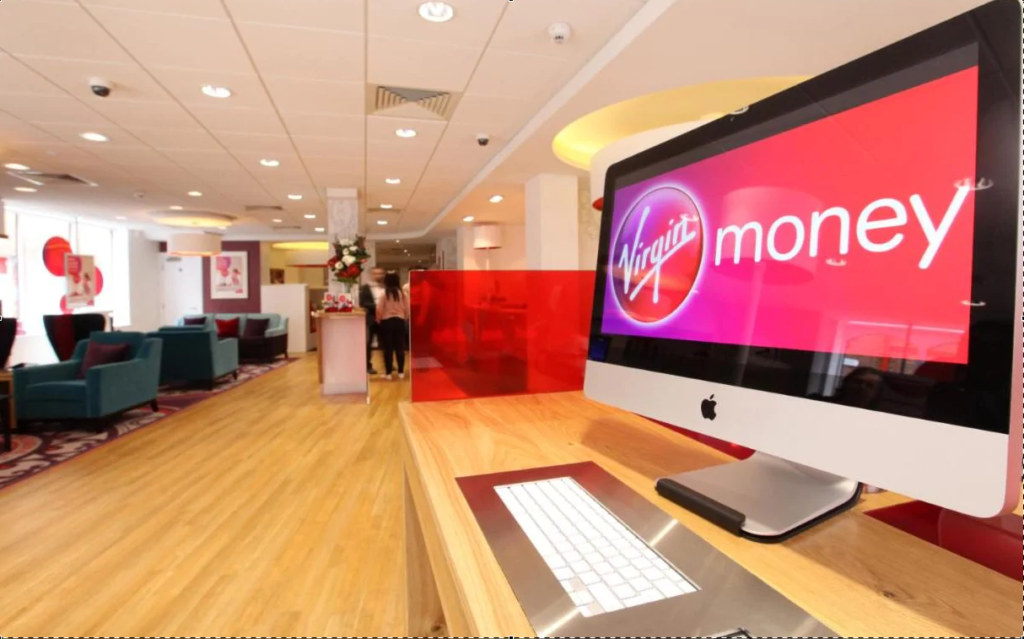 Losing my virginity at sixty eight.
I have decided, at sixty eight, to lose my virginity. It will be tough given that I have been involved in a deeply satisfying relationship for fifty years with a partner who once lent me enough money to buy a house and pays many of my bills. But the time has come.
You see I first joined the Clydesdale Bank when I was around eighteen. It was a pleasant experience. My bank manager invited me into a quiet room and explained all the processes. Even although I was young he called me Mr Macleod and said that if I ever needed impartial advice on money matters he would give it to me for free and in confidence. Then we had tea, discussed the weather, and he wished me well in my career in teaching.
Recently I went down to my bank to see his successor. I needed a small overdraft for a month.
At first I thought  the bank had moved. There was no sign of my bank's name – The Clydesdale-  and all the staff, who used to wear suits and looked happy enough, were now being forced to dress as if they were going to a basket ball game in California in May – in tee shirts and plimsolls. I didn't have to ask them if they were happy. It was February in Scotland. Minus eight.
Some of the furniture had changed. There was what looked like the seating for a baseball game. A girl of about eighteen came up and asked me what I wanted. I said I wanted to go to the bank. This is the bank she replied. Oh, I said.
I explained I would like a small overdraft. Oh no we don't do that here. She responded, as if I had lost my mind.
You will have to phone someone else. You can use our phone. Oh, I said. When I picked up the phone a voice said that my call to the someone I didn't know would be recorded for training and security purposes. Now I have been happily offering my confidential calls to the bank for some years for their training purposes, but you do wonder  how much recorded data they are going to need to write their training manuals.Maybe I should mock a heart attack to give them more material to work with, the Clydesdale has given me excellent service for over half a century. It would be nice to give something back.  Actually after twenty minutes waiting in the telephone queue I almost didn't have to mock that heart attack. I think it was the piped music . I do wish they would pipe it somewhere else.
The lady at the other end of the line, who sounded almost suicidal and who could blame her, called me by a Christian name that I have never used. I've told them this many times. So much for training. Or indeed emotional security.
As Ieft the bank I noticed that there were two signs up in the window ( I promise this is true ) one said that the bank opened at nine and the other said it opened at ten, I asked one of the basket ball dressed people why this was and he explained that the bank were legally obliged to put up a sign in the window  saying they opened at nine during the time when they weren't opening at ten.I asked him to explain why and he said exactly the same thing again, only a little louder.
I tried to discuss the weather and my teaching career, but he just looked a little nervous.
The next day my new bank card arrived and with it a leaflet saying I was to say Hi to it and that it would give me total control. It was red and announced in lurid graphics that I was a virgin, it's a piece of plastic I now have to present several times a day to various strangers. I shall resist smiling sheepishly. When I next opened my computer an email invited me to report on my banking experience and then asked a number of questions whose primary purpose seemed to be to ensure that I couldn't report on my banking experience, whilst a computerised report will probably one day imply that I had.
Now I recognise that we live in rapidly changing times and that all these changes are probably a result of a number of marketing exercises and focus groups, but I do wonder who attends these things. I mean are there really people who suggest that it might be a good idea to have piped music, to have basket ball seating, and to call old men by their Christian names, particularly ones they don't use?
So now, after a warm and helpful relationship with my bank for fifty years I have decided to lose my virginity.
Because I am indeed in  control and this is my report on my banking experience.