Poo, Pee and Silliness
For the past year I have been the only woman in the UK with a weekly political cartoon slot. I feel very privileged to have had this opportunity with Bella Caledonia (see all of Lorna's cartoons here – Ed). As newspaper sales have plummeted further I kept a steady routine, my work strengthened and my cartoons were viewed and shared more times on line than ever before. I had a couple of cartoons published in the Guardian and one for the Independent. I drew long Covid zombies before the media or government recognised it as a condition and I broke records with the volume of comments and discussions I provoked. Trust my career to suddenly improve just as the whole of civilisation is on the brink of destruction!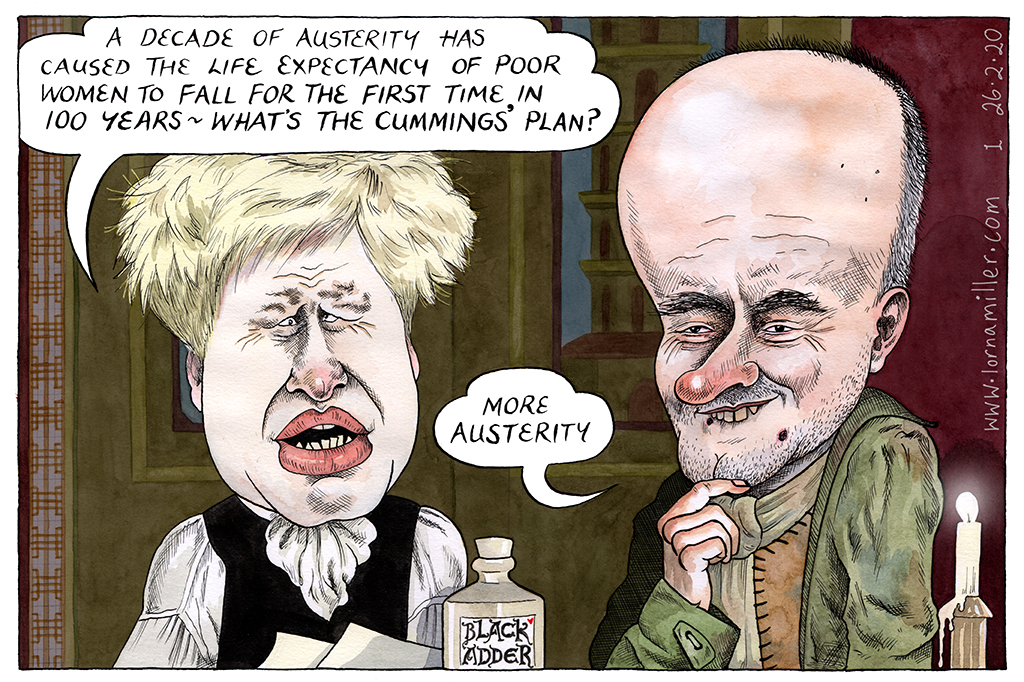 During the first lockdown I watched a documentary about Aubrey Beardsley and cried. When I lived in Brighton in the '90s I discovered a blue plaque in the next street marking his birthplace: 31 Buckingham Road. The building was directly behind mine with overgrown gardens between us. I put a candle on my desk and while I laboured long, solitary hours on my trade paperback, I imagined him leaning over me, watching my progress. I felt a comforting connection with our love for the magical inkpot and the endless possibilities when the dip pen glides across the surface of the paper. Known for his grotesque, decadent and erotic work he suffered with his health. He had the title "Master of Line": I took the name "Mistress of Line". I was 25 when I discovered him: he was 25 when he died of tuberculosis. As I watched the beginning, middle and end of his life, I hoped I wasn't facing a similar, premature fate.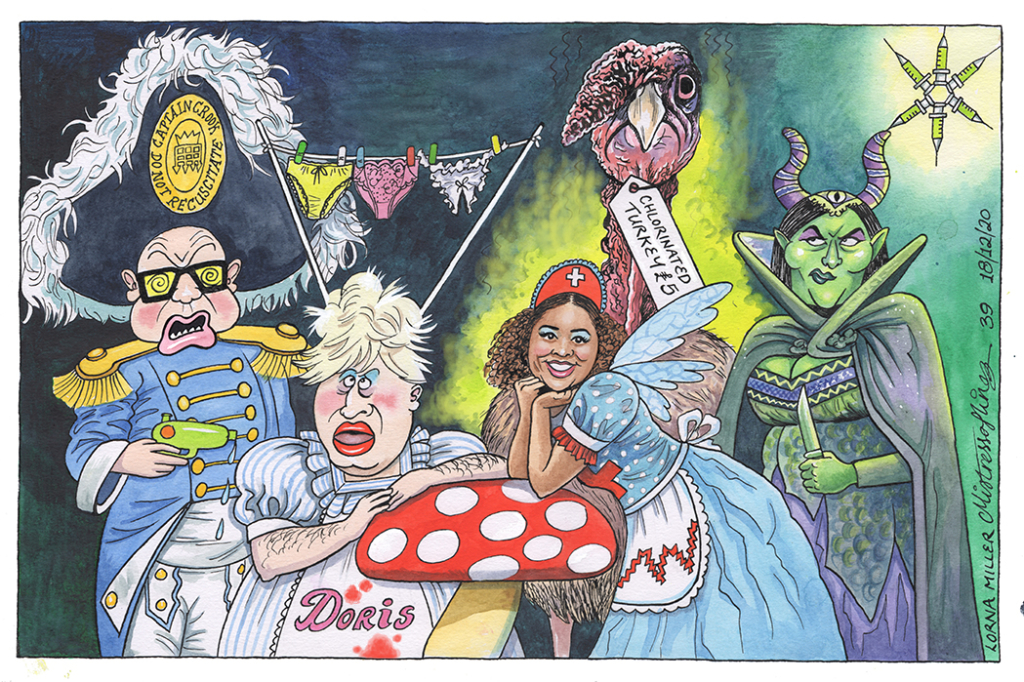 Artists need a safe, secure environment to have free expression. During what felt like the worst year of my life (and I've had some pretty dire ones) I delved further into comical repulsiveness. I invented ridiculous imagery to amuse myself: like the knickers on the head of permanent pyjama wearing Boris. The pants appeared in a variety of colours, styles and configurations as the weeks dragged on, eventually with added cigar shoved in his gusseted gob. When I did the cartoon for the Guardian in the summer I was amazed the white stains on his pyjama bottoms made it to print. In my cartoons he existed in a permanent viral cloud, long after his miraculous recovery.
In spite of the popularity of the medium, cartoonists are an easily disposed of commodity, especially in recent years. In 2018, while Trump's obnoxious tweets bypassed traditional media to settle scores, spread false claims and fan the flames of hatred to millions, Pulitzer Prize winning cartoonist Rob Rogers was sacked from the Pittsburgh Post-Gazette, after a 24 year career, for drawings criticising Trump. This Orwellian move made news in the US and UK and created heated threads on social media. Outraged and disturbed cartoonists and journalists recognised the existential threat to all freedom of expression and the sinister implications of this. The next day it was forgotten about and the slightly more draconian world kept on turning.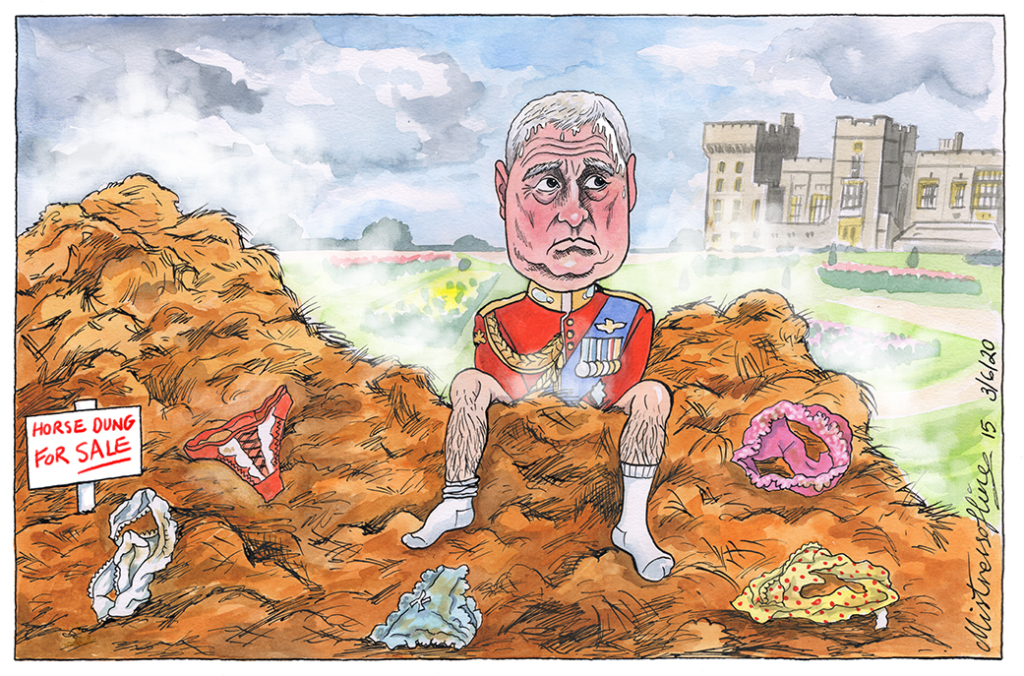 Scotland went through a cartoonist cull in 2015 but no one noticed. We lost Brian Adcock from the Scotsman, Iain Green in the Scotland on Sunday and Frank Boyle in the Edinburgh Evening News. Rob Rogers' misfortune led to a book publication collection of his work and an exhibition at George Washington University, in Washington D.C. The newly titled "Enemy of the People", fired for his work, was firing back and had a good chance to make a decent income from it. The best I can hope for is selling a few postcards in a market for a tenner. Except those markets don't exist now either. I'm also a single mum, which during the pandemic has become a full time job in itself.
Political cartoons are a form of mass communication, a farce that is a potent force in moulding public opinion, understood and enjoyed by the literate and semi-literate alike; they bulldoze through social and educational barriers. With independent, online platforms like Bella Caledonia they are freely available and accessible to all. During the worst crisis to hit the UK since wartime, with thousands of lives lost due to incompetence and corruption, we have a smirking, blundering Prime Minister, with a toilet brush hairstyle who has become a parody of himself. Yet, around the world, it is the cartoonists who face the threat of loss of work, imprisonment or death.
In his Opinion piece, after the Charlie Hebdo attacks, Guardian Cartoonist Martin Rowson stated: "…there appears to be something exquisitely intolerable to the serious mind about mockery when it is visual. Largely this is due to the way the visual is consumed: rather than nibbling your way through text, however incendiary, a cartoon floods the eyes and gets swallowed whole – and often makes the recipient choke. Worse, cartoons should be seen more as a kind of sympathetic magic than anything else: we steal our subjects' souls by recreating them through caricature and then mock them in narratives of our own devising. Worst of all, we then pretend that it's all just a good-natured laugh: it is a laugh, but it's also assassination without the blood."
Amid the horrific, Stalinist purges – when a number of my Lithuanian freedom fighting relatives lost their lives in the Siberian gulags – a disabled, exiled teacher wrote a doctoral thesis about Laughter titled Rabelais and His World. Mikhail Bakhtin (1895 – 1975) studied the tradition of Carnival: celebrations of the grotesque, irreverent humour and excess indulgences that turn the hierarchical structures of society upside down. When people come together at Carnival, they are part of a whole with a common theme and connection. The individual sense of self is forgotten. Costume and mask wearing creates a transcendence of the roles we often can't escape. It is a creative form of renewal and revival and a rebellion against authority.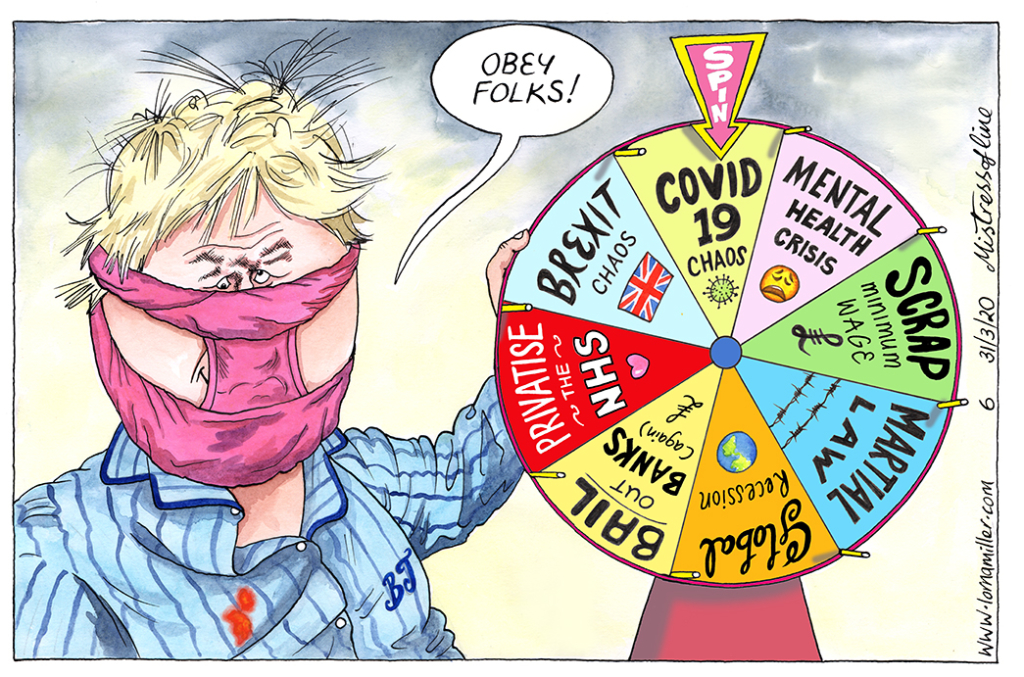 Satire and the imagery of the political cartoon originate in the carnivalesque. It is a folk humour that has never merged with the official culture of the ruling classes. All the blood and poo, pee and silliness that you see in my work come from this tradition. I battled coronavirus in March 2020, fearing I would die and have continued to have debilitating relapses of long covid for 11 months, including partial paralyses. I retreated to the sanctuary of my drawing desk in my living room and escaped into a world that I had complete control of. There are many artists, such as: Bruegel, Goya, Gillray, Beckmann, Grosz, Louise Bourgeois, Robert Crumb, Leigh Bowery and Divine, who have freely expressed the spirit of Carnival. Writing his thesis when he did, Mikhail was sticking two fingers up at the crushing, totalitarian state he could not escape from. It wasn't published for twenty years. Isn't it when we are most manipulated and constrained, when the world is the darkest and most fearful and when laughter is most forbidden that we need it more than ever? If ye don't laugh ye greet.