Retail Sacrificed on the Altar of Profit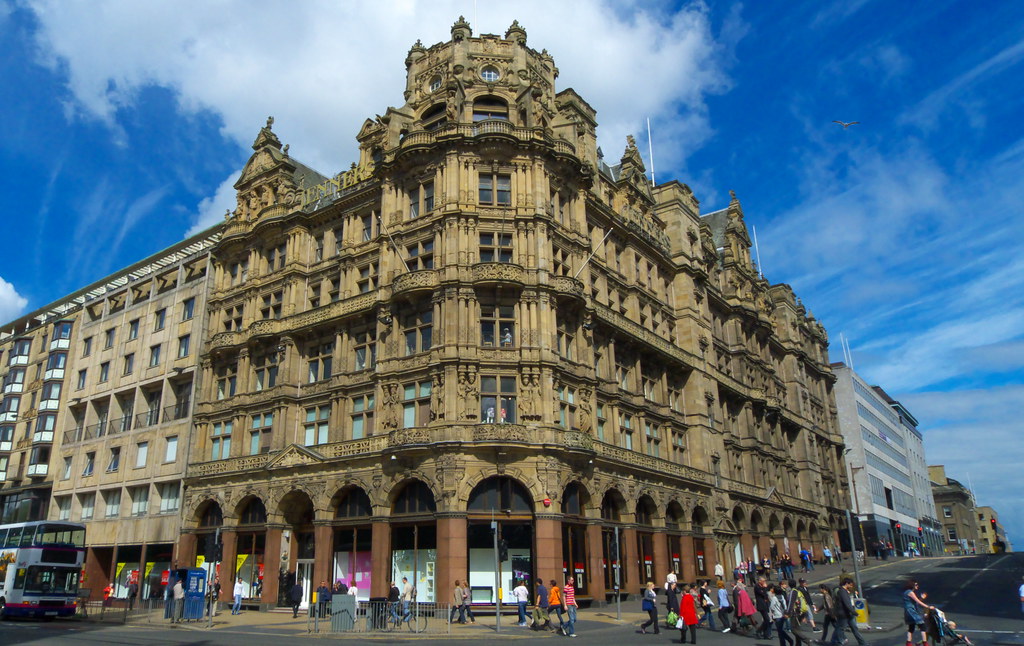 The Coronavirus crisis has sped up the decimation of our High Streets and the wholesale destruction of retail jobs.
In 2020, over 20,000 UK stores have shut down, with nearly 200,000 retail jobs wiped out.
That's 200,000 individuals' lives and livelihoods thrown into chaos, impacting the lives of at least two or three other family members in each case. To put that jobs devastation in perspective, the Ravenscraig steelworks closure in 1992 wiped out 770 direct jobs and about 10,000 others. 
Whilst workers suffer and join the ranks of the unemployed and underemployed, the government utterly fails to engage with retail workers' unions to develop a recovery strategy rooted in the needs of local communities and workforces. 
Instead, it's set up task forces stuffed full of bankers, property developers and retail bosses who live on a planet apart from the UK's 3 million workers in retail – the biggest private sector employer, second only to the NHS across the entire economy. In Scotland, the SNP government's Recovery task force is headed by Benny Higgins, former CEO of Tesco Bank for a decade, after stints at the RBS and HBOS banks. 
For decades, the get-rich-quick vultures on the financial wing of capitalism consciously wrecked industry and built up their profits through expansion of the financial and services sector. They switched from making things to selling them, making money from owning property and by asset-stripping company takeovers. 
Monopolisation 
The galloping concentration of wealth and property in the retail sector has been given a further boost in 2020. 
Four big supermarkets dominate the food retail sector and have seen a huge surge in sales during lockdowns, as have homeware retailers. Shoppers bought £1billion more in food and drink last month than in January 2020. Grocery sales in general increased by 12% in the most recent 12 weeks, during the latest lockdown. 
In harvesting these profits, they've frequently put the health of their staff at risk by cutting corners on PPE, health and safety measures, queuing systems, caps on numbers of shoppers.
They've subjected staff to the doubling of abuse and assault from an indefensible minority of customers – often because they expect overstretched supermarket workers to police government regulations, after the same stores offloaded their in-house security staff. 
Sickness absences have rocketed, with 52,000 Tesco workers off at a peak, for instance, and tragic, avoidable deaths are mounting up in the sector. 
Despite trading throughout 'lockdowns', these giant supermarkets enjoyed over £1billion in business rates holidays. Under the hammer blows of bad publicity, 13 big retailers (including the Big Four supermarkets) have just agreed to repay £2.16billion of government rates relief, but are turning up the volume on their demand for an extension of the business rates holiday in the Tory government's 3rd March budget. 
Their online sales have rocketed; doubled. For instance, Tesco and Sainsbury's have added online capacity equivalent to twice that of the entire Ocado's retail giant since March 2020 – and Ocado's retail sales rose 35% to £2.18billion in the year ending November 2020, helping their annual profits rocket by an incredible 266%. 
Non-food Retail Crisis 
In contrast, non-food retail has been walloped by the lockdown; newly published industry analysis shows that sector has lost £22billion worth of sales during the pandemic. This has led to widespread closures and takeovers, as buildings and retail brands are cannibalised by a handful of giant outfits. 
One growing feature of the retail crisis and its horrendous consequences for jobs and communities is the growth of online retail. Online shopping has grown by 46% since pandemic regulations were declared last March, and much of that will become a permanent pattern even when or if some shops reopen. 
In and of itself that should not automatically result in a jobs slaughter, if it just meant redeployment of workers from traditional 'bricks and mortar' outlets to the likes of home delivery or 'click and collect'.
But under the monopoly capitalist ownership of retail, it means the 21st century version of the Dark Satanic Mills of the Industrial Revolution, with the likes of Amazon warehouses treating workers as electronically monitored slaves. Amazon have started installing cameras in their delivery vans, using them to carry out disciplinary actions against drivers whose every move is recorded. 
Capitalists Weaponise New Technology 
As with all new technologies, it's an opportunity for the dominant capitalist class to devise devilish new ways to exploit and profiteer, rather than unleash the potential benefits to workers and wider society. For example, they use digitised shopping to hire the unpaid labour of customers to do part of the paid jobs workers would previously have done, shedding and deskilling jobs in the process. 
After ripping off workers and their pension funds, Sir Philip Green and his Arcadia Group have abandoned 13,000 staff, only to be taken over by two online retail outfits, Asos and Boohoo, who have made it clear they will keep the brand names but not the 314 shops nor 12,500 of the 13,000 staff, concentrating entirely on online sales.
Likewise, Boohoo gobbled up Debenhams, seeking to inherit its traditional customer base, but purely through online operations, dumping another 12,000 workers. 
This switch from bricks and mortar to online retail is not cost neutral, either in terms of jobs or its impact on the health and environment of communities. 
Online giants like Amazon are notorious tax dodgers, which deprives governments and populations of £billions that could be invested in the Health Service, public transport systems and the upgrading of lived environments in both residential areas and town centres. 
For example, whereas over the past 20 years Marks and Spencer's paid £3.3billion in UK Corporation Tax, the infinitely larger Amazon coughed up a mere £3.3million – an average of just £165,000 a year! 
Online Sales Tax
My own Union USDAW has published a Retail Industrial Strategy which includes the entirely justified demand for business tax reforms to include an online sales tax. 
It cites the example that a 1% online sales tax would generate £1.5billion, equivalent to offering bricks and mortar retail a 20% cut in business rates. Imagine the resources from an online sales tax much more radical than the meek and mild 1%. 
The cut-throat capitalist competitors are predictably divided on this online sales tax, with Tesco shouting loudly in its favour, but share prices for big online players like Ocado's, Asos, Boohoo and Amazon stuttering at the talk of Rishi Sunak conceding to this popular, if mild, demand in the Budget. 
But left on its own, what's dubbed an 'Amazon Tax' does not begin to address more fundamental issues. 
Corporation Tax Cuts Harm Society  
Successive Tory and Labour governments have slashed Corporation Tax levels to an historic low. And in the case of an independent Scotland, the SNP would want to cut Corporation Tax – which is based on company profits – even more drastically, with SNP party policy wishing to go down to the level of the Ireland, 12.5%, just over half the current lowly rate. 
Boosting the profits of the already most-profitable big businesses has at least three major consequences. It cuts the funds available to national governments for essential public services. It increases the reliance on business rates as a percentage of overall taxation on businesses, which further hammers the High Street, especially smaller shops. And it puts multinational and giant retail chains in an even stronger position to survive crises like the lockdown, and to devour small and medium firms as they buckle under the strains of business rates, landlord rents, and their inability to enjoy the economies of scale and capital reserves, compared to large companies. 
Parasitic Commercial Landlords 
While retail jobs are slaughtered and High Streets decay into unwelcoming urban deserts, with dreary rows of empty shops, some people are doing very well, thank you! 
Commercial landlords and property developers are part of the cause of many shop closures, but then go on to pile up more profit through asset stripping. 
Battles between landlords and retail companies over their shares of rent, interest and profit have added to closures, which then often allow the landlords to convert buildings into lucrative luxury apartments, or to lease them back. 
One example that illustrates the interlinking ownership and power of retail capitalists and landlords is the iconic Edinburgh fixture, Jenners. 
Originally opened by two local drapers who had been sacked for taking the day off work to attend the Musselburgh races in 1838, Jenners came to epitomize the genteel Victorian Edinburgh middle class, selling fine silks and linen otherwise only to be found in London. 
By 2005, the shopping emporium had struggled to adjust to the 21st century and was bought over by House of Fraser's – which in turn was grabbed in 2018 by Mike Ashley's Sports Direct Group. So, from fine silks to stacks of disposable sportswear!
But the architecturally grand building itself was bought in 2017, for £53million, by Danish billionaire Anders Holch Povlsen, who is also the owner of the Bestseller fashion company; the biggest shareholder in online retail ASOS, and is Scotland's biggest private landowner, owning 220,000 acres across 12 estates. He has personal wealth of £4.5 billion. 
Brutal squabbles between Ashley and Povlsen over rents led to Ashley's House of Fraser pulling out, dumping 200 workers out of their jobs. 
This example highlights the interlocking and monopolised ownership of retail between capitalist retail giants, landlords, property development companies and indeed landowners.
Some of the property companies continue to make a fortune during the Coronavirus, with Property Week reporting their overall share prices rose by 16% in the final quarter of 2020, and by 67%, 52% and 44% in the cases of NewRiver, Hammerson and British Land, respectively.  
In other cases, such as Britain's biggest shopping centre group, INTU (Braehead, Manchester Trafford Centre, etc), a mixture of aggressive demands for rent reductions by retailers amidst the lockdown, and problems gaining credit from banks and Canada Pension Plan Board, led to collapse into administration last June, and chaos for INTU's 3,000 workers.
Public Ownership
These examples and others highlight one of the central solutions which I have persistently argued for during the past 3 years as an elected member for Scottish retail workers on the national Executive Council of our union, USDAW. 
Namely, public ownership of retail giants, including the big supermarkets, and local authority ownership of buildings – to eliminate the multiple levels of profiteering between landlords and capitalists, and the slaughter of jobs and crushing of smaller shopkeepers which this all leads to.
Decades of austerity, with the longest, deepest wage stagnation since the time of the Napoleonic Wars 200 years ago, has crushed the spending power of workers, with a knock-on effect on retail job prospects.
Recovery Based on Workers' Needs 
Therefore, a retail recovery plan needs to start with decent wages and secure, guaranteed hours for all workers, including an absolute minimum wage of £12-an-hour, with abolition of all lower youth rates, and a guaranteed minimum 16-hour week for all workers who want it. 
Poverty wages are further eaten into by the rising cost of public transport, which alongside cuts to bus routes, reduces the ability of many to even go shopping in town centres let alone outlying retail parks. I still never cease to be amazed at the number of people living in housing schemes who have hardly ever been to the city centre and its amenities. 
For those workers who own a car, increased parking charges in town or city centres further deprives High Streets of footfall. 
Free Public Transport 
Congestion charges and even more exorbitant parking fees – as pedalled by some such as the Scottish Green Party – are no solutions to either poverty or pollution, and would only add to the punitive, regressive, indirect taxes which already make the lowest-paid and middle-income workers contribute a far bigger proportion of their incomes to tax than do the super-rich. 
Retail recovery and the refurbishment of the High Street needs to include massive public investment in networks of fare-free public transport, tackling social isolation too. 
Local Authority Ownership 
Local authorities taking ownership of High Street properties would not only carve out the landlords' rent-racketeering and asset-stripping by big businesses, but would lay the basis for the planned improvement of town centres and local High Streets, with full input by local communities and retail workers. 
Instead of allowing retail giants and landlords to fight each other for a greater share of the wealth created by workers' efforts, decimating jobs and High Streets in the process, the Scottish government and local authorities should organise forums of retail workers and their unions, local community groups, environmental artists, planning experts and elected councillors, to determine local needs and demands and turn the High Streets from deserted wastelands into hubs of community activity. 
Community-led Revival of High Street 
This could include use of buildings and spaces for community facilities for all age groups; safe, supervised children's play areas; sports and leisure facilities; community-owned cafes and restaurants; libraries and resource centres; hubs for creative pursuits; local cinemas and community theatres; markets for fresh, locally-produced food at farm gate prices; allotments; and support for independent small shopkeepers and Co-operatives, instead of the monoculture of the same global retail firms occupying most town centres across the globe. A whole host of changes, decided by local communities, to protect and create meaningful jobs and allow people to improve their mental and physical wellbeing by being able to socially mix. 
As we wrote last April, the Tory government displayed its intimate, interlocking links with big business when they handed Tesco the addresses of homes to pursue for online deliveries during lockdown.
At the same time, they relaxed anti-cartel regulations so that competing supermarket giants could agree basic collaboration on the logistics of food deliveries to their shops.
Make Technology a Blessing, not a Curse 
These two examples give a glimpse of how democratic public ownership of the big supermarkets and other, non-food retail giants would allow more rational planning, instead of the cut-throat competition for profit, and facilitate a whole new vision for the retail sector. A planned application of science with working-class control, turning automation and digitisation into a blessing, not a curse for workers and communities whose jobs and High Streets are steamrollered in the charge for ever-greater margins by tax-dodging online operations. 
A 4-day week without loss of pay, alongside a guaranteed 16-hour week and £12 minimum wage, would not just boost spending in local communities but also liberate millions of working-class people from drudgery, insecurity and oceans of household debt, which in turn undermines other people's jobs. 
Increased Corporation Taxes on profit and reduced taxation of small businesses could also contribute to reversal of the funding cuts to local councils, for investment in community hubs and free local transport networks, thereby improving the lives of all. 
Organise for a Secure Future  
None of these transformative reforms are going to be gifted to society by some invisible class of benevolent retail capitalists, commercial retail landlords or bankers.
It will take a massive movement of working-class people, including retail workers, to end the rule and ruination of our communities by the landlords and capitalists who increasingly own more and more of the giant retail industry, as it's strangled in the hands of fewer and fewer profiteers. 
This article was first published in Scottish Socialist Voice.