FoES Just Transition Campaign: Organising for social justice in the transition from fossil fuels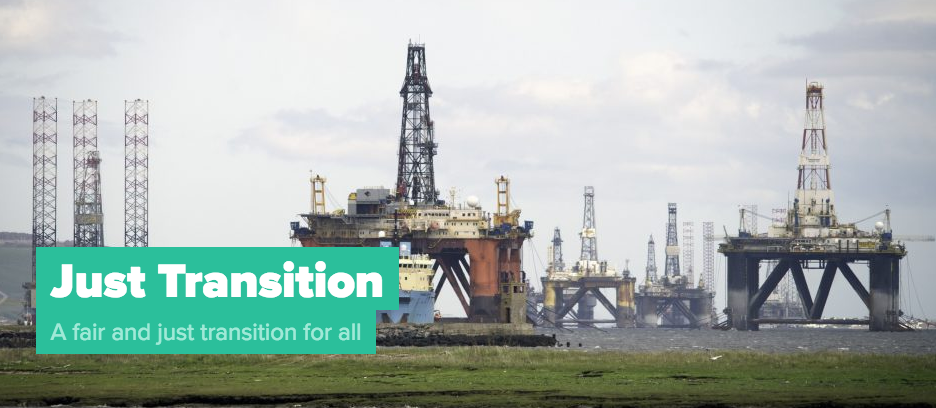 Despite the immediate urgency and universal importance of the climate crisis, organising around it has proved challenging. The youth strikes, while impactful, have too often placed unrealistic expectations on young activists with inadequate support and little consideration of power. Likewise, movements like XR have been criticised for their lack of self-awareness regarding the race and class politics of their campaigning. In this context, the work Friends of the Earth Scotland, or FoES, does – organising for a divestment from fossil fuels in a way that centres the needs and agency of the people most affected by the industry – provides a much-needed clarity of vision and analysis and leveraging of power.
Ryan Morrison is the Just Transition Campaigner with FoES. For him:
"A Just Transition is a rapid shift from fossil fuel reliance towards a fossil-free economy that is led and shaped by workers and communities across Scotland and the UK, to build an alternative approach for the future that prevents the planetary destruction and social inequality caused by our current economy".
He emphasises the importance of considering who is being prioritised and who stands to benefit from the way we move away from fossil fuels to mitigate the climate crisis.
The campaign is in the early stages of organising with offshore workers, but their goal is to "get the people that need to be involved around the table to shape an initial plan and then to have oversight and to be able to adapt the plan as it moves forward." This means working with communities and trade unions to build power and collaboratively develop a map of the road forward that addresses the concerns of those communities and workers.
This is significantly different to the approach the Scottish Government is currently taking. Ryan explains that, at the moment, a huge amount of power remains in the industry: "the Scottish Government has embraced the term of just transition, without really embracing what it means and its roots and origin." The government's Just Transition Commission has "two trade union reps but you then have four people from industry– so you get someone who heads up the meat industry, someone from oil and gas, someone from and Scottish renewables– people who are expected to represent a really broad range of interests, but ultimately represent industry interests which, even in the case of a representative from the renewable industry who's trying to push for the growth of renewables, doesn't necessarily mean pushing for a just transition." For the FoES campaign, the workers, trade unions, and communities are the relevant stakeholders, and the Scottish Government needs to be "much more engaged, involved, and essentially interventionist."
Conversely, FoES is using its campaigning skills and power analysis to connect with local communities' concerns. They are working with communities and trade unions to come up with concrete policy proposals and facilitate meetings with MPs and MSPs. Ryan notes that this relationship is reciprocal – trade unions and workers in the affected industries bring with them a knowledge of the industries the conditions that would make a transition successful.
Scotland benefits from a reasonably green public image, but FoES is clear that they are neither doing enough nor approaching their carbon and energy targets in a way that successfully addresses communities' needs. "The perception of Scotland is challenging because some of the comparatives are such a low bar," Ryan says. He points out that Scotland's net-zero target is 2045– five years ahead of the UK's 2050– but that both targets were set out by the UK Committee on Climate Change: "it isn't that one is more aspirational than the other, because it was just on the basis of this committee, really. It wasn't based on any understanding of carbon budgets for 1.5°C or how quickly you need to move or how quickly you could move. "
Ryan notes the contradictions that run throughout Scotland's approach to climate action:
"We're gonna host COP and say we're doing absolutely brilliant. And then, at the same time our energy strategy is to support the oil and gas industry, until it's no longer profitable to extract […] they can get away with it because some of the accounting measures make it very tricky; they don't need to count all the emissions that come from UK production. You can export that oil and gas and that can be someone else's problem."
"The fact that there is no clarity and often there's a total contradiction is probably the single biggest risk to a Just Transition," he goes on. For example, The Scottish Government has put £62,000,000 towards an Energy Transition Fund, but has attached no conditions to it – "no targets for decarbonisation no minimum guarantee of job opportunities, or requirement that pathways are opened up for people who work in fossil fuels to move across to the renewable sector."
This is a significant problem. Ryan uses the example of Longannet – a power station in Fife that closed down taking "a significant portion of industrial emissions out of the equation. But that wasn't a very well planned transition; it came sooner than had previously been expected. Some of the workers moved quite successfully but into other oil and gas industries, and the local community was kind of left behind." He is clear that this could have been managed differently; if the site had secured a new owner as part of the process, and the transition had been done with "a plan for shifting the workers, ideally into secure and sustainable industries rather than into more fossil fuel industries, with also the community having an industry that its local economy can rely on."
FoES work to secure a transition away from fossil fuels that protects the people most affected– workers in the fossil fuel industry and the communities around them. During the pandemic, many of these trade unions have been dealing with the immediate material exigencies workers are facing at this time– health and safety issues and severe precarity. The oil and gas sector is full of casualised workers: "the story, we heard was that like maybe 30 years ago, you're talking about the workforce being 75% employees, 25% contractors and today that's completely flipped: 75% of people will be self-employed contractors 25% will be employees." They also often have no access to sick pay and little to no input or communication on when and how much they will work. Ryan notes that this precarity is currently mirrored in the renewable sector. He says that workers are responsible for paying for their own training in both sectors, which can be around £5000 every two years. For those looking to transition, this means paying the same amount again for a renewables training course, even though the work is often less reliable. Under these conditions, it's clear that workers must be central to a successful transition.
In that spirit, FoES, along with Platform and Greenpeace, has been communicating with these workers and their unions, using surveys and meetings to build trust and find out what a campaign led by workers would demand. They're organising workshops and similar processes to build a stronger sense of the conditions and needs in the sector: why working conditions have been declining for 40 years, why the workers think we're struggling to end dependence on fossil fuels within climate limits; what the barriers are and how they might be tackled in a way that addresses their shared interests; what the communities' concerns and needs are and what kind of strategies might meet them. The demands and techniques laid out will be informed by what comes out of those workshops.
In future, they plan on being able to speak to the communities directly– knocking on doors and holding meetings. They also plan to engage with workers in other carbon-heavy industries, like the transport industry.
With the climate crisis looming, it's easy to feel that managing it is out of the hands of the average person– developing a strategy to resist it is difficult when a small number of companies is responsible for so much. Protests are a valuable way of making the public's voice heard, but they lack a fundamental power analysis or insight into the industries. The FoES' Just Transition campaign is central to addressing those problems. Their commitment– "to build the power of the workers and communities who a Just Transition actually has to be defined by"– isn't just activism; it's a vision of an organised and informed resistance.