How should Scotland change to tackle the climate emergency?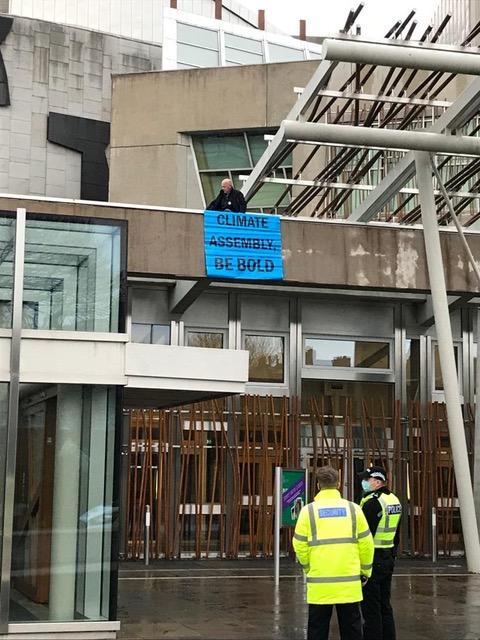 Scotland's Climate Citizens Assembly is entering its sixth weekend, with a seventh to follow. The assembly was asked to consider, 'How should Scotland change to tackle the climate emergency in an effective and fair way?' Extinction Rebellion Scotland asks Climate Citizen Assembly members to be bold.
According to the UN, we only have 10 years left to radically cut greenhouse gas emissions and transform society to meet everyone's needs. That means richer countries with a history of high emissions need to move even faster to reach zero emissions. But the Scottish Government's 2045 target allows politicians to postpone action.
We need radical action now and to use this crisis as an opportunity to build a better Scotland that puts all of us – and our planet – first.
But members of the Climate Citizens Assembly appear to have been given little room to decide what level of climate emergency we face, and what level of transformation is required. Do we need to get to REAL zero by 2025 or 2030, as the science implies, or wait until 2045 to reach the Government's NET Zero target? While words like 'fair' and 'effective' have been regularly used, this has been more to do with the delivery of policies rather than what the policies need to deliver.
Extinction Rebellion Scotland pulled out of the Climate Assembly Stewarding Group because they felt that those with an interest in maintaining the status quo were frightened of rocking the boat. They were not allowing the Assembly to hear a wide enough range of evidence. XR wanted assembly members to be supported to decide how serious the emergency is, assess the systematic drivers of the crisis, and decide the level of transformation required.
But the assembly has been better than expected. Members have heard from some experts they clearly thought were excellent, others that appear to have left them cold. They have taken ownership of their own learning, digging much deeper than many may have expected.
Assembly members voted for an additional seventh weekend with an 85% majority. They know they need more time to deliberate so they can use this potentially once in a lifetime opportunity to decide how we respond to the climate and ecological emergency – without the influence of vested interests or political careers.
The citizens of this assembly have the power to come up with joined up recommendations that can enable us to fundamentally change our way of life and demonstrate to the world how to deal with this crisis. 
But have they been supported enough to consider the underlying systemic factors that have prevented appropriate action up to this point?
There is a real risk of the recommendations becoming a wishlist, and those in power picking and choosing what they implement or ignore. Recommendations need to be joined up, anchored in tackling root causes, and responding to the level of climate action needed. Extinction Rebellion Scotland offered a 10 minute video analysis of the evidence the assembly has received, in order to support assembly members to reflect on the evidence in this systematic way. This input was rejected by those in charge of the Assembly.
If the process has been too fragmented for assembly members to be able to arrive at a set of clear joined up recommendations, one possibility is for them to demand another assembly focused on the transformations needed to ensure well-being and a future for all. Perhaps current assembly members could select some from amongst them to be on the stewarding group shaping such a 'System change' assembly. Such a stewarding group could be convened by an independent body made up of all those who have shown commitment to transparent, deliberative democracy. It could include government as one voice amongst a wide range of civil society and other organisations represented on it.
In a world where democracy can often feel like little more than an X in a box every four years, this climate assembly is a chance for 105 citizens of Scotland to do what politicians are too afraid to do: save us from a future of drowned cities, scorched earth and millions forced to flee their homes, by refusing business as usual. Instead let's hope they call on us to embark on the transformations needed to stop the destruction of our only home and ensure a bright future for all.