Netanyahu's Tightrope Election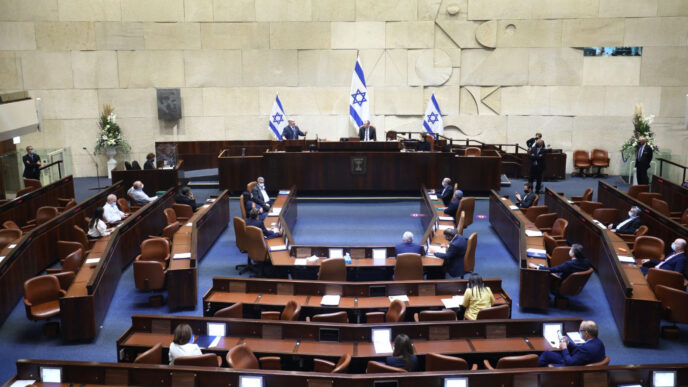 When the coronavirus pandemic took hold in Israel last year, Yaakov Litzman, the Israeli Health minister gave the public, an inapplicable but not unexpected reassurance, that the virus would end with the arrival of the Messiah during Passover. It didn't happen and Litzman is now Housing Minister.
Being the former leader of the United Torah Judaism (UTJ) – a Haredi religious alliance in Israel's coalition government, Litzman remains in the cabinet as a kingmaker in maintaining Netanyahu's power as a secular Prime Minister. This typifies the strength and influence that small parties have over the PM due to the plethora of parties and alliances in government coalitions within the Israeli parliament, the Knesset.
As the fourth national election in under two years takes place on March 23, this frequency exemplifies the instability of the Israeli proportional representative electoral system. In 2014 the electoral threshold was increased from 2 to 3.25% in an attempt discourage the participation of small parties but for this election, 39 parties have registered. In order to step over the threshold many parties have to form alliances with others as there have never been any one party in the history of Israel winning the 61seat majority in the Knesset of 120 seats.
Once inside the Knesset there is more political wheeling and dealing in forming a national coalition government. This was finally achieved in May 2020 between Netanyahu's Likud and Benny Gantz's Blue and White alliance after failing in the two previous elections.
But due to the internecine war within Gantz's Blue and White alliance because of his support and agreement with Netanyahu's government to take over the premiership 18 months later, it is believed that the ensuing fall-out between Gantz and Netanyahu over budget proposals was instigated by Netanhayu to force another election and hopefully win more power ending Gantz's premiership ambition.
The latest poll shows that Netanyahu's Likud party is ahead with a total of only 29 seats far short of the presently held 37 seats which was due to the resultant resignation of Gideon Sa'ar a former government minister and prominent member of Likud. Subsequently, Sa'ar created his own party, New Hope, bringing with him many Likud members which compelled Netanyahu to desperately scour the political spectrum for support.
Netanhayu's emphasis has always been on right-wing nationalist parties. He gained support of Bezalel Smotrich's Religious Zionism alliance after brokering an agreement with Otzma Yehudit led by Ben Gvir who was associated with the extreme right-wing Kach party founded by Rabbi Meir Kahane and outlawed by the Knesset in 1988. Gvir had a picture hanging in his home of Baruch Goldstein who murdered 29 Palestinian worshipers at the Tomb of the Patriarchs in Hebron in 1994.
Smotrich himself called for racial segregation in Israeli hospitals between Jews and Arabs and said of a Palestinian child throwing stones, 'Either I will shoot him, or I will jail him, or I will expel him [out of the country].'
Yamina, another right-wing party has always been a Likud cohort but has expressed their opposition to Netanyahu this time by the vociferous leader, Naftali Bennett (former minister in Likud governments) who once said, 'I've killed lots of Arabs in my life and there's no problem with that'. After the International Criminal Court recently announced possible litigation on Israel for war crimes, Bennett said, 'If it's true that the ICC is making a list of so-called Israeli suspects, I ask that my name be put at the top of that list.'
Netanyahu, being the bargaining sage of fluctuating Israeli politics has enabled him to survive and to achieve the status of the longest serving PM in Israel's history but his right-wing allies are limited in the number of Knesset seats they will clinch. Consequently, he has expanded his electoral campaigning horizon into a demographic area which in the past has been ignored – the Palestinian citizens of Israel.
In January, in order to ameliorate his electoral dilemma, Netanyahu paid a rare visit to Arab communities in the north including the largest town of Nazareth. He began fawning the Arab electorate into believing that he and Likud would reverse the dearth in government spending to combat the major issue of rising crime and violence in Arab municipalities which he acknowledged in 2012.
His appearance was greeted with cynicism from the Joint List, an alliance of Arab parties who expounded Netanyahu's Nation State Law as being constitutionally racist in promoting Jewish supremacy and Arabs as second-class citizens. The Israeli human rights organisation, B'tSelem, defined Israel as an 'apartheid' state.
Discrimination against Arabs is mostly felt in economic deprivation as illustrated in the 2018 OECD economic survey of Israel where Arabs in every sector exist at a level below the living standards of Jews in education, income and infrastructure. Comprising of 21% of the population, Arabs are confined to only 3% of the land where building permits are severely restricted by the Israeli Land Authority.
Netanyahu's strategy of electoral sophistry was manifest in his recent dealings with Mansour Abbas, the conservative Islamic leader of the Ra'am party, which ended their membership of the Joint List. Abbas came under criticism from the other three parties in the Joint List for his fealty to Likud and Netanyahu. Aida Touma-Sliman of Hadas said,
"I feel embarrassed that there is still someone who believes they can get something good out of Netanyahu…We don't need to ingratiate the fascist right wing to get our rights. It's unforgivable."
This fractious outcome has created two positive developments for Netanyahu: firstly, polls have shown a frustration amongst the Arab electorate with the Joint List resulting in a 25% support for Netanyahu mainly from young people. Secondly, polls have indicated that Ra'am will now fail to reach the electoral threshold and the predicted loss of 3 seats will benefit Likud.
Netanyahu has still a mountain to climb to survive as PM. Apart from the pending corruption charges he faces in court, the centre parties of Yair Lapid's Yesh Atid and Labour are forecast to gain seats along with the right-wing Yamina, New Hope, the Religious Zionist party. The Meretz party on the left will hold their present number of seats but the religious parties of UTJ and Shas are forecast to lose seats to the right-wing anti-Haredi Russian Jewish party, Yisrael Beitenu led by Avigdor Lieberman. This is due to the increasing bickering between secular and recalcitrant ultra-Orthodox Jews over their violation of Covid lockdown rules.
Likud will be the party to win the largest number of seats and following political convention, the president, Reuven Rivlin, will invite its leader to form a government and if it is to succeed it may depend on who and from what parties he gives the highest ministerial privileged positions.
External factors will also have a major role to play in his rescue. Israel's continuous military escapades in Lebanon, Syria and Iran involving bombing and assassinations could provoke retaliations which would incite Zionist nationalist solidarity throughout the Knesset with Netanyahu leading the fightback.
Additionally, as Netanyahu awaits his first meeting with Joe Biden, it may be as politically courteous as it was in the past, which can only enhance his status of PM. However, if Biden reveals a more strenuous opposition to Trump's 'peace' plan by enunciating a greater empathy for a viable Palestinian state, Netanyahu will have two choices: if he opposes or procrastinates, he could face US and UN reaction but would receive the support from a right-wing leaning Israeli electorate and Knesset. If he wins the election and agrees to Biden's proposal, the accusation of hypocrisy (given his desire for annexation) could end his potentially, fragile coalition with yet another election.
But whatever happens and whoever wins the election, the Haredi kingmaker Yaakov Litzman will still be there in the cabinet with a theological alternative solution.