Unionist Strategy on the 'Salmond Inquiry' is straight from the Post-truth Playbook of Trump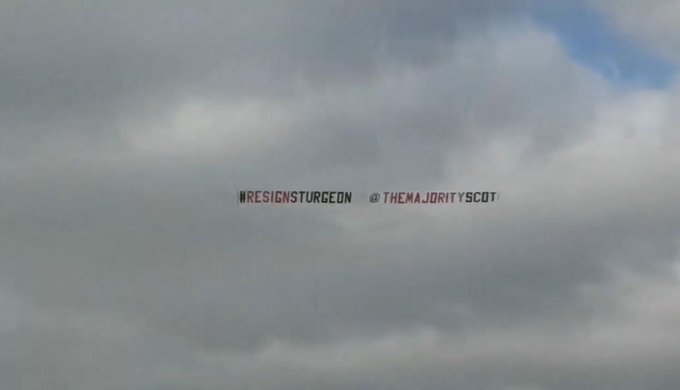 If you live in one of Scotland's major cities, you will likely have been confronted this weekend with a billboard calling for the First Minister's resignation.
The billboards form part of a campaign entitled #ResignSturgeon, launched by The Majority with the support of Scotland Matters and UK Union Voice.
The campaign compliments the Scottish Conservative's ongoing threat of a No Confidence vote in Scotland's leadership.
If a bystander asked you to give context to these threats and demands, you might be tempted to say they are occurring 'in the wake' of the 'Alex Salmond Inquiry'.
Yet, that would not be technically true. We have not reached the 'aftermath' of the inquiry, we are not 'in its wake'.
Indeed, the Conservatives began calling for their vote of no confidence before Sturgeon even gave evidence; never mind the wake, the bow of the ship had barely passed his nose when Douglas Ross began shouting for Sturgeon to resign.
These efforts are thus better explained as an effort to press upon the Scottish public the idea Sturgeon is 'guilty' before, and thus regardless of, the outcome of the Inquiry.
If our bystander was from the US, she might remark that this is not unlike Donald Trump's strategy during his Second Impeachment. And indeed, she would not be far wrong. The key difference being that, whilst Trump's team tried to impress the ex-president's innocence, Unionists aim to imprint Sturgeon's 'guilt'.
Post-truth
To understand how Trump's was acquitted we need to understand the 'Post-truth Age' it is often said we live in, and which the ex-President proved particularly acute at navigating.
'Post-truth' refers to an environment in which 'facts' or 'evidence' (the 'truth') has become increasingly less able to impact public opinion. Instead, the public is seemingly more responsive to appeals to emotion and personal belief. Subsequently Post-truth politicians seek to win support by crafting political narratives which appeal to emotions, regardless of whether these stories contain any actual 'truth'.
Such narratives are frequently characterised as 'bullshit', Trump being referred to as the bullshitter-in-chief. This follows Harry Frankfurt's influential characterisation of 'bullshit' as an attempt to persuade regardless of truth.
One needs to also recognise the deeper impact convincing narratives can have on human cognition. As Glasgow born philosopher Alasdair MacIntyre explained, human beings are essentially 'story-telling animals': we understand ourselves and our place in the world through the stories we are told and those we tell ourselves. It is subsequently in relation to these 'narratives' that we assess the information we receive, judging whether we regard it as significant, or, indeed, even true.
If politicians are thus able to control and influence these narratives, they are subsequently able to control how the public sees the world; what they will regard as significant; and what they will ultimately believe.
Trump's Post-truth Trial
It was by controlling the narrative surrounding his Impeachment Trial that Trump was acquitted.
Trump's defence team constructed a narrative which impressed forcefully the idea that the trial was an illegitimate partisan attack by Democrats to 'silence' Trump and, more widely, the 'Trump Movement'. It was 'constitutional cancel culture', aimed not just at Trump, but you the American people.
The message emanating from Trump's defence team was crucially reinforced by America's right-wing media. One America News, Fox, and Newsmax repeatedly characterised the Impeachment as a partisan attack not just on Trump but on the American people.
Fox News even urging viewers not to watch the trial: If someone tells you it is important, they are 'probably trying to distract you from something that is'.
The effect of this narrative was to impress upon mainly Republican voters that the impeachment proceedings was an illegitimate partisan attack on them. Subsequently, any evidence or facts presented at the trial were already tainted in their mind and subsequently rejected.
With most Republicans refusing to recognise the legitimacy of the trial, it would have been political suicide for Republican Senators to vote for impeachment regardless of what evidence was presented before them.
Successfully crafting an emotive narrative had neutralised truth.
Sturgeon's 'Guilt'
Scottish Conservative calls for a vote of 'no confidence', before Sturgeon had even given evidence, mirrors the Trumpian strategy. It tries to impress the notion she is guilty before any evidence is given, thus pre-empting any evidence or 'truth' which may subsequently be presented.
In the last week, the Scottish Conservative Facebook has posted over twenty-five posts impressing the idea of Sturgeon's guilt and calling for her to resign, before and after she provided evidence.
On the 4th of March Ross penned a 'post-match' analysis of Sturgeon's 'performance' for the Express full of colourful analogies to imply she must go, ranging from giving her the 'red card' to comparing her to a musician on the Titanic's deck.
Leaning heavily on Trump playbook, he even tried to give the inquiry a populist flavour, framing it 'Sturgeon v The People.'
#ResignSturgeon have relied on heavier-handed means to impress this narrative. If the aforementioned billboards were not subtle enough, they also hired a plane to fly a 'Resign Sturgeon' banner across the sky.
One might of course highlight the incredible hypocrisy in these claims: Boris Johnson, Matt Hancock, and Priti Patel have all made headlines for illegally activity.
The £500,000 of taxpayer money Sturgeon 'wasted' is significantly shy of the estimated 4.8 million the UK government spent on their scrapped contact-tracing app.
Of course, though, perspective matters little. The aim of this post-truth strategy is to imprint an emotive narrative forcefully and repeatedly upon our minds, irrespective of evidence or context.
Inviting self-doubt
As with the Trump trial in America, the Unionist efforts have been supported by the mainstream press.
The media narrative has however been more insidious, attempting not just undermine Sturgeon but Scotland as a whole.
The Express gleefully wrote 'there is something rotten in the state of Scotland. A Daily Mail headline proclaimed Scotland a 'banana republic without the bananas'.
In The Scotsman, Brian Wilson claimed that Scotland was driven by the philosophy of 'one nation, one party, one leader' (a not-so-subtle rephrasing of the infamous Nazi slogan 'Ein Volk, ein Reich, ein Führer'), questioning in the process the integrity of Scotland's Civil Service, the Crown Office, and even Police Scotland.
The New Statesman meanwhile claimed the 'Salmond Affair' revealed Scotland to be 'a furtive, nervous, ankle-biter of a nation with an over-mighty government and an ineffective legislature, a kailyard of compromised relationships and countless minor corruptions'.
Such coverage evidently seeks to impress upon our mind a sense of Scotland's corruption, incompetence and thus, ultimately, our inability to govern our own affairs. It is more dangerous, and more insidious, as It calls into question not just Sturgeon, but Scotland.
It seeks to reintroduce a kernel of self-doubt into the Scottish public just at the moment Scotland's future is on a knife-edge, with public opinion sidling towards independence.
It is dangerous as it could inflict serious damage on the independence movement: potentially casting a shadow of doubt that prevents a wavering 'no' becoming a 'yes', or a new convert to independence having second thoughts about leaving the supposed 'security' of the Union.
It is insidious as it evokes the age old 'Scottish cringe', a crippling demon we have only in the last decades seemed to have exorcised from our public consciousness.
Lessons to be Learned
As its stands, it appears the Unionist strategy on the Salmond Inquiry is failing.
The Green's have condemned attempts to pre-empt the inquiry, making a 'no confidence vote' unlikely.
Support for the First Minister appears boosted rather than diminished.
The Scotland on Sunday poll, which claimed the Inquiry had shifted support back in favour of the Union, appears to have only done so by omitting key data which, if included, would have showed a continued majority for 'yes'.
Ross is also no Trump.
Not to set the ex-president as a benchmark, but he was adapt at tapping into certain aspects of the American imagination.
Ross' efforts appear less inspired.
Indeed, it is a strange strategy for Ross – who has been routinely criticised for prioritising officiating duties over parliamentary debates and memorial services – to unnecessarily make us think about football.
Yet, we should not take the Unionist efforts too lightly, for they have revealed a key narrative strategy: that Scotland is not capable of self-governance and, if given independence, will inevitably become a failed state; a banana republic without bananas.
Such a narrative is dangerous and insidious as it could awake a kernel of self-doubt amongst the Scottish people, a negative feeling which could prove more persuasive in a referendum than any argument presented for independence, regardless of truth.
This negative narrative must be countered with a strong, confident, and uplifting vision for Scotland's future.
Most importantly however, it is a narrative that we must not, regardless of what we think of Sturgeon or the SNP, inadvertently feed further.