Wean's World
Holyrood incorporates the UN Convention on the Rights of the Child (UNCRC) into Scots Law
On the day Westminster was passing the Police, Crime, Sentencing & Courts Bill, Holyrood was incorporating the UN Convention on the Rights of the Child (UNCRC) into Scots Law.  It applies to everyone under the age of 18. Its aim is "to recognise the rights of children and ensure that they grow up in the spirit of peace, dignity, tolerance, freedom, equality and solidarity."
On Wednesday we became the first part of the UK to vote to enshrine the UNCRC into domestic law. This is a significant moment, a historic moment and an important development for Scottish democracy. Away from the froth and fury of constitutional politics here is a different form of struggle, NGOs and third sector Scotland collaborating to improve life for, in this case, our children.
Amy Woodhouse from Children in Scotland said: "… an exciting thing about today is that we have got here because of our collective vision for a country that puts the rights of children at its heart. This has been the result of superb child rights leadership over many years, which has galvanised and motivated civil society, marshalled the arguments for incorporation, dealt with any concerns and encouraged Scottish Ministers to be confident enough to introduce this Bill and see it through parliament.
I'm hesitant to list individuals for fear of missing anyone, but we should take time to acknowledge the role of Together (the Scottish Alliance for Children's Rights), the Children and Young People's Commissioner Scotland, Scottish Youth Parliament and Children's Parliament in particular for their unfailing commitment to driving this agenda forward and placing children and young people's voices at the centre of their campaigning."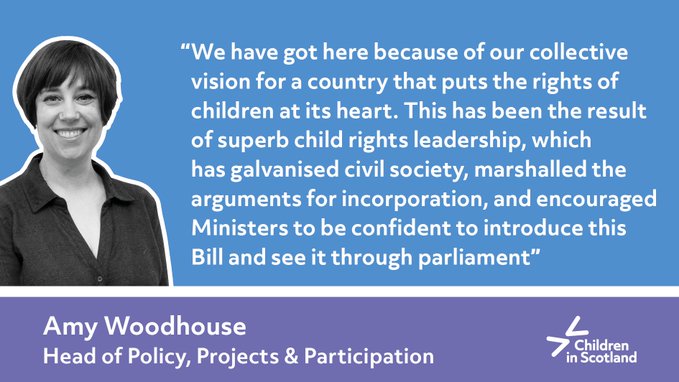 Bruce Adamson, the Childrens Commissioner, warned the government and decision-makers that there is now no hiding place when it comes to upholding children's rights.
He said: "Incorporating the UNCRC into Scots law is the most important thing we can do to protect and promote the rights of children and young people. People in power can no longer ignore or conveniently forget about children's rights. If they do, children and young people can challenge and will have a meaningful system of redress when things go wrong."
"There's no question this will improve life for all children, but those who will feel the biggest impact are children whose rights are most at risk – children living in poverty, disabled children, young carers, those who have experience of the care system, children from black and minority ethnic backgrounds. Their rights will be at the centre of every policy, law, or budgetary decision from now on. This will lead to significant change in things like addressing poverty and supporting mental health which children themselves have identified as priorities. It will also mean better support for families."
"This law gives children power – they will be consulted and listened to. Children and young people, as well as other campaigners, have fought tirelessly for incorporation for many decades, and today is testament to their determination. The government and decision-makers should know that all eyes are on them and children won't hesitate to hold them to account."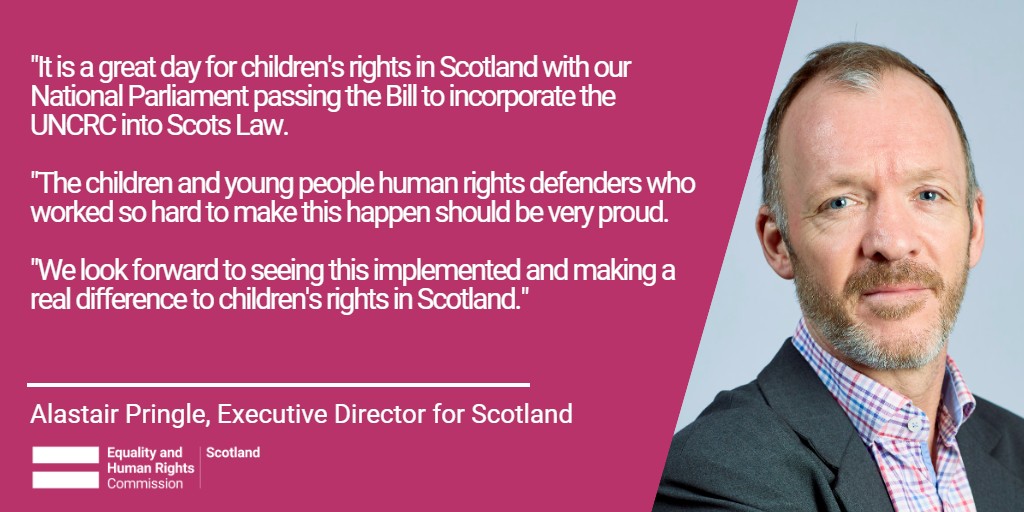 This is a gain like any significant human rights and equality measure over time. A rights-based approach only flourishes with enforcement and a wider culture of protection and ambition, but this is a significant victory for our children and our democracy.
Children in Scotland's Head of Policy, Projects & Participation Amy Woodhouse  has said: "I'm conscious that child rights advocates often describe the UNCRC as the floor rather than the ceiling. It provides the foundations on which to build a much more ambitious vision. And as a country Scotland will continue to be ambitious in this area, you can bet on it. The work is not done. However, good foundations are absolutely essential all the same. Fundamental even. Today may not be the topping out ceremony, but we can see the shape of the building now, and that is exciting, motivating – and, yes, historic."
What rights do children have under the UNCRC?
Every child has 40 specific rights under the Convention. These rights can be divided into several categories:
Right to life, survival and development;
Right to non-discrimination;
Right to express views freely;
Right to have a child's best interests taken as a primary consideration in all matters affecting them.
Civic Rights and Freedoms
Right to a name and nationality
Freedom of expression
Freedom of thought and association
Access to information
Right not to be tortured or ill-treated
Violence Against Children
protection from violence, abuse and neglect
abolishing traditional practices prejudicial to the health of children
school discipline
protection from all forms of sexual exploitation
protection from inhuman or degrading treatment
recovery from trauma and reintegration
Family Environment
Right to live with and have contact with both parents
Right to be reunited with parents if separated from them
Right to appropriate alternative care where necessary
Basic Health and Welfare
Rights of disabled children
Right to health and health care
Right to social security
Right to child care services
Right to an adequate standard of living
Education, Leisure and Culture
Right to education
Right to play
Right to leisure and to participate in cultural life and the arts
Special Protection Measures
Rights of refugee children
Rights of children affected by armed conflicts
Rights of children in the juvenile justice system
Rights of children deprived of their liberty
Rights of children suffering exploitation