Natwest – Say No to Nukes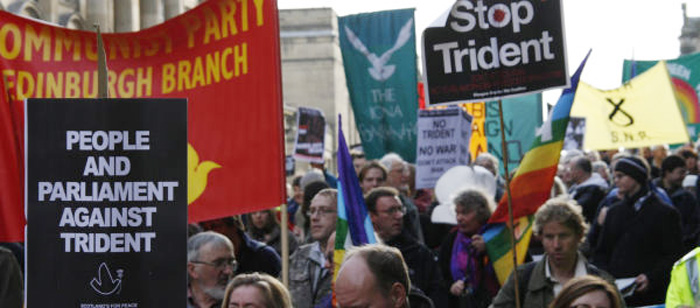 By Linda Pearson, activist with Don't Bank on the Bomb Scotland
This week, more than 40 organisations from Scotland and beyond have called on one of Scotland's largest financial institutions, NatWest Group, to stop financing companies that make nuclear weapons. Church of Scotland, Unison Scotland, Medact and CND are among the names that have signed on to a letter to NatWest Group CEO, Alison Rose.
The letter draws attention to the devastating humanitarian and environmental consequences of nuclear weapons and urges NatWest Group to strengthen its defence sector policy, to recognise that nuclear weapons are now prohibited under the Treaty on the Prohibition of Nuclear Weapons. The current policy only partially restricts investment in companies that undertake nuclear weapons work, while it unconditionally prohibits investments in companies that produce other banned weapons, such as landmines and cluster munitions.
Research by PAX shows NatWest has 1.6 billion GBP in outstanding loans to 11 nuclear weapon producers. Among them are major multinational arms companies, BAE Systems, General Dynamics and Leonardo.
Irresponsible banking
NatWest Group is headquartered in Edinburgh and was known as Royal Bank of Scotland Group until July 2020. Its subsidiaries include Royal Bank of Scotland (RBS), NatWest and Ulster Bank.
The bank is a founding signatory to the United Nations Principles of Responsible Banking (UNPRB), which are intended to provide the framework for a sustainable banking system. The UNPRB's signature document states: "We believe that only in an inclusive society founded on human dignity, equality and the sustainable use of natural resources, can our clients and customers and, in turn, our businesses thrive".
Such a society cannot come into being as long as nuclear weapons exist.
Nuclear weapons serve no legitimate purpose. Nuclear weapons are designed to destroy cities, and used by a minority of states to project power over others through the threat of mass murder.
This doctrine is founded upon nuclear colonialism, environmental destruction and human suffering. Uranium mining has contaminated Indigenous lands and poisoned precious water resources. Nuclear testing destroyed whole islands and dispersed harmful radioactive particles around the world.
These activities have left a legacy of serious disease, such as cancer and leukaemia, among those exposed to ionising radiation. Indigenous people have been disproportionately harmed while women are more susceptible than men to the health impacts of radiation exposure, as the Treaty on the Prohibition of Nuclear Weapons acknowledges.
If nuclear weapons were ever used in war it is unlikely that anyone would "thrive" in the society that would be left to deal with the aftermath. The detonation of just one nuclear weapon could destroy a city the size of Glasgow. A nuclear war would alter the global climate and impact food production, putting millions of people at risk of starvation.
As the Treaty on the Prohibition of Nuclear Weapons states, the catastrophic consequences of nuclear weapons "cannot be adequately addressed, transcend national borders, pose grave implications for human survival, the environment, socioeconomic development, the global economy, food security and the health of current and future generations". The treaty – which bans all nuclear weapons activities – entered into force in January 2021.
NatWest Group cannot claim to be a responsible bank while continuing to finance companies that make these banned weapons of mass destruction.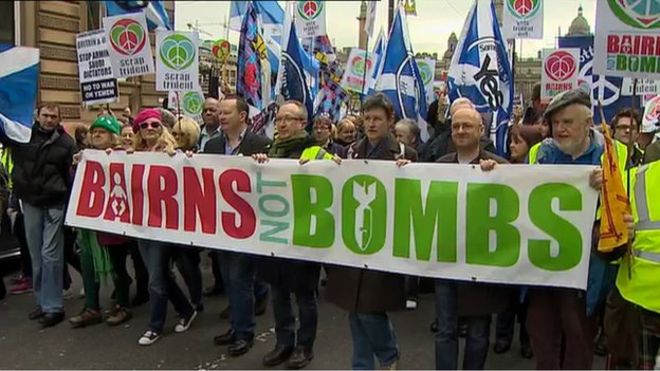 Disarmament through divestment
There is widespread awareness of the catastrophic consequences of nuclear weapons use in Scotland and longstanding support for nuclear disarmament within our society. This is reflected in the broad range of organisations that have signed the letter to NatWest, and in the outrage that followed the UK government's recent announcement of a 40% increase to its warhead stockpile.
Many of us who have an account with RBS, or another NatWest subsidiary, will be concerned to learn that our savings could be financing companies involved in the production of nuclear weapons. Don't Bank on the Bomb Scotland and its partners, who organised the group letter, are now asking account holders to email NatWest Group about its investment policy. Customers of other financial institutions are encouraged to act too.
Divestment is important from an ethical point of view but also has the potential to bring about real change. Divestment increases the reputational risk for companies involved in nuclear weapons work and may limit their ability to access financing, giving them a strong incentive to cease nuclear weapons production. This is what happened when cluster munitions producers were the subject of divestment a few years ago.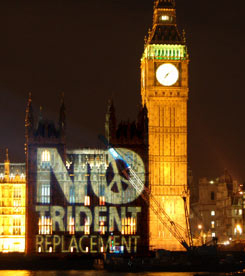 Time for change
NatWest Group's defence sector investment policy should exclude investment in nuclear weapons producers in the same way that it excludes companies that make other indiscriminate, banned weapons. By changing its policy in this way, NatWest would join a growing list of financial institutions that have chosen to end ties with the nuclear weapons industry since the Treaty on the Prohibition of Nuclear Weapons was adopted.
The bank would take a vital step towards becoming the responsible investor that it claims to be, and would set an example for other organisations in Scotland to follow.

We have a favour to ask.  Tens of thousands of people rely on Bella for independent journalism with a critical edge.  We have no big-backers, remain ad-free and don't hide behind a paywall. We set our own agenda and provide  analysis that's free from commercial and political influence. Support us here to defend indy media for the future. Thanks.
Go here to donate: https://www.crowdfunder.co.uk/backing-bella-2021