Manifestos 2021: The Scottish Green Party
Over the next week, we will be examining each party's manifesto for the Holyrood 2021 election. The first party to release their manifesto was the Scottish Green Party. 
The sandal-wearing, Dr Who scarf-weaving image of the Green Party exists for a reason. In the past, its manifestos have read like well-meaning church bulletins; more sensible than socialist.
The 2021 manifesto replaces Fairtrade coffee mornings with a meaningful response to poverty, inequality and impending environmental catastrophe. Environmentalism has – unjustly, but not wholly unjustly – acquired a reputation as a hobby for wonkish middle-class types comfortable enough not to worry about economic issues.
Put that conception to one side.
This manifesto is about jobs. 100,000 of them. A jobs guarantee for every under 30-year-old. A jobs guarantee for all oil and gas workers. Jobs in construction, transport and energy; rural jobs and urban jobs.
To provide this the Green manifesto makes unambiguous commitments to take money from the wealthiest people and give it to the poorest. A 1% levy on all wealth over £1 million – a tax only millionaires will pay – will not only create jobs but ensure that all devolved social security payments rise annually.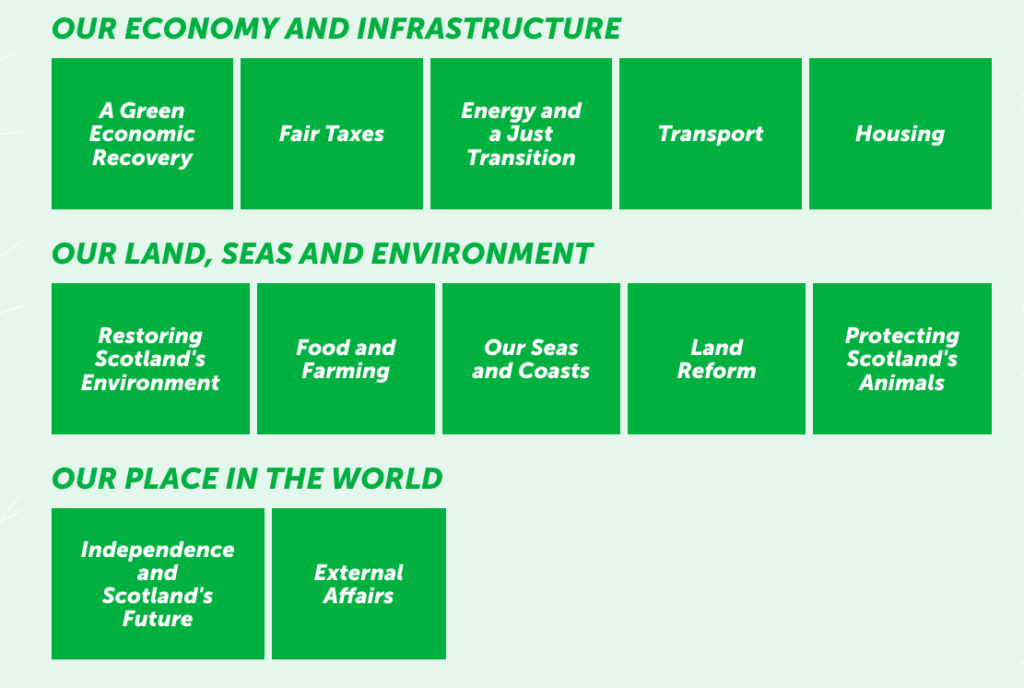 The Greens used to ignore the trade unions. Their 2011 manifesto  only mentioned them once (and that is with respect to railways). However, I would argue this manifesto's greatest anti-poverty potential could lie in its plan to use devolved powers to embolden the unions. Making procurement of Scottish Government contracts and state aid conditional on trade union recognition and paying the living wage would transform pay and conditions in industries such as construction and social care. Any company that wants a government contract will need to show that its workers are unionised – and those unions will not simply disappear when the firm takes on work in the private sector. The suggested transition to a four-day week is also a welcome one.
The party also wishes to integrate gender budgeting into all public budgeting processes. This is an essential move for equality that would have made most of austerity impossible, had it been in place. A commitment to double the Scottish Child Payment and increase the carer's allowance will primarily benefit working class women. In all, there is a sustained effort to appeal to groups of voters that the Greens have been unsuccessful with in the past.
The Greens' 2011 manifesto mentioned private tenants once. However, this manifesto boasts commitments to introduce rent controls and give private tenants the right to keep pets and redecorate. For council tenants, a plan to build 84,000 affordable homes for rent is every bit as ambitious as Labour's plans under Corbyn.
The area in which the Greens have arguably enjoyed the most success over the last five years is education. That remit has been handled expertly by Ross Greer. Much will be made of their proposals for children to start primary school later, [an idea pioneered for years by Upstart] but it is lowering teacher contact time to 20 hours a week that would make the most difference. Scottish teachers have some of the highest contact time in the OECD. That means they plan, read and crucially, think less than teachers in other countries. Shifting the focus of the profession towards planning and collegiate working will do more to improve education than any number of gimmicks about 'recovery'. It is the kind of policy you come up with when you listen to the people who actually work in a profession. The manifesto contains almost three times as much about additional support needs and student mental health as it does about independence. Readers are free to draw their own conclusions from that.
Speaking of independence, the commitment to an independence referendum is simple and plain. That contrasts with 2016's caveat-laden clause buried on page 36 of a 46 page manifesto to bring about a referendum by petition. This section, as short as it is, may be the most relevant after the election.
"The Scottish Greens believe that independence in Europe would allow us to build a fair and green Scotland. We want to build a truly democratic nation state where everyone is empowered and where all elected representatives are truly answerable to the public."
"The legislation covering all aspects of the referendum, including the question and the timing, should be decided by a simple majority of the Scottish Parliament. The Scottish Greens will campaign and vote for a referendum within the next Parliamentary term and under the terms of the Referendums Act (2020). We believe that the UK Government's refusal to respect a pro-independence majority in the Scottish Parliament would not be politically sustainable and could be subject to legal challenge."
It is likely that the criminal justice segment of this manifesto will be neglected in discussion. That is a great shame as proposals to abolish the not proven verdict, make legal aid available to all victims of domestic violence and decriminalise sex work would each transform lives. Commitments to safe consumption centres are welcome but the drugs section of the manifesto is just timid (i.e.,  it does not support decriminalisation of all drugs as  the SNP do). I appreciate this is outside the Scottish Parliament's powers, but so are other policies in the Green manifesto (e.g., scrapping the benefit cap).
This is the Greens' best manifesto yet in what is likely to be their most successful campaign yet.
In Summary
Best Policy: The millionaires' tax is by far the most effective proposal to support wealth redistribution. Unlike the wonkish Land Value Tax, the millionaires' tax is explicitly aimed at tackling inequality. Again, it is difficult to imagine the Green Party of Robin Harper opting for this policy. It is refreshing to see that the party accept Thomas Piketty's evidence that only wealth taxation can lower inequality. Income tax is easily avoided: it is harder to claim that you do not own assets.
Worst Policy: No commitment to legalise/decriminalise drugs.
Weirdest Policy: Mobile abattoirs. I am not sure how death on wheels will go down with the vegetarians amongst the Green support.