Post Election Doublethink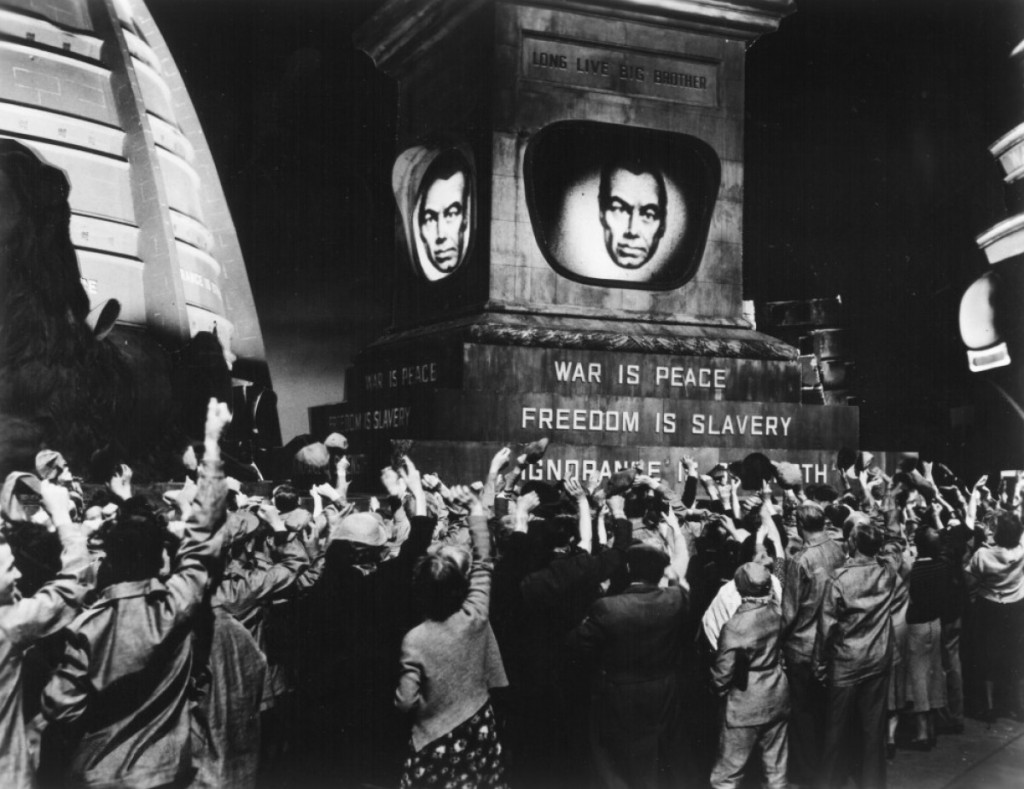 "To know and not to know, to be conscious of complete truthfulness while telling carefully constructed lies, to hold simultaneously two opinions which cancelled out, knowing them to be contradictory and believing in both of them, to use logic against logic, to repudiate morality while laying claim to it, to believe that democracy was impossible and that the Party was the guardian of democracy, to forget whatever it was necessary to forget, then to draw it back into memory again at the moment when it was needed, and then promptly to forget it again, and above all, to apply the same process to the process itself—that was the ultimate subtlety: consciously to induce unconsciousness, and then, once again, to become unconscious of the act of hypnosis you had just performed. Even to understand the word—doublethink—involved the use of doublethink."
The response to the SNP's victory on Thursday has been swift.
None of this happened.
Victory is failure.
Failure is victory.
No-one is interested.
You didn't vote.
You didn't see any of this.
You don't exist.
A vote for the SNP or the Greens is a vote for independence.
A vote for the SNP of Greens is not a vote for independence.
Having ran an entire campaign based on a single hysterical note that a vote for the SNP would be a trigger for a referendum, the Unionist press and politicians now have to do an abrupt u-turn. The message is now "No-one is really interested in independence" and "your vote meant something completely different", or rather, nothing at all.
Gordon Brown is conjured and does the rounds of the tv studios and litters the pages of the Guardian evoking the mysterious concept of 'Middle Scotland'. Brown, a man with no power, from a party more distant from power than for decades writes ("Many Scots don't want independence"): "Civil society movements will now spring up championing cooperation across the UK, and from today Our Scottish Future will turn itself into a campaigning organisation committed to making the UK more acceptable …"
"Nobody wants an immediate referendum"

Former PM and founder of Our Scottish Future Gordon Brown says it's clear that "Scottish people want change", but adds that his organisation's polling found 20% of Scottish people want a referendum by the end of 2022 https://t.co/iOm40vn1kt pic.twitter.com/CdpG9WnhjD

— Sky News (@SkyNews) May 10, 2021
In desperation Andrew Neil takes to the Daily Mail to write of Nicola Sturgeon's "failure". Neil fulminates wildly then speculates:
"What if a private citizen took the Scottish Government to Scotland's Court of Session, the highest court north of border, on the grounds that its referendum bill was illegal? Canny Unionists are thinking of a Scottish Gina Miller, the wealthy woman who used the English courts to cause the Brexiteers such pain. I am advised that such a challenge would be likely to succeed" [he's just making this up – Ed].
After much bluster he ends rather more meekly: "By no stretch of the imagination can the Scottish election results be described as a boost for the Union. But it is far from the car crash some have reported."
It's sometimes hard to fight-off this surround-sound of lies and nonsense.
The idea that "no-one is really interested" is a bold one given the election saw the highest turnout ever.
As Adam Ramsay has put it: "Not only was this the Holyrood election with the highest ever turnout, it was the UK election with the widest ever franchise: 16 & 17 year olds, foreign nationals living in Scotland including refugees, and many (but not yet all) prisoners could all vote – and did."
A simple fact over-rides everything else: a pro-independence majority is a mandate for a second referendum.