Letters From Kenmure Street
Glasgow's politicians have united in a letter to the Home Office voicing concerns about the use of home office raids and detention centres. The letter was signed by MSPs from SNP, Scottish labour and Scottish Greens, as well as Glasgow City Council leader Susan Aitken. The letter outlines their concerns over UK Home Office immigration policy.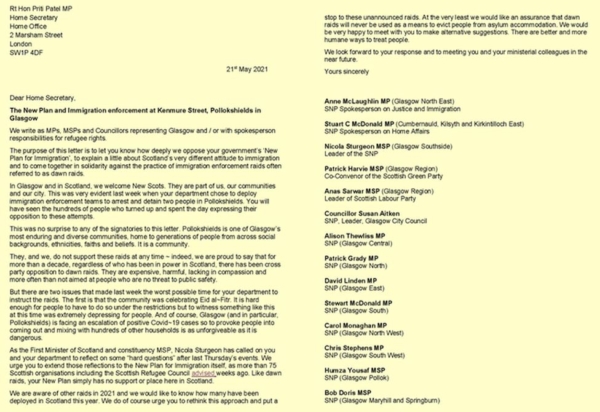 Amid the celebrations about the protest and the spirit of those who took part we can often forget that this was an attack on a community who fear what could have happened on the day and any other day when the protests are not there. In that spirit Bella Caledonia publish the letter below, on the fears of the community and the actions of Police Scotland, from a resident of Kenmure Street who wishes to remain anonymous.
Dear Nicola Sturgeon,
I hope you're well. Congratulations on your re-election. I stay at Flat —, — Kenmure st, opposite the flat from which my neighbours were grabbed by the home office the other day. I was really concerned by the behaviour of Police Scotland and would like you to take action on it.
I was present when police first arrived at 10am and was there throughout the day. It is inarguable that the police tried everything they could to assist in the detention, and to claim they had any other objective is risible. At every opportunity they escalated the situation, and their repeated use of violent force against a crowd that included my elderly neighbours and my infant daughter was despicable. I was personally shoved to the ground by officers with no warning and no communication.
Why were there more than 30 police vehicles? Why a helicopter? Why horses? Why riot gear? Why violent arrests all to attend a situation at which no crime had been committed.
Policing in Pollokshields is a sensitive issue and over the decade i have lived here I have often seen situations where provocative public order policing has created dangerous situations — from facilitating fascist marches through our community to nightlong stand offs against children with fireworks. Is this normal in a residential area? We know there is only one thing that marks Pollokshields out from other glasgow neighbourhoods and that is it's brilliant and vibrant multiculturalism. Is this the reason we see policing like this?
Which brings me to a further concern. Among the handful of officers who arrived on the scene first, two were wearing a political symbol sewn onto their uniforms — a black Union Jack with a blue line through it. Later more officers arrived with the same flag or with black saltires. This has come to be a known fascist symbol that represents opposition to the Black Lives Matter movement. When we went to find a senior officer to ask why officers had been allowed to politically customise their uniforms at a racially sensitive police stand off on Eid in Scotland's largest Muslim community, we were told that the badges represent a charity for police well-being. Curious that this charity has become so popular just as its symbol has come to represent reactionary and racist views. Curious that police are allowed to add a charity's logo to their uniform. Any internet search for the badge leads in the first instance to white supremacist sites. That police Scotland officers are wearing this symbol should be immediately condemned and questions need to be asked of senior officers permitting the practice. I'd really appreciate your help in raising this. It was great to see you stand up to fascists in the election, and I hope you can continue to hold that line here.
Our whole community is so happy and proud that this time we were able to stop the home office from kidnapping our neighbours. But if migrants are to be able to feel safe in Glasgow then the Scottish police need to be told to stand down and stop facilitating this barbaric practice. The policy may come from Westminster but the power to deliver it came from Holyrood.
Many thanks,
A resident, Kenmure Street, Pollokshields
NB: the symbols below are the US "blue lives matter" flag used by far right opposition to the BLM movement (and banned by many police departments) and it's UK equivalent "thin blue line" flag worn by many police officers during the stand-off on Kenmure Street.