Paolozzi & the Arandora Star shine on Kenmure Street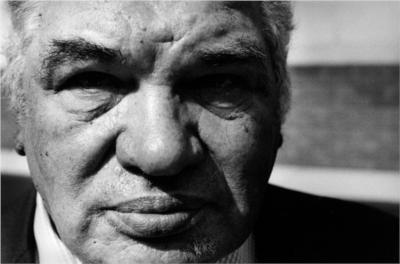 There are great works of art that emerge from tragedy. Some, like Guernika by Picasso, bring the full horrors to life, in a cautionary immortality. Other artists seek to do something even more radical with their work – to heal, to forgive, despite it all. There is one such sculpture in Edinburgh, at the top of Leith Walk. It is a giant foot, a giant hand, and an ankle. They combine to form one piece of art, called the Manuscript of Montecassino, by Leither, sculptor & Scots-Italian, Eduardo Paolozzi.
Not many people know the story behind them. But if you ever wondered why you often hear the ethnic identity / description "Scots Italian", but never ever "British Italian" or "Italian Brit", then you'll find the answer in here. It's a story about the Scots-Italian experience, about a tragedy aboard a ship called the Arandora Star, with question marks over Churchill, and it's about the importance of forgiveness in extremis, one world class sculptor, and a gentle decency and internationalism.
The hand, the foot, the ankle. They sit at the top of Leith Walk. They were commissioned by Sir Tom Farmer and they were a labour of love for [Sir] Eduardo Paolozzi. Here's the backstory.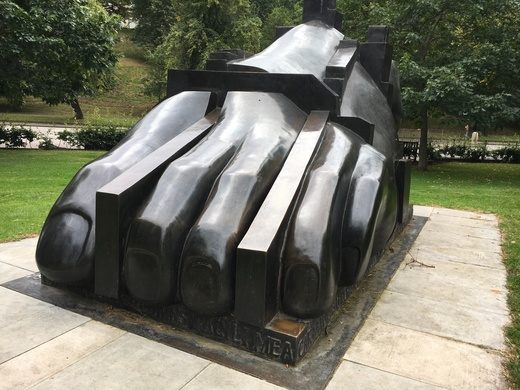 The Paolozzi's, like my grandmother Viola Lamarra's family, and like the Nardini's and Crolla's, the Contini's, Valvona's, Boni's and Capaldi's, all emigrated to Scotland in the late 19th and early 20th centuries, from a handful of tiny villages in a gorgeous valley near Monte Cassino. It's halfway between Rome and Naples, but tucked in the remote mountains. The villages include Picinisco, Valverde, Sant'Elia Fiumerapido and Cassino itself. The emigration story we heard was of the crop failing a number of years on the trot, a flit born of necessity. The plan was not to come to Scotland but to go to the New World, as so many Southern Italians were doing. The only affordable route was via Naples to Leith (disembark), cross country to Greenock, then ship out to New York City.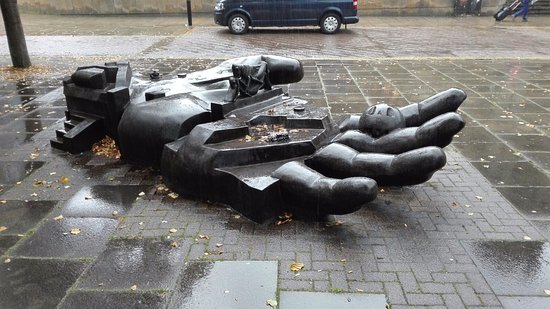 On arrival in Leith, only my great grandfather, Giovanni Lamarra, spoke any English. But the seven hills, the greenery, it felt like home, and they stayed. Indeed only one family member completed the trek to the Americas. For some reason they didn't take to NY, and ended up further yet in Vancouver.
The rest of the families settled in Scotland. My grandmother Viola and Eduardo Paolozzi were ages with each other, went to school together in Edinburgh, and this is a picture of a bunch of them (when Paolozzi and my gran would be only 3 or 4) at a Lamarra-O'Donnell wedding in Greenock, in 1927 (below). I come from the kind of family that faithfully wrote down and listed the names of everyone in a photograph, on the rear of every picture, making for a true wee treasure to stumble upon.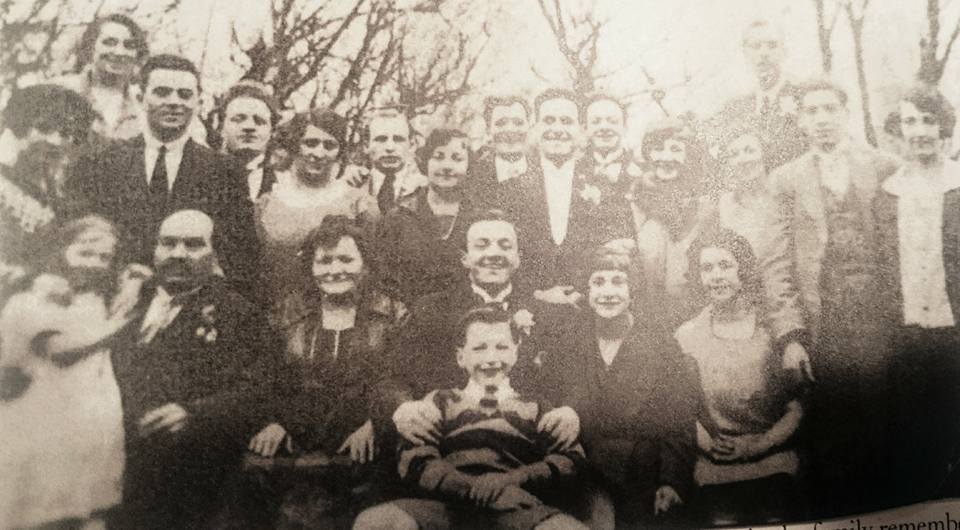 By the time Viola and Eduardo were in their teens, Scotland was their home, and their home liked them. One great grandfather of mine had taken enormous pride in being one of the original debenture holders for the "new" grandstand constructed at Easter Road in 1924, and we still have the same seats today, 97 years later.
But by the late 1930's, things had changed. And when Mussolini declared war on the UK in 1940, it led to Italian men suffering Internment. Thousands were locked up in HMPs Saughton & Barlinnie, including Paolozzi himself (who spent 3 months inside Edinburgh prison, simply for being Italian).
Eduardo's father, grandfather and uncle fared much worse though.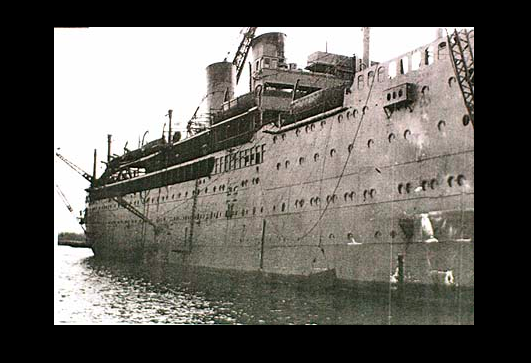 They were rounded up and, in their case, instead of facing internment in a local prison, they were told they were being shipped out to Canada, to be locked up in Canadian Internment Camps. Along with 446 UK-based Italians, they set sail on 27 June 1940 from Liverpool bound for Newfoundland on a ship called the Arandora Star (photo above). It would be the last 4 days of their lives, and many others.
The ship was not marked as a civilian ship (an oversight with a paper trail leading all the way to Winston Churchill's office, many would contend). Once the ship left the straits between Kilberry (Argyll) and Northern Ireland, and entered into open waters, it was sunk by a German U-boat.
446 Italians lost their lives, drowned in the tragedy, including Paolozzi's father, grandfather and uncle. The shock of the losses (and the questionable manner in which they came to be on the ship in the first place, and how it came to be sunk as a suspected warship) caused an enormous and long-lasting pall to fall over the Scots-Italian community. It was our 9/11, to put it one way.
Now, if you are Paolozzi, losing your father and grandfather, and your uncle, in those circumstances, there is a lifetime's worth of bitterness in that story, if bitterness was your thing. But this is the point of Paolozzi's sculpture, and its genius – the foot, the hand, the ankle, they are full of symbolism.
The Scots-Italian community regrouped, and struck an overwhelming tone of forgiveness – that Scotland is our home, it's where we have been welcomed, and there are numerous stories from that wartime era of local neighbors in Scotland sticking up for their Scots-Italian pals (including covering for them, hiding them) while the British state was intent on implementing Internment.
Fast forward 81 years to Kenmure Street in Glasgow, and you see the parallels yet today. While the distant compassion-less robotic state computes only "Internment" or "Expulsion", it is the local residents and neighbours who rally, who offer the human pulse, the embrace, to say "these are our friends, our neighbors, they are part of us, leave them be". And here's how Paolozzi expressed it.
His sculpture is scattered across three parts. And they are currently dismembered, unattached, and that is important. There is the ankle, which sits apart, and then there are the more symbolic giant foot and giant hand. And in the wake of Kenmure Street, their story will speak to many more Scots.
First of all you have the giant foot. It sits proud, immovable, enormous. It's as big as a Home Office Immigration Unit van. But the much more gentle and cultured message it gives out is "this is where I stand, this is where we (as Scots-Italians) have planted our feet and made our roots. You know where we stand". But sitting just nearby is the hand. And you'll notice it is an open hand – it is not curled into a ball or a fist. Sure, it still carries the scars of war, clearly visible on it. But it remains an open hand, ready for a handshake. It's offering a position of forgiveness, despite it all.
And the key thing is all three parts (the ankle, the giant foot that roots the community, and the open hand ready for a handshake) they are currently unattached, dismembered. And that is important because the message of the sculpture in three scattered parts is this: it takes people to bring the pieces of the story together – the proud roots, the defiant but unaggressive stance, and the implied act of forgiveness and moving on. The ingredients are there, but it takes people to make it happen.
It is ingenious in its simplicity, and in its use of art to heal the schisms that the Arandora Star.
It seems to me the perfect metaphor for Kenmure Street, and it maybe sheds light for us all on why you often hear the term "Scots-Italian" as an identity, but never British Italian or Itailan Brit.
The final aspect of the sculpture that sets it apart for me is that Paolozzi deliberately crafted it so that children in future generations, such as ours, might actively play on the scupltures – that the pieces are not distant or overly revered. He hoped there would be innocence and laughter heard, instead of the horrors of war – whether the Internment, the 446 lives lost on the Arandora Star, or indeed the 75,000 lives lost across both sides at the Battle of Monte Cassino in World War 2.
So in two major regards, the Manuscript of Montecassino sets apart Modern Scotland from contemporary Brexitland. While it is rooted in a world war two story, Paolozzi's sculpture looks forward, with forgiveness, and an embrace, where laughter should reign in future, based on a healing story about individual local acts of kindness saving immigrant lives in Scotland. Whereas for Brexitland, World War Two is omnipresent: about triumph, superiority, a moment stuck in aspic.
It's my individual taste, as a forward-looking internationalist, but bring me the laughter, of a clambering child, on a giant foot or an open hand, any day, over Priti Patel's van in Kenmure St. The Scotland I know is a place that connects the immigrant foot with the open hand of friendship.