Ship of Fools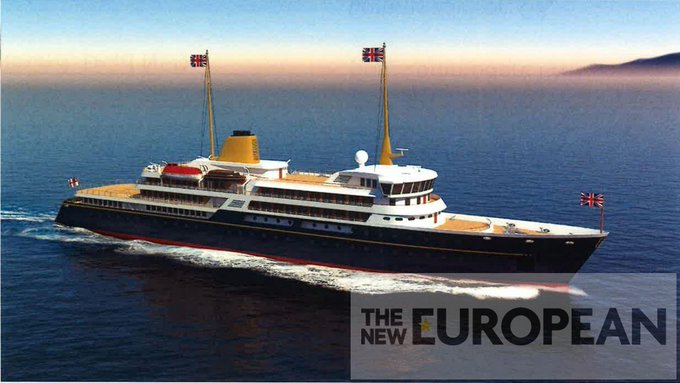 SHIP OF FOOLS: From The Province Of The Cat by George Gunn
Just when you think this current bunch of English Tories and their pet semi-feral Scottish Daniel Dafoe's couldn't get any more cruel, corrupt, inept, fatal and venal they never fail to exceed all expectations and fears by announcing something even more stupid, expensive, irrelevant, pointless and ridiculous than the last reactionary and mindless thing. The thing in question is the royal yacht replacement: the New Britannia.
According the Prime Minister Boris Johnson – for this is the sort of Boy's Own jolly jape he is so keen on – the boat will be:
"A new national flagship, the successor to the Royal Yacht Britannia It will promote British trade and industry around the world and will be the first vessel of its kind in the world, reflecting the UK's burgeoning status as a great, independent maritime trading nation."
Or it could be a big fat floating begging bowl. Not so, according to Bojo. The government intends to build the ship in the UK, at a reported cost of up to £200m. So that's alright then. No 10 insists the vessel would be used to host trade fairs, ministerial summits and diplomatic talks as the UK seeks to build links and boost exports following Brexit. It would be the first national flagship since Britannia, which was decommissioned in 1997, but the new vessel would be a ship rather than a luxury yacht. Or, again, it could be a big fat floating begging bowl.
This is a government which is very keen to lecture the Scottish Government on concentrating on recovering from coronavirus pandemic and not to waste its time on side shows and distractions such as implementing the democratic will of the Scottish people, which is to have an independent country, as expressed in the last four Scottish parliamentary elections. Not to mention in every General Election since the referendum in 2014. But what matters democracy when you can have a New Britannia to waive the rules?
As to "recovering" from the pandemic the actions of Boris Johnson's government, with its obsession with popular grandstanding and the announcement of dates events as opposed to the careful consideration of data, are responsible for the needless deaths of thousands of people. Bojo's idea of dealing with the crisis is to ignore it, or get married (for the third time) in Westminster Cathedral and announce a new £200 million floating irrelevance. Meanwhile people continue to catch the virus, get ill and die.
Martin McKee, a professor of European public health at the London School of Hygiene and Tropical Medicine, said he believed the third wave had begun.
"We can already see that the current measures are not stopping cases rising rapidly in many parts of the country. This looks very much as if we are now early in a third wave," he told The Guardian (30/5/21). "Unless there is a miracle, opening up further in June is a huge risk. The rise in cases we are seeing now should cause a reassessment of the most recent relaxation."
The "miracle", it would appear, is The New Britannia. The new Ship of State, or is it a Ship of Fools? This fushionless vanity project set me thinking about another vessel. A different kind of beast altogether. Skidbladnir is a ship from Norse mythology. It was built by dwarves for the god Freyr. The ship was big enough for all of the gods to travel aboard it with war-gear and weapons in tow, and that, as soon as its sail was hoisted, the ship found a good wind, and went wherever the gods desired. It could also fly through the air. It was made up of so many parts and with such craftsmanship that, when it was not needed at sea, it could be folded up like cloth and placed into your pocket. It goes without saying that it must have taken a lot of magic to create a ship like that. Skidbladnir at least was useful. The New Britannia, despite what the Prime Minister says, will serve no practical purpose and will cost a lot of loot. The idea that a post-Brexit Britain can roam the worlds oceans asserting her power and "reflecting the UK's burgeoning status as a great, independent maritime trading nation" (even when it has no ships) as if this was the 19th century and somehow, in retrospect, the Opium Wars were a good thing, is bordering on delusional This will be a ship of jollies. Like everything else that comes out of No 10 Downing Street these days it is a gimmick, a fantasy and as such represents a clear and present danger to the majority of the people of England, because what it says is that "We quite frankly, don't give a fuck about you or your shitty lives. Here, have a daft boat, or a bridge across the Irish Sea, or a millennial tent, a garden festival, or a Stairway to fucking Heaven, because we don't care." Vote for Brexit. Get a yacht. Now fuck off!
Way back in the 1960's when I was young and a peedie loon at Dunnet Primary School every Summer, when the Queen Mother was in residence at the Castle of Mey, the royal yacht Britannia would dock at Scrabster. The Queen, the Chookohembra and various offspring would disembark, get into a fleet of Rolls Royce limos and drive across the North coast of Caithness to see the old girl in her restored (sort of) medieval pile. We bairns would be dragged out of the classroom, given a Union Jack on a bamboo stick and told to stand in front of the school and eagerly wave our flags at the passing royal entourage. There was about twenty of us in the school at the time and none of us had a clue who these people in these huge shiny cars were. If they noticed us at all we were cute Hottentots. Our communal mud hut behind us glinting in the colonial sepia sunlight of 1968. This was the beginning of my political education. Britannia's, new or old, are personal.
Freyr the Norse god can pull his ship out of his pocket. Bojo the UK Prime Minister pulls his out of a hat. Unfortunately the Scots are press ganged onto the Ship of Fools, chained to the oars of a non-existent constitution and the Treaty and Act of Union, which far from being legislation drawn up through consent is now one of constraint. The rule of law now takes precedence over the democratic process.
As Dominic Cummings was serving up his revenge red hot to the two committees at Westminster, Simon Case, a top UK civil servant who has served as Cabinet Secretary and Head of the Home Civil Service since September 2020, popped in next door to the House of Lords to wake up a committee therein with a few choice observations regarding Scotland, or rather, the Union.
"I think the experience of both Brexit and Covid means that much more of government, so much more of policy includes consideration of Union questions earlier in the process. In everything we do we should be thinking how it impacts on the Union."
All civil servants in Scotland report to him, directly or indirectly. Being acutely aware of this Simon Case informed the milords that this arrangement should be strengthened "as there was no need for a separate Scottish civil service." So, no matter what issue it is, no matter what guidance or assistance is sought by mere mortals in Scotland, to the man at the top of the UK civil service tree, the Union comes first before anything else. If one want's to be promoted then the route is obvious. The Union is good for one. Scottish independence is bad for one.
In his consistently brilliant columns in the Sunday Herald John Drummond (30/5/21) reflected on the "Peter Principle", which puts forth the proposition that,
"In a hierarchy, every employee tends to rise to their level of incompetence. In time every post tends to be occupied by an employee who is incompetent to carry out their duties."
The "Peter Principle", a concept in management developed by the Canadian educator Laurence J. Peter, claims that a person who is competent at their job will earn a promotion to a position that requires different skills. If the promoted person lacks the skills required for the new role they will be incompetent at the new level and will not be promoted again. If the person is competent in the new role they will be promoted again and will continue to be promoted until reaching a level at which they are incompetent. Being incompetent the individual will not qualify for promotion again and will remain stuck at this level. This is the idea of the "Final Placement", or of "Peter's Plateau". So, John Drummond argues, we have the people we have at the top of the UK administration and, more worryingly, in the British Government. My favourite phrase in all of this Canadian hierarchical jabberwockery, which covers the illusory exception of when someone who is incompetent is still promoted anyway, is "percussive sublimation", which describes the phenomenon of being "kicked upstairs". Ladies and Gentlemen, I give you Alexander Boris de Pfeffel Johnson, the Prime Minister of the United Kingdom of Great Britain and Northern Ireland and leader of the Conservative and Unionist Party. And captain of the Ship of Fools. Because he is so quintessentially vain Bojo assumes his rise to the top was inevitable, if not pre-ordained and that, in fact, he is a god – if not Freyr then Bacchus (why not?) – and that he will ride into his metaphorical India on the back of a tiger accompanied by an army of elephants. Percussive sublimation, indeed.
Or as Hannah Arendt put it more forcefully,
"Totalitarianism in power invariably replaces all first-rate talents, regardless of their sympathies, with those crackpots and fools whose lack of intelligence and creativity is still the best guarantee of their loyalty."
No matter how many crazy schemes the Prime Minister and his regime come up with to keep Scotland in the Union and no matter what the likes of Simon Case, the head of the UK civil service, think – the Scottish people do not need to ask for permission from what in reality is an increasingly English government to become an independent country. Neither will they tolerate for long an SNP government which drags its heals over a referendum to achieve that independence. They know fine enough what the Covid crisis has proven, that a Scotland which has no control over either its finances or its borders is vulnerable to the whims of our more powerful Southern neighbours. This, as the statistics show, has proven fatal, so far, for 7,669 of us.
As Professor Martin McKee has said, he believes the third wave of Covid infection has begun. If so we in Scotland become increasingly powerless and vulnerable. No matter what the SNP might think, this situation, politically, cannot endure. Being press ganged to crew the Ship Of Fools, to sell the world a fantasy and a lie is no future for a modern, progressive European people.