Easter Everywhere: Rock and Roll Resurrection at the End of History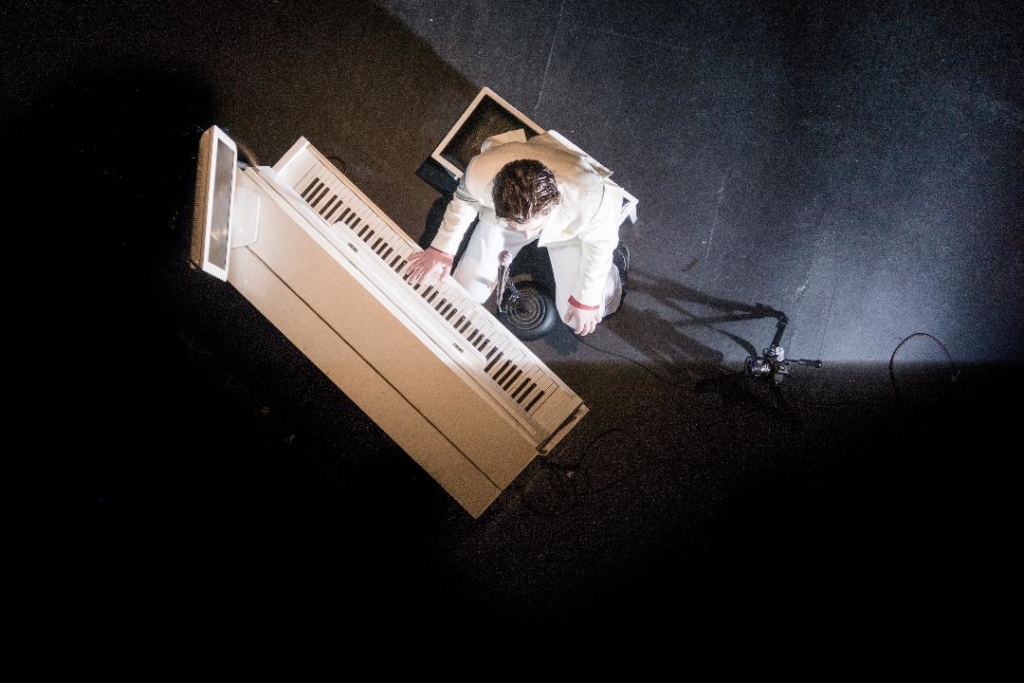 Callum Easter
s new album 'System' is out this September
on
M
oshimoshi Music
(in association with Lost Map).

Hugo Fluendy gets an exclusive preview. You can re-order the album here.

Callum Easter's second album System is coming to save us from… what? In a month that has witnessed the sad passing of Bay City Roller Les McKeown, one more dead rock star for the sub-Bret Easton Ellis-troping pyre of dead rock stars, a month where a 90s rave icon ships in a depressingly realistic scale model of a sink estate to Edinburgh's Muirhouse just for the yucks, it's hard to imagine what original permutations of Scottish popular music can possibly remain to us. Fukuyama may have cried wolf but there is a decadent atmosphere. Perhaps we are wheeling through the last few parsecs of Dharma, who knows?
Now we have his new single What You Think, the first track to be taken from the LP. An unholy hymn to existential angst, freighted with brooding Kafkaesque menace and atomic weight riffage, it might just be an answer, albeit a rhetorical one. And as this Bella Caledonian can exclusively reveal, a thrilling synecdoche. The whole set maintains this level of intensity and intent throughout. Where last year's Here or Nowhere showcased Easter's trippy blues fundamentalism and claustrophobically personal lyricism to arguably 'cancelled' Scottish Album of the Year-status, System picks up the tempo and packs in the hooks with a hypnotic inventory of 2021's historical boneyard. Easter dubiously claims to have little interest in politics, preferring the personal kind, "the stuff that matters, what's good and what's bad, what's important to you… like LOVE…"  but admits "I didn't really engage with politics until I worked as a tech op at the Scottish Parliament in 2014 which was an interesting experience. The exaggerated personality that they [politicians], it seemed artificial."
System is more outward-looking and the tunes rock harder. That's not to say there aren't any love songs, there are. It's a complex, nuanced record with peaks and troughs, trademark UFO-abductee-missing-time signatures and quirky arrangements; there's touchingly intimate ballads about fatherhood, or heartbreak delicately picked out on the kalimba, alongside tracks that could be the recital of a suicidal culture's bucket list framed by crunching post-glam guitar licks. Crucially, Leith Congregational Choir and Iklan's Jacqui and Pauline Cuff paint a soulful, gospel sheen over many of the tracks. For every Ballroom Blitz and Glitter Band-stomp there's a Sly Stone or  Curtis Mayfield-swing to System that lifts it into the realms of joyfully classic rock and soul repertoire. But at the risk of stating the obvious, this is a Callum Easter record. For all its authorial evolution and studio savvy, there's a controlled aggression to his delivery. The vibe is sepulchral, neo-gothic if you will. Yet as the late – what else right – great Lou Reed sang, his, and by convention our lives will be saved by rock and roll. We may be trundling hellward in a rusting shopping trolley but we can still stop to cut some rug.
"I wanted to make people dance," confirms Easter. "The rhythms are out front this time, I tried to be more uptempo across the piece. It's been a mad time to write an album. So  much noise and anxiety. I needed this album to let off steam. I want people to move, look each other in the eye, have a conversation. If life is lived as a constant emergency, then it's just a waste. What needs to change?"
What indeed… Back in the pre-plague innocence of summer 2011, Easter was playing keyboards in precociously talented, near-miss-big-hits The Stagger Rats. Comprised of school mates from Easter's native Dunbar, the band's Owen Morris-produced single, an infectious indie pop gem called Fuzzy Fuzzy, seemed certain to break them on national radio but somehow ended up breaking them up instead. Easter is loyally vague about the exact circumstances of the split and a detailed post-mortem is beyond the purview of this article but even at this distance a few of the usual suspects can be seen reporting for duty: egos or at least a grotesque oversupply of songwriting talent that must have created tensions, signing to a sketchy foreign label, naturally there were drugs around, the reckless contagion of youth even; whatever the facts of the matter, our sideman became solo auteur. A brief iteration under the salutary Fridge Master moniker – don't smoke pot kids, regulatory hassles with a short-lived sound system and the mundane pressure of earning a living with an impending family, all conspired to make Callum Easter's transformation into Scotland's most original rock voice in a decade more than some quick casting couch hustle. Dues were duly paid.

Meeting seasoned Hippy Chick-hitmaker and Soul Punk supremo Tim London was pivotal. The same instinct that deftly recast wanna-be boyband Young Fathers as trip hop Mercury Prize-winners led London straight to Easter. The pair forged a close collaborative partnership which prospers to this day. London is the Creative Director of the Callum Easter TV special whose fever dream cinematography will be released as a visual accompaniment to System. "Callum Easter came on my radar because Edinburgh's music scene was dominated by the 'quiet folk' thing, which I found painful, so that anyone with some energy, trying for uniqueness, stood out. He fitted in perfectly with Young Fathers, Law [Holt], JnP [Jacqui and Pauline Cuff] and myself. Initially, I released two EPs and was just an extra ear and helped out with advice."
Callum has always written and produced himself but I stick my tuppence worth in and JnP have provided backing vocals. Their voices work well together – JnP still sound like innocent young things and Callum sounds like he's always been a 72- year-old satyr. Callum is incredibly talented, his own production skills could make him a lot of money but he chooses the hard path of searching for the original thing and that comes with a cost," says London.
Those early Callum Easter shows were mesmerising. A 2016 support slot at a busy Voodoo Rooms in Edinburgh seemed to alter the dimensions of the stage such that the headliners receded into the distance somewhere far behind Easter's set. The launch for debut EP Get Don't Want at the Capital's Biscuit Factory a couple of months later stretched this warped majesty into new, even more fantastic shapes. Both these dates deployed Easter's buddy Jon Fogarty on stage as DJ/tape op which allowed treated vocals and guitar to be dubbed in live, conjuring vertiginous echo and other disorientating effects that elevated his act way beyond the scope of a traditional singer/songwriter.
To stage System, Easter is recruiting a small three or four piece band probably including guitar, bass and  xylophone. Pandemic permitting, there are shows booked for August, first as part of a Neu Reekie bill at the Fringe by the Sea event in North Berwick followed by a date at Jupiter Artland, also in West Lothian. With gigs shuttered for well over a year now, it's an exciting prospect. "I'm looking to build a few set- ups and engineer a few things. I'll be able to have the tunes covered on different instruments myself so that it can be a bit more flexible with people playing alongside me. I've been practicing with a few people individually, we'll need to see how it comes together."
When it is all in the pocket, listening to Callum Easter is like spinning a radio dial through the decades as well as between stations. Think Captain Beefheart, Elmore James and Shirley Ellis rise mouldering from the grave to jam with Slade and a Kaoss Pad. Sections sound so classic they seem naggingly familiar, as well as like nothing you've heard before, but it doesn't require any rocket from the crypt. Rock and roll is timeless baby.
Exclusive to Bella readers here's a link to Permanent Marker, a free download to a Callum Easter tone poem: https://soundcloud.com/callumeaster/permanent-marker/s-eOSs1gOKoH9
Photo credit: John Mackie