University of Liverpool Strike Action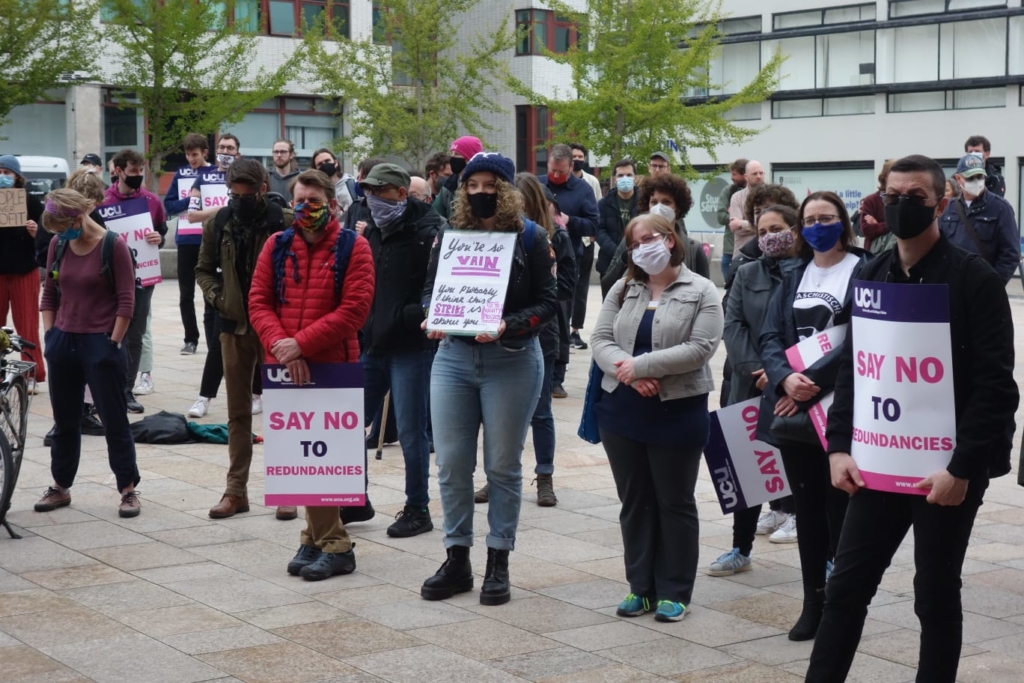 We are now in week 3 of a strike at the University of Liverpool. It is already the longest local strike in our history, and one of the longest in any University's history.  Last week, we voted to escalate our strike action.
A thousand members of the University and Colleges Union are now striking to defend 32 academic jobs in health, medical and life sciences.  But the stakes are even bigger than those jobs.  The University of Liverpool is currently playing out a scenario that may be all too familiar in the post-pandemic world.  It is the test-bed of what is known to the most dubious employers as 'rank and yank.'  This is the practice of ranking staff according to performance targets and then sacking the bottom 5% or 10% every year.    Companies that used 'rank and yank' until they were publicly exposed include Goldman Sachs and Amazon.
At Liverpool, 'rank and yank' has been implemented with a very real bureaucratic violence that Kafka would have been proud of fictionalising.  Our colleagues – many with young families – are being sacked for not earning enough research grant income.  The target for most of those facing the sack is an eye watering £187,000 per year!  And, this is the Kafka bit: they were given those targets after they were told they were being sacked for not failing to reach them.  None of them were ever told by their managers at any point before now that they would be required to reach this performance target.
We are informed by experts on the use of performance measures like this that this is the first time in Europe a University has used research income targets to  disposed of staff en masse.  If the University of Liverpool gets away with it, it may open the floodgates to a new wave of Amazonian employment practices in the public sector.
We need to win.  At the same time, we need to take stock of why this is happening in a University, and why this is happening now.   The advent of £9,000 a year tuition fees in England and Wales, combined with a lifting of the cap on student intake, has created a toxic mix of financial logics and power-drunk managers.  This is not to say that the same thing is not going to be played out in Scotland.  Indeed, the full support we have from UCU Scotland, and some big Scottish branches is on one hand a measure of the solidarity between education workers North and South of the border.  On the other hand it is an indication that the situation in English higher education can't be allowed to spread to Scotland.
On both sides of the border, however, University senior managers are given free rein to embark on high cost ventures, spending huge sums of public money without having to answer for the consequences.  Many of those ventures are 'vanity projects', risky, high stakes schemes that will allow their architects to claim the credentials they need to climb even further up the ladder.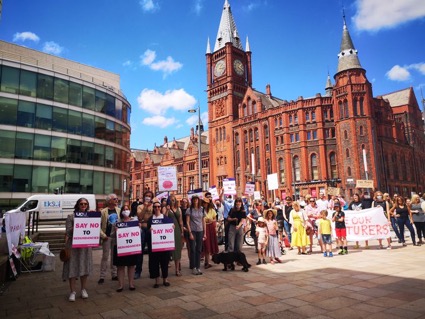 In other Universities we are seeing entire subjects and Departments axed to pay for investment mistakes and property deals gone wrong.  Colleagues at other English universities, including Leicester, Chester, Sheffield and Goldsmiths are facing redundancies because managers took financial risks and expect workers to pay for their financial incompetency.
At the very beginning of the pandemic, an earlier bright idea of one upwardly mobile financial director at the University of Liverpool unravelled.  This was the brilliantly names 'University of Liverpool in London', established in a huge palatial building close to the City of London.  The idea was to cream off the 'surplus' of overseas students' funds, all of them paying inflated fees.  What this bright manager didn't reckon on was that overseas students had moved to London to study at London universities.  If they wanted to study at in Liverpool, they went to Liverpool.  This University ponzi scheme finally collapsed in March 2020 with an empty building and empty course, leaving a total loss that has never been admitted in public. UCU has estimated to be in the region of a cool £30m-£40m.  What happened to that manager?   He was headhunted for a more senior position at an even larger University.
'Failure breeds success' was not supposed to be the epithet for the marketization of the University sector. The neoliberal logic of the public sector is distinctly Orwellian.  Remember how the new public management was based on a revolution in efficiency and effectiveness.  Remember the waste created by a bloated public sector that was used to justify the privatisation of all of our public services and amenities?
Now we can see clearly that the opposite is the case: our political and managerial class are more bloated than ever.  In Liverpool, our University Vice Chancellor earns 20 times the salary of the lowest paid employee.  The  senior manager who designed the scheme put her Euro 3.2 million home on the market, as she signed off of the redundancies.
The sacking of our colleagues is not a result of financial necessity, or because they are not good at their jobs (they are brilliant at their jobs).  This is just another management show of strength, a muscle flex to shows that staff can be disposed of to support another back-of-the-fag packet vanity project.  The redundancies are being made to build a new research centre that will be the plaything of the same senior manager with the Euro 3.2 million home.
And this is why we are committed to taking the strike as far as we can.  We need to do something to challenge our unaccountable and bloated managements, and their nonsensical vanity projects.  And we must keep challenging and revealing the brutal incompetency of the new managerialism in higher education.