The Workers' Observatory: Data and the Workers' View of Edinburgh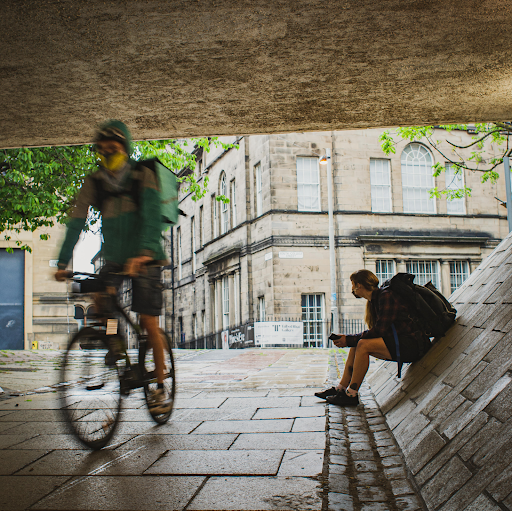 The Workers' Observatory is focussed on making data serve the interests of workers. In the context of a drive to make Edinburgh the "data capital of Europe", researchers and workers at the Edinburgh-based organisation collect data about gig work in the city in order to improve working conditions in the platform economy.
The observatory is organised on the basis of guilds — workers who work in a particular sector or field — who work together to put together a picture of how gig work and technology are affecting how much they work and how much they get paid, amongst other factors. The data they collect serves to expose the conditions of gig work. A good example of the use of this kind of data is The Ferret's recent investigation into Deliveroo pay, which revealed that Deliveroo drivers were getting paid under the minimum wage — as little as £6 an hour working 12 hour days.
They recently released a manifesto aiming to transform the relationship between gig workers and gig economy companies, with the following five demands:
Nothing About Us Without Us
Show Us the Full Picture
Let Us Meet on our Own Terms
Investigate Injuries
Invest in Our Innovation
I spoke to Cailean Gallagher about the Workers' Observatory's work.
Can you tell me a bit about yourself and how the Workers' Observatory came about?
I've been working with trade unions for a few years, and I've become more and more interested in how workers without unions come together and organize and build up power, especially in environments where economic or technological changes have an impact on work. That can sometimes put more power in the hands of bosses.
A lot of the economy in Edinburgh, as in most places, is built on the backs of workers who aren't in unions; this is quite visible with couriers and delivery riders, but also caddies, cleaners, carers, tour guides, festival workers at certain times of the year, or people whose work isn't necessarily waged or salaried in a conventional way but do more gig work. They're often scattered across the city and find it hard to get a picture of how their work operates within the city and develop a common vantage point.
Thinking about all that and talking to a lot of gig workers in my union work and as well as some academics at the University [of Edinburgh], including someone called Dr Karen Gregory, who is an expert on new forms of work, we began to think about how workers might come together and share what they know and start building power.
A few years ago there were a lot of discussions about workers inquiries and the idea that workers can be empowered to ask questions and answer questions about their working conditions and how that can be a way of building solidarity. We were also thinking about the history of the observatory in Edinburgh — Calton Hill and Blackford Hill — and the sociologist Patrick Geddes who built the Outlook Tower at the top of the Royal Mile, who talked about the need for observatories — social observatories — as well. That brought together this idea for a Workers' Observatory, which was launched at the end of 2020.
What are the Workers' Observatories' goals and what techniques do you use?
An observatory is a site where you can observe the cosmos; it's a place where there's equipment gathered together — tools and techniques — and the people who are involved in it. In some ways that's the model for the observatory. It's a website, but it's also a place where people can come together to observe what's going on. Importantly, as it is developing alongside changing technology, it's developing the tools that we will need to penetrate what's going on in, for instance, the way that Deliveroo works or Uber works, but also in the way that smaller and private sector care companies might scatter people across the city.
We're trying to observe patterns in things like pay rates; how they're set, how they change over time, how schedules are made up, how the workforce changes over the course of the year, and to some extent the way that that impacts people's rent and their ability to live in the city altogether. We also look at the hazards and dangers of work that quite often are hard to see but are quite deeply felt.
The techniques for obtaining that information can range from conversations and workshops where we knock out the questions that workers want to answer to more sophisticated tools like coded programs that some of the riders have made to try and parse data, which means take the data from payslips and gather it together and paint the picture.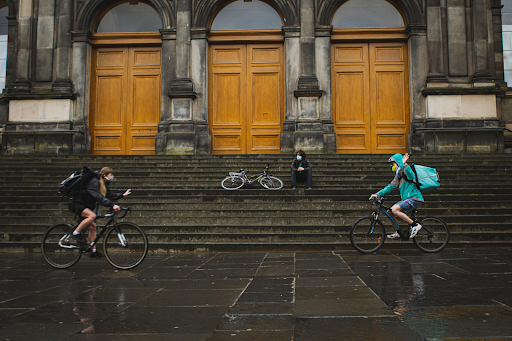 What do you hope that the data you gather will do?
Even before you're talking about data there's a big question of where the data goes. It has to comply with GDPR, of course; we're running a data protection audit. The data is used to inform workers about work. They use it to do media around pay; we were involved recently in an initiative that the Ferret with Bureau Local and the IWGB union about trying to get a snapshot of pay, which was really helpful and got good media.
We want to build a picture over time so that we can chart and graph the changing pay rates in the city. This gives workers the basic starting point that any group of workers tends to need in a union; to be able to bargain, you need to know what you're being paid, and what your demand is going to be, and what your minimum demand can be. You don't need data for that, but it helps. I would emphasize that the process is as important as the outcome; the more people you can involve in gathering that information, the more buy-in you have to that collective picture.
Why is this work needed in Scotland right now? What are some of the key issues that we're facing?
Gig work has always been around, there's nothing new about it. Caddies and cabbies and all the rest of it are pretty old. Actually, there were really interesting gig work associations in the 18th century in Edinburgh. What is new is the apps and the platforms and the technologies that are changing the character of gig work quite fast, and the challenge is to build power in that context. Specifically, in Edinburgh, there's a lot of focus around data-driven innovation, there's a big project called the City Deal– a billion-pound investment project to revamp the local economy. A lot of what that is doing is funding the corporations that want to innovate with forms of work and upskilling workers to do it, but that isn't really giving a place for workers to see what's going on.
Scotland's become a testbed for platforms and digital companies to experiment; Deliveroo has staff in Edinburgh. Another interesting example is Care Sourcer, which is an umbrella startup, which is about matching demand for care and to care providers that has been referred to as the liberalisation of care. We're seeing things pioneer and by the likes of Deliveroo being introduced into other sectors in Scotland. The Scottish Government talks about fair work in the gig economy but isn't dealing with things like unpredictable hours, how people are hired and fired, and all the risks that come by working day by day.
How do you see this work relating to a broader socio-political context?
One context here is technology and the introduction of the debate around surveillance. Surveillance is discussed as a matter of individual liberties and privacy and GDPR discussions quite often focus on citizens' rights, but there's a big discussion to be had about how workers rights are going to be affected by that.
The other, more important context is that we are reopening after COVID lockdowns and there is going to be a big splurge of spending, but also there's a lot of unemployment and there's a lot of people who, through the crisis, have been looking for work and signed up to the apps. So it's going to be a spree for these platforms, who have used this time to try and increase the rate of exploitation within the sectors. Because there are more people on them, they can drive down pay rates. They can scatter people more broadly, there's no natural impetus for collective action.
That's why this is a particularly interesting time to demand the opening up of information and to overcome the isolation and atomization that this kind of work presents because otherwise, we could be in a situation where, in a few years time, there's been this change in the workforce, where people are now used to working on this individual basis through technology. There's nothing inevitable about it but it's a risk that it might be one of the legacies of COVID.
What effect has the pandemic had on your work?
The effect of COVID on different classes has meant that, while a lot of middle-class people have stayed at home, key workers have been on the streets and been more visible. Hopefully, it's increased the consciousness of the importance of that kind of work. I know from talking to a lot of workers that there's been an increased sense of solidarity amongst the riders as they've seen each other in the streets.
What kind of insights have you found so far?
Early on, we brought workers together and asked what data they would want to see that they don't currently have. What it revealed was that what the workers want to demand is to be able to ask a set of questions, and those questions are not new, data related, or tech-related — they're the old questions of union organizing: who am I working with? Under what conditions? At what times? For what pay? And in what place? These are the first five questions of any organizing approach.
Coming from a union background where you've already got all this information and you've got infrastructure and you've got organizers and you've got officers, you sometimes miss the seeds from which the union originated. The observatory approach tries to start from the basics: where do we stand as workers? What can we see and how do we use that to build power? So that was one of the big insights we had early on that gave us confidence about the project.
I spoke to a courier for one of these pieces and I definitely got this sense that the algorithm mystified employee-employer relations and made it so that there wasn't an accountable process. I don't know if you've ever read Astra Taylor's article on fauxtomation. It touches on the way that this idea of automation makes what is still very much human labour and political struggle appear to be machinic and depersonalised. 
Yeah, it then opens up space to use the language that unions are familiar with: bosses and workers. Similar techniques and questions were raised by people trying to organize agricultural workers in the early 20th century. The trouble was that people were sent out to do dates here and there, and they never looked their bosses in the eye. Whereas, when you worked in a mine or something, there was a moment where you were taking action and you could see them. The problem is that you can see nothing but the app; you can't see the people who are in power. Hopefully, the observatory will be able to turn its attention to some of those individuals as well as data. The observatory is not trying to turn it all into a technological problem to be solved. In some ways, it's looking behind the immediate experience to see who is in command of these things. And that's not just companies, it's also the complicity of local authorities and government who quite often stand apart and say "well, nothing to do with us — this is technology". The Scottish Government has a lot to answer around its focus on digital labour. You know Kate Forbes is going mad about the digital economy and there's not really much discussion about classic labour relations.
What kind of response have you received?
What's been nice about it is how the initiative is now collaborative between workers and me and Karen, and most of the work has been done by workers who are speaking to each other and sharing surveys but also investing time in building these tools. That itself is pretty exciting because people investing time in these kinds of questions is different to the kind of energy you can galvanize around a strike action where, at least in the gig economy, a lot of the initiative has been fast and quite fierce, but often dissolves. A lot of the focus here has been on their ability and starting to build things up and pull them all together onto this one site. As workers have realized that this is not just a flash in the pan thing but is trying to build up over time, it's been nice to see a bit of the culture start to grow.
If you work in one of the sectors the Workers' Observatory is working with you can get in touch and join that group.
If there is a sector that isn't represented on the website that you think it might make sense to raise these questions in, get in touch.
To follow the work the Workers' Observatory do, follow them on Twitter or Instagram.