Humorous Tunes for Turbulent Times
I am currently in isolation – on day three of an eternal ten – and struggling to see the funny in much of anything. With my July dreams of writing retreats and music concerts snatched from me, I have been left alone, with a needy, pestilent partner detained in the sitting room, and a freezer full of miscellaneous Tupperware. In suitably ironic timing, my playlist for Bella Caledonia this month is on the theme of funny music. Ha.
There is a dusty idea that lurks in the minds of many: that humour somehow reduces a piece of music; that making something amusing devalues its artistic worth. A true artist is solemn, sincere, earnest, sombre. They attend to serious matters, such as romantic and sexual rejection, the moon, the navel. If a song happens to be humorous, we hear that above all else, and often totally disregard the production or musicianship. But I say that all art is created equally, and a song about your love of big butts is just as worthy (in fact, more worthy) than a song as notoriously righteous as, say, 'My Way'.
Music is the ultimate mood shifter; laughter is a gift; life is meaningless, and it is incredibly tricky to do funny well. So, here is a playlist of humoresques to tickle your humerus; songs with a sense of humour; an eclectic mix of some of my favourite bangers that also happen to be funny. Disclaimer: Several of the songs in this playlist contain rude words, like the 'F' one. Listener discretion is advised.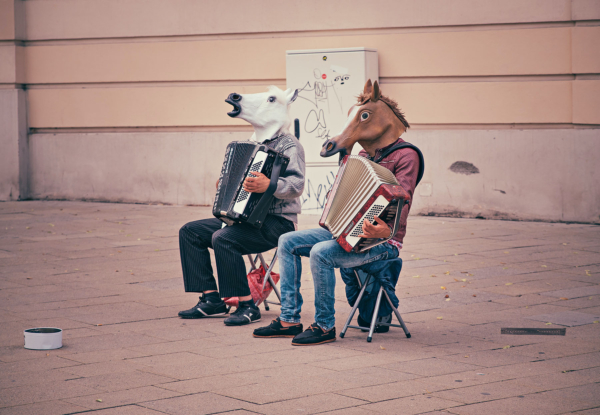 I am opening with the Portsmouth Sinfonia, an English orchestra founded by art students in the 1970s, which was open to anyone, crucially, even non-musicians. Those who did have some musical training were required to play an instrument that was entirely new to them. They became relatively successful, even playing the Royal Albert Hall, which is a gig I really wish I could have attended. Another band spawned by an art school is the Bonzo Dog Doo-Dah Band, here with 'The Intro and the Outro', a song which contains the lyric: 'Adolf Hitler on vibes'.
'Ive Got Drugs (Out of the Mist)' by The Frogs, a controversial band with a prolific cult reputation, is a song that really does what it says on the tin, lyrically. 'Bike' from Pink Floyd's debut album is a junk shop song, containing many bizarre finds, my favourite being an ageing mouse named Gerald. Syd Barrett invites a girl to a 'room of musical tunes', which I imagine to be his mind, the cogs of which we hear turning discordantly at the song's close in a madcap cacophony. A similarly unhinged song is 'Money (That's What I Want)' by new wave band The Flying Lizards, in which the singularly unimpressed and disaffected singer demands money in iconic monotone.
Sometimes, one tries to be funny, and sometimes, one tries very hard not to be, but is. Leona Anderson's album 'Music to Suffer By' reminds one of Florence Foster Jenkins, a poor soul who did not intend to be hilarious, but, (un)fortunately, very much was. Leona Anderson however, a silent movie actress, was in on the joke, even billing herself as 'the world's most horrible singer'. Her take on 'Habanera' from Carmen is my favourite, but I would recommend checking out the entire album if you're ever feeling blue.
I have long adored the lugubrious Jake Thackray: chanteuse, poet and esteemed guitarist, sometimes described as the 'Northern Noël Coward'. I think that he should be much more widely celebrated than he is, and perhaps he would have been something of a national treasure, if it weren't for the fact that he didn't much like performing live. His folk stylings and witty lyricism fell out of fashion in the punk era, and he retreated from public life. 'The Lodger' is a masterful piece of songwriting, and I say that it is high time for a Jake Thackray revival.
Yet another art school origin story, with Devendra Banhart, and 'Fig in Leather', a song that seduces you in a too-short silk robe. 'Fish' by Mr Scruff, a DJ who, for goodness sake, also went to art school. Jonathan Richman, of The Modern Lovers and solo fame, is not obviously comedic, but there's something incredibly entertaining about his awkward charisma and inherent likability. He's like the funny guy in class that you always had a crush on. 'I Was Dancing in a Lesbian Bar' is an ode to not taking things too seriously.
'Living in Hope' is a song by The Rutles, a band created by Monty Python's Eric Idle, that performed parodies and pastiches of The Beatles. Their brilliant mockumentary, 'All You Need is Cash', even features George Harrison himself. The B-52's are not necessarily a "funny" band, but Fred Schneider's vocals make them so. Similarly with 'Botch-A-Me (Ba-Ba-Baciami Piccina)' by Rosemary Clooney (aunt to George), I can't tell if it is tongue-in-cheek or not, but it is just so silly and god damned Italian that I can't help but laugh when I hear it.
'Knock 'Em Out' is from 'Alright, Still', Lily Allen's debut. The album of my tweenagehood, it evokes memories of giant, golden, bamboo hoops, diamante flip phones and privately educated singers adopting false Lahndahn accents. There is a great tradition of funny songs in hip-hop – perhaps because rhyme lends itself so well to humour – and I apologise for not including more in this playlist. I have, however, included 'None of Your Business' by Salt-N-Pepa, the First Ladies of rap, known for their sex positivity and playfulness.
One of the most successful musical comedy acts of all time, Flight of the Conchords and 'Most Beautiful Girl (In the Room)', the astonishingly poised and subtly expressive Erykah Badu and 'Tyrone', and bass guitarist, singer and songwriter Thundercat with 'Dragonball Durag'. Catwoman, sex kitten and force of nature, Eartha Kitt always had camp, comedic appeal, and the typically come-hither 'I Want to Be Evil', is no exception. Mac Demarco maintains a jocular demeanour, in the ilk of Jonathan Richman (whom he cites as one of his biggest influences) and it is probably most evident in his first album, 'Rock and Roll Night Club'. King Missile is my favourite band fronted by a poet (apart from my own, of course!) and they are perhaps best known for the irreverent 'Detachable Penis'. 'I Got Stoned And I Missed It' by Dr Hook follows the exact same somnolent story arc as Afroman's 'Because I Got High'.
The provocative, nonsensical Dada art movement sprang from the nonsensicalness of World War I. It was said that one could not respond with any kind of logic to an event as completely and utterly illogical. Nothing had meaning anymore, so why try and make art meaningful? The madness of the Vietnam war would later inspire much mind-bending artistic responses, such as this demented song by Country Joe & the Fish, 'I-Feel-Like-I'm-Fixing-To-Die'.
'Big Bottom' from This Is Spinal Tap, the ultimate send up of the rockstar ego and most famous mockumentary, possibly ever. A band that don't take themselves seriously either are the Butthole Surfers, here with the somewhat unsettling 'Moving To Florida'. You can really hear Gibby Haynes' mouth in this one. A relatively recent debut release next, from Doss, the DIY solo project of Sorley MacKay. It is a merciless song that takes no prisoners, mocking those who take themselves very seriously indeed. I feel the pop he takes at Glasgow School of Art students in my soul, having *cough* … gone there myself. His most recent release, 'Redundant', is out now.
Staying in Scotland for the next two, with 'RANG WI ME' by irreverential Glasgow-based band Mickey 9s, the star of the show here being the music video (watch it at once), and 'Fresh Blood' by folk legends The Poozies, a song about the small gene pools of Scotland's islands. Then Madness and 'One Step Beyond', 'Big Jilm' by absurdist, class-clowns Ween, and 'Fill It Don't Spill It' by the ridiculous Warmduscher. Then 'She Blinded Me With Science', by musician and entrepreneur Thomas Dolby.
'The Diva Dance' from 'The Fifth Element', composed by Éric Serra, is a technically impossible opera, having been written for an alien and arranged digitally. One of my lockdown obsessions has been with comedy funk artiste Jazz Emu. I first became aware of his incredible oeuvre with 'How To Socialise', but am a true fan of everything that he puts out. I highly recommend 'My Brothe', in which he sings a spam email to great effect. I'm finishing with comedian and beatboxer Reggie Watts, and the profane 'F*ck Sh*t St*ck'. Pure stupidity. Enjoy!