Baroness Lundin Links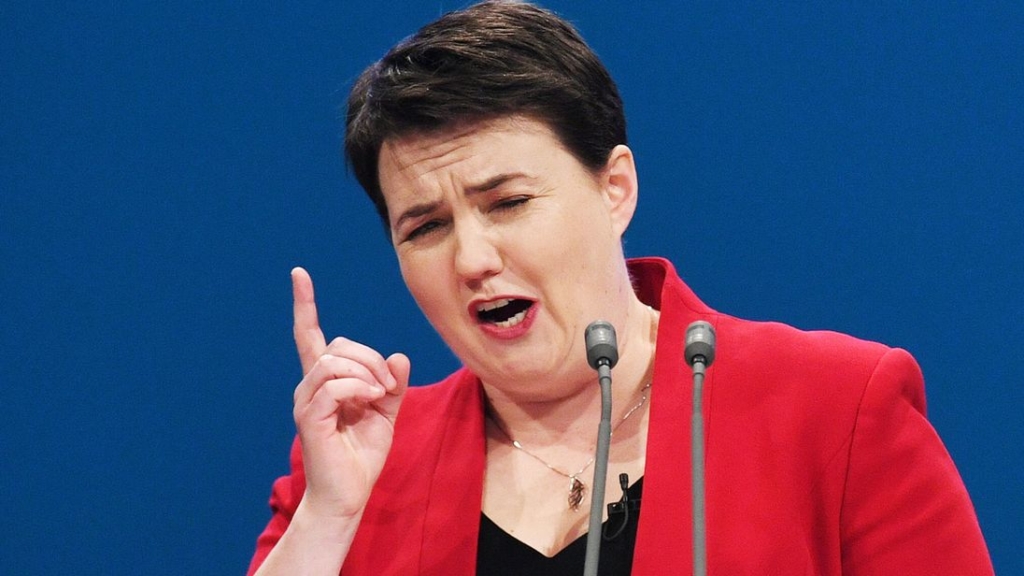 I've never witnessed anyone suffering the opposite of Imposter Syndrome more than Colonel Ruth Davidson.
So soon after the end of the career of that other titan of Scottish politics, Wullie Rennie, Davidson has also left these parts. The bizarre phenomenon that was Colonel Ruth Davidson has ascended to the House of Lords, and, in keeping with the time spent at Holyrood she started her new career talking absolute mind-blowing gibberish.
How exactly she managed the mental gymnastics to contort that entering the unelected House of Lords was a great sign of meritocracy is mind-blowing, but she did. The Courier reported that "former Scottish Conservative leader Ruth Davidson has said she never believed "someone like me" could be appointed to the House of Lords, as she prepares to take up the new role this week."
Davidson said: "As a teenage pupil at Buckhaven High School, I didn't believe that someone like me could ever have the chance to serve in not one, but two parliaments."
Well, it's quite a feat.
Baroness Lundin Links – as she's chosen to be called – joins fellow Scottish success-stories: Jack McConnell, Jim Wallace, Nicol Stephen and Annabel Goldie in the House of Lords.
How did any of this happen?
With a few notable exceptions the media were useless. They just lapped up Davidson's stupid media stunts and photo ops, regurgitated ad nauseam her lifestyle story and totally failed to question her on the rank hypocrisy that ran though her career like she's trademarked it.
Davidson – inexplicably reputed to be 'great media communicator' had a set routine: for parliament there was furrowed eyebrows/serious face, followed by other media spaces revert to 'having a laugh' – 'it's all just a bit of fun' face. She would do an embarrassing routine at Conservative conference alternating between the Cheeky Jock and sometimes (latterly) as Prime Minister/First Minister-in-waiting, depending on what levels of wild self-delusion the press pack was going through.
At one point this got seriously deranged.
At one point, Ruth Davidson was being touted not just as a Cabinet member but as a future Prime Minister. Seriously.
Martin Kettle wrote enthusiastically in the Guardian:
"Cameron had a succession plan that isn't on the cards this time. He had intended, after winning the European referendum, to reshuffle his cabinet for the remainder of his premiership. One of his moves would have been to confer a peerage on the Scottish Tory leader, Ruth Davidson, and make her defence secretary, sitting in the House of Lords. The aim was to help to position her to be Cameron's chosen successor. At some point between then and Cameron's departure, the plan went, Davidson would "do a Douglas-Home" and move to the Commons – as Harold Macmillan's successor, the Earl of Home, had done in 1963. Davidson would remain in the government, renounce her peerage, and be fast-tracked into a safe Commons seat. There would be a byelection, and she would then be in the Commons, in a box seat to win the leadership – the best bet to stop Johnson, and all with Cameron's backing. Who can say whether all this would in fact have occurred if events had not got in the way in 2016?"
Who indeed Martin.
Matthew Norman joined in writing: "Ruth Davidson is the relatable leader the Tories so desperately need as PM".
John Rentoull joined the throng penning a ridiculous piece: "I'm convinced Ruth Davidson could be the next prime minister…"
Chris McCall chipped in with this "Could Ruth Davidson be Prime Minister?"
Political commentator David Torrance joined in pointing out that, constitutionally, being an MP is not a prerequisite to becoming prime minister. "Sir Alec Douglas-Home was PM for two weeks without being an MP, pending a by-election in Perth," he said.
In an over-enthusiastic piece in the Scotsman (accompanied with gushing video), Paris Gourtsoyannis wrote ('Scots Tories plot to keep Boris Johnson out of Downing St'):
"Senior Scottish Tories are involved in a plot to keep Boris Johnson out of Downing Street over fears his leadership would destroy the party's revival north of the Border."
In a remarkable sentence Gourtsoyannis writes: "Internal party polling and analysis shows victory for Mr Johnson in a leadership contest to succeed Theresa May would boost the Labour Party in Scotland, putting at risk several of the Westminster seats the Tories won in 2017 and making it impossible for Ruth Davidson to become First Minister."
And on and on it went relentlessly, unquestioning enthusiasm for an under-achieving mediocrity. It was the apogee of style over substance, the high point of lifestyle over ideas.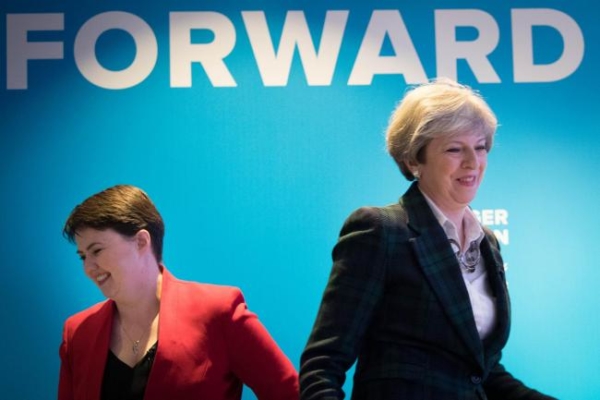 This is all remarkable given that I can only think of three policies associated with her in the ten years she was leader.
First was her campaign for Better Together.
Second, although she was always described as "socially liberal" she repeatedly defended the controversial rape clause, which offers an exemption to the UK's Government's two-child limit on tax credits if a woman can prove a third child was conceived as the result of rape. This involves filling out an eight-page form, which includes naming the child who was conceived as a result of rape, as well as providing the DWP with evidence the rape took place, such as a conviction in which they were the victim or testimony from a professional such as a doctor or the police, and confirming she is not living with the child's father.
Davidson has said: "All they have got to do is tick a box and put their name on it."
SNP MP Alison Thewliss, who led the party's opposition to the clause in the Commons, said: "Rather than just 'tick a box', the form clearly that a woman must fill in her own details and her child's name, and then discuss her situation in enough detail that a third party professional can be sure that her 'circumstances, as described, are consistent' with her child having been conceived as a result of rape. "This cannot be done without the risk of re-traumatising the woman and worryingly that includes the child's name – both issues of concern raised by the Equality and Human Rights Commission.
The third policy she is associated with is backing Remain in the EU referendum. However her outlook was fatally undermined by her unequivocal promises from 2014 that "NO means we stay in, we are a member of the European Union."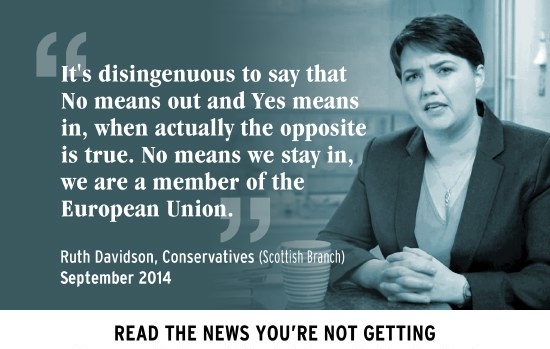 Of course we would be dragged out and no apology or explanation (not that it would mean anything) would be forthcoming. She said it would never happen, then it happened, she said she'd never work with Boris, then worked with him. This was the pattern throughout of equivocation, evasion and deceit. She was effectively a buttress against the government in Westminster, for which she was both a human shield and point of projection. The Conservative electorate here could pretend that they were electing people like her not people like the Real Tories. The Real Tories could pretend they were people like Ruth not people like Real Tories. There was two problems with this. The first is that Ruth was a Real Tory, the second was she had absolutely no power or influence whatsoever.
This was demonstrated again and again and caught fabulously by this interview with Colin Mackay:
😳🧐🤔

Even being asked the simplest of questions the Scottish Tory has no answer.

Ruth what have you delivered for Scotland?…………………………………

Eh, @theSNP are really bad!

— Michael Stewart (@mstewart_23) May 3, 2019
The problem with all of this is that it doesn't serve anyone to have politicians of the very poor caliber of Willie Rennie and Ruth Davidson not just elected but leading political parties in Scotland.
Expensive
To be fair to rise to the top of the Scottish Conservative Party is not too climb across a mountain of talent and quick wits.
She was better than Annabel Goldie.
But despite the remarkable plaudits that surrounded her sustained ordinariness her political career was characterised by evasion and defeat. For long periods of time she was absent from either constituents or available to the press.
This is the woman which the fawning Scottish press described as "contemporary and modernising" joining Britain's feudal constitutional ruins. Let's be clear what this means. Despite Davidson's claims the Government gives unelected unaccountable peers like her the power to decide on our laws for life – even though they've lost the confidence of the electorate. And they get to claim £323 a day tax free for the privilege (after a 3% expenses hike).
The House of Lords now has over 800 unelected peers like Ruth, at a cost of £1.1m a year based on the average expenses claim, the Electoral Reform Society says. Peers can usually claim £323 a day tax-free – for the rest of their lives – for signing into the Lords. Congratulations Baroness Lundin Links!