Global Britain, Britannia Unchained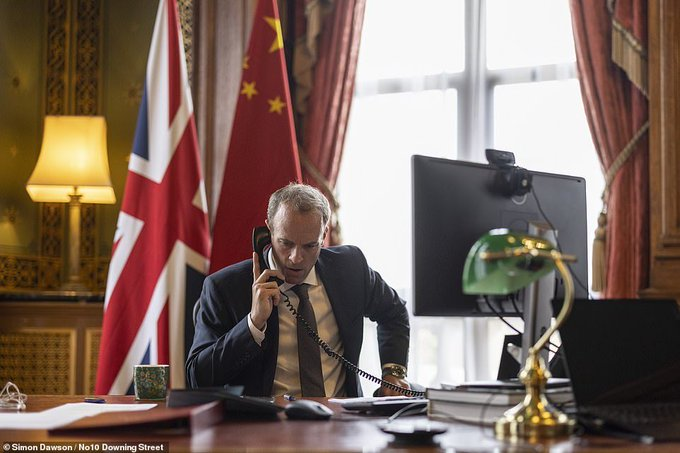 Liberal media went crazy for the Tory back-benchers sticking it to Boris Johnson in Westminster yesterday. Ex-soldiers were a favourite but so too was the disastrous ex-PM Theresa May now resurrected as a principled back-bencher. Stumbling into an accidentally prophetic sentence she said: "We boast about Global Britain, but where is Global Britain on the streets of Kabul?"
But what we are watching in real time IS precisely Global Britain.
The gulf between unprocessed hubris and the reality of Anglo-Britain's place in the world is now a chasm pockmarked by chicken-shortages pathetically incompetent ministers and a collapse of standard in public office.
Imagine being (nominally) in charge during the fall of Kabul and the most disastrous episode in modern British history and not just resigning. Imagine being caught in Dominic Raab's position and not just immediately resigning in shame?

The Churchill Project reported: "MPs with stricken faces – some visibly shaking with rage, some seemingly on the verge of tears – were suddenly aware that they were living in an epoch-defining moment. Witnessing the decline of the West, its retreat from the world, & the consequences which follow from that."
"The first was that the special relationship with the US is clearly a fiction & has been for longer than the UK foreign policy establishment cares to admit. The second was that Brexit had burned bridges with the other Western powers to whom Britain might now naturally turn."
This is the Global Britain we've been led to. The joke about Britain's military weakness is that we have at Faslane our very own WMD (with its newly boosted "killpower") – a useless immoral symbol of our aggressive impotence.
Parliament was recalled, as if that would somehow do something; Raab and Johnson were chastised, as if that would somehow do something; Theresa May was lauded, as if she is interesting powerful or principled.
As Lewis Goodall – the Newsnight Editor observed: "MP after MP (from both sides) implored the government to provide an example of what global Britain now means. There was no answer, because right now there isn't one."
He misses the point. This IS Global Britain: impotent, incompetent, armed to the teeth, ruled by charlatans. Global Britain is Britannia Unchained. It's worth remembering that Dominic Raab, who lay on a beach in Crete, was too lazy to make the phone calls that could have saved lives in Afghanistan, once accused British workers of being "among the worst idlers in the world".
He and Kwasi Kwarteng MP,
Priti Patel MP, Dominic Raab MP, Chris Skidmore MP and Liz Truss MP are co-authors of the hard-right 'Britannia Unchained' manifesto of 2012.

There is continuity here between the casual incompetence of the over-privileged and the complete disregard of human life which is a direct consequence of their (in) action.

NEW – Toddler pulled over wall by U.S. soldiers as desperate crowds gather outside #Kabul airport.pic.twitter.com/NUDYAViOcb

— Disclose.tv (@disclosetv) August 19, 2021
The defence of Raab includes the idea of him "working tirelessly" but guests at a five-star resort in Crete have rubbished Dominic Raab's claim that he worked intensely through the day as Kabul fell.
One reported him swim and play ping-pong for hours. This morning Tory MPs are cutting and pasting tweets they have been fed to try and defend and exonerate the disgraced minister.
So this is it. This is what post-Brexit Britain looks and feels like. The 'Special Relationship' is broken because we are strategically unimportant and led by a man who has burnt his bridges with Democrat America; in trade terms we are marooned and adrift and militarily.
Raab's contribution to the hard-right's 2012 'Britannia Unchained: Global Lessons for Growth and Prosperity' was unconsciously prophetic:
"Britain is at a crossroads which will define our place in the world for generations. We must learn the rules of the 21st century, or we face an inevitable slide into mediocrity."
Here we are.
The parliamentary recall saw a chamber of people locked in mutual incomprehension. Theresa May seemed to be leading this bewilderment declaring: "We all understand the importance of American support, but despite the comments from [Boris Johnson] I do find it incomprehensible and worrying that the United Kingdom was not able to bring together not a military solution, but an alternative alliance of countries to continue to provide the support necessary to sustain a government in Afghanistan."
This would seem to suggest a state of complete denial about Britain's place in the world. To be clear what we are witnessing is Global Britain on the streets of Kabul.

Help to support independent Scottish journalism by donating today.