My Mixtape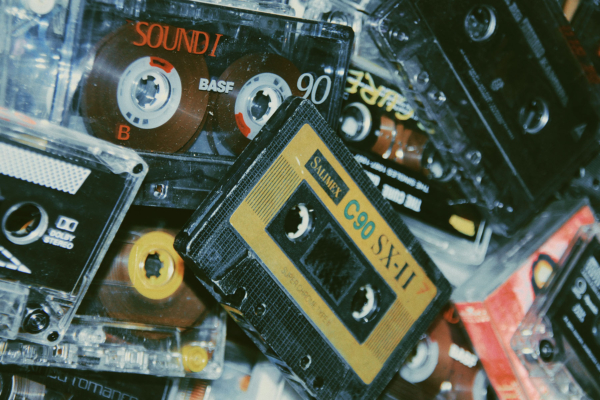 Like the handwritten love letter, the mixtape is something of a lost art. An artful and delicate form of communication, the mixtape was self-expression by means of assemblage, an earnestly stitched auditory quilt, a time capsule, a kiss.
I have been thinking about these now charmingly antique undertakings, taking up so much space underneath so many beds, because, like the typewriter and the polaroid camera, the cassette tape itself is experiencing something of a resurgence. Yes, everyone from Lady Gaga to Bon Iver is releasing albums on cassette tape these days, eschewing the CD for its more analogue predecessor. With tape sales at their highest since 2003, I think we can comfortably state that the millennium is back, the CD is dead, long live painstakingly unpicking tangled tape spool from the jaws of an unruly tape player.
But what of the mixtape, that humble Sunday afternoon project, that scrapbook for the multifaceted subtleties that make up a self, that self-indulgent sentiment receptacle – will we be seeing its second wind any time soon?
I certainly hope so. I think that humans should hold on tight to the more creative and tender inventions for ways of connecting, and being on the younger end of millennial – or on the geriatric end of Gen Z – I kind of missed the mixtape boat. Don't get me wrong, I have burned some CDs in my time and definitely remember glove boxes full of homemade compilation tapes, but I'm talking about the teenage token of adoration. It is like gifting a locket containing a lock of dyed hair, and I love the melodrama of it. What a tidy little package for such big, untidy feelings! At that age, feelings are so big and deep and complex that only by borrowing someone else's orchestra could one even come close to adequately expressing them. I must admit, I miss it sometimes, and I want a part of the mixtape action. I want to drunkenly shout 'Shut up, this song is about me!'.
The closest thing that we have to one in the meantime is probably the Spotify playlist. An impotent digital equivalent, really. An ebook compared to a tome. But we will make do. And make I have done – a mixtape, a collection of some of my favourite songs and artists of all time, tunes that have meant the most to me over my life and that I would most like other people to know, and, more importantly, to associate with me. Let me prove my worth to you, my imaginary lover, through my truly excellent taste in music…

Help to support independent Scottish journalism by donating today.