Cowardice & Capitulation: "[W]hy should 'gender critics' be beyond criticism?"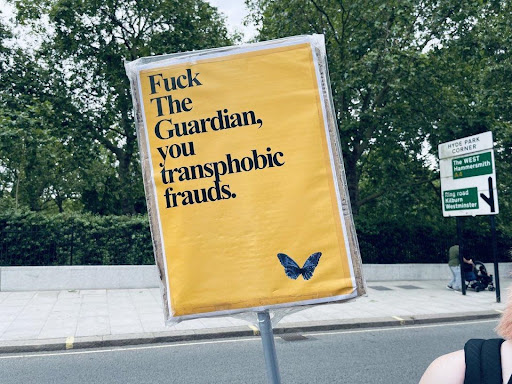 'It is very appalling and sometimes quite frightening to see how trans-exclusionary feminists have allied with rightwing attacks on gender'. – Judith Butler (2021)
This week, controversy abound concerning edits made post-publication by The Guardian to an interview with U.S. American queer theorist Judith Butler outlining the direct correlation between enforcing gender-binaries and fascism. Produced by Jules Joanne Gleeson (queer academic and historian), the 'career breakthrough' of an article originally contained the following passage, only for it to be removed mere hours later, with The Guardian online editors citing 'developments which occurred after the interview took place'. This, Natacha Kennedy stressed, is 'an excuse that will not survive any examination':
'It is very appalling and sometimes quite frightening to see how trans-exclusionary feminists have allied with rightwing attacks on gender. The anti-gender ideology movement is not opposing a specific account of gender, but seeking to eradicate "gender" as a concept or discourse, a field of study, an approach to social power. Sometimes they claim that "sex" alone has scientific standing, but other times they appeal to divine mandates for masculine domination and difference. They don't seem to mind contradicting themselves.
The Terfs (trans exclusionary radical feminists) and the so-called gender critical writers have also rejected the important work in feminist philosophy of science showing how culture and nature interact (such as Karen Barad, Donna Haraway, EM Hammonds or Anne Fausto-Sterling) in favor of a regressive and spurious form of biological essentialism. So they will not be part of the coalition that seeks to fight the anti-gender movement. The anti-gender ideology is one of the dominant strains of fascism in our times. So the Terfs will not be part of the contemporary struggle against fascism, one that requires a coalition guided by struggles against racism, nationalism, xenophobia and carceral violence, one that is mindful of the high rates of femicide throughout the world, which include high rates of attacks on trans and genderqueer people.
The anti-gender movement circulates a spectre of "gender" as a force of destruction, but they never actually read any works in gender studies. Quick and fearful conclusions take the place of considered judgments. Yes, some work on gender is difficult and not everyone can read it, so we have to do better in reaching a broader public. As important as it is, however, to make complex concepts available to a popular audience, it is equally important to encourage intellectual inquiry as part of public life. Unfortunately, we are living in anti-intellectual times, and neo-fascism is becoming more normalized.'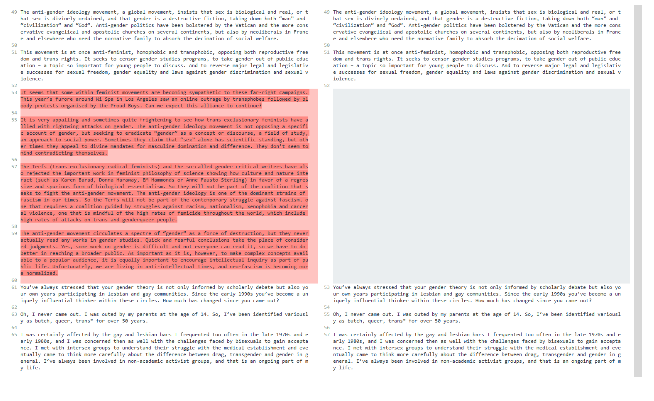 Fortunately, for those eager to review the piece in-full, the article has been preserved here, at Ill Will. A Turkish version can be found at 5Harfliler where, again, the editors stress that the removed 'excerpt from the interview raises important questions about where TERFs will stand in the fight against contemporary fascism, noting the dangerous convergence of trans-exclusionary radical feminism (TERF) with the rapidly rising and expanding global anti-gender movement'. A Spanish edition is available here.
For those somewhat unfamiliar with the terminology, take a moment to read through the following definitions offered by Junkee amidst the controversy:
'The former camp is made up of TERFs, AKA trans-exclusionary radical feminists, those who see trans and non-binary people as somehow invading a space carved out for women. These TERFs do not accept that gender is fluid, and instead fall back on an outdated notion of scientific naturalism, where gender is what human biology tells us it is.
Of course, such an argument is based on a flawed understanding of the separation between sex and gender. But that doesn't stop TERFs from loudly proclaiming that they are the only ones who understand what the human body tells us.'
The article was altered without consent from either Gleeson or Butler, raising concerns over what such revisions mean for future free speech and written comments. And, as must repeatedly be addressed, despite what many conservatives, right-wing thinkers, and others proclaim, 'freedom of speech' is not the right to offer comment without consequences. Any notion of a sincere commitment to defending uncensored comments rapidly evaporated given the near absolute silence of opponents who could have utilised their platform to challenge The Guardian's edits.
'This flies directly in the face of the TERF rhetoric that they are the ones being silenced. Here's a point of view being openly suppressed — and TERFs, supposed free speech warriors, are silent.'
Likewise, despite proclamations of commitment by some amongst the gender critical folk that they are not denying the existence of trans or non-binary people, the consistency with which Butler is misgendered by those who are either ignorant to the actual reality of them and their work (including revealing that they have not, in fact, read the article) runs counter to that and is, sadly, unsurprising.
Indeed, at times, reading or listening to the responses begins to feel like looking through the data where '12% of men think they could win a point against Serena Williams'; some respondents in this case claiming they could 'win a debate' with Butler on the very topic of gender constructs 'without any preparation' – as if this would progress anything or be desirable – only to later argue the need for 'meaningful debate'. It's worth advising folk that the YouTuber who made that comment offers just about every ignorance and stereotype you could envision for gender identity, non-bunary, and trans people's lives in their faux intellectualism videos, whilst also all but perpetuating the erasure of transmen and arguing for a children's author with zero expertise in the field of gender studies to be platformed as an expert. Really not worth your time or energy…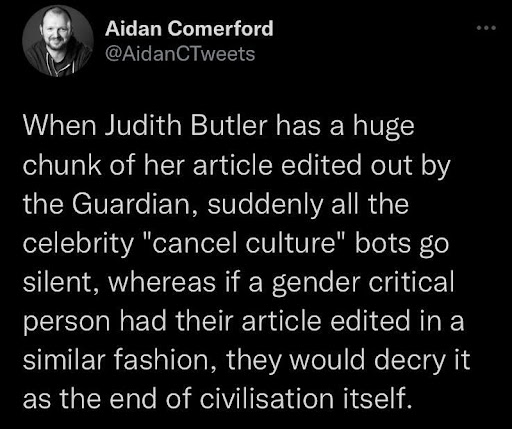 Though published on The Guardian's website, it's been noted that the article was commissioned by The Guardian U.S.; with some suggesting that the interview would ordinarily not have been produced in the U.K. due to divergent editorial lines. Caplan echoes this situation in observing that 'though the Butler interview was commissioned and published by the Guardian's US site, the post-publication editorial conversation was had entirely by Guardian UK editors'. This brings the proposal from Siobhan Ball that the retrospective delegation was 'not technically censorship (something which requires the intervention of an external authority to qualify), into question as the distinctly separate division of The Guardian chose to override the other, however, the relationship between departments at The Guardian is not the focus. What does impact the whole organisation though is that, as noted by Eoin Higgins, 'the Butler interview was meant to launch a series called Gender Now', yet, for anyone able to access the original links, the contents of the hyperlinked page is blank.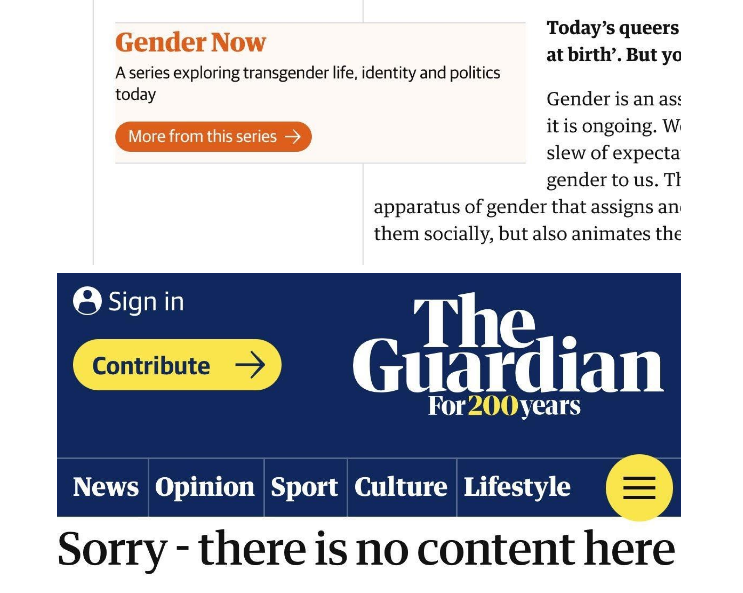 The revisions became a controversy of their own, with 'Judith Butler' and 'TERFs' trending simultaneously on Twitter. A significant proportion of the posts leading to the phrases trending came from those defining themselves in their online bios as 'adult human female', advocates of 'sex-based rights', or 'Gender Critical' and perhaps concerningly, perhaps unsurprisingly, many of these Tweets made the false suggestion that Butler had explicitly stated that all TERFs are fascist rather that outlining the direct correlation between the imposed gender lines. If the anti-trans crew identify themselves with that assessment, that's on them, but fascism is as fascism does… 'Christian right and some UK feminists "unlikely allies" against trans rights'; 'When public officials and elected politicians employ intolerant rhetoric, this signals to others that they too can engage in hateful actions with impunity'; 'Transphobic feminism and far-right activism rapidly converging'; 'Divide and conquer? The conservative Heritage Foundation hosted a panel of "radical feminists" fighting trans rights'; 'The Far Right and Anti-Trans Movements' Unholy Alliance'; 'Right wing and gender critical disinformation sparks anti-trans protest and abuse'; etc.
As the evening progressed, a screen-grabbed letter described by a co-founder of End Conversion Therapy Scotland as what appeared to be 'a coordinated letter-writing campaign from transphobes to ensure it was pulled' suggested a cause for the change – further advising that 'The Guardian caved to them in record time'. The letter's author – a self-declared 'staunch ally to gay and bisexual people' – misgendered both Gleeson (indeed, aggressively so) and Butler, become decrying the latter to be both 'anti-woman' and 'anti-gay' in a, seemingly, conscious effort to erase decades of work from Butler in progressing queer theory, queer-centred activism.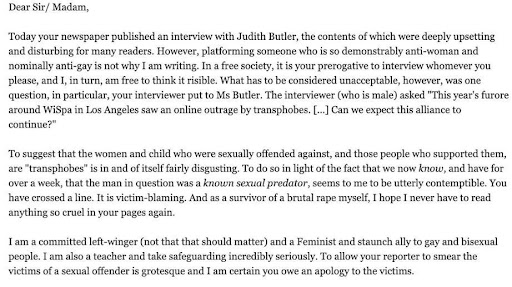 What makes this post-publication revision even more fascinating is the reportedly 'unprecedented' nature of this action – a situation several others weighed in similarly on. Following surely hundreds of messages, Gleeson advised that: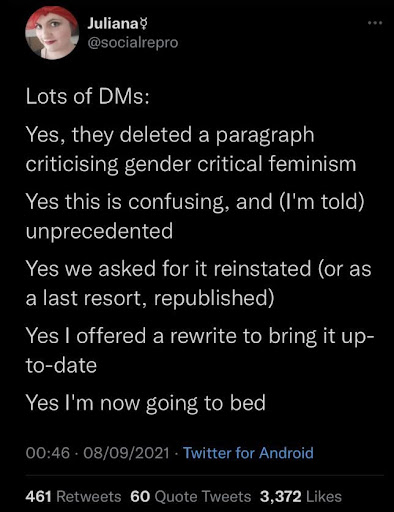 What makes the situation even more bizarre is that, as stated by Caplan:
'Prior to the publication of the interview, said Gleeson, the interview went through several rounds of edits, and several other questions and answers were cut. No concerns about Wi Spa or Butler's answer were raised during those edits. The reader complaints which prompted this edit came from the very trans exclusionary radical feminists critiqued in Butler's answer.'
A member of The Guardian editorial team has since responded to a quietly by Gleeson, demanding an explanation for the retrospective edits to her article claimed:
'We have not censored Judith Butler but addressed a failure in our editorial standards. This particular question omitted the new details that had come to light, and therefore risked misleading our readers. For that reason we decided to remove both the question and Judith Butler's answer. As it was only this one question that referred to the Wi Spa incident in LA, the rest of the Q+A remains in place'.
The event in question, Gleeson advises,  resulted in 'Proud Boys stabbing antifa counter-protestors, and at one point even each other'. The Guardian's own Sam Levin and Lois Beckett had previously reported on the incident, stating that the two successive weekends of clashes 'offered a case study in how viral misinformation can result in violence, and provided clear evidence of the links between anti-trans and far-right movements, including QAnon conspiracy theorists, who believe that a cabal of elite pedophiles is manipulating the American government'. Beckett was actually amongst those beaten and bottled by the anti-trans protestors whilst attending the demonstration in her professional capacity.
It's shocking, therefore, that whilst simultaneously acting as if the four removed paragraphs were removed in an act of journalistic integrity, and feigning that such behaviour would never occur as 'Judith Butler has written for us several times in the past.'. It's difficult, therefore, to believe the editors when they stage that 'The Guardian remains committed to reporting on the rights of trans people in the US and globally, including the worrying attacks on trans people and their allies by far right groups' – particularly so given the sustained criticism of The Guardian's record on gender-based issues. Thus, when Gleeson states that 'my question was flexible, but Judith's answer was essential', we witness the author's fight for her own work in the face of a harsh editorial line that seeks to prevent particular narratives seeing light of day.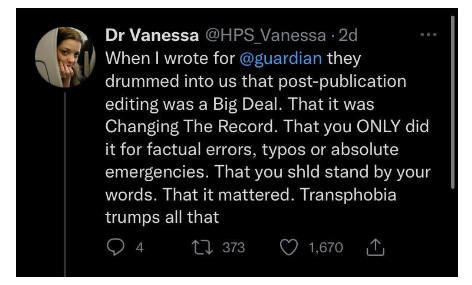 The article – both Butler's responses and how Gleeson directed her line of questioning – offered far more than the now-deleted callout, with the commentary around the reality many face in having to 'come out' not once, but in almost every social, workplace, familial, or romantic  relationship they have (at least where safe to do so), as 'a slew of expectations […] continue to "assign" gender to us.' It's also encouraging – and validating for many – that Butler also addresses non-binary identities and the spaces in which trans-masculinities can also be considered ('we should be prepared and even joyous to see what trans men are doing with the category of "men"').
Frequently, and largely as a consequence of how trans rights are framed by 'TERFs' as a 'threat' to women's spaces, with a seeming erasure of trans men amongst a majority of their discourse. And, though, like Gleeson, many of us may have been unaware of Junkee previously, their understanding of Butler's work is amongst the most impressive takes, stressing that the fall out stems from the situations whereby '[n]ow more than ever, people are falling into one of two camps: those essentialists who think that there is a criteria to be satisfied if one is to "be" a woman or a man, and those like Butler who understand that we are free to move between these and other labels as we wish'.
Gleeson stated that she 'was expecting the Guardian US to stand by me as a writer, and while I have received apologies from their side, this has been a draining and consuming episode that I didn't expect'. Given the sheer cowardice displayed by the publication, it will surprise no one when / if this becomes an increasingly common practice. Maiberg eventually achieved a response from The Guardian which stated that: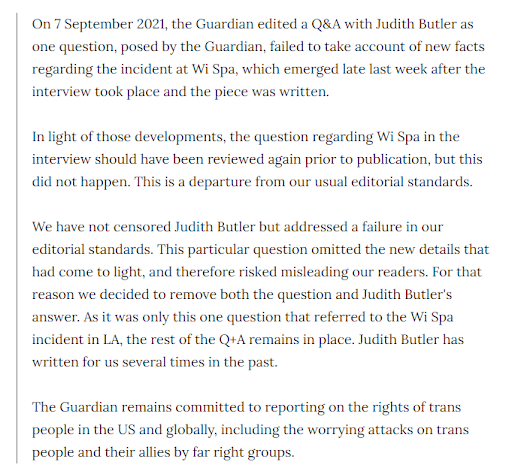 As many have stressed, none of Butler's response addressed Wi Spa beyond noting 'how the Proud Boys were involved, and why anti-trans folk and fascists are oft allies', making it easy for the question to remain with an Editor's note concerning the 'developments' that occurred post-interview. Regardless, folk including Juno Dawson – author of What's the T? The No-nonsense Guide to All Things Trans And/or Non-binary for Teens (2021); This Book is Gay (2014); and The Gender Games: The Problem With Men and Women, From Someone Who Has Been Both (2018) – as well as Gleeson, herself, have noted that the censorship has led to the removed paragraphs benefiting from the Streisand Effect. As quoted in VICE Motherboard, 'news of the arrest warrant [at Wi Spa] does not negate [Butler's] description of the incident as a "furore" which is largely fueled by "Gender Critical" activists and the far-right'. It's worth reminding ourselves that although the warrant was issued, this came after multiple other women (and at least one man) were targeted online with threats of violence, and all manner of disgusting, baseless, and harmful accusations.
I'm trying to understand the rationale for the @guardian editing @socialrepro's interview with Judith Butler, even charitably.

The fact that fascist groups rioted and stabbed people, beat multiple journalists and threatened a completely unrelated trans woman with execution 1/?

— Mallory Moore (@Chican3ry) September 8, 2021
The reason suggested for this edit appears to be the 'Wi Spa' incident but it makes absolutely no sense to me that you would remove an entire answer from an interviewee that does not reference, address or analyse Wi Spa. The only citation of it was by the interviewer, in the q.

— Moya Lothian-Mclean (@mlothianmclean) September 7, 2021
Censoring Butler's interview – and just to remind ourselves, a news outlet retrospectively censored published comments from someone they interviewed! – is, as Eoin Higgins stated, 'actual cancel culture'. Similar sentiments have been offered elsewhere, such as stressing that '"Cancel culture" is a myth, as is the idea that trans activists are part of a vast network wielding immense influence and resources to "cancel" public figures. Actually, the columnists at The Guardian are far more influential in this respect, as the censoring of the Gleeson-Butler interview makes obvious'. It's difficult to make any serious case to the contrary.
Even stepping away from the cross-community coalitions and solidarity movements Butler describes – referred to by bell hooks as 'multidimensional gathers' (that is to say, groups who may be indirectly or not impacted by an issue lending their support to those who are) – the sustained divisive tactics of the small number of, admittedly, highly vocal 'gender critical' activists with their aggressive rejection of intersectional feminism, has led to suggestions that 'Sisterhood seems more like a fairytale than a lived reality'. This is, no doubt, fuels by commentary from the likes of Bina Shah who proclaim that – despite its use since the early 1990's in academic texts and significantly earlier in some circles – to her, the term cisgender 'feels like an imposition'. That comment comes from the same Shah who intentionally misrepresented Butler's responses as: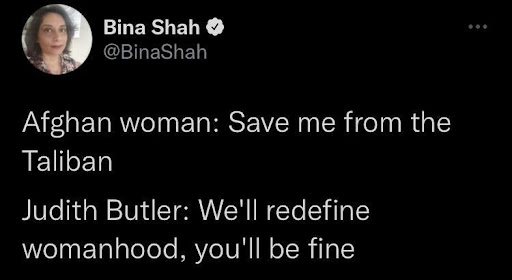 The fallout has placed significant demands on Gleeson, indeed she notes that many journalists have sought her time to produce their own follow-up pieces (see e.g. VICE Motherboard's article by Emanuel Maiberg; or that by Walker Caplan on LitHub). Yet, Gleeson is amongst the first to admit that, prior to publication, many would assume based on precedent that 'the most likely outcome [would be] a string of hateful comments from people who'd barely read the piece, and on the other side glowing appreciation by those who were already familiar with Butler's work'; offering a similar comment to Maiberg that '[h]abitual bigots online are going to do their thing, and usually respond to pieces without even reading them'.
'I will repeat this for emphasis: this wasn't a piece focusing on transphobic feminism! It was meant to be an overview of Judith Butler's intellectual career. Unfortunately a lot of her most venomous critics are now other feminists… or militant Christians who use the exact same language of "gender ideology" as those feminists. So it felt like we had to explore why that had happened, there.'
'Readers must be trusted to face things they don't like without crying for redactions, apologies and censorship. Likewise, newspapers must get better at defending their own freedom to publish, and understand that if they're going to put out controversial opinions, they might need to grow a spine.' – Ella Whelan
With recent faux-outrage created by a number of self-described 'gender critical activists' and victim-narratives posted online after inappropriate behaviour, littering, and eventual removal from pubs, and Labour Party placed Jess Barnard under investigation for calling out transphobia – sorry, 'conduct that "may reasonably be seen to demonstrate hostility or prejudice based on age; disability; gender reassignment or identity; marriage and civil partnership; pregnancy and maternity; race; religion or belief; sex; or sexual orientation' – these issues aren't going away.
It's interesting to note that where hooks sought societal change via feminist theory and has spent a career challenging toxic gender stereotypes, fighting the harm done to women – particularly women of colour – as well as broader queer and trans communities, supporting sex workers, and dismantling harmful masculinities (see anything from Feminist Theory: From Margin to Center and Sisterhood: political solidarity between women, to Ain't I a Woman? Black Women and Feminism and The will to change: men, masculinity, and love), yet gender critical celebrity Julie Bindel is about to release Feminism for Women: The Real Route to Liberation in what serves as a deep contrast to what hooks' Feminism is for everybody: passionate politics has offered over the last two decades. For anyone blissfully unaware, Bindel is very much the type of stereoptical biological essentialist to dole out comments about a 'man in a dress' when referring to transwomen, and who genuinely – and was published by, you guessed it, The Guardian – wrote that transmen have 'a penis made out of their beer bellies'.
If we needed a clear reminder that those whose feminism defies what the likes of leading feminists like hooks, Sara Ahmed, Emi Koyama, Donna Haraway, and Angela Davis advocate are not and cannot be part of a coalition that strives towards inclusion, social progress, and safety for all, this is it.
Ultimately, then, Butler's conclusion is right. Given their proximity to – and, frequently, their position within or allied with – the far right, conservative, and reductionist reviews, there's almost no clearer way to state it than Butler does – 'Terfs will not be part of the contemporary struggle against fascism, one that requires a coalition guided by struggles against racism, nationalism, xenophobia and carceral violence, one that is mindful of the high rates of femicide throughout the world, which include high rates of attacks on trans and genderqueer people'.

Help to support independent Scottish journalism by subscribing or donating today.