Code Red for Cambo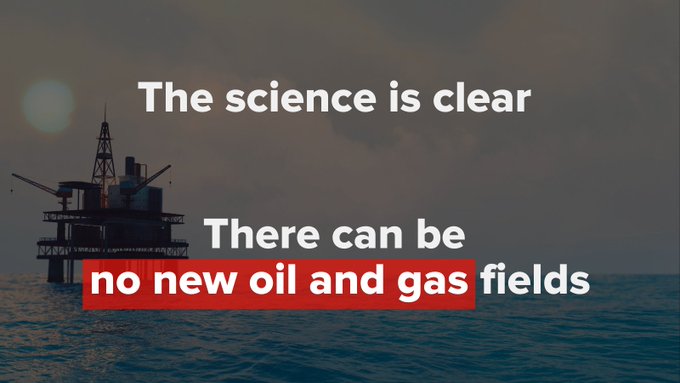 Scottish Conservatives have been humiliated by a report from Friends of the Earth Scotland and Oil Change International which shows that the investment, licensing, and development of new oil and gas fields – including the Cambo oil field – contradicts guidance from the IPCC and IEA. The report
Watershed: The Turning Point for North Sea Oil & the Just Transition
highlights that since declaring a climate emergency in 2019, the UK has opened new reserves totalling 800 million extra barrels of oil and gas. The report on the devastating impact of expanding oil and gas extraction has been published on the very day the Scottish Conservatives bring a motion to the Scottish Parliament calling for more exploration for new oil fields.
The main findings of the report are:
Since declaring a climate emergency in 2019, the UK's developed oil and gas reserves have increased by an estimated 800 million barrels
The United Nations and the International Energy Agency warn there can be no new oil and gas developments anywhere in the world if we are to limit warming to 1.5ºC.
UK law and Scottish Government policy remains to drill every last drop from the North Sea, which would triple emissions from oil and gas.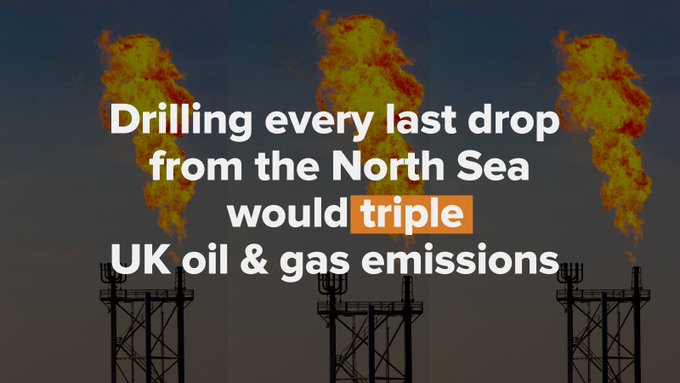 Maximising Economic Recovery
The shared UK and Scottish Government policy towards the North Sea Oil field is called MER (maximising economic recovery"). As the Watershed report states:
"Oil and gas licensing and regulation are reserved to the UK Government. The UK 1998 Petroleum Act introduced the principle objective of "maximising the economic recovery of UK petroleum". This principle is supposed to direct UK energy policy, and govern the activities of petroleum licence holders, operators, infrastructure owners and developers – all of whom are legally obliged to maximise economic recovery."
"The OGA strategy entered into force in February 2021, and is an updated version of the MER strategy: it reiterates the objective of MER then simply tacks on the government's commitment to net zero, as if they weren't in open conflict. The strategy states that to assist meeting the net zero target, "the OGA encourages and supports industry to be proactive in identifying and taking the steps necessary to reduce their greenhouse gas emissions as far as reasonable in the circumstances". This is token at best, as illustrated by the vague caveat, non-binding language and sole focus on the industry's emissions from extracting oil and gas, while ignoring the far greater emissions from its use (see 2.5). Thus, licence holders and operators are only required to reduce emissions from flaring, venting and power generation for the purposes of extraction."
Commenting, Scottish Greens climate spokesperson Mark Ruskell said: "This report from Friends of the Earth is timely, as it comes just weeks before Scotland hosts the COP26 climate summit. But it also comes as a welcome reminder to the Scottish Conservatives that their energy policy is stuck in the 1970s."
"This report underlines exactly what global science, the International Energy Agency, the United Nations and many nations have already acknowledged – that we cannot continue to expand oil and gas extraction in a climate emergency. Instead of providing a sustainable future and alternative jobs for communities, the Scottish Tories would rather call this overwhelming evidence 'extremism'.
"We already have more oil and gas in current production than we can safely burn to keep to our climate commitments. The Scottish Greens are clear there can be no more expansion, starting with scrapping the Cambo oil field."
On the same day the Climate Action Tracker issued a new update. in which they state: "Almost all developed countries need to further strengthen their targets to reduce emissions as fast as possible, to implement national policies to meet them, and to support more developing countries to make the transition. Developing countries also need to update their targets and policies, but also show a pathway for how they could also reduce their emissions as fast as possible if they were supported financially – and to clearly indicate the support they need."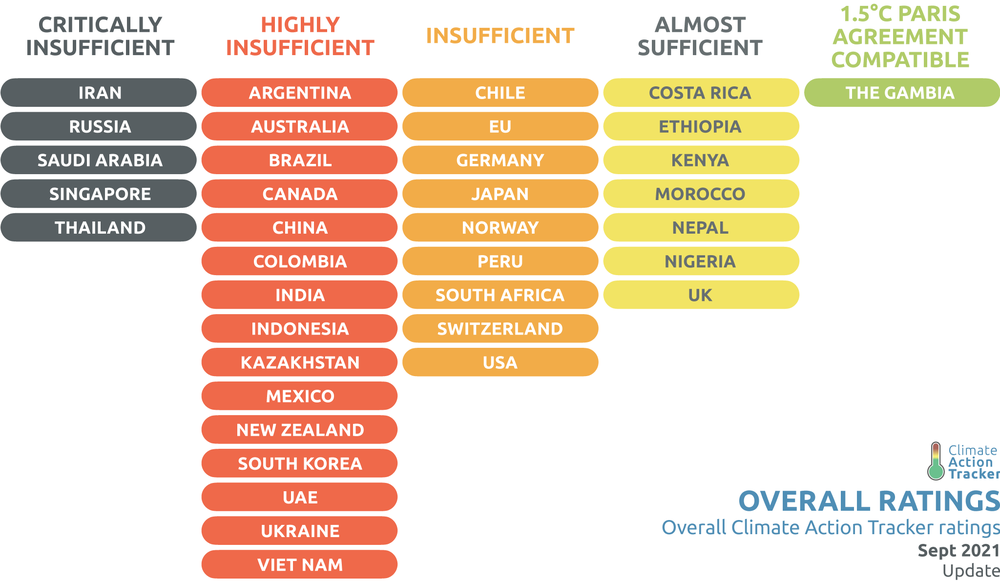 China Syndrome
Routine as these reports are, this is a critical embarrassment for the Scottish Tories but also a real challenge to the SNP and Greens.
An often heard retort is the "what about China?" defense. This is the lazy argument that Scotland is too small to be significant (when it's used by Scottish nationalists it becomes a funny variation of the "too wee too stupid" trope) on the world stage. "Why should we do anything while China continues to … [insert exponential coal fields]".
But this argument falls apart under examination. Not only are China producing less emissions per head than we are, much of the industrial activity they are engaged in is producing goods for us. We've outsourced production then cry crocodile tears about their emissions. This is China Syndrome.
As George Monbiot has pointed out: "First, of course, much of its energy use is commissioned by other nations. As manufacturing has declined in countries like the US and Britain, and the workforce is mostly engaged in other activities, the fossil fuel burning caused by our consumption of stuff has shifted overseas, along with the blame. Even so, when China's total greenhouse gas production is divided by its population, you discover that it is still producing much less per head than we are.
Partly as a result of a massive investment in renewables, the Chinese demand for coal dropped for the first time last year, and is likely to drop again this year. Perhaps because of the bureaucratic chaos of China's centralised, unwieldy government, there is a gulf between the energy transition rapidly taking place within China and its negotiating positions in international meetings, which are "in the hands of completely different sets of bureaucrats."
But perhaps the biggest surprise for those who unwittingly invoke the old Yellow Peril tropes is that the Chinese people care more about climate change than we do. A survey released on Monday reveals that 26% of respondents in the UK and 32% in the US believe that climate change is "not a serious problem", while in China the figure is only 4%. In the UK, 7% don't want their government to endorse any international agreement addressing climate change. In the US the proportion rises to 17%. But in China, Hong Kong, Indonesia, Singapore, Malaysia and Thailand, only 1% want no action taken."
Hypocrisy
The Watershed report states starkly: "Claiming to be a climate leader whilst at the same time seeking to maximise oil and gas extraction can only be seen by the world as hypocrisy."
"In light of the incompatibility of MER with meeting Scotland's climate targets and commitments under the Paris Agreement, and in view of Glasgow's hosting of COP26, we urge the Scottish Government to enact the following seven recommendations":
Remove all support for maximising economic recovery of oil and gas in government policy and financial decisions, whilst urging the UK Government to remove MER from all statute, policy and licences.
Develop a new Scottish Energy Strategy aiming for a fully renewable energy system in Scotland, and replacing the commitment to MER with one to support and enable a just phase-out of oil and gas production in line with the Paris Agreement goal of limiting warming to 1.5oC.
Call on the UK Government to cease all new oil and gas field investments, developments, and licenses, revoke all undeveloped licences, and assess which developed reserves need to close early. All future licencing rounds should be cancelled.
End all financial support for the oil and gas sector, and call on the UK Government to end all subsidies, including tax breaks, and redirect them to fund a just transition. This should include COVID-19 recovery funds, particularly in light of the fact that by November 2020, the UK had committed the greatest proportion of public money to unconditional fossil fuels support out of all G20 countries' recovery packages – nearly $40 billion compared to under $20 billion on clean energy.
Recognise the conflict of interest in allowing fossil fuel companies to influence energy and climate policy, in light of the decades of evidence that they have denied science, and delayed,weakened, and sabotaged climate action, while making billions in profits from fuelling climate change.92 Protect climate policy from this conflict of interest, including by removing fossil fuel interests from advisory positions, and demanding the UK Government safeguard COP26 from their participation and influence.
Redirect public policy and financial support from CCS and blue hydrogen to renewables, storage and energy savings technologies, and urge the UK Government to do the same. Cease membership of the Global CCS Institute, which puts the Scottish Government on the same platform as oil giants BP, Chevron, Eni Spa, Equinor, ExxonMobil and Shell.
Join the Beyond Oil and Gas Alliance as a 'Friend of BOGA', a category for nations or jurisdictions without full power over oil and gas licencing, to express support for the alliance and help accelerate the just energy transition around the world.
Download the full report Watershed: The Turning Point for North Sea Oil & the Just Transition here.

Help to support independent Scottish journalism by subscribing or donating today.