Enough is Enough – Scotland's Anti-Catholic Marches
By now most people will be aware of just another Saturday in Glasgow (18/9/2021) in which the Catholic community were treated to the open, ugly, display of hatred against them while the rest of the population are…well…treated to an open, ugly, display.  A supremacist organisation, marching in military formation, wearing semi-military outfits and playing triumphalist music, the words to which, all but those who won't hear or who are protected by their residence in the leafier suburbs, know well.  In case you are one of those, they include inviting the multi-generational Irish/Irish Catholic community to go 'home' (170 years after we first arrived here in great numbers) now that the 'famine is over' or as we more think of it, the near-genocidal actions of the British government of the day, efficiently organised by the father of the British Civil Service, Sir Charles Trevelyan.  They also entertained us with jolly tales of being up to their patelas in our blood.  Those are the two better known ones, but there are many more including an old one to the tune of Home on the Range – if you think that was an homage to the old Wild West you are very wrong, unless by Wild West you mean Drumchapel. No, this one tells of their ideal fantasy country in which there are no nuns and no priests, our Rosary beads are fucked and every day is the 12th of July.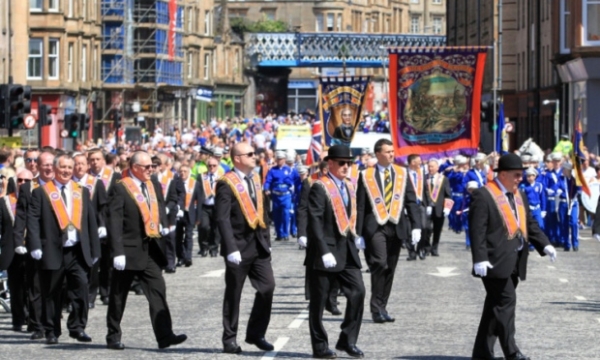 During these unedifying displays, Catholics had to stand silently by, or stay indoors as was traditionally the practice for many of us up until the past few years and, for some, still is.   As I write this, in semi-jocular form, I am struck by how unfunny the whole thing is.  I was asked by a journalist yesterday, how Catholics feel about the 'whole thing'.  His name was Sweeney, so I suspect he knows, but he invited me to elaborate for the benefit of those who are, quite frankly, incredulous that this actually happens in a 'modern, European state'.  I told him that many of us feel we can't be Scottish enough (should we want to) because we are told to go home and we can't be Irish enough because we are called Plastic Paddies (even by a sitting Scottish MP).  We are, in that sense, strangers in a strange land but because we are very sneaky that way, we insist on looking almost indistinguishable from them which just goes to show how untrustworthy we continue to be with our pesky foreign allegiances.   Mostly, many of us just feel we have put up with this for far too long and enough is enough.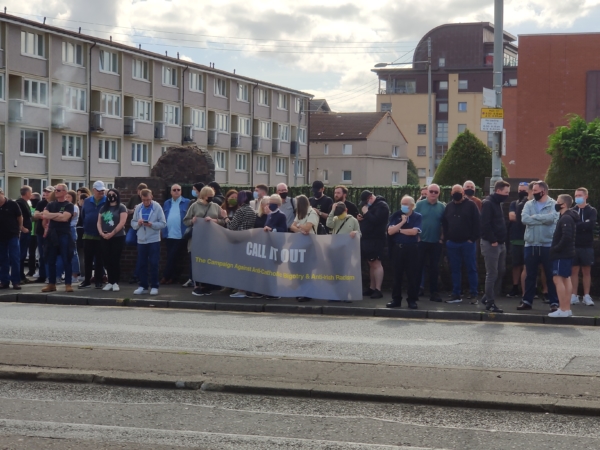 However, it is important to emphasise that we are not looking for some kind of mediation or rapprochement with the staunch members of the Loyal Orders.  We don't feel any need to sit in a room and hold hands. We don't live in a post-conflict world so the Scottish Government should probably have saved the tens of thousands of pounds of public money they have spent on a private mediation company (one of whom was 'observing' us on Saturday – I was tempted to invite him to 'observe' from the other side of the road but as he was a man of colour I felt it probably wasn't really safe for him to do so).   We want to be treated like any other minority ethnic community – because that is what we are.   All we want, is for the state, the duty bearers such as local authorities and the Police Service of Scotland to ensure that our rights are taken into account and, where appropriate, properly balanced with the competing rights of any other group or individual. Our demands are on the state.  We want the state to do its job.  We acknowledge the rights of those people to march and to feel towards us any way they like, they simply cannot make it our problem and they cannot march (quite literally) roughshod over us.
In relation to last weekend, not only did the Police Service of Scotland and Glasgow City Council fail to come close to doing this, they actually colluded to smear Call it Out as an organisation, and by implication me as its Chair.  They issued half-truths in the public domain in an attempt to suggest that we had lied about our conversations with them.  All of this was done, I can only assume, in order to deflect from the fact that they had, yet again, failed to apply the existing law properly and had yet again, interpreted their own powers in such a way as to put the rights of bigots and racists at the top of their list of priorities.  It is not as though we have not had these discussions directly with them. It is not as though we have not carefully explained that they are operating the law in a way that consistently undermines the rights of us as a community – the very definition of institutional anti-Catholicism.  It is not even as though they have not, courtesy of Glaswegian Council Tax-payers, defended an action against them and received a judgement from Sheriff Reid which sets out their powers to do exactly what we asked – to re-route all anti-Catholic marches away from Catholic Churches.  
There are not many things in public life which would be easy to solve, but this is, without a doubt, one of them.  Local authorities could use the powers they have to re-route anti-Catholic marches away from our places of worship and then our community would feel safer and Call it Out could get on with addressing the other areas of structural anti-Irish racism and anti-Catholic bigotry which exist across a range of policy areas including the economy, welfare, health and the justice system.  Until that happens, we will continue to be on the streets, in increasing numbers and we look forward to more and more progressive people joining us there – but it really doesn't need to be like this.

Help to support independent Scottish journalism by subscribing or donating today.