Grief, Conspiracy and Purebloods
For years now the world's wildest conspiracies have morphed and bloomed. Now, under lockdown they've gone (if you excuse the pun) viral. Some anti-vaxxers are now calling themselves "purebloods", and the toxic mix of a total distrust of the state and the emergence of "post-truth" culture is causing chaos. All of this lands during the greatest global health emergency in hundreds of years. George Monbiot points out ('It's shocking to see so many leftwingers lured to the far right by conspiracy theories'):
"The anti-vaccine movement is a highly effective channel for the penetration of far-right ideas into leftwing countercultures. For several years, anti-vax has straddled the green left and the far right. Trump flirted with it, at one point inviting the anti-vaxxer Robert F Kennedy Jr to chair a "commission on vaccination safety and scientific integrity".
"Anti-vax beliefs overlap strongly with a susceptibility to conspiracy theories. This tendency has been reinforced by Facebook algorithms directing vaccine-hesitant people towards far-right conspiracy groups. Ancient links between "wellness" movements and antisemitic paranoia have in some cases been re-established. The notion of the "sovereign body", untainted by chemical contamination, has begun to fuse with the fear that a shadowy cabal is trying to deprive us of autonomy."
The new libertarianism is a rainbow of rednecks, yellow-bellies, deep-greens and blue-rinse, a fusion of distrust and silo-mentality, a gloop of fear-mongered post-hippy counter-culture gone horribly wrong.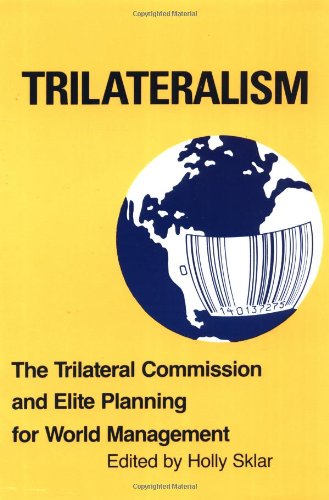 In Politics and Paranoia (2008) Robin Ramsay, who knows a thing or two about conspiracy theory as long-time editor of Lobster  – offers a precise moment when conspiracy theory went from a preoccupation mainly of the left to one mainly of the right. Ramsay pinpoints Holly Sklar's Trilateral Commission published in 1980. Prior to that the American conspiracy movement that emerged out of the 1960s and 1970s had been largely of the left, trying to uncover the clandestine operations of the secret state and its networks.The JFK assassination in 1963, followed by Martin Luther King and Bobby Kennedy followed by the murder of much of the leadership of the Black Panthers and Watergate shaped "conspiracists" to be of and from the left.
But by the 1990s Sklar's book started to be bought in drives by the right, by what Ramsay terms "New World Order" theorists. Sklar's sub-title: "The Trilateral Commission and Elite Planning for World Management" was like a trigger to the new right. The standoff at Waco Texas gave birth to the militia movement in the US and the explosion of UFO-mania as the internet was born spawned the X-Files. "Conspiracy" was badged and re-processed as mainstream consumer culture (see Spooks later in the UK). We now live in a world immersed with Deep Fakes, False Flags and bad faith. This slide from left to right can also be seen as a dramatic failure of mainstream politics and social democracy to address fundamental social problems over this period, the endless triangulation and capitulation has led to mass skepticism, disinterest and abandonment.
Conspiracy lands in a world of capitalist realism and hyper-normalisation where despair is mainstream. The alt-right has no doubt manipulated this toxic environment – much of the discourse is laced with extreme misogyny and anti-semitism – but it is a world already full of a sense of profound failure, melancholy and paranoia. Nor are we short of examples of true-life 'conspiracy' revealed to us after the fact and  … from the Kincora Boys' Home; to the Shoot to Kill Policy; from the dodgy-dossier to the Iran-Contra scandal; to the secret development of Taser technology and the emergence of the surveillance state (and on and on) it's difficult to defend a liberal view of the world.
Who can blame us for being a bit paranoid?
It's a long way from Mulder and Scully to 4Chan and Milo Yiannopolous, but the descent can be traced through popular culture from Close Encounters to Twin Peaks from Lost to Rick and Morty.  Before you know it Solange is Beyoncé's daughter, Klaatu was really the Beatles and the Illuminati are holed-up in the the Stanley R. Mickelsen Safeguard Complex in North Dakota. But AREA51 is long-since a Simpson's meme, and we are a world away from bad Bigfoot and Alien autopsy video footage or crop circles splashed on red-top front-page scoops. Now 'Child-actors' and 'QAnon' and ingesting Ivermectin are a dystopian step-up from the conspiracy theory of the 80s and 90s. It's not so funny anymore.
But perhaps there's another process at work? Musician and theologian Matthew Smith asks: "Wondering if there is a correlation between getting sucked into conspiracy theories and not knowing how to grieve."
"If you can't accept sadness/loss then you have to find stories that give you somewhere else to put that energy."
"Conspiracy theories give you perceived power over otherwise crushing realities. Believing "9/11 was an inside job" for instance, frees you from having to grieve it and simultaneously makes you feel smarter/stronger than everyone else. It's like a steroid shot for your ego."
And we have a lot to grieve.
We live in a world of such profound uncertainty; of precarious work; of threat from a disease we'd never heard of; and from a climate crisis we can't respond to; that clinging to conspiracy is perhaps an empowering sense-making act, even if, in doing so we have to abandon rational thinking.

Help to support independent Scottish journalism by subscribing or donating today.