Bella Chats – Kieran Hurley
Kieran Hurley is one of the most important voices in Scottish theatre over the last decade. His work captures the zeitgeist in relatable stories and characters. This month's Bella Chats catches up with Kieran ahead of his latest play The Enemy, an adaptation of Ibsen's "An Enemy of the People" for National Theatre Scotland set in 21st century Scotland. We chat to him about this as well as his previous work on Mouthpiece, Heads Up, Beats and general chit chat about everyday stuff from COVID to Keir Starmer.
Henrik Ibsen's iconic play An Enemy of the People is given a contemporary Scottish re-imagining in this brand-new stage adaptation from the award-winning team of playwright Kieran Hurley and director Finn den Hertog.
In a once-proud Scottish industrial town, a massive redevelopment project promises to bring money, jobs, and new prospects to its forgotten population. However, when Kirsten Stockmann discovers a dangerous secret, she knows she must bring the truth to light – no matter the cost.
This urgent, provocative new production feels increasingly relevant in 2021. Set during a public health crisis, The Enemy scrutinises corruption and power amidst a changing media landscape and explores what it means to hold power to account in a post-truth political world.
Members of the original cast are reunited following the production's delayed premiere. In this radical reworking of the classic drama the roles of Dr Stockman and his brother are played by women. The Stockmann sisters are played by Hannah Donaldson and Gabriel Quigley and are joined by a leading Scottish ensemble of actors: Billy Mack, Neil McKinven, Taqi Nazeer and Eléna Redmond.
Featuring a brooding original soundtrack from award-winning composer Kathryn Joseph and startling live video, The Enemy is a uniquely contemporary and Scottish take on Ibsen's timeless work. This tour marks the first time that a version of Ibsen's classic play has been staged in Scotland for over forty years.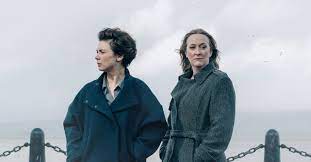 Help to support independent Scottish journalism by subscribing or donating today.