The Dawn of Everything rewrites history so we can reimagine the future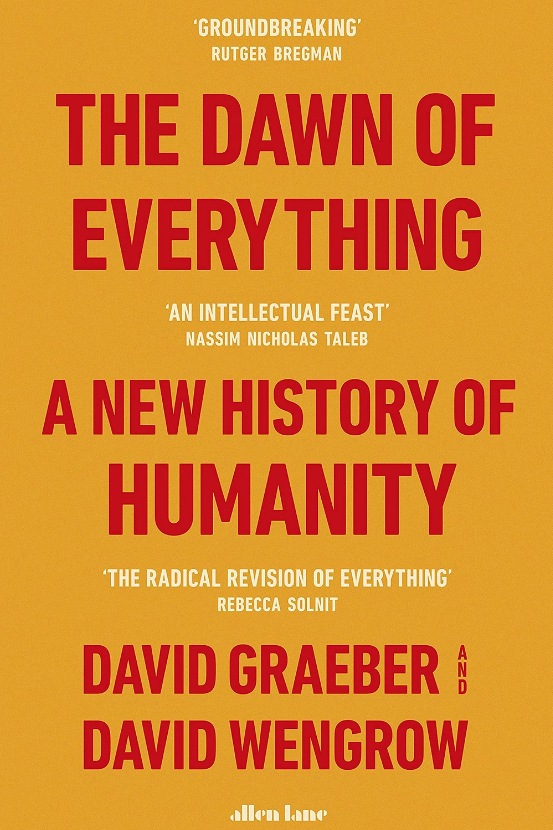 The Dawn of Everything: A New History of Humanity (allenlane) by David Graeber and David Wengrow launches at the LSE this Wednesday.
The myth that there is no political alternative has been with us since European colonisation. Structural racism is built on white Europeans defining themselves as the apex of human progress, furthest away from everyone else on an evolutionary ladder, as we have risen the highest via agriculture, property, cities, nation states and the industrial revolution. The message says: if you want writing, music, art and the like, suck up all the exploitation. The Dawn of Everything untangles this myth – and many more – from reality. Published 18 October and written by anthropologist David Graeber and archaeologist David Wengrow, it releases our collective ancestors from caricatures. Essentially, it undermines the cornerstones of ongoing oppression of the majority of people; whilst freeing us all to imagine different political futures.
The book explores the fluidity of social systems – some dominated by a few, others co-created by the multitude. But there is no concrete law of history determining what happened, nor what will happen. Today, if you say that the world could be more just, you will often be told to grow up: a complex yet just society cannot exist as it hasn't existed, goes the almost reflex-like supposed common sense. The Dawn of Everything shatters this dogma, with examples spanning thirty millennia.
Reader travels through ancient non-hierarchical cities with no evidence of centralized power; to contemporary and ancient settings, where people lived seasonally with different forms of society. Graeber and Wengrow guide us into complex hunter gatherer societies that reject farming, to kingdoms that transform into something towards utopian. One amazing story is Hopewell, in mid Turtle Island (now called North America) between 100 BC and AD 500: evidence shows that indigenous nations at times converged, in a decentralized manner to co-create public works, share and feast together and create a 'celebration of differences' that bonded nations who spoke different languages.
Another revelation is about the supposed 'Enlightenment', the initial European colonisation period. The established narrative suggests this is when European (rich, white male) thinkers lifted away the Dark Ages with ideas of liberty, democracy, and rational debate. Apparently the globalisation of these ideas is the pay-off against colonisation's crimes, for apologists at least. Whilst Graeber and Wengrow do not disagree that Medieval Europe was a Christian fundamentalist backwater, they tell a different story. Democratic notions came from survivors of indigenous colonisation. Their ideas went viral in 18th Century Europe, spreading like wildfire in best-selling fiction and non-fiction accounts of dialogues between the colonised and colonisers, on both on page and stage. However, these were attacked and the counter-stories are with us still today.
In turn, indigenous critiques of Europe got European thinkers asking what went wrong. Their responses were diverse, but implications similar. Many European writers started running towards a similar thought experiment: borrowing biblical overtures, they played God. These narratives saw humanity as a one-way street, a journey where primitive people fell from grace for some reason or other. Rousseau, Hobbes and Marx were three proponents. Indigenous peoples and their critiques were written off. The Dawn of Everything catalogues how these myths are still prevalent today; respun and repackaged by eminent historians. This history is not only wrong and boring; misreading history tells us there is no alternative.
A co-authored project
The Dawn of Everything was completed less than a month before David Graeber died, on 2 September 2020. For everyone that knew David or was inspired by his thinking and activism this book is another joyful gift. For me, like many, he was both a friend and inspiration, making the joy mixed with grief.
The void left by David Graeber cannot overshadow how this book was co-written with archaeologist David Wengrow, a UCL Professor of Comparative Archaeology, whose specialities include the areas where Asia, Africa and Europe converge. Wengrow and Graeber began this project a decade ago. Firstly as a sideline, it morphed into something far more serious – this book. Despite the scale of the argument, the book is written in a passionate, occasionally sarcastic yet empathetic co-voice. Watching lectures, talks and teach-outs given before Graeber's passing, you can see the two Davids riffing off each other in this way.
This is an incredible work that tears down mono-history that serves the establishment's vested interests – yet David Graeber had so much more to give. He bimbled through life with amused curiosity, infectiously playful, somehow infused with timeless wisdom. It does not seem fitting that he amplifies the voices of those who passed before him; he should be with us to continue the conversations.
Power plays
The Dawn of Everything should cause a rupture, as Graeber and Wengrow are pointing out how hollow the ivory tower in which many acclaimed thinkers dwell. Its basis is as solid as a bouncy castle, without the fun. This means there will likely be a huge backlash as it deflates the work and egos of status-quo extremists.
Francis Fukuyama, one well-known high priest of Eurocentric prehistory, is lambasted. Most famous for his assertion that neoliberalism represented the end of history, Graeber and Wengrow take him to task for suggesting humans were basically ape-like, living in small bands until agriculture came along. Fukuyama's assumptions are contradicted by swathes of evidence. Similar criticism is directed at household names and award-winning grand narrative historians including Jared Diamond, neo-Hobbesian Steven Pinker and the famous anthropologist Napoleon Chagnon. In mis-telling history, Graeber and Wengrow write: "Anthropology, it must be confessed, did not play a stellar role."
Whilst history is often said to be written by the winners, prehistory it seems is often written about the writers, or their beliefs. One example is market fundamentalists. They suggest that goods moving around the world before cities existed prove there are markets, discounting far more plausible explanations. Graeber and Wengrow are clear cut that a " lack of imagination is not itself an argument."
For readers that have not dug far into archaeology the book offers explosive notions about prehistory. It is new. The last 200 000 years were only considered for less than 200 years, when the discovery of cave paintings retired the doctrine that God created the world four millennia ago. For academics digging into prehistorical evidence is scant; yet, as Graeber and Wengrow point out, new evidence is arising all the time that contradicts the Eurocentric canon. Another problem is that academic disciplines are not talking to each other, unlike the book's two authors.
Whilst discrediting grand narrators, The Dawn of Everything elevates thinkers who explore plurality. We hear of many anthropologists who do celebrate the humanity of their subjects. We hear from critical sociologists who fully consider how racism, patriarchy and other oppressions have reframed our view of freedom to a diluted version. Particular attention is given to Kandiaronk. This 18th Century philosopher spokesperson of the indigenous American Wendat nation was a key player in spreading democratic ideals to Europe; even if he was since written out of history.
Critics might suggest The Dawn of Everything is all over the place. But that is the point. History is all over the place. It discusses the evidence that slavery and war have been abolished for periods, but obviously restarted again. Humans were often free and played with social possibilities, play and ritual itself a space for experimentation and a repository of knowledge. A pluralistic view of history is liberating. For instance, Graeber and Wengrow tell us that from the beginning, women must be written into the history of scientific discoveries; from inventing bread and even further back.
This book concludes answering questions that weave together during its pages. How did we get stuck? Why did play kings become real kings? Why did so many fluid societies get so rigid and hierarchical? Violence is part of the answer, not least European imperialism creating a Eurocentric world. Yet the book delves deeper too.
The Dawn of Everything posits a positive notion on what it means to be free, and looks at different ways this was eroded. There is no simple overarching theory, humanity is not like that. Instead it discusses many ebbs and flows. One thread is how societies reflect the oppression or liberty of the households. The authors had planned to write more books, including one about the present. It seems reasonable to imagine, in these, that this theme would have extended about the Democratic Federation of Northern Syria, aka Rojava. Here a democratic revolution is underway both in the household and society, one that Graeber also did so much to support.
Another factor that explains why we are stuck is that the 'there is no alternative' has a self-perpetuating momentum, which the book aims to block. Graeber and Wengrow suggest we need a new language and logic to look at the past, from which we can reimagine our future.
The title is a provocation. "The Dawn of Everything" was an expression used by racist historian-philosopher, Mircea Eliade, about people he considered 'primitive'. He thought all the real history happened earlier in these people's mythical dream times. Instead, in contemporary times, he considered them stagnant: going through the motions, as he thought they did not have imagination or intelligence to do anything else. The title inverts all this, suggesting contemporary Eurocentric society is a mythical time, where people just go round in circles. But by breaking this myth we can ascribe ourselves the imagination and intelligence to make the world differently.

Help to support independent Scottish journalism by subscribing or donating today.