A Sign on the Road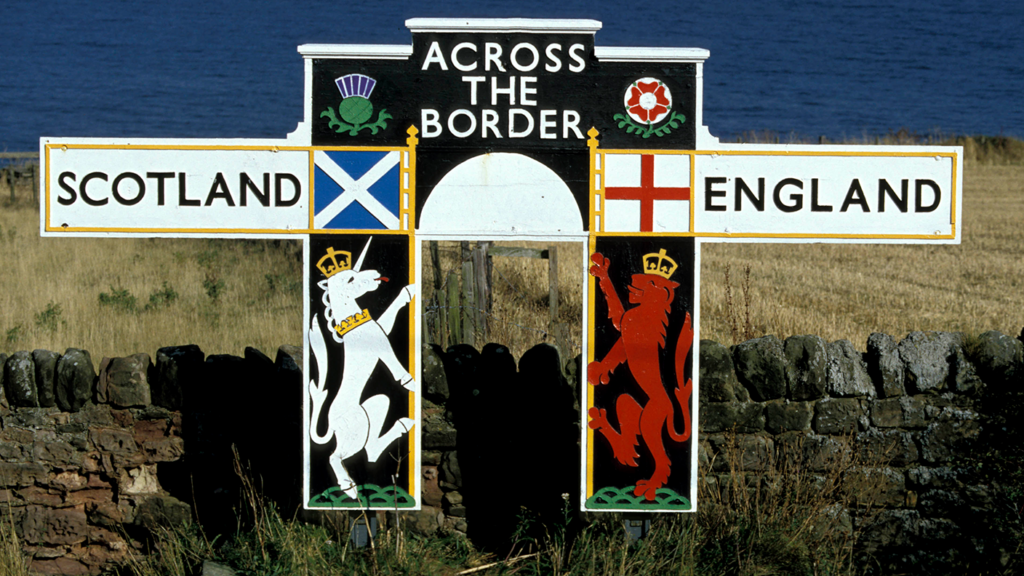 Andrew Bowie MSP has "edited" a "book" of essays; 'Strength in Union: The Case for the United Kingdom', under the auspices of the Centre of Policy Studies (CPS), a Conservative Party supporting operation founded by Sir Keith Joseph and Margaret Thatcher, that inflates its propagandist credentials into representing itself as a 'centre right think-tank' (a simple, unsubstantiated claim to impartial 'think-tank' status that effortlessly guarantees the hapless UK media will automatically treat its output as both forensic and thoroughly researched). The CPS has the central aim to further "enterprise, ownership and prosperity". Hold that thought in mind.
According to the CPS, the Andrew Bowie "book" of essays is written by an "all-star" cast of mainly currently serving Conservative politicians, and well known right-wing casualties (one way or another) of the Johnson-ERG cabal. Few will have heard of most of the rest. The Alister Jack MP contribution is titled 'Union is Strength'; a motto taken from the Glasgow Trades House, which was founded in 1605; over a century before the Union to which Jack refers endlessly, even existed. Jack's casual borrowing of the term 'Union is Strength', out of its context, but using it as a kind of 'portamenteau', as if the underlying idea may be treated like a postage stamp, easily affixed to anything that takes his fancy; provides a clue to both the quality of the thought we are being offered, and the level of forensic curiosity to the history that supports the flaccid thesis of the essay.
For Jack 'Scotland' scarcely exists at all. There are no borders within Britain, merely "regional variations" we can "celebrate"; variations that are typically characterised as "a rich tapestry of dialects" or "local delicacies", as Jack moves seamlessly into the territory of 1960s newspaper holiday supplements. He is selling us old-fashioned sunny uplands, just as the UK enters a winter ice storm, and still in the midst of an airily sidelined but yet unresolved and hideous pandemic. Jack's idea of variant regional 'celebrations' also simultaneously, and silently sidelines Britain's current chilly discussions with the EU over the Northern Ireland Protocol. There is not much to celebrate there. In Jack's essay there is nothing difficult or indelicate that he cares to contemplate, or need bother us in Scotland; because – as we saw – all the terms he uses, the fuzzy holiday images of life (in lieu of a 'real world' that remains uninvited throughout – like a Stephen Kerr MSP tweet), are all mere postage stamps: you just choose what to post, and where you wish to post them.
Accordingly, in Jack's faux-Scotland, the Scottish border is merely a sign on the road; "little more than a sign that people pass daily". We may wish to observe that signs on our route are there because they serve really important purposes, not least when we are lost; and if we follow Alister Jack, we will be lost soon enough. Signs tell you where you are going; but like everything else that is important, the significance and meaning of a 'sign' evades Jack; after all, he doesn't need them, he knows he is going nowhere.
The Scottish border in fact defines a different legal territory. Jack's "one nation" border-free Unionism implies, however that we should perhaps now seriously contemplate whether we should worry even that the future of the Scottish legal system is now subject to being overturned by Westminster. After all, what does Jack's declaimed "one nation", and emphatically, insistently not "four" nations, actually mean? Is it, like so much that wafts from Conservative-Unionism, literally meaningless?
In the Scotland Jack defines in his essay, Scots Law is presumably superfluous. After all, we already know the power of Westminster is absolute. Certainly there is absolutely nothing in the Treaty of Union that cannot be extinguished by Westminster; including the Law of Scotland. Perhaps Scottish property owners should now consider their standing, or at least the standing of their property. Jack scarcely offers any serious reason to believe that he would be in the last ditch to defend the remaining Scottish Institutions and Rights protected by the 1707 Union if Westminster decided in its sole discretion to extinguish them; a last ditch we now appear to be inevitably moving towards. That is the substantive meaning of what Jack writes, if it means anything at all.
Jack inadvertently reminds us that the biggest threat to Scotland is to the independence the Scots Commissioners successfully negotiated within the Union in 1707, an independence much reduced by the attrition of the march of British Unionism over the years, and the sub-text of Imperialism that inspired Scottish Unionism, until brought to an abrupt end by two World Wars; but a residual independence that nevertheless still exists. That is the greatest, most immediate and direct threat to modern Scotland: the threat of modern Scottish Conservative Unionism (the Janus-face of Whiggism sans Empire), in coalition with Anglo-British Conservative Brexit Unionism; a Unionism that demands more power, the smaller more insular and insecure Britain inevitably becomes; this is shrink-wrap Unionism. Brexit was merely the starter; the British Unionist 'amuse bouche'. British Brexit-Unionism is an overweight Gillray trencherman that has now ordered the full multi-course, à la carte menu. He will devour the lot.
Remember "enterprise, ownership and prosperity"? We will see below how British Brexit Unionism seeks to prioritise "enterprise" and "ownership", but the "prosperity" part is more ambiguous and elusive for Conservative-Unionism. We may ask, whose "prosperity" precisely, for it is obvious that by no means everyone has prospered in Britain, as the 'Red Wall' testifies and Scotland confirms? Too many have suffered. We can see this fact – both acknowledged and denied – by Boris Johnson himself; by Brexit-Unionism's 'Build Back Better', a deliberate, calculatedly vacuous Conservative-Unionist slogan of an 'apple pie and motherhood' kind, but re-packaged for a hard-nosed neoliberal, 21st century audience; produced and widely propagandised precisely because "prosperity" is a permanent neoliberal problem, ever searching for the latest forgetful excuse; a sloganised-non-solution that means almost nothing: for if 'Better' meant anything at all, it is merely to remind us that the solution can only arise from a past that was somehow 'worse'. Who allowed the 'worse' to happen? Who is in charge? Who has been in charge? Who has been in Government for the last eleven years? More precisely, if we wish to identify the principal culprit; the Conservatives, who have been governing the precious Union for no less than 48, out of the 76 years since World War II; Unionism has been in Government for 76 years since WWII, and Conservative-Unionism has been in Government for almost two-thirds of that time. The "worse", the lack of general prosperity in the midst of great wealth is thus principally the Conservative show, the consequence of Conservative-Unionism; their responsibility.
Why should anyone believe them now? No reason at all. Even Boris Johnson rejects the Conservative-Unionist past; a rejection that is as meaningless as the slogan itself: "I stood on the steps of Downing Street I promised to fix this crisis …. after decades of drift and dither". Drift and dither in which he confesses, older people "face total destitution in this brutal lottery of old age"; and yet suddenly, out of the blue; "we are embarking now on a change of direction that has been long overdue in the UK economy we are not going back to the same old broken model with low wages low growth low skills and low productivity" (excerpts, Manchester Conference speech). But I assure you; whatever Johnson says or claims, it will be high Austerity that Conservative-Unionism intends to deliver.
Johnson should know who is responsible for the failure of "prosperity". Alister Jack should know; they were, after all up to their eyes in the drift and dither. The Conservative-Unionist solution to the problem is singular; the ditherers should stay in charge, presumably because of their first-rate record of drift. Now, we are supposed to believe, they will change it all, specifically by ending what Johnson terms "uncontrolled immigration", only because that plays well to the Brexit ideologues; not because immigration is uncontrolled, but because it is immigration. The British government failure of control immigration was not driven by the EU: "Non-EU citizens made up 44% of all immigrants in 2015, a reduction from the highest proportion of non-EU immigrants (69%) seen in 2002" (ONS). Control of immigration has not been pursued by Britain, irrespective of its EU membership; which makes 'control' a mere – and feeble – excuse. Uncontrolled immigration has been an enduring Conservative policy throughout. They have never done anything about it. Brexit was not its cure, nor could it be.
Throughout 'Strength in Union' there are over seventy references to the EU; I could not find a single direct reference to the term "immigration". For Scottish Conservative-Unionism real problems simply do not exist; they are simply purged, excised from discussion. Here is the closest reference I could find, and it was by Alister Jack:
"Brexit is now firmly in the rearview mirror. Of course, any change on the scale of our departure from the EU was always going to present difficulties, and some of them reverberate still. That said, the problems are dissipating thanks to hard work from government and business in partnership and I firmly believe that, with the perspective of time, Brexit will come to be seen to be, at heart, a readjustment of trading regulations".
Well, that's alright then, we don't do immigration, we do a readjustment of trading regulations, which could however refer to anything at all; nothing to see here, move along please. Even the Oracle at Delphi allowed more candour. The Scotland of Alister Jack remains in a permanent state of Conservative Brigadoonism.
What should concern Jack is Scotland's serious demographic predicament, given the supposed new Conservative-Unionist immigration policy. The base birth rate in Scotland, 2019 was 9.1 per thousand; down from 10.4 in 2000, and 20 in 1964. Scotland is growing old and failing even to replace its population, without immigration. Conservative-Unionist immigration policy, if executed will simply decimate Scotland. We are, however in reality more likely to see more of the same uncontrolled immigration that has been the norm, but from beyond the EU, and without access to the Single Market or Customs Union; and without Scotland resolving its acute demographic problem, because even with the immigration policies of the past Scotland's demographic problem remains; that is the real nature of British Brexit Conservative-Unionism. Scotland is slowly disappearing under Conservative-Unionism.
The minor public media interest stimulated by Jack's essay has dwelt over-much on the trope of 'road signs' discussed above. This is not, however the most revealing insight into Jack's hackneyed ideas. He writes:
"The great hunt these days is for a unicorn firm, technically a private start-up business that goes on to be valued at over $1 billion. If you like this sort of thing, variants include a decacorn, valued at over $10bn, and a hectocorn, valued at over $100bn. Rare beasts indeed but, in common with more modest ventures, they require the correct conditions in which to flourish. That's where government comes in, providing a stable and transparent regulatory and taxation regime".
This is the only part of the essay where Jack's anodyne writing becomes energised. This, he believes in.
Jack believes in Unicorns; let me be clear, "where government comes in" is in order to chase Unicorns.
This is government in action, government galvanised; a rarity in a world of small-government neoliberalism, and self-regulating markets. Think about it. Even Jack thinks that may need some regulation. This is virtually the only place where stability, regulation and taxation are suggested, as current, active Government achievements in the essay. What does Jack know, or care about regulation? Not much if we follow his defence of the Government's understanding of business and its needs, which he characterises in this way, in opposition to those who consider: "commerce is a dangerous beast best isolated in a thicket of petty red tape, or that every firm is a dripping roast for avaricious tax collectors". This does not bode well for regulatory supervision, since 'red tape' is the easiest tabloid assault that may be whipped-up by Conservative-Unionist Governments ever eager to stand firmly against any business regulation of any kind, known to man. We may well wonder then, how stability and regulation is being delivered? Astonishingly Jack offers as his answer, this: "Look at how the UK Internal Market (UKIM) Act delivered exactly the stability needed as the transition period for our EU departure came to an end." Dwell on that evidence-free assertion for a moment; for Jack offers that observation only because it provides a snapshot that omits the central feature of an active market economy: time. I do not think I have seen before such a lame defence of a government that is currently 'standing around with its hands in its pockets', as a crisis of consequential supply chains unfolds, in part through Brexit; and drift and dither being characterised quite so casually as dynamic Government activity.
Here is Jackian 'stability' from the other side of the room, in the real world: empty shelves, chronic or endemic labour shortages, supply-chain failures, rising prices; sharply rising taxes established before the pandemic is known to be over; cuts in universal credit for the working low-paid, disabled and unemployed as the crisis deepens; collapsing energy firms, high energy-using companies threatened with closure, consumers under severe energy cost pressures. The British Government is not delivering stability; that is just a basic fact.
Notice how the British Government is trying to sweep all the cumulative problems of Brexit, the ten year disaster of Austerity and of Covid itself; all gathered together, packaged and politically securitised – the biggest Political Default Swap in history; under the enveloping catch-all responsibility of the 'Pandemic' crisis; which the Government then triumphs over by the mere act of claiming a "Victory". The crisis is over, the war is won; terminate the help for those in difficulty, pass the buck to Rishi Sunak, and return to Austerity as fast as possible. It is the classic response of Neoliberalism. It never works; but never has victory been so easily and falsely declared. The trick is to deflect public attention from the problem. What Jack does not explain is how the stability and regulation, beyond vague generalities, is actually to be achieved in the middle of a real unfolding crisis, which cannot so easily be securitised and sold off to mugs, but could destroy people's lives or livelihoods, like the CDS carnage in 2007 that announced to the world the Financial Crash.
Jack's sole appeal to intellectual support for his loose, discursive thought, is to the conventional tropes of Mankiw's economics. Jack appears never to have read Morris Copeland, or his modern successors, at last representing a movement aspiring to transform the antiquated and failing superstructure of academic economics, through the modern critical study of 'money and banking'. The history and evolution of new economic thought, rooted in the methods of experimental science; offering more rigorous standards of evidence, over the scholastic eccentricities of 'a priori' abstraction, deductive theorising, and the rhetorical language and political cunning of social exploitation, together masquerading as the tradition of 'individual rights'; that has most forcefully represented, and propagandised the defective ideas of Neoliberalism to the world. The new approach is not conventional neoliberal economic theory; which does not adequately account for the motor of all economic activity: money. Oddly, 'money' has never been central to neoclassical or neoliberal economics.
We can, frankly ill-afford to see the continuation of the politics of important issues discussed in the complacent, casual and perfunctory, absent-minded form demonstrated by Jack's essay.
See also Gerry Hassan's book review here.

Help to support independent Scottish journalism by subscribing or donating today.