Jazz at The Third Eye 22-30 October – Exclusive Footage
Jazz at the Third Eye is a multi-media project exploring Glasgow's visionary arts centre, launching this weekend.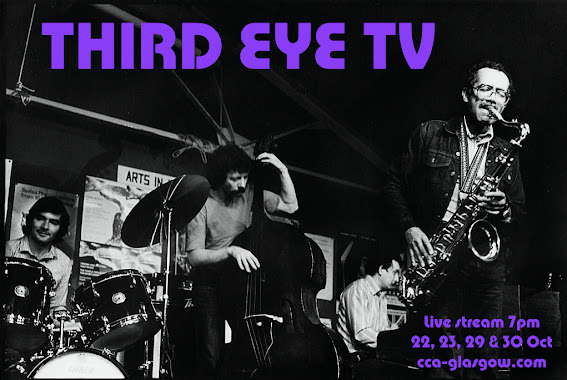 As a young man working in Glasgow City Centre in the early 1980s, the Third Eye Centre was always a draw. I spent many of my lunchtimes there and often headed straight there after work to view the latest exhibition or performance. There was an excitement about that place, you never knew what to expect and it drew artists from all over. Over the years it saw Alan Ginsberg visit, Damien Hirst exhibited there, Scottish cultural giants like Edwin Morgan and John Byrne could be seen there often – even Whoopi Goldberg! It was in the Third Eye, towards the end of its time, that I promoted a series of gigs sponsored by a well-known soft drinks for manufacturer. When I was asked to curate this event the Third Eye was the obvious place to do it. It closed shortly after, re-opening as the Centre For Contemporary Arts (CCA) and I am grateful that I managed to add my name to the many, mostly unknowns like me, who played a wee part in it.
The centre was founded in 1975 by Tom McGrath. McGrath (pictured below), a playwright and poet, had been a leading player in the UKs underground culture of the 1960s, a founding Editor of International Times. And McGrath, quite rightly, features heavily in the programme over the next two weekends. Bella favourite, Tam Dean Burn will join bassist Una McGlone to bring the poetry and jazz of McGrath to life on the opening night. There will be original footage of the man himself performing in 1974, interviews and a panel discussion reflecting on The Third Eye and McGrath with Angela Bartie, John "Fred" Gilmour, Fritz Welch, Alan Spence and John Sampson.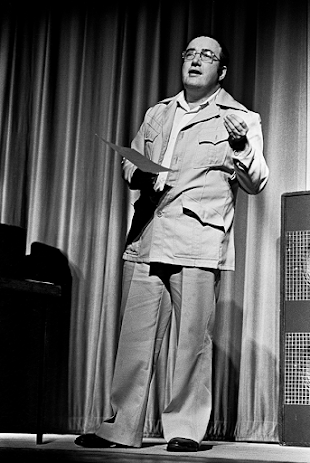 Curated by Dr Stewart Smith, Jazz at the Third Eye is an exploration of the centre's rich archive alongside brand new commissioned pieces created in response to original works. Some of Scotland's most innovative musicians will perform new work inspired by the history of the Third Eye. We will also show footage from the archive, including a previously unseen set by legendary Danish saxophonist John Tchicai, accompanied by the equally legendary rhythm section of bassist Danny Thompson (Pentangle, John Martyn) and drummer John Stevens (Sponta-neous Music Ensemble).
Underground legend Richard Youngs pays homage to Bob Cobbing, David Toop and Paul Bur-well's wild performance at the 1978 Sound & Syntax festival of sound poetry, while experimental powerhouse Helena Celle takes inspiration from avant-garde composer and saxophonist John Zorn's 1989 appearance at the venue. Bass saxophone maestro Tony Bevan reflects on the music of Derek Bailey, while hotly-tipped singer-songwriter Kapil Seshasayee and flautist Dr Diljeet Kaur Bhachu respond to Lol Coxhill and GF Fitz-gerald – see below for exclusive footage of this performance available only to Bella readers. Percussionist Fritz Welch and bassist Armin Sturm will improvise around piano recordings by the late, great Scottish musician George Lyle, while maverick piper Donald Lindsay will celebrate the legendary South African drummer Louis Moholo-Moholo.
Cellist Semay Wu & poet Juana Adcock, composer Caroline McKenzie, and experimental trio Food People (Lila Matsumoto, Greg Thomas, Matthew Hamblin) take a more conceptual approach by responding to materials from the archive, while actor Niall Greig Fulton contributes a video piece on this Scottish polymath. The programme will also include interviews and documentaries, closing each night with DJ sets from Counterflows co-director Fielding Hope, and artists Letitia Pleiades and Clelia Ciardulli.
The Third Eye Centre was always political and never afraid to show it. Their links with and promotion of black South African jazz musicians was an important part of Glasgow's long-distance resistance to apartheid. The closing broadcast on Saturday 30 October is From Glasgow to South Africa featuring Donald Lindsay, Helena Celle, Caroline McKenzie and a South African Jazz set from DJ Fielding Hope.
Brian Filling, chair of Scottish Nelson Mandela Memorial Foundation, closes the event with interviews with artists who were members of Glasgow's anti-apartheid movement.
The programme runs over two weekends, broadcasting on 22,23,29 and 30 October. For full details on how to take part visit HERE