The Enigma of Scottish Television Broadcasting
Watching one of those FIFA filmed and broadcast deals that broadcasters around the world can buy into, add their own commentary and tick a box that keeps their advertising departments happy, this particular VPN protected stream was beamed onto my laptop via South Africa. The adverts at half time are always interesting, filled with products and companies unknown to me. The commentator, however, was not an interesting or even remotely interested chap. Sounding like a feller half a Wikipedia page ahead of the subject, Chuckles was more conversant with the facts and figures of players earning a coin in the English premier league than he was with those still plying their trade in Scotland. His greatest crime came about 20 minutes into the match: having regurgitated the failures of Scotland's fitba achievements and proceeded to refer to this plucky little nation as 'The Scotch', I eyed the dug, who sensing my seething rage gulped and hastily vacated the living room. In terms of setting the scene, this was a miserable listen, guaranteed to raise the hackles of the most neutral Scot, every wrung out cliche was pegged on the line and flapped in the listeners' ears for 90 minutes plus extra time.
Despite the result, two denied goals for Che Adams, a penalty save from Craig Gordon, and John McGinn's formidable backside proving an instrumental part of his obvious talent, it was my most frustrating listen to a Scotland match in decades. The one good thing it did do was prompt me to try and articulate these frustrations.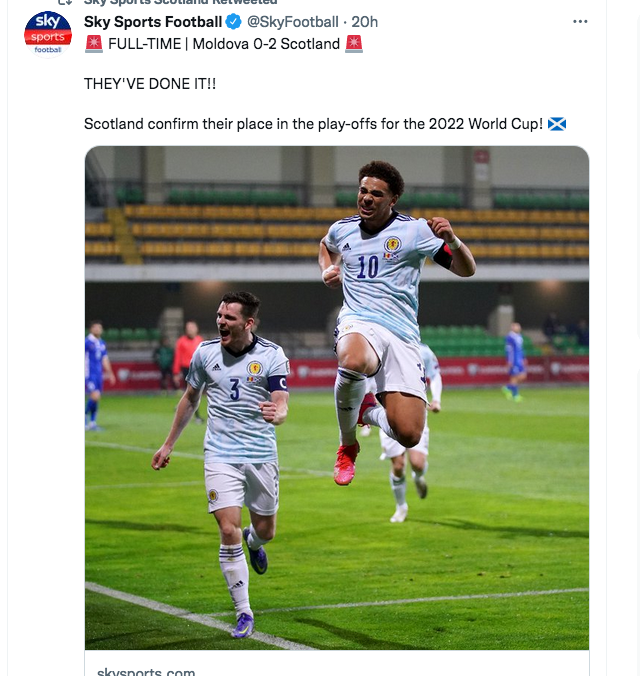 I remember a pal, a lad called Jackson Kerr at secondary school cynically telling me in 1975, the year after our glorious failure at the World Cup in West Germany, that Scotland would never win a World Cup, I nearly wept at his lack of hope, 46 years on I recognise his early onset nihilism and applaud him for it. The somewhat strangulated point I'm labouring to make here, is that televised football was once as popular as breathing. As a teenager, I remember we had council telly choices, BBC Scotland and Scottish Television, the rival broadcasters shared the rights to broadcast league and International games. One week it was Archie McPherson and his moveable hair, waxing lyrical about Martin Buchan, the following week, Arthur Montford elegantly warning Danny McGrain, 'he's behind you!' Obviously they vied for the big games and no doubt some shady backroom negotiations that would make Cop26 look a breeze were carried out as Ranger v Celtic and Scotland v England were delicately carved up to satisfy each other's audiences. Everyone in my adolescent world spoke fitba, one of my first jobs was delivering the pink paper, the results blatt that the Evening Times would rush out after the teleprinter had stopped and their sporting Dostoevsky's had penned missives on the drama of Motherwell v Raith Rovers on a wintery Saturday night. It was in our blood, the merits of this player versus that, which system best suited what particular team. It was firmly embedded in the working class, predominantly male psyche.
Fast forward and the game, like much of Scotland's rural landscape has been denuded, you either pay Sky or BT Sport for the privilege of shouting at your telly, or you head to the pub to watch a TV screen with a pint symbol embossed on it.
This is how sad I've become. I just had a look at the SFA's Group Strategic Report for the year ended December 31st 2020. There in their opening statement on page 5 is this portentous comment – "Despite the Pandemic, Steve Clarke led the Men's National Team to qualification for the Euro 2020 finals tournament coming through play-off matches against Israel and Serbia. This is the first major tournament qualification in 23 years and the unprecedented national reaction which followed showed the power of football to unite and lift the spirits of the nation."
Let that sink in, an unprecedented national reaction which united and lifted the spirits of the nation. Inadvertently whoever wrote this for the SFA board tapped into the very reason why folk watch and love football, it lifts the spirits. Depending on the result, we soar, we become optimistic, aspirational, ambitious. All the best positive synonyms come to the fore when we bask in the reflected glory of 11 young men punting a ball about a pitch for 90 + minutes.
Yet, and that's a big chuffing yet, we have to pay through the nose, head to the pub, tap into a dodgy stream with malicious trap doors that tell you 'hot women a mile away from your house are waiting for your call' to hopefully feel the regenerative spirit that comes with an away win at…Moldova.
So why is such a life affirming sport that lifts the spirits of the nation not available to a wider council telly audience? Ahh, funding, the insidious Aussie and his model of paying toppish buck for the opium of the masses, has triangulated to such an extent that only the biggest countries who realise having foreign broadcasters and commentators describe what's happening on the pitch to a bemused audience would result in riots. Imagine for one minute that rather than show live England national games on ITV, the English FA sold the broadcasting rights to a German TV company whose coverage extended as far as having a not particularly informed German commentator and a former English professional footballer with a poor grasp on tenses?
This is what Scotland has to put up with. Every time Scotland plays, those of us who refuse to bend the knee to Thatcher's hench-man are either putting our computer health at risk or listening to a radio broadcast. like chuffing cavemen. This is exactly what happened last night, for the umpteenth time in a row, Scotland play a crucial match hidden away behind a paywall, whilst Scottish Television tap into the free feed of England against whichever minnow they've been drawn against. I get that it's a commercial decision, that Scottish TV Megalopolis PLC are as Scottish as the Yank kid who edited the Scots language Wikipedia page, and they answer to shareholders, but jings what an opportunity they and BBC Scotland are missing. Imagine a Scotland, where broadcasting wasn't reserved and we could simply opt into buying away games from FIFA or UEFA and crivvens, broadcast the home games ourselves. Think of the advertising revenue that could accrue for STV and the broadcasting remit of BBC Scotland to inform, educate and entertain, if they had a nation of 5 million, young old and middle aged, keen to observe and participate by shouting at their telly, rather than the audience that switched over to the other side to watch East bloody Enders and Masterchef.
I know writing this I'm just howling at the wind, that the Blazers who run Scottish football are only interested in self preservation, that they've painted themselves into a Murdoch controlled corner, where they neither have the wit, intelligence or ambition to slap his largess down and come to an arrangement as they had in the golden days of Scottish football, when qualification was a lot less stressful and we had the shimmering talents of Sally McNair, Jim White and Dougie Donnelly to articulate all our fitba ambitions..