Beat
A poem by Magi Gibson as part of our coverage of 16 Days to End Violence Against Women and Girls.
My aunt's funeral – my first – I'm twelve or maybe just tipped into being a teen. In the gloomy, flower-filled living room my uncle grips her coffin as they try to move it to the waiting hearse, throws his body on the polished oak, shrieking as if Death itself has skewered him on a sharpened pike of pain. All day his squealing shrieking screaming swells & swills around us, till we are drowning in the sound of his distress. I barely knew this aunt. My father's sister. Four foot nine. Tiny as a wren. Pretty as a doll when young – sweet-natured too – the minister at the graveside says. On the long drive home, I haltingly confide how harrowing I found the funeral. To see a man so thoroughly destroyed by grief all he could do was howl, a wounded animal in pain. 'He must have loved her very much,' I say. 'I hope he'll be okay.' My mother draws her breath in sharp. The windscreen wipers scrape as rain spits at the darkening glass. A chill descends inside the car, as if a ghost is drifting through the space. 'I hope he rots in hell,' my mother quietly says. 'That bastard beat her every day she was his wife.' Against the deepening black outside the windscreen wipers thud & thud & thud & quietly squeal.
Magi Gibson's Wild Women of a Certain Age is being re-issued in a 21st anniversary edition after being out of print for some years. You can buy it here.
Also details of a launch event here.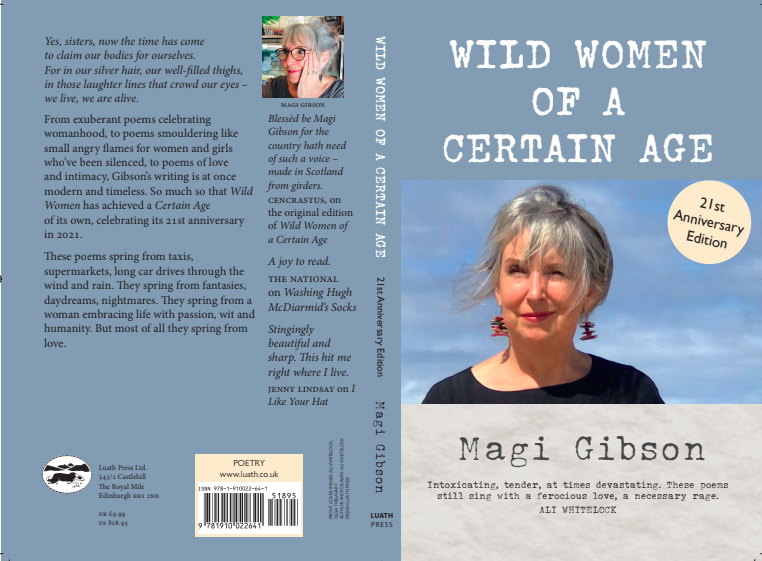 Help to support independent Scottish journalism by subscribing or donating today.