Working class Scotland needs to be heard; despair, action and hope
A Working Class State of Mind, Colin Burnett, Pierpoint Press £9.99
Colin Burnett's debut book, A Working Class State of Mind, is a series of interlinked short stories, set mostly in Leith. All the stories are told in first-person, in east coast Scots which, testament to Burnett's skill with language, shifts subtly and consistently between different characters' voices. Although the title speaks of 'state of mind' singular, we hear from multiple working class states of mind, variously expressing the full spectrum of human emotion, from joy to sorrow to pity to anger to the specific combination of all of these only experienced at Scottish lower league football matches. But it's certainly class, and the material and mental challenges the class system adds to life when you're on the wrong end of it, which is the uniting theme of the book. 
A Working Class State of Mind is part of an urban Scots literary tradition, with the work of Irvine Welsh being its most obvious kin as a portrayal of Leith and Edinburgh working class life. Burnett knows these comparisons will be made, and addresses them in the text, sometimes with a wry nod to the way that Welsh's work feels like the only cultural representation of working class Edinburgh to have gained recognition beyond its own community. In 'House of Horrors,' Dougie encounters a middle class 'class tourist' in a bookies, reflecting "he probably only gits tae see boays like this oan the telly. Or hear aboot thum in an Irvine Welsh novel." Elsewhere, Burnett responds to Welsh's work when the character Steven Scott addresses that famous Renton quote: "Someboady yince said it's shite bein Scottish but I honestly dinnae hink that. It's no shite, it's jist oaffy fuckin depressin."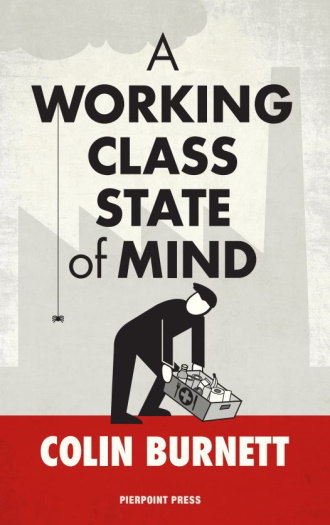 I found threads linking to older stories here, too. In the opening story – which shares a title with the book – we meet our first narrator, Chrissy, sitting in a state of despair in his manky flat, contemplating ending his life. He thinks about the reasons he has for losing hope, which are many, and shared by many – he's been replaced by a machine at work, and it's starting to look like jail is his best hope for regular meals. As he thinks, Chrissy watches a spider trying time and again to spin a web across his kitchen. The traditional legend of Bruce and the spider is a familiar one, but the way it's handled here gives another dimension to the story – instead of merely being inspired by the spider's perseverance (clearly a good Leith arachnid), Chrissy finds solidarity in their shared struggle, starting to think of the spider as 'comrade'. Having someone say "Ah fuckin believe in ye, ma hairy little friend" can make all the difference sometimes. 
As well as the obvious Bruce link, this story put me in mind of another working class literary spider, the one invoked by poet William Thom in his 1844 poem 'Whisperings for the Unwashed'. Thom would have had a lot to commiserate with Chrissy about. A handloom weaver who struggled to find work as the era of big factory looms dawned, Thom and his penniless family once walked from Dundee to Aberdeen in search of work, a journey during which his young daughter died after nights in the cold. 
'Whisperings for the Unwashed' is Thom's best known poem, written to bring the woes of his fellow weavers to a wider audience, but also as a call to action. For Thom, the spider is a fellow weaver and symbol of perseverance, but also an inspiration for workers to claim the fruits of their own work: 
The nobler Spider weaves alone,
And feels the little web his own,
His hame, his fortress, foul or fair,
No factory whipper swaggers there.
Should ruffian wasp, or flaunting fly
Touch his lov'd lair, 'TIS TOUCH AND DIE!
Thom's spider marks a turning point from despair to action in the poem, and I felt an echo of this a hundred and fifty years later in Burnett's opening story. It sets the tone for a book that does not shy away from the portraying the realities of living in a capitalist system which does not see the poor as fully human, but at its heart, believes in the real possibility of hope – but it's a hope that needs, like Chrissy and the spider, "a plan ae action" to become any more than wishful thinking.
Maybe I'm indulging my own obsessions by bringing up the likes of William Thom here, but this longer history feels important to the context of Burnett's book in a couple of ways. In Thom's era, there was a model for Scottish working class writing success. It was no utopia – to succeed on the canon's terms, there were sacrifices to be made, and often working class poets were portrayed as wonders of nature, whose work was as natural and untaught as the singing of a bird. Thom himself was feted as an example of this, and had his moment of fame. But he agonised over the artistic compromises he had to make to keep his patronage, and ended up suffering from alcohol dependency, once again destitute. 
Now – although in theory we live in a 'meritocracy' where anyone can make it in the arts – many cultural representations of working class people have gone beyond patronising and into full on sneering, especially reality TV shows that, in Chrissy's words, "kin only be described as propaganda against the workin class." And the idea of what it means to be a working class writer in twenty-first century Scotland is the focus of another story, 'Sebastian the Great.'
The narrator, Callum, makes a cameo appearance for this story, so in some ways it is a departure from the main flow of the narrative. But I'm glad it was included. Callum finds himself as the only Scots speaker and poor person at an event for emerging writers. Listening to an established author drone on about how the young hopefuls' first commission might make "only" five thousand pounds, he reflects "It really is bams like him who make me yearn fur the days when the upper classes lived in fear o the common man." The scene where he reads his own work to the assembled crowd explores not just the struggles of writing and getting heard in the first place, but of retaining control over your own voice once it's out there, in the ears of a privileged literary establishment who don't particularly want to have to re-examine their worldview. 
A Working Class State of Mind is a book very much about Scotland now, to the extent that the last few stories bring us into the pandemic and post-Covid world, but it is rooted in a sense of history as well as place. How we got to where we are is most thoroughly dealt with in 'Sheep Without A Shepherd,' in which Steven Scott remembers his father's stories of the old Leith and the Henry Robb shipyard. Scott tells us how his father protested the closing of the yard in Thatcher's eighties, holding a sign reading "Dinnae bring back the thirties." The eighties felt like the thirties, which probably reminded older folk of the industrial disputes of the eighteen-seventies, and the bad times then likely recalled tales of the despair William Thom and his contemporaries felt in the eighteen-thirties. In human terms, these pasts aren't far away, and it is – to recall a phrase from earlier – awffy fuckin depressin to think about these cycles of human harm at the whims of the economy. Because allowing these harms to be done – the starvation, the homelessness, the unemployment and foodbanks – is always, has always been, an ideological choice rather than an unavoidable reality.
Steven Scott is thirty, a couple of years younger than me, part of the generation where Thatcher – "and her annoyin, smug puss" – is ever-present not as a direct memory but as the architect of the specific kind of economic hell we have found ourselves making our lives in. The shipyards of Leith were long gone before I knew the place. But I remember the construction of the shiny edifice of Ocean Terminal in the 2000s, hailed as a source of regeneration, glamour and, crucially, employment (which it did provide, including to me, through many of my formative years.) Now – like so many centres of its kind – it echoes with empty units, another broken promise.
Although the sociological themes in A Working Class State of Mind are strong – and the stories which are closest to polemic are some of the strongest in the collection – it's also an enjoyable read, thanks to its strong sense of character and plenty of great lines. The most memorable of Burnett's characters is Aldo – a Muslim hard man and grade-A bampot, who perhaps at first appears to be a source of comic relief but soon grows into more of an intriguing contradiction.
The final tale in the collection is an origin story, explaining how the primary characters Dougie, Craig and Aldo met at school, and the picture of young Aldo we leave with is deftly drawn and more than a little psychologically terrifying. And although it's got its fair share of bleak realism, it's a very funny book too. If you're going to survive these times, you have to laugh. 'The Glory Hunter,' set in the ever-fruitful world of local football, is an excellent black comedy account of the central trio, all Leith Star fans, trying to sabotage their rivals Bonnyrigg Rose in a big game. It does not go entirely according to plan. 
Finishing A Working Class State of Mind left me looking forward to reading more by Burnett, a strong new voice in Scots and Scottish literature, who demands working class voices be heard and read on their own terms. Mair power to his elbow.