The depreciation of Highland deference
Ewen McLachlan on the sham consultation of the Boundary Commission as they create 'Highland North' the largest constituency in Europe.
In 1950, John Grierson, the father of Scottish film and the man who first coined that much abused word, 'documentary' was invited by the grand sounding National Film Finance Corporation to head up Group 3. This was a government backed agency that was seen as a training ground to teach young feature film directors how to create low‐budget productions and capitalise on the post war fillum hungry audience.
None of the directors (all men) really crossed over into mainstream success, however a few actors such as Joan Collins, Diane Cilento, (former Mrs Sean Connery and mother of Scottish film maker Jason Connery) Peter Finch, Kenneth More, Peter Sellers and Tony Hancock all got their first acting chances with the group. Group 3 ran from 1950 – 1955, produced some 20 films and err lost about half a million pounds, which in today's money is approximately ahem £17,993,883 and 42 pence.
However, in amongst their slate of films, there sits an absolute cracker, a hidden gem that is as relevant to contemporary Highland life today as it was nearly 70 years ago. Ladies and Gentlemen, I present for your entertainment and elucidation, the brilliant Laxford Hall or as our puntastic American chums call it – Scotch on the Rocks.
The estimable David Bruce in his book 'Scotland, the Movie' describes the plot, which was culled from Eric Linklater's 1951 comic novel, as follows:
'It presents the classic confrontation between the British Establishment and wily natives, in this case represented by a visiting Parliamentary delegation and a band of local worthies refusing to pay their road fund licenses on the reasonable grounds that they did not have a road.'

The road in question is the splendidly terrifying Bealach na Bà, the single-track road that connects Scotland with the life affirming sanctuary of Applecross. Today, of course we know of the road as it has come under increasing pressure from the road traffic lured North by the alluring images of those who have completed the North Coast 500 driving route and the never-ending aspect of the Covid inspired 'staycation'.
Back to Laxdale Hall, which includes screen debuts by Prunella Scales of Fawlty Towers and the late great Ricky Fulton as a poacher from Glasgow. The protagonist of the film is Samuel Pettigrew, M.P. played by professional pompous humbug Raymond Huntley as the Conservative Minister. Pettigrew sets his stall out beautifully in a lovely scene as the Westminster delegation are on the ferry crossing from Skye. His wife looking across at the Cuillin's opines, 'Isn't it lovely?' To which Pettigrew channelling just about every 'I'm alright Jack' Tory MP since the year dot, replies. "Personally, I disapprove of scenery. It encourages people to be lazy."
The scene below takes place in the Village Hall, where the Westminster delegation have reluctantly come to tell the villagers that the road will not be repaired and that they would be as well giving up this medieval way of life and moving to the new industrial welfare city of Drumleydubbs. Play and see if you can find any parallels with the way rural Scotland is treated today.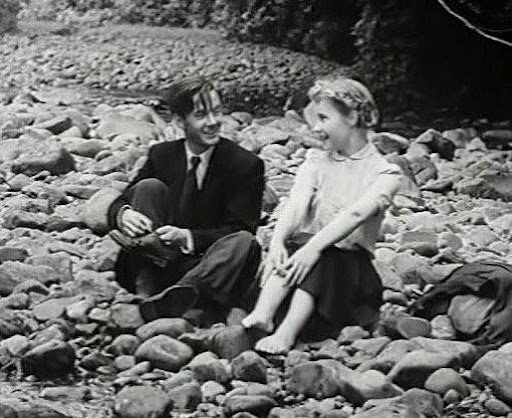 LAXDALE HALL

Now that we've all laughed at Roddy McMillan aka Para Handy and done a double take at a young moustache free Fulton McKay, we should start to think about how the metropolitan attitude of the Highlands hasn't changed in the past 70 years, our cinemas are mostly mobile, we still don't have mains gas and never will, we consume more electricity and pay more for it than anywhere else in the UK, all the while actually creating it via renewable energy in the shape of onshore and offshore wind turbines. The Scottish and Westminster government's targets for hitting the sticky plaster of Net Zero target for carbon emissions guess who you can thank for the vast majority of carbon storage, the Highlands. The Flow country of Caithness and Sutherland is home to the largest continuous peatbog in Europe, it's estimated to hold nearly 1.5 billion tonnes of carbon dioxide. A fire up at Melvich a few years ago, released 700,000 tonnes of CO2 equivalent and doubled Scotland's greenhouse gas emissions for the six days it burnt. We're energy rich, contributing way more than our fair share to fighting the climate challenge, yet are suffering from a lack of affordable housing, digital discrimination in terms of fibre broadband roll out and our average income is some £7,000 below Scotland's average. This giant chunk of the country is absolutely brimming with articulate intelligent folk desperate to realise their ambitions and transform a degraded landscape into a place fit for all.
So why you ask yourselves am I harping on about this, and what in the name of the wee man does burning bogs have to do with a 70-year-old fillum?  Right, I'll tell you. I'm no fan of the supposed dependence politics we live in, where Scotland's voice in matters of state is increasingly diminished.
Our contributions to Blighty dismissed and our Tory politicians swivelling their two-faced heads so fast that their physio bills must be on direct debit.  Our SNP MPs sit about creating a lovely smooth patina on the leather benches in the House of Commons, cheering whatever attack Ian Blackford delivers with all the bite of a stuffed Cairn terrier. To be honest, I'd rather they all got up on mass and shouted in unison, 'the games a bogey, we're off' exit stage left and head back to whatever non-political things most of them were doing before the 2015 general election. However, until they find a fresh pair of fangs, we're stuck with these soon to be veteran bench warmers of Scottish politics, and not that I want to defend them…but we're about to lose two more of them. Step forward the Boundaries Commission Scotland, these delightful coves tell us that as London is growing in population, they need more MPs and need to increase their number from 73 to 75 MPs. As a result. Of this Scotland 'MUST' lose two MPs which will see a country two-thirds the size of England drop from 59 – 57 MPs.
The lovely folk at the Boundaries Commission have been having what's laughingly called a consultation. This has taken place via the medium of promoted posts on Twitter, where a number of users decided to challenge them on this fait accompli, the decision we are told has already been decided and there's not a lot we can do about it other than argue on the optimum positioning of the Titanic deck chairs.
Using the rather surprising url www.bcomm-scotland.independent.gov.uk One would have thought a url that contains the words 'Scotland' and 'Independent', side by side would have unwittingly prompted mild palpitations in Alister Jack's heaving chest, they may yet…) Within their website the Boundaries Commission Corporate Plan 2021-2024 informs us that a decision which cannot be reversed (the loss of two MPs) will come in at a cost of (drumroll) £423,049. All paid for from the sinister sounding OSSS (Office of the Secretary for the State of Scotland…) Yet, still we persist with a consultation, which ends on December 8th 2021.
So how have these bright lads and lassies decided to cull two of the Scottish constituencies? Easy they're doing it by amalgamation. Take for example what was formerly known as Caithness, Sutherland and Easter Ross who our intrepid civil servants will tell to eagerly join hands with their colleagues on the other side of the country with bits of Ross, Skye and Lochaber, to create what looks like the largest constituency in Europe 'Highland North'.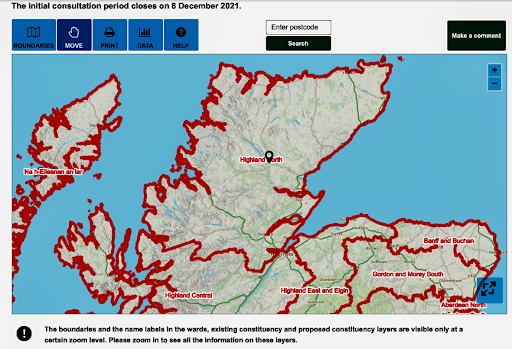 Say for example our shiny new Highland North has one MP with a constituency office based in Wick, how many miles might our intrepid MP have traveled when they return home on a Friday evening after meeting constituents in John O'Groats, Durness, Kinlochbervie, Lochinver, Achiltibuie, Ullapool, Gairloch, Torridon, Dingwall, Cromarty, Evanton, Invergordon, Tain, Dornoch, Lairg, Helmsdale and Thrumster before heading home for a well-earned snooze? I'll give you a hint, it's more than 500 miles. Tosh, I hear you say, they can cover that on environmentally friendly trains…nope nothing between Thurso and Garve. What about the bus then? Nope, sadly no service between Durness and Lochinver outside six weeks of Summer…
Are you starting to see my point? This constituency will have approximately 76,000 folk living and working in its circa 15,000 square kilometres. Perhaps the Boundaries Commission folk would be happy with job sharing MPs, one in say Scrabster the other in Achnasheen?
After some gently chiding the Boundaries Commission have admitted they'll be holding a series of five public meetings throughout Scotland to further tell us what they'll be doing about what they've already decided and thanking us for our engagement which will have a big fat zero in the way of changing their minds.  As Samuel Pettigrew, M.P. says, "Beggars can't be choosers."
A final note on Laxdale Hall, Forsyth Hardy, the co-founder of the British Film Institute, founding member of the Scottish Film Council and co-founder of the Edinburgh International Film Festival, he knew a wee bit about films, wrote in his book, 'Scotland in Film':
"Ignored by the London critics, it was an instant success in Scotland. It ran for months in Inverness, and for years after its first release, whenever an exhibitor knew early in the week that he had a flop, he would throw out a lifeline for Laxdale Hall."
Cobbled together from 16mm prints, a now beautifully restored version can be ordered on DVD from the lovely folk at Panamint Cinema.

Help to support independent Scottish journalism by donating today.