Cheese and Wine and Secret Santa as the Right to Protest is Criminalised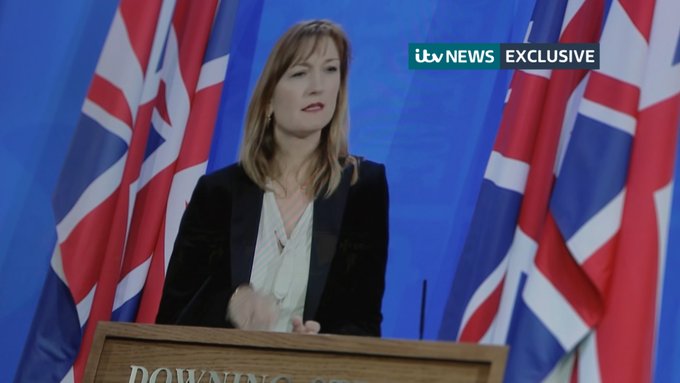 Al Capone was famously jailed not for blowing up bars, illicit liquor, murder or extortion, but for tax evasion. In the same way there's something sort of odd about Boris Johnson feeling the heat about his Downing Street Christmas parties after presiding over the past five years farce. Imagine if he gets the boot not for the fall of Kabul but for a cheese and wine do? But there's something about this lie as opposed to all the others which is really pissing people off. It could be the fact that this was at a time when we were all in serious lockdown; it could be the stunning arrogance; it could be the police inaction and the feeling of this regime being completely immune to scrutiny; but I think it was mostly the clearly coordinated and brazen media rounds of Tory ministers that did it for lots of people. Tories with lies spewing out their mouths uttering the same exact script to camera.
Watch @PaulBrandITV's full News at Ten report into a leaked recording which shows senior Downing Street staff joking about a Christmas party held last year in London as the capital was under Tier 3 restrictions

Read more here: https://t.co/0ItROuHAv6 pic.twitter.com/bdceDkY777

— ITV News (@itvnews) December 7, 2021
Now the ITV revelations from Paul Brand with the giggling Allegra Stratton is the smoking gun for their lies about the party and this government descends to new levels of contempt for the public. From Dominic Cummings to this very day, throughout the entire pandemic the government, the ruling elite have treated us with complete disdain. But the problem with their lying is not just a problem about their 'moral compass' or about standards in public office, the problem is that it undermines their authority or any residual trust. In a world of extreme precarity with uncertainty and truth itself a highly elusive concept, in a national health emergency if you can't believe anything the government says, it matters. The next time an official says 'there's this new variant and everyone's going to have to do X' people might easily throw up their hands and say 'I don't believe you.'
.The government says "there was not a party" at No 10 last December and that no COVID rules were broken. A week into the story, this is a new 5-min video on the gap between the government's assurances and available evidence. Produced by Michael Cox. https://t.co/cqIalvKKnB pic.twitter.com/vWBxhOogI7

— Ros Atkins (@BBCRosAtkins) December 6, 2021
There's something profoundly unsettling about being lied to by people in power. It's not that we're not used to it. But now you can't believe anything they say. When your in the middle of a global pandemic and the effects of Brexit are just emerging, from shite in the rivers to empty shelves and supply-chain collapse you look to see who's in charge and it's the people that brought you this shambles now just lying and lying and lying to your face.
This feels like the most shambolic and corrupt Tory government I've ever lived under, and that's quite a competitive group. I'm (sadly) old enough to remember Thatcher and Tebbit & Co, and although they were in a sense more deliberately vicious they were also deeply ideological. They had a mission, a purpose and an ideology they believed in. Don't misunderstand me – it was a disastrous and appalling ideology – but it was a set of ideas. What characterises Johnson's government is that they are completely un-moored, opportunistic and at sea. They will do anything. Their only operating manual is power and self-aggrandisement, lining their own pockets or their friends. That all of this is done in plain sight with complete impunity is humiliating.

The Christmas party story is a dramatic one and 'cuts through' into the general public more than anything before, but in reality the revelations about Dominic Raab's handling of Kabul (Raphael Marshall's damning whistle-blowing about the disastrous mishandling of the evacuation are astonishing); the government's last-minute amendments to the policing bill which criminalise major aspects of peaceful protest, allows for suspicionless search and to literally ban individuals from protesting; No 10s plans to let ministers strike out legal rulings they disagree with 'to let ministers strike out legal rulings they disagree with' are issues of far more seriousness. I do want the Christmas party and the Secret Santa to have as much political damage as possible, but I don't want it to overshadow the other historically dangerous and unprecedented laws they are passing.

Help to support independent Scottish journalism by donating today.