Unionist rage against the dying of the light offers nothing new
The Idea of the Union: Great Britain and Northern Ireland, edited by John Wilson Foster and William Beattie Smith, Blackstaff Press, £12.99.
'Who is speaking for the Union?' Not enough people, and with insufficient rigour, according to a group of Northern Irish Unionist luminaries who are irked that 'Irish separatist nationalism' has had 'a fair innings' in recent years at their expense.
'The Idea of the Union: Great Britain and Northern Ireland' is supposed to be their antidote, promising to be a 'manifesto in favour of the constitutional link' as well as a 'handbook of arguments…against Northern Ireland's severance from Great Britain.' Telling, perhaps, that contributors including two former leaders of the Ulster Unionist party in David Trimble and Mike Nesbitt, feel the need to produce a book defending Northern Ireland's place in the Union, especially in the province's centenary year.
'Now it is time for reason and reality to go to bat,' the book's cover blurb states immodestly. If that is the aim, the contributors have been bowled for a duck. The mean-spiritedness, paranoia, and instinctive condescension that are all-too-familiar traits of Northern Irish political Unionism drip off every page.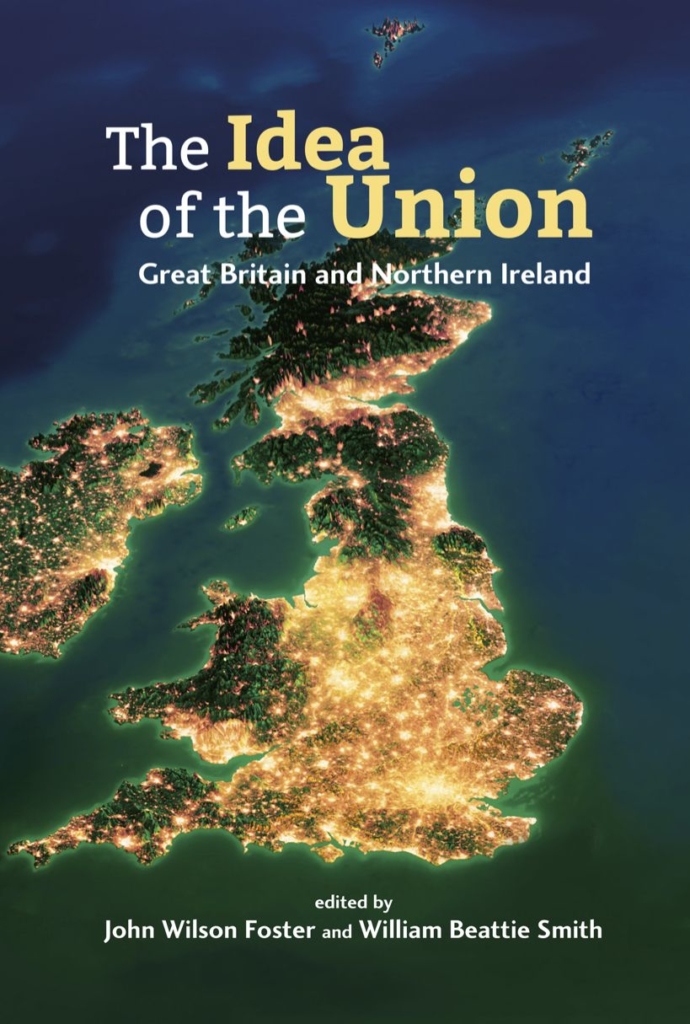 You don't have to wait long. By the end of the first paragraph of the first page in fact. The case for Irish unity 'is being pushed by the media at the expense of any equivalent pro-Union argument,' writes Kate Hoey, the former Labour MP turned Faragist Brexiteer who now hangs out with the DUP, in the foreword. Obviously, she provides not a shred of proof for such a sweeping generalisation. (Her 500-word contribution gives the boys some cover though. Out of 26 writers, just two are women).
There's a lot of padding in the 422-pages (and some chapters are in fact reproduced from a 1995 iteration of a similar book). The most significant section is probably Trimble's on the Northern Ireland Protocol, the agreement to avoid a post-Brexit hard border between Northern and southern Ireland by checking goods coming in from Britain at the ports, which has so vexed Unionists by creating a 'border in the Irish Sea.' This undermines the notion of 'consent' he argues; that there must not be any change to Northern Ireland's status unless a majority wishes it.
The problem with this line of argument is that it has already been tested, with the high court previously ruling that the protocol is entirely constitutional and does not affect the Good Friday Agreement. Indeed, Unionists are caught in a trap of their own making, betwixt and between their insufferable hubris and strategic incompetence. Brexit – for which they campaigned so enthusiastically – has proven their undoing. Its slow, remorseless logic unpicks the Union.
Not to say that Unionism did not have underlying problems. Two, in fact, that that are not addressed in this book. The first is an essential lack of generosity. No attempt is made to appeal to non-Unionists by making a pragmatic argument for the constitutional status quo, based on mutual respect and "better the devil you know." There is always a constituency of people willing to keep things the way they are for fear of something worse. But Unionists are pathologically incapable of seeing this. As The Idea of the Union…' amply testifies, Unionist leaders are intent on making the same mistakes until the point when there is demonstrable demand for an Irish unity referendum.
The clever move would be to write-off past mistakes that saw Northern Ireland run as a corrupt, anti-Catholic, Unionist fief for the first fifty years of its existence. Make peace with modernity. Embrace power-sharing in a genuine way. Concede the point on cultural respect issues like an Irish language act. Create a consensus for inaction. It would help the Unionist argument immeasurably if they could stop looking and sounding like the nasty people.
This leads to their second flaw, a total absence of emotional intelligence. In Talleyrand's famous phrase on the Bourbons, Unionists have forgotten nothing and learned nothing. There is little wisdom in this book, or atonement for past mistakes. The vibe is angry, insular, and reductive. Nationalists are accused of 'lawfare,' using Gramscian tactics to compel organisations to bend to their view of the world. The journalist Ann Marie Hourihone is quoted describing the Irish language as 'the Nationalists weapon of choice.' This is the tone throughout.
In a particularly sour passage, there is a complaint that a team of medical researchers from both sides of the border have a 'declared aim' to build an 'all-Ireland research and treatment centre and practice in oncology, independent of Great Britain.' This is supposed to be a bad thing. As is cross-border co-operation in responding to the Covid pandemic. This type of peevishness does occasionally abate, but only to make way for conspiracy theories.
United Irelanders' efforts are 'broad and venerable and its strategists are unsleeping.' Irish Nationalists – peaceful and constitutional throughout the decades of the Troubles – are lumped in with Republicans as a common enemy. The Irish government 'along with all the political parties in the Republic, energetically pursue the dismantling of the United Kingdom.' Eh? Taoiseach, Micheál Martin has expressly ruled-out any prospect of border poll for the lifetime of the current Irish government.
We are told that the peaceful and entirely legitimate bid for Irish unity 'harasses and unsettles Unionists, many of whom supported the Belfast Agreement because they were told it would achieve stability for generations to come.' The belief that there should be a permanent veto over constitutional change they do not like pervades the book. It serves to lay bare the existential angst many Unionists feel at where they find themselves. Friendless, at the mercy of events, and with little idea how they box themselves out of a tight corner.
We are therefore left with a string of familiar tropes. Its all de Valera's fault. Or Sinn Fein's. Or Westminster's. Or Leo Varadkar's. Or Biden's. Or Brussels. Or because of sell-out Unionists. Self-reflection is in seriously short supply. The book shows that the closest thing Unionist politics has to a brain's trust has little to offer other than a recitation of familiar gripes.
Ultimately, the book succeeds as a polemic, albeit one that will convince no-one but the diehard, but it fails, on its own terms, as a manifesto, bereft, as it is, of clever arguments, new thinking, or compelling analysis. Where's the beef? in George W. Bush's famous phrase.
There's not much beef in 'The Idea of the Union…'  but there is certainly no shortage of gammon.

Help to support independent Scottish journalism by donating today.