Are We Not Men? No We are Devo Max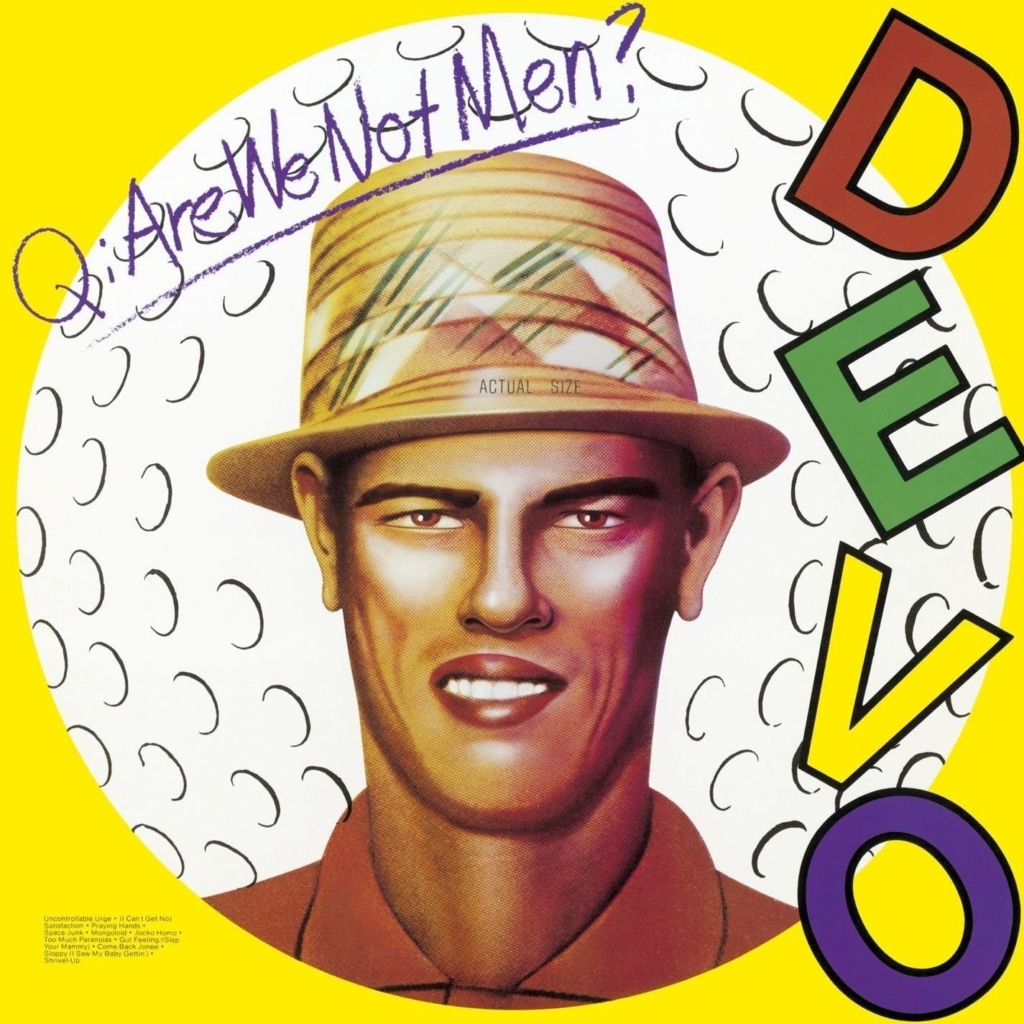 The past week has seen a steady stream of ink spilt by a tight coterie of Scottish journos promoting the idea of Devo Max and a new constitutional settlement. The exercise was more than worthy of the absurdist New Wave punk band whose classic 1978 album sadly didn't reference Scottish referendum options, though a case has been made for the A side tracks "Uncontrollable Urge" the epic cover "(I Can't Get No) Satisfaction" and "Jocko Homo".
As a nation awaits Gordon Brown with his Tablets of Stone like a post-Brexit Moses descending this time from North Queensferry not Mount Sinai, with his Book of Don't Exodus, the press hounds have been put into active-mode to set the mood for the great event.
Uncandidates
Caroline Wheeler and Jason Allardyce splashed at the Sunday Times ("Labour may allow pro-independence candidates to stand in Scotland") with the strange notion that: "Labour could allow its parliamentary candidates to support Scottish independence under radical options being discussed by senior party figures as it plots a path back to power."
"A source close to leader Sir Keir Starmer suggested it could help Labour regain votes lost to the SNP as part of a wide range of measures that will also see the party embrace "devo-max".
This wildly incoherent strategy has been widely heralded by a pliant media for who Devo Max and Gordon Brown are a sort of salve and balm to their confusion. Why would you vote for a candidate whose party diametrically opposed their own position? Could this approach be widened to other policy fields? Socialist Tories? Unionist Nationalists? Royalist Republicans? Authoritarian Liberals? It's so absurd but has been celebrated and un-challenged by the docile press.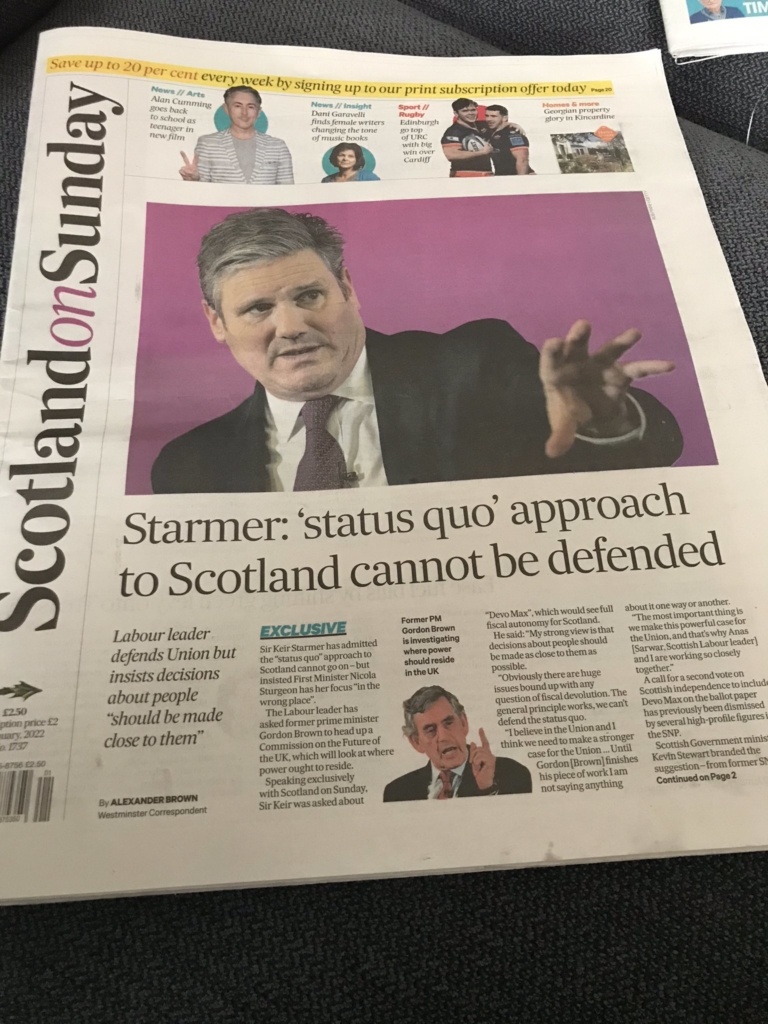 Next up Alexander Brown, Scotland on Sunday's Westminster Correspondent popped up with a front-page 'Exclusive' 'Starmer: 'status quo' approach to Scotland cannot be defended.'
The strangely empty piece explained: "The Labour leader has asked the Prime Minister Gordon Brown to head up a Commission on the Future of the UK, which will look at where power ought to reside. Speaking exclusively with Scotland on Sunday, Sir Keir was asked about devo-max, which would see full fiscal autonomy for Scotland."
Sir Keir said: "I will wait for Gordon to finish his piece of work to answer your question in full because obviously there are huge issues bound up with any question of fiscal devolution."
"The general principle works, we can't defend the status quo."
"I believe in the union [er, that's the status quo – Ed] and I think we need to make a stronger case for the union and I think we have been making a stronger case for the union."
"Until Gordon finishes his piece of work I am not saying anything about it one way or another."
So that's the exclusive; Labour will commit to Devo Max; Gordon's working on  a new Commission; we are committed to the Union, er, that's it.
Next up came Iain Macwhirter at the Herald fulminating: "Hardly surprising that D*vo M*x has crept back onto the SNP agenda. After five years in which the leadership has contributed precisely nothing, thinking nationalists are looking to a third way." The "thinking nationalists" turn out to be Kenny MacAskill, Professor Jim Mitchell, and the ex-Labour MEP David Martin. Macwhirter denounced anyone who questions this entire phenomenon as "guardians of nationalist purity".
Masterly Inactivity
Soon after comes Alex Massie both in the Sunday Times and on Substack. As always committed to the idea of British benevolence and Scottish poverty Massie writes: "Scotland's future may principally be a matter for the people of Scotland but the future of the UK is one not so easily reserved to those living north of the border. Others have an interest in it too. It is not so simple as saying Scotland must always get what Scotland wants. At the very least, Scotland must expect a price to be attached to its desires and there are no grounds for expecting anyone else to settle these matters at a discount. So long Barnett formula, it was lovely enjoying your largesse but colder times lie ahead."
Massie concludes – as is always his endgame analysis – that the best thing to do is nothing at all: "Talking about the constitution revives the national question at a time it might otherwise lie moribund. From a unionist perspective the wisest course of action is to say and do as little as possible. A policy of masterly inactivity takes a certain courage but when the alternative is even worse, doing nothing is preferable to doing something silly."
Brilliant.
Over at Substack Massie flourishes without an editor languishing in his highly polished incoherence:
"It is not, I think, a surprise that the cults of Wallace and Bruce flowered in the second half of the nineteenth century just as, for in many ways for the first time, Westminster's grasp reached beyond the border. The key idea, however, was that there need be no contradiction between Scotchness and Britishness; indeed the latter might be soil in which the former could flower."
Next Massie turns to one of his favourite tropes, that there is no difference between Scotland and England. He writes: "Britain's leathery old hands still grip more firmly than you might expect. And look, this is important too: Scotland and England have never been more alike than they are now. We do not see Britain in Scotland now because it is, in at least some important respects, the common water in which we swim."
Displaying a wonderful state of ignorance and belying his own social and cultural class and sub-culture Massie remains in a sort of state of grace profoundly ignorant of the worlds he inhabits and projects onto others:
" … we should appreciate our ironies: it is precisely because they are so British that so many Scots wish to shed themselves of their Britishness and it is precisely because they are so Scottish that Unionists feel unthreatened by any over-arching idea of Britain."
This a classless world with few or no problems that need addressed, with no urgency for change in which nothing really matters.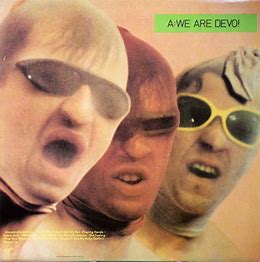 These writers and their publications seem to be acting in a co-ordinated way to promote some of this garbage, but it's much more likely to be phone-calls and drinks and excited over-sharing rather than any conspiracy. Much of this – while it seems absurd under (any) examination – makes perfect sense to those journalists who long for a pre 2007 world.
None of this is challenged: "We can't defend the status quo" while defending the status quo; "Candidates can be pro independence" while there's no sign that is happening or is remotely feasible; an unelected ex-politician will hand down from on-high the answers to democracy while ignoring the elected representatives of Scotland. In this media landscape none of this is thought to be absurd or even worth questioning.

Help to support independent Scottish journalism by subscribing or donating today.