Scottish Education Examined – how the SNP is putting politics before pupils
Last summer, the second of the coronavirus pandemic, Scotland's national exam diet was cancelled. The same thing had happened in 2020 but the circumstances, and the official response, were different. So now, with the third Covid-era exam period looming over the horizon, how are things looking for students and their teachers?
In March 2020, the emergence of Covid led to schools being physically closed (along with most of the rest of society) as we were all told to stay at home. With exams impossible, students in S4-6 had their grades assigned by teachers based on the work they had already completed up to that point.
Of course, we all remember the scandal that followed: both the SQA and the SNP government tried imposing a discriminatory algorithm that would keep grades in line with previous years, a process which (inevitably) targeted schools from the poorest areas and punished pupils for their postcodes. After trying to defend the indefensible for a few days the government backed down, John Swinney performed an apology for the cameras, and the algorithm was removed.
Last year (2020-2021) was a different story. Initially exams were supposed to be going ahead, even though those of us involved in delivering courses knew that this was never likely to be possible, so we started the academic year without knowing how we would end it and unable to be straight with students about how they would be assessed. It was an unforgivable failure caused by a government putting wishful thinking and its own political needs ahead of the needs of pupils. And so, when exams were eventually cancelled, it caused chaos. There would be no algorithms to keep the poor in their place, but teachers still weren't trusted to do their jobs: instead, a system of 'demonstrated attainment' was put in place, the result of which was young people being ground through weeks, even months, of seemingly endless assessments in the pursuit of perfect paperwork. 
In both cases the situation was a million miles from ideal. The workload for teachers was astronomical, while the pressure placed on students in 2020-2021 should be a source of lasting shame for those in charge. But it's notable that the biggest problems were caused not by schools, or even by the pandemic, but by politicians and their officials.
Which brings us to the current academic year. It began much as the previous one had done – with the Scottish Government telling us that exams were going to go ahead. Surely, though, the same mistakes wouldn't be repeated? Surely lessons would have been learned from the preceding eighteen months? You'd certainly like to hope so, wouldn't you…
At that time, I tried to get more details from the government using Freedom of Information legislation. Here's what I asked:
The Scottish Government has today confirmed that exams will take place in 2022 (if safe to do so) – https://www.gov.scot/news/national-qualifications-2022/
Does the government have any definition or set of conditions that will determine whether it is "safe to do so"? If so, please release this information. If not, please confirm that it does not exist.
What triggers have been set that would lead to the initiation of one of the contingency measures listed in the press release. Please either release this information or confirm that it does not exist.
What specific checkpoints have been set to determine when decisions about 2022 exams will be made? Please either release this information or confirm that it does not exist.
When the response arrived it was…well…see for yourself: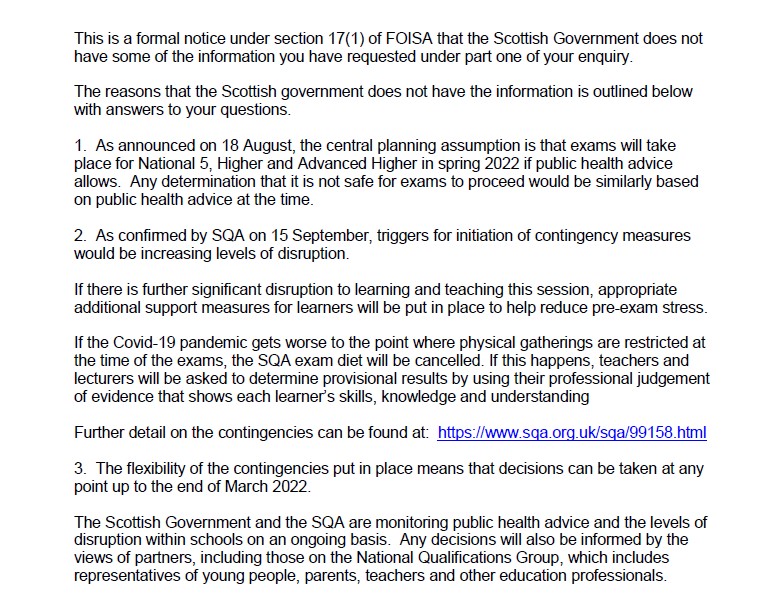 The only hard detail that seemed to exist was a final date by which the government would have definitely made a decision. Maybe October, which was the month in which National 5 exams had been cancelled the year before? Or December, which was when the Highers and Advanced Highers had also been scrapped? Maybe even January as schools returned from the Christmas and New year break?
Nope.
The Scottish Government had in fact given itself a deadline of the end of March 2022 to decide if exams would go ahead just weeks later.
The term 'significant disruption' makes an appearance (more on that later) because it turns out that the government pledged that 'further significant disruption' would trigger 'support measures…to help reduce pre-exam stress'. That threshold has certainly been reached since this response was issued to me (at the end of October 2021, more than a month late) and yet those support measures haven't materialised.
And as everyone (including the Scottish Government) knows, the question of whether or not exams can go ahead is not simply a matter of whether "physical gatherings are restricted" at exam time.
I'd love to tell you that I was amazed by all this, and the incompetence underlying it, but I've been at this for a while now and it would simply be a lie.
So once again, we began the year without knowing how our students would be assessed. Once again, the government was content to bury its head in the sand. Once again, what plans were made were founded on wishful thinking and political advantage. Once again, the Scottish Government and the SQA failed young people.
And they are continuing to fail them even now. Responding to a story in a recent edition of The Herald, the SQA offered the following information about their plans for 2022 exams:
"As schools return, if there is significantly more disruption across the country than that experienced last year then we will take further steps to help learners by providing support for exam revision where possible.
If that happens it is important that information is provided at the right time to support revision. Providing this advice too far in advance may have the negative consequence of narrowing the teaching of courses, which would be detrimental to learners' knowledge and understanding and to the next steps in their learning."
There are a few things to note here. Firstly, the SQA seems keen to keep discussions about cancelling exams firmly off the table. Instead, their focus is restricted to the possibility of 'providing support for exam revision', which is code for telling schools which topics are going to come up in advance. It's an obviously ridiculous idea of the sort that only seems sensible when you are, in fact, completely lost.
It's also worth asking why there needs to be 'significantly more disruption across the country than experienced last year'. The SQA – and by extension the government – are saying that things need to be worse than last year to convince them to take less action than they did back then. But why should this year's cohort need to have had it much worse before they are entitled to far less support? It doesn't make any sense if you are concentrating on fairness for young people – but it's perfectly rational if what you're really trying to do is rig the game against them.
Remember, last year's exam diet was not cancelled because of lockdown and home learning from January onwards – it had already been scrapped before schools broke up for Christmas. It would be wildly dishonest for anyone to claim, for example, that the lack of a period of remote learning this year means that exams should go ahead, but would anyone be surprised to see precisely that argument in an SQA release or from a member of the government?
For the events of early 2021 to have had anything to do with cancelling last year's exams the government would have had to have known that it was going to implement a lockdown weeks before the public were told. If that's the case then I think people would want to know, but if it is not the case then decisions about this year's exam diet need to be made on a like-for-like basis: the situation needs to be compared not to this time last year, or to any normal year, but rather to the period of September – December 2020. 
This sort of consistency may be inconvenient for the government and the SQA but, if young people really are the priority, it's also the very least that they should be able to expect.
They should also be able to expect a clear definition of 'significantly more disruption'. A variation of the phrase has been getting thrown around for months (remember that FOI response from October last year) but, despite the massive challenges affecting schools, nothing has been done. So what are the metrics? Who is doing the measuring? What sort of data will trigger a decision, and who makes the call? I decided that I would try to find out.
I got in touch with both the SQA and Scottish Government and asked them the following question:
In response to a story in the Herald about disruption to schooling and the possible impact on exams, the SQA has provided the following comment:
"As schools return, if there is significantly more disruption across the country than that experienced last year then we will take further steps to help learners by providing support for exam revision where possible."
Could you please confirm how you are measuring the disruption to schools, and what will trigger a judgment that there is "significantly more disruption" than last year? How would you draw the line between there being more disruption and 'significantly' more disruption, and what are the actual metrics for that disruption?
(I also asked the Scottish Government the following additional question: Could you also confirm whether the option of cancelling exams and switching to teacher judgement has now been abandoned? The SQA comment suggests that only 'support for exam revision' is being considered, which feels like something that needs clarified?)
The responses were not reassuring.
An SQA spokesperson:
"The Covid-19 Education Recovery Group is closely monitoring levels of learner and teacher absences, and school closures, and SQA will be guided by these in deciding whether to provide learners with additional support for exam revision. It is important to remember that the significant modifications already made to courses this year are designed to address the ongoing disruption to learning and teaching."
A Scottish Government spokesperson:
"We will do everything we can to keep schools safely open and minimise disruption to learning. The plan continues to be for exams to take place in 2022, although we are closely monitoring COVID developments.
"If there is significant further disruption across the country, learners will be given additional support to help them prepare for exams. The decision on whether to move to this contingency will be taken by the SQA in consultation with the Scottish Government, the COVID-19 Education Recovery Group, the National Qualifications 2022 Group and other partners.
"A range of factors, including staff and pupil absence rates, will be considered.
"If public health conditions do not allow for an exam diet to take place, awards will be made on teachers' judgements based on normal in-year assessment."
So, what is the difference between disruption and 'significant disruption'? What are the trigger points at which a decision will be made? It's not even clear that either the SQA or the Scottish Government know the answers to those questions, but that can only be because they do not want to know the answers or (far more likely) because the answers simply do not exist.
The actual cancellation of exams will only be considered, it seems, if it looks likely to be unsafe to hold such gatherings in April/May, while 'significant further disruption' before then will only trigger that long-promised 'additional support' to help pupils prepare for the tests.
Both the SQA and the Scottish Government are clearly desperate for exams to go ahead 'as normal', and it looks very much as though they are busy stacking the deck to make sure they get their way: not only has the bar for action this year been set absurdly, almost impossibly high – those in charge are also doing their best to block off alternative routes. 
But the reality is that there has already been too much disruption for exams to go ahead fairly. All over the country education has been hugely impacted by Covid-related issues, and these problems have not been felt uniformly across all schools. A national exam diet by definition cannot make allowances for the sort of circumstances in which we find ourselves or the experiences of young people over the previous year. 
Given that reality, why would the high heid yins be so desperate to protect exams? That's depressingly simple: they're actually just desperate to protect the status quo. 
In order to achieve that, they want you to forget everything we have learned in the last couple of years and instead go back to believing that our 'traditional' exam system is a model of fairness and good sense – a level playing field on which all young people compete as equals. They're assuming that you're too tired, or too stupid, to remember why that's a lie.
People who want you to believe that our exam system is fair often argue their case on a seemingly undeniable basis: if all pupils are sitting the same exam, at the same time, under the same conditions, then nobody has an advantage over anyone else. If you adopt a wilfully simplistic approach then you even get to pretend that it's true.
Yes, everyone sits the same paper at the same time – but the notion that they are therefore sitting the same exam is a particularly destructive myth, one that I tackled in my recent book, Class Rules:
It is true that every student sits the same paper at the same time, but the idea that they do so under the same circumstances is a delusion, one built on the entirely false assumption that only the conditions inside the four walls of the exam hall have an impact on a student's test scores. A student who got eight hours of sleep in a warm bed doesn't sit their exam under the same conditions as one who woke up cold during the night because there was no gas in the meter. A young person who starts the day with a healthy breakfast and a chat around the kitchen table isn't being tested under the same circumstances as one who had no time to eat because they had to make sure their siblings were ready for school. Pupils who walk into the exam hall thinking through their revision material are not being treated the same as the those who goes in worrying about the health of the parent for whom they are a carer.
These sorts of divides are not even particularly extreme examples — they are the stories that play out every single year in every single school in every single part of the country. But we don't like to talk about it because the lie of the meritocratic exam system makes us feel better. We tell ourselves that the current system is fair because it is easier to believe the lie than confront the truth.
The high-stakes, make-or-break nature of the Scottish system demands that pupils perform to the best of their ability on single day — less than 0.3 per cent of a full year. It rewards those able to jump on command and punishes those whose circumstances mean that their best day might not happen to line up with a national exams schedule. This leaves our current approach inherently weighted towards those from more affluent backgrounds: those whose parents can afford private tutors, of course, but more broadly those who are just far less likely to be coping with emotional, psychological, social or family problems at any given time.
Another key feature of the system is the mechanism by which final grades are determined. Lots of people are already aware that the pass marks for each course change every year – but why? The official, public-facing answer is that this process allows us to make little adjustments if a paper proved to be a little harder or easier than expected; a more honest answer would be that officials want to keep their spreadsheets in line. One of the most fundamental features of our system is the determination that a certain number of young people must receive a failing grade each year (whether they deserve it or not) and so pass marks can be manipulated to make sure this is achieved. The same applies to grade distributions
Despite all this, we're still supposed to believe that the exam system exists to set poor kids free – but as the official data shows, this is simply untrue.
Perhaps the most direct way in which to analyse the exam system is to look at the interaction between students' backgrounds and metrics such as pass rates and grade distributions. So we know, for example, that in pre-pandemic years, pupils from the poorest backgrounds were more likely to fail Higher courses than achieve an A, while those from the richest areas were more likely to get an A than any other grades.
HIGHER GRADE DISTRIBUTIONS 2019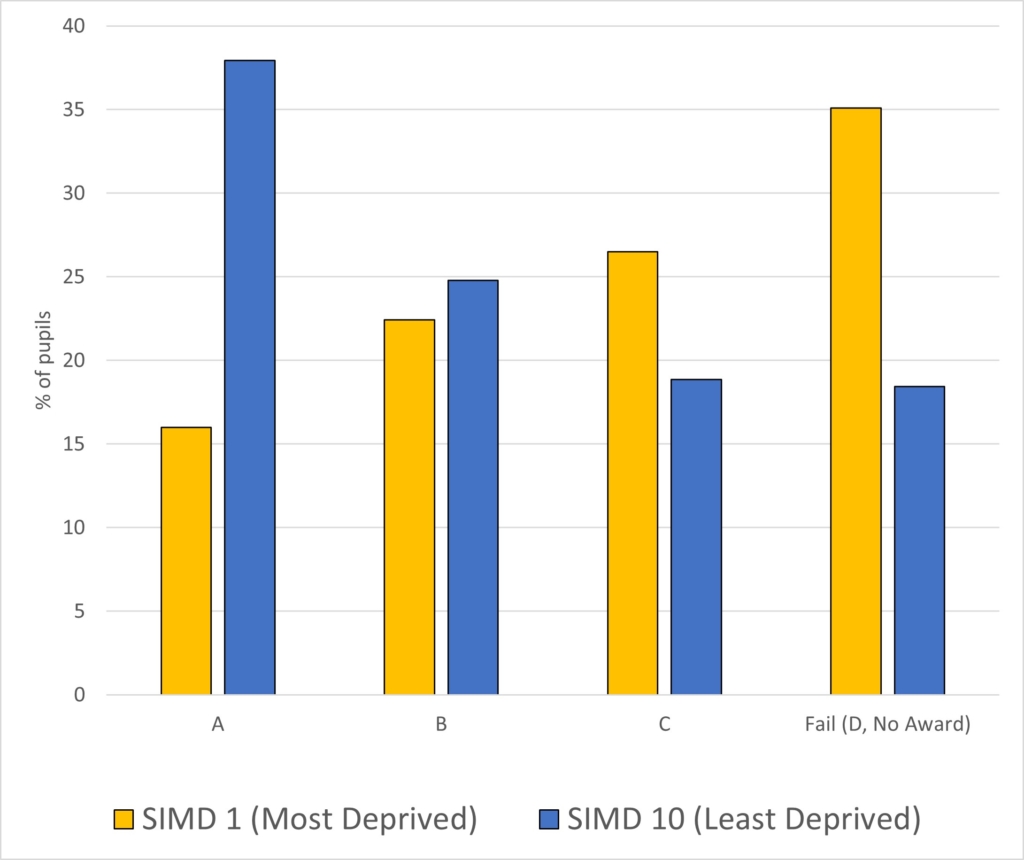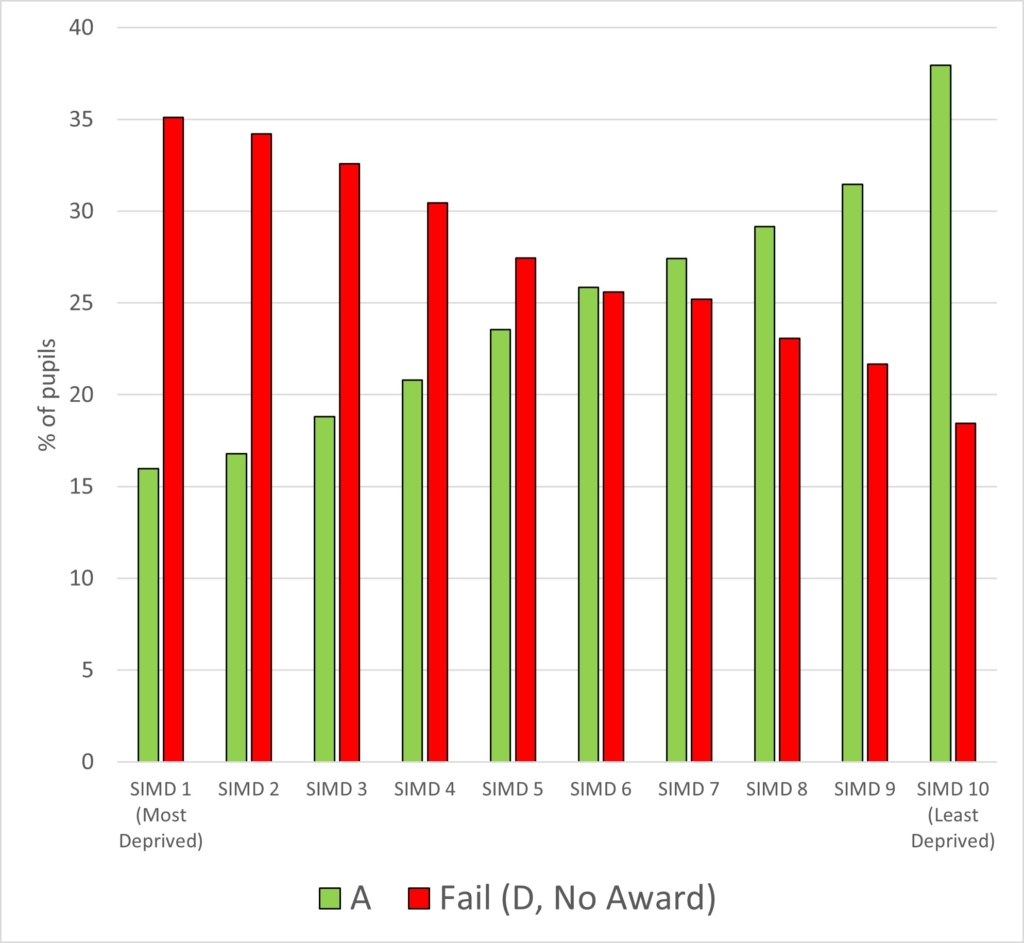 So that's how the old system worked – but what about the last couple of years, when the pandemic has forced us to adopt different approaches? The most obvious impact of ditching the 'traditional' approach was a clear and significant narrowing of the gap between rich and poor. This occurred at National 5, Higher and Advanced Higher levels, and held for both years in which exams did not take place – although it is notable that the gap increased slightly last year when the 'demonstrated attainment' model was imposed and teachers' judgements were not fully trusted.
NATIONAL 5, HIGHER & ADVANCED HIGHER ATTAINMENT GAPS (this chart shows attainment gaps as measured by the difference in pass rates between pupils from the most and least deprived areas of Scotland)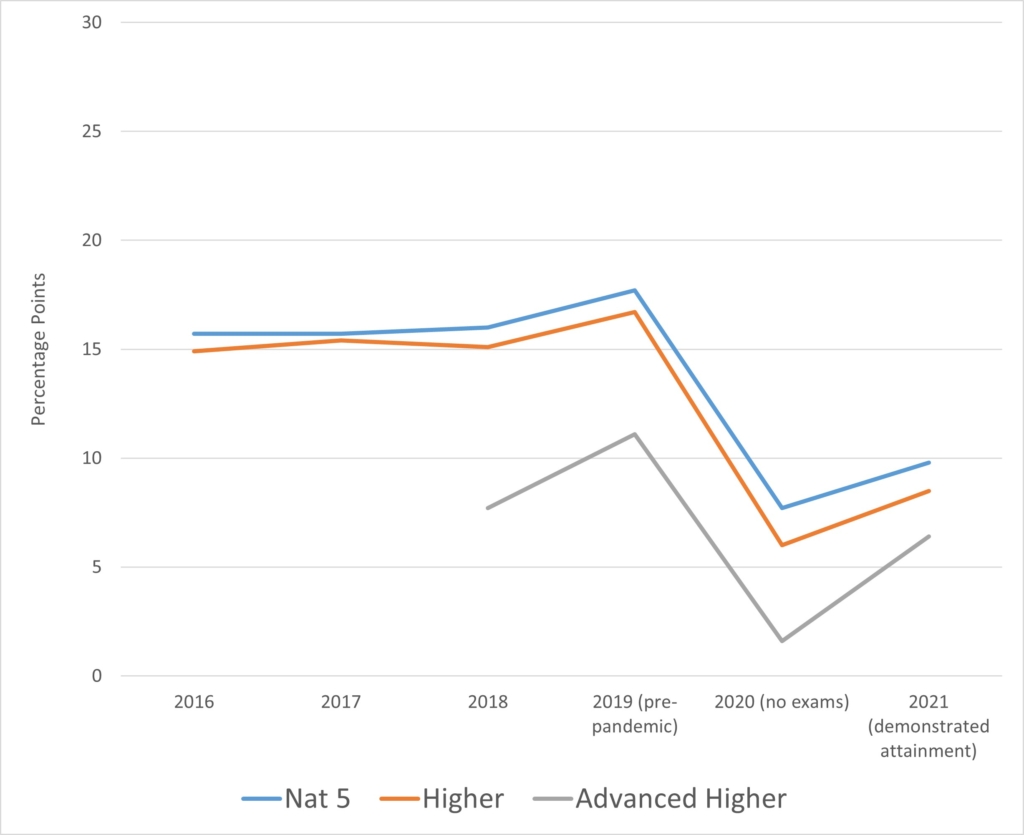 In 2020, and again in 2021, many people were quick to complain about 'grade inflation', by which they meant 'too many poor kids doing too well'. Yes, pass rates improved – but what if this wasn't anything to do with grades being 'inflated'? What if this was grades being corrected? What if the size of the attainment gap we saw pre-pandemic was the result of the exam system magnifying, rather than mitigating, the already deep social inequality that exists in our country?
Under the systems in place in 2020 and 2021, pupils right on the borderline between passing and failing – which, let's not forget, is a blurry, imprecise line that moves from year to year – were more likely to have their progress recognised and less likely to fail just to suit the whims of pen-pushers and spreadsheets. They were no longer forced to perform on demand on a single day either – in 2020 all of their work was taken into account while in 2021 students were could have more than one attempt at assessment tasks in order to achieve the grade that truly reflected their abilities. In short, pupils were treated more fairly by the emergency pandemic-era systems than by the traditional examinations approach, and as a result the gap between the richest and poorest pupils was smaller than it had ever been before.
And that raises major ethical questions about the desperate attempts to drag us all back to the bad old world. The problem is simple: going back to 'normal' means making the deliberate and unnecessary decision to reopen the gaps between deprived and affluent pupils. 
NATIONAL 5, HIGHER & ADVANCED HIGHER PASS RATE ATTAINMENT GAP PROJECTION (this chart shows the increase in attainment gaps if examination systems and grading profiles return to 2019 'normal' levels)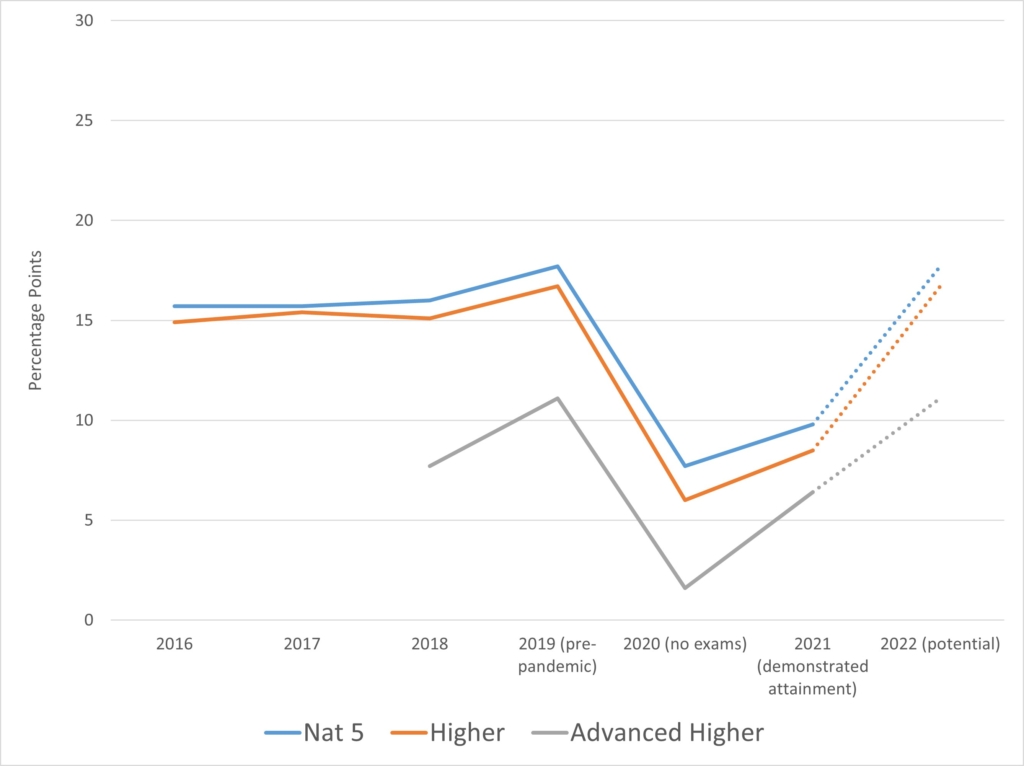 2020 showed us that these people think that fairness is when you discriminate against the those with least in order to protect the privileges of the middle classes. In 2022 it's clear that they haven't changed their minds – as far as they're concerned, a system weighted in favour of the most affluent is what justice looks like.
They want us to go back to pre-pandemic normality. They want people to stop asking them difficult questions about equity and class-based discrimination. They want the privileged to keep their advantages, above all the preferential access to rationed university places for their kids.
Two years into the pandemic, after the biggest education scandal of the devolution era, a follow-up that did significant harm to young people, and a litany of other shortcomings (including the complete failure to make classrooms safe) we are, I'm afraid, right back where we started: with the government desperate to protect the system and shore up the status quo, and willing to do so at the expense of large numbers of mostly poorer children.
The messages being sent by the SNP are quite clear: for teachers it's "politics matters more than your pupils"; for affluent Scots it's "we've got your back"; for the poorest communities it's "get back in your box."
James McEnaney is a journalist, author, lecturer and former secondary school teacher. His latest book – Class Rules: the Truth about Scottish Schools – is out now.


Help to support independent Scottish journalism by subscribing or donating today.