Good Government and the Sovereign Individual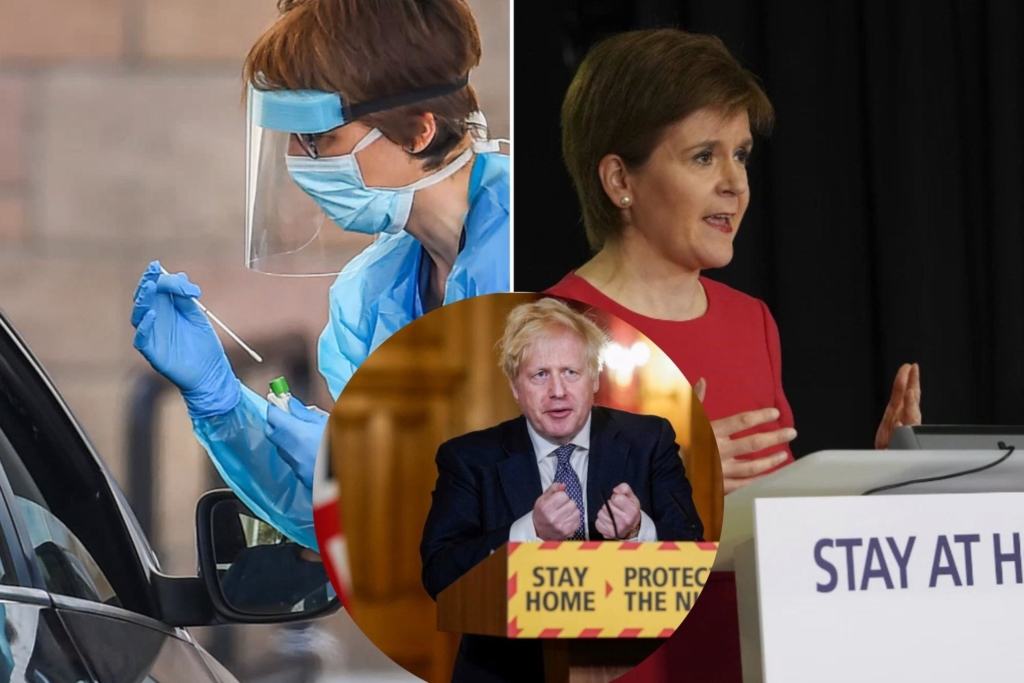 GOOD GOVERNMENT: From The Province Of The Cat by George Gunn
What is a government exactly? Do modern, hi-tech societies actually need them? If they do then the least the citizens of these societies should expect is good government. Currently, as things pan out, can the subjects of the UK – for alas, as yet, we are not citizens – say that we have good government? Like the curate's egg, as ascribed by the Rev. F. Arnold in his memoir "Our Bishops and Deans" (1875), "it is good in parts." The recent and on-going Coronavirus pandemic has, I think, proved this. None of these "parts" is England.
No matter how much people like me, on the left of Scottish politics, are frustrated by the SNP government in Holyrood we must be glad that we are shielded by them from the growing careless and couldn't-care-less excesses of the current Tory regime in London. Without borrowing powers any Scottish government is limited in what it can do – this is part of the frustration and the reality – and it is little wonder that Nicola Sturgeon and her colleagues have been accused of being "managers". Because that is exactly what they are: they manage a block grant from the Westminster Government. This is a set of affairs which cannot go on indefinitely, especially when the Tory regime is growing ever-more hostile to the devolution settlement and post-Brexit are shaking themselves free of any liberal legislation or social contract the EU tied them to. Gone with the single market is any commitment to regulation and transparency. Westminster is now determined to seize back powers devolved to Holyrood. They seek to create a de-regulated, free trade, financialised and centralised UKania where actual government dissolves into a digital mist.
The factors that increasingly make this Tory nightmare unlikely – hopefully – are their educated selfishness and inherent corruption. If you look at Westminster and at Holyrood you can see where "good government" resides. That is if you have eyes to see. Many don't. Recently on BBC Radio Scotland there was a piece featuring Kezia Dugdale, currently director of the John Smith Centre for Public Service at the University of Glasgow, where she was discussing with the presenter the findings of a survey on how much "people" trust/distrust "politicians". The findings were, unsurprisingly, negative – all politicians are untrustworthy, are out for themselves and are neck deep in sleaze. Kezia Dugdale and the BBC presenter kept referencing Westminster and the "Partygate" scandal as a case in point. Not once did they mention Scotland. Holyrood and the way things are done there didn't fit the narrative.
During the first lockdown in 2020 the people of Scotland listened to their First Minister give a daily briefing informing them of exactly what was going on, as best she knew, and reassuring them that the Scottish NHS and the Scottish Government were doing everything in their power to protect them. From day one of the pandemic this was the consistent message. Contrast that with the indifference displayed by the UK Prime Minister and his Government. They ignored every warning and only acted when it was far too late. The Scottish Government were not perfect in everything they did but I doubt there were many in Scotland who did not believe Nicola Sturgeon and felt that she was sincere in what she was saying and doing and that the events, as they unfolded, were causing her as much deep pain as they were everyone else. Somehow, I can't explain how, it helped. The SNP may move as a Government with the speed of a sloth and are generally overly-cautious and un-necessarily conservative on many issues such as land ownership and infrastructure nationalisation, but who in Scotland would choose to have Boris Johnson head their Government as opposed to Nicola Sturgeon? I know the answer to that – the Scottish Tories, but increasingly they are going the way of snow off a dyke.
The message of the political right is always one of essentialism, which when applied to government means, "less but better". They assume that there is a fixed natural order to which we, the plebs, ought to conform our mental, calculating, and applied behaviour, and that any deviation from this order must be amended. The task of correcting such aberrations among picaninnies, watermelon-slice-smilers, tattie-munchers, artists, the weak and the poor, and all other wrongdoers such as the EU and the Scots, was – and still is – considered to be 'the white man's burden' of the elite, those born to rule – i.e. the Conservative and Unionist Party.
I imagine that Boris Johnson has long ago convinced himself that once you give yourself the permission to stop trying to do it all or anything, to stop saying yes to everyone, to blether and bluster, only then can you make your highest contribution towards the things that really matter. Things like making as much money for yourself as you possibly can and of accruing as many resources to your benefit as you can, no matter that they belong to someone else such as Iraq, Venezuela, Nigeria or Scotland.
In Mark O'Connell's summary (Guardian 15th February, 2018) of the chilling if pompous book, "The Sovereign Individual: How to Survive and Thrive During the Collapse of the Welfare State" (published in 1997) he charts its "Four steps to the new fascism", which are –
1) The democratic nation-state basically operates like a criminal cartel, forcing honest citizens to surrender large portions of their wealth to pay for stuff like roads and hospitals and schools.
2) The rise of the internet, and the advent of cryptocurrencies, will make it impossible for governments to intervene in private transactions and to tax incomes, thereby liberating individuals from the political protection racket of democracy.
3) The state will consequently become obsolete as a political entity.
4) Out of this wreckage will emerge a new global dispensation, in which a "cognitive elite" will rise to power and influence, as a class of sovereign individuals "commanding vastly greater resources" who will no longer be subject to the power of nation-states and will redesign governments to suit their ends.
The authors are James Dale Davidson, a private investor who specialises in advising the rich on how to profit from economic catastrophe, and the late William Rees-Mogg, long-serving editor of the Times (and yes, Jacob Rees-Mogg's dad!).
Mark O'Connell concludes,
"The Sovereign Individual is, in the most literal of senses, an apocalyptic text. Davidson and Rees-Mogg present an explicitly millenarian vision of the near future: the collapse of old orders, the rising of a new world. Liberal democracies will die out, and be replaced by loose confederations of corporate city-states… It's impossible to overstate the darkness and extremity of the book's predictions of capitalism's future; to read it is to be continually reminded that the dystopia of your darkest insomniac imaginings is almost always someone else's dream of a new utopian dawn."
Think of that, if you can – if you dare! – the next time you see Jacob Rees-Mogg impersonating Lord Snooty on Newsnight. Beneath the morning suit and top hat lurks the ghosts of Adolph Hitler and Benito Mussolini. It is the reason that governments act swiftly to rescue the banks but drag their feet over climate change. Good government is not the aim of any government that has a place in it for Jacob Rees-Mogg. As the Brexit experiment unravels the Tories will lead us all into unchartered territory, for our generation at least, where we will enter a transition stage of governance somewhere between democracy and autocracy.
Autocracies, such as Belarus and Kazakhstan, possess sufficient powers of repression to keep potential insurgents in check. The Metropolitan Police, on the other hand, are expert at kettling demonstrators into corners. Democracies, on the whole, allow dissidents means to effect change without resorting to violence but democracy can weaken, even fossilise, which is what we are seeing, I would suggest, in Westminster. Autocracies can also weaken, and the repression can fail, and then all hell breaks loose. This transition is what is termed "anocracy", a concept first muted as far back as 1935 by the Austrian philosopher Martin Buber.
"Partygate" is evidence of how detached the ruling elite have become from the people, what in Aberdeenshire they call "the lave". It is a sign that we are entering into an anocracy, where we can kiss any hope of good government goodbye. Instead what we see are a series of Tory shams. Sham support for the National Health Service. Sham anxiety about the environment and the climate crisis. Sham phrases such as "Levelling Up" and "The Benefits of Brexit" and so on through to the Nationality and Borders Bill, vaccination and immigration and into the darkness of the dystopian night.
For all its failings, shortcomings and cautions the Scottish Government currently compares as the functioning seat of good government in the still centre of a spiralling world. I believe that will make a difference when we legislate for our independence, whether that be through a referendum or by some other democratic means. It will give the Sottish people confidence.
"Envy those who see beauty in everything in the world." the young artist Egon Schiele exhorted in a letter to a friend after being arrested for his radical art, destined for an untimely death in 1918 from the Spanish flu. His young pregnant wife succumbed to it three days previously to his own demise. In this time of pandemic and economic fragility, when the bands that hold the United Kingdom together are daily breaking, we must also "see beauty in everything in the world", most especially within ourselves and in our ability to create a country in which our children can live and thrive and be happy. As far as I can see that is good government. As we all know it is not easy, but our democratic requirements are, as David Hume said of "passions", "as unreasonable as they are necessary".
©George Gunn 2022

Help to support independent Scottish journalism by subscribing or donating today.