Levelling Up is Covering Up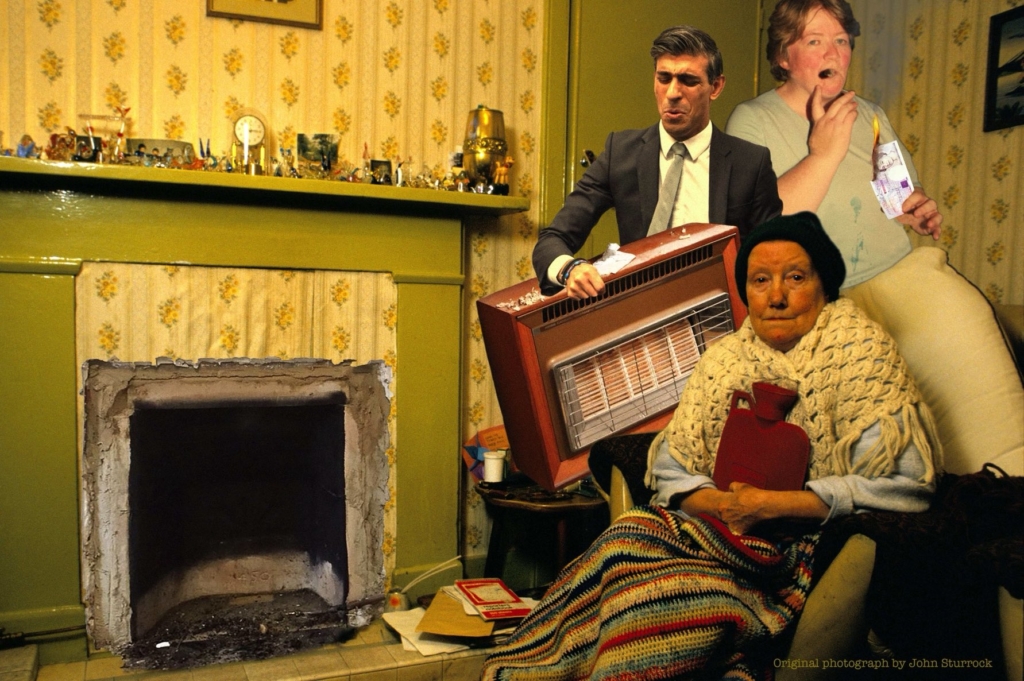 Image credit: Cold War Steve @Cold_War Steve
The 'levelling up' programme is a con, but it's a revealing one. It's a beautiful eulogy to Britain as a coherent unity, Muscular Unionism and sado-populism (not necessarily in that order).
The levelling up rhetoric needs to be put in the context not just of the deep poverty manufactured by years of austerity and disfiguring inequality but also in broader picture of the government's handling of the pandemic.
A Labour spokesman dismantled it with these simple calculations:
"This is not just about covid grants and loans. It has emerged on page 199, as my honourable friend for Wansbeck highlighted during the debate, of the Department of Health and Social Care Annual Report, that £8.7 billion of losses in PPE have had to be accounted for in that department's spending. Just pause and think about that. £8.7 billion of losses. What could that have done in the NHS? It is twice the governments entire hospital building programme and it's dismissed on page 199 of the department's Annual Report. And if you add, for example, that £8.7 billion to the £4.3 billion that we've been highlighting today, you get a whole years worth of receipts from the National Insurance rise that's going to be imposed on families in April. So the Chancellor says this is all about public services, but it is impossible to escape the conclusion that these taxes are at least in part to fill the hole caused by this colossal mismanagement of public money."
That's a description of a kleptocracy not a democracy.
Among all the jive-talk about 'Team UK' – the 'levelling up' programme is about buying-off regional disparities created (or accentuated) after a decade of Tory misrule. It is more like old-school US pork-barrel politics and chimes neatly with the recent accusations against the Whips Office (now conveniently buried).
The indecency of media scribes regurgitating the lines from the Hedge-Fund Chancellor handing out bawbies as people descend into destitution is distasteful in the extreme. All of the euphemisms about 'tough times' and 'tightening belts' is just a reflection of a moron media unable to stomach the reality they can't imagine as they consume press releases from a political class exposed as never before. At this stage complicity with them is unacceptable.
The gap between the reality of the government's handouts and what that looks like on the ground is massive. Modelling from the New Economics Foundation suggests that around a third of those receiving a council tax rebate won't benefit at all because they will automatically lose the same amount in council tax benefit.
As Miriam Brett, Director of Research & Advocacy at Commonwealth has pointed out: "Fuel poverty is children going to bed and waking up cold, vulnerable elderly people getting very ill, homes being bitterly cold and damp, devastating respiratory and heart conditions, and more winter deaths. Knowingly plunging people into fuel poverty is callous and inhumane."
A Bombed Out Economy
The existing realities – pre the £20 cut in Universal Credit – pre the massive energy spike – pre the collapse of supply chains – are outlined in (for example) the Covid Realities research project. The testimonies are predictable and harrowing. But much of the coverage of the oncoming crisis treats the problems as if they were new or created by events beyond our control. They are not. This is a political game about electoral survival.
Many of the solutions being put forward are by definition ameliorative and stop-gap, short-term and inadequate.
We can Scrap the Cap, we can create a windfall tax on Big Oil and Big Gas. We should do these things but they are not answers, they are fire-fighting a broken economy and a disfigured society.
Aditya Chakrabortty talks about visiting the town of Ashington, Northumberland. He describes: "On one side of the library stood a huge Asda, on the other a big Lidl, offering their customers cheap food and their workers low wages. This was today's vista: a bombed-out economy, an electorate estranged from politics, and a visibly shrinking public sector getting picked over for cash by a parasitic private sector. You couldn't ask for a clearer picture of austerity Britain."
This is the battle-ground for the Tory – Labour war and it's a problem for anti-poverty campaigners too, to lift the political campaign and message beyond "make food very cheap." Some of this narrative locks us into an economy of low wage, low-skilled, part-time temporary work and food production and distribution captured by a handful of corporations.
This is a challenge for us all, to lift the responses from the knee-jerk and the defensive to the transformative.
The whole debate has a constitutional mirror to its social dimension. Levelling-up is a less sincere version of trickling down. It distorts devolution while demanding 'co-operation': here 'Proud Aberdonian' Michael Gove explains 'Why the Scottish Government needs to co-operate on Levelling Up'.
This is Gaslighting on a national scale, but nobody's buying. It's an economics playbook updated for the 2020s where society is so broken they don't give a fuck any more.