Breathing Space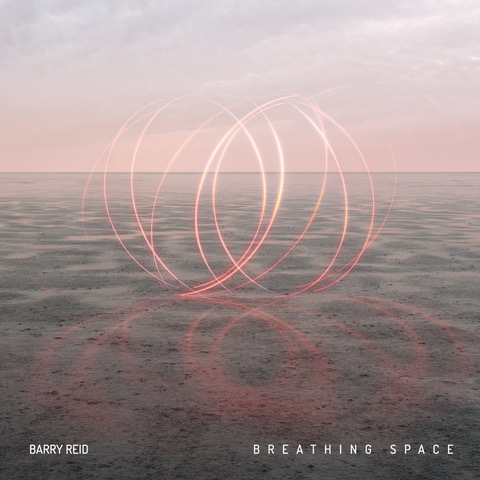 As we emerge into the spring from a second pandemic winter, 'Breathing Space' from musician Barry Reid is a welcome, hope-filled musical offering. Described as a collection of original instrumental melodies mixed with synthesisers, electronic rhythms and field recordings, Reid's subtle sonic textures conjure epic and spacious soundscapes that beam with imagery and sounds of the Highlands. Deeply contemplative and meditative at points, soaring, cathartic and euphoric at others, this music opens up worlds of the imagination – both futuristic and of times past.
Reid, from Kilmorack in Inverness-shire, is perhaps best known for his work as a recording engineer and producer. As a musician, he plays in bands such as Treacherous Orchestra and Croft No. Five and has contributed electronic wizardry to dance-electro outfit Halcyon as well as arts and science exploration Event Horizon (2017). One upside of the pandemic was that it gave Reid the breathing space to work on his own music, drawing on a lifetime of influence and inspiration:
"For many years I've wanted to make an electronic based album of music that not only reflects myself as a musician but also the places I love to be in and where I find calm amongst all the chaos…I am heavily influenced by the natural sounds I can find around me. I like to make field recordings of these sounds and use them as the foundations for my music."
Composed, arranged, recorded and mixed by Reid in his home studio, the album was mastered by Andrea Gobbi – also the master behind the recent release 'A' Ghrian' from trad and dance outfit Niteworks. It's not easy to make a comparison here, however. I wouldn't describe 'Breathing Space' as dance music; neither is it a fusion of traditional or 'Celtic' flavoured tunes with big beats and baselines (a successful recipe that works for bands such as Elephant Sessions, or the acid croft of Shooglenifty before them). Undoubtedly influenced along the way by innovator Martyn Bennett with the landmark meeting of Scottish traditional and electronic music – and all those who followed in his wake – Reid's sound is very much his own. While Bennett's music could be deliberately provocative, Breathing Space is smooth and polished, more reminiscent of the chilled beats of Jon Hopkins or Bonobo.
Each track features a lead instrument – guitar, fiddle, flute or whistle – serving up strathspeys, jigs and reels inspired by and very much rooted in the tradition Reid grew up surrounded by. Several tracks feature musical friends and collaborators: a stellar line-up including Lauren MacColl, Laura Wilkie, Innes Watson, Hamish Napier and Ali Hutton. Reid himself plays acoustic guitar, synthesisers, Ableton Push drums, harmonium, piano keyboard and percussion.
As much as Breathing Space is an expression of a contemporary time and place, the experience of listening to the album surprised me with feelings of nostalgia for my own past. It made me want to revisit long-forgotten albums I had listened to as a teen with friends, transporting me back to a time when music was not as easy to come by – a time when it took a whole day and night to download a single mp3 file on your pal's computer. There are hints and flickers in Reid's creations too of late 90s bands such as Massive Attack, Daft Punk, Leftfield and home-grown Boards of Canada.
The first track 'Better Days' opens with futuristic sounds and clicks that foreground much of what is to come. Reid's acoustic guitar soon takes centre stage with a sweet strathspey, which drifts into floaty synths. Inspired by an optimistic message on a picture his dad once painted, 'There will always be sunnier times,' this track brings to mind long, peaceful summer days, hazy views into the distance under wide open skies.
'The Unknown' was written as a response to the jarring experience of the first lockdown in 2020, bringing to mind the uncertainty, anxiety and chaos of that time. The track opens with unnerving sounds that evoke a sense of unease. Laura Wilkie's fiddle brings a driving and relentless jig that lifts and shifts between keys, creating tension and release. There are many sonic threads at work here, each given a lead at different times. I experienced chills towards the end of this track – remembering the charged emotion and fear during this time, but also the loneliness, quiet and captured moments of joy.
'If Six was Twelve' has a delicious mellow driving beat and dreamy uplifting synths which carry the melody of Hamish Napier's folky-but-jazz-tinged wooden flute. It instantly reminded me of a track by Dutch DJ Bakermat, discovered by accident one summer. This is a perfect soundtrack for driving through the landscape on your way to a camping trip on the west coast with friends. With beer. Imagine that.
The title track 'Breathing Space' somehow manages to sound like it has been conjured up from some ancient time past. The percussive backing is built up from the woody clicks and beats of found sounds. The music itself seems to be breathing too. Shut your eyes and you can hear leaves and pine cones crinkling under foot. Birds chirp in the branches. Look up and you can see tall trees – with the promise of crossbills – the sun beaming down to the forest floor in glorious slices of light, illuminating the undergrowth of moss and mushrooms. Wildflowers appear in the mind's eye thanks to unexpected flashes of sonic colour in the modal melody.
'Shifting Baseline' picks up the pace and riffs on the ecological idea that our human perception of the natural world has been changing over the generations – that we don't even know what we have lost in terms of biodiversity. There is something subtle at play here; MacColl's nimble fiddle reel is not foregrounded in the mix, almost fading into the background – like you might lose it – but is very much still present, dancing with the urgency of the synths. 'Still' is a collection of field recordings made close to home in Inverness-shire and Ross-shire. Reid reflects that, during lockdown, with a large reduction of road, air and noise pollution, it became possible to collect very clean recordings. You'll hear waterfalls in Glen Affric, the lap of the loch's shore, the dawn chorus, the wind in the trees, a thunderstorm on the woodshed. This is a meditative, evocative piece that invites you to slow down, take a moment to breathe and be still.
'The Firth' brings the bass to the fore in what might be the darkest track on the album. Watson's fiddle plays a pulsating slow reel above layered sounds and atmospheric electronics which paint a sonic picture of the expansive and swelling tidal waters of the Beauly and Moray Firths. 'Ùine a dh'Fhalbh', a Gaelic phrase which translates as 'Times Gone By' reprises Napier's flute. This is light, spacious and contemplative, playing with the layering of melody and harmony. 'Uplift' is described as 'a tune to lift the spirits and bring some hope', where futuristic sounds complement the earthy tones of Watson's fiddle.
The album's closer, 'The Lonesome Pine,' paints the vivid image of an old tree, cowering but crouched steadfastly on the horizon of the hill visible through the kitchen window of Reid's childhood home. The music evokes the sense of weather systems passing by in real time, with shifting sonic shades of light and colour. The track opens with acoustic guitar, a melody soon picked up by MacColl's fiddle, adding a touch of wistful melancholy. Ali Hutton's whistles join as the weather advances, a dance of melodies and harmonies bringing together the instrumental threads that have been weaving their way through the album, sustaining these soundscapes to a quiet close.
Breathing Space is sure to be a soundtrack to more hopeful adventures in 2022.
'Breathing Space' – Barry Reid
Release date: Wednesday 2 March 2022
Artwork and photography by Somhairle MacDonald, Father of Schmo
Available to buy on bandcamp here.