Ukraine Then & Now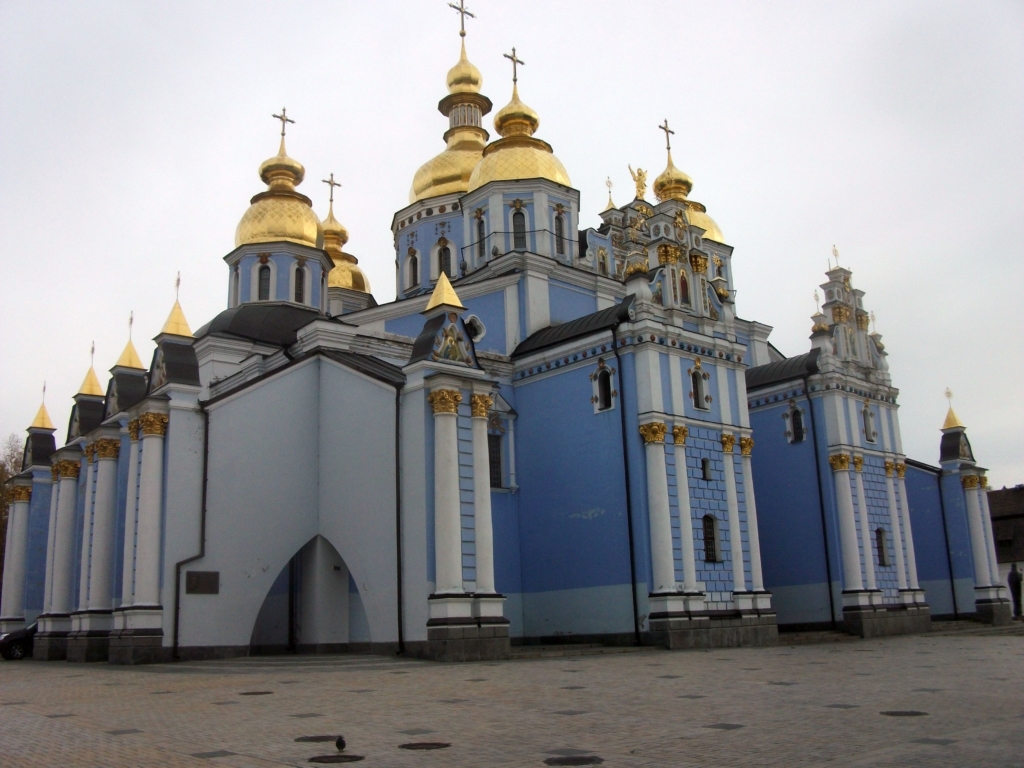 In this heartbreakingly difficult time for Ukraine I often think back and remember those extraordinary days in 2014, touring there as part of the Terra Poetica Festival. There were ten of us international writers from various countries – from Wales, Scotland and England in the UK, USA, Israel, Macedonia, Bulgaria, Sweden, Poland and Estonia, and many Ukrainian participants. This Festival was the dream of Lesia Mudrak, Founder and Chairman of the Festival Committee, along with Dr. Dmytro Drozdovskyi, Editor of Vesevit Magazine and Chairman of the Judging Panel. These two formed a committee, set in motion the huge amount of organisation, applied for funds and sponsors, and arranged transport, accommodation, venues and no doubt many other things that we did not even know about. 
The tour began in Kyiv, went on to Rivne, Ostrog, Zhytomyr, and then back to Kyiv. Sometimes we had very little sleep between arriving late at our hotel, and starting early the next morning. Along with Ukrainian poets, we gave readings in dramatically grand National Theatres, in Universities, cafés and, most memorably for me, in the Space Museum in Zhytomyr. As well as poetry readings, the performances included dazzling Ukrainian singers, dancers and musicians. We read to audiences of hundreds of people, gave workshops in Universities, and were given a fulsome welcome everywhere we went. We were fêted and feasted, given bouquets and armfuls of presents, had interviews with the press and with radio and TV journalists.  A team of amazingly patient and good-humoured volunteers guided us around, translated and interpreted, made sure we had everything we needed and sorted out any problems. 
There were many welcoming speeches by various dignitaries including the Minister of Culture, the Minister for Foreign Affairs, Presidents of Writers' Organisations and University Rectors. What was emphasized several times was that Ukraine was grateful for the fact that we came here to participate in the festival, showing our support for the people and for the country by our attendance. 
The warmth and hospitality was overwhelming. What was particularly striking was that these are people who truly love the arts and literature. They are also a people who are going through 'hard times' as the war was mostly referred to. But sometimes we were reminded just how hard these times really were. In Zhytomyr, the President of the Writers' Union spoke movingly of 'this day when poetry rang out in our city, the guns fell silent' (there were no soldiers killed fighting in the eastern part of the country on that day). In the Awards Ceremonies on the final evening of the Festival, a spokesperson from the Ministry of Foreign Affairs praised the soldiers defending the eastern part of the country. If it was not for them, he said, the tanks would already be rolling into Kyiv. (This was in 2014! It now has a horribly prophetic ring to it.)
Extract from Ukrainian Journal 2014
21 October
I saw the sun come up from the window of my room on the 7th floor of the Hotel Salute, overlooking Kyiv and the river Dnieper. Just time for a quick cup of coffee before we all piled into the bus. Yaroslav moved through the group of people, encouraging, counting, making sure we were all there.. One stop mid-way to Rivne, for a coffee. Bright sunshine. 
The flat plain rolled past. Fields of dried stalks of harvested maize. In one field, two horses pull a plough. In another, a lone black horse stands, in a yellow field. And a solitary golden dome lies outside a dome making manufacturers. Part-wooden houses with roofs between square and dome-shaped. A few black and white cows graze, not a herd, just a few, in the unfenced fields. So many silver birches and dark dark earth. The clouds create this vast sky over the flat plain. Then mist appears over the tiny silhouettes of trees on the horizon. And turns to rain.
The huge Drama Theatre at Rivne has soaring columns with Corinthian capitals outside, and marble columns inside. We're taken through the stage door, file through the dressing rooms, across the stage, sounds of rehearsing, of an orchestra playing, someone singing, the sounds float across the darkened auditorium. 
When the performance begins, from the ceiling of the Drama Theatre, light with changing colours falls on the twisting hanging mobiles, rectangles spin and turn, blue, yellow, deep red, arrangements of autumnal light, the breathing of a sky turned dense with stars …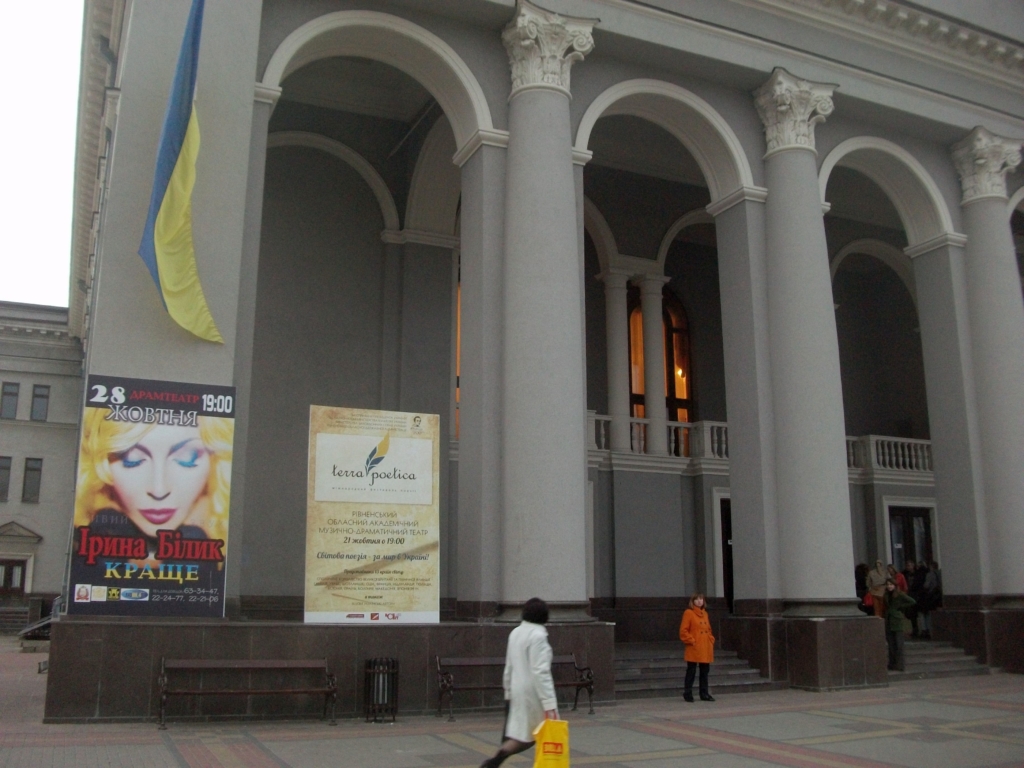 22 October
From Rivne to Ostroh. The University of Ostroh was the first in all of Eastern Europe, the Rector tells us. It was closed for a long time, but opened up again after the dissolution of the USSR.  The rector's name means bee-keeper he tells us and gives us all a small carton of honey. This is special honey he says, it should be savoured slowly, let it melt on the tongue. … the sun came out you see, in Ostroh, I remember the warmth of it, standing outside the building, beyond the university campus, with its gardens, trees (few leaves on them) benches underneath them, a statue of the first student, birds, peacefulness here, the restored church next to the restored university…. 
The national tree of Ukraine was pointed out to me.  A slight and slender tree, with red berries. With some red leaves, some still green. Kalyna. Viburnum opulus. Sometimes called water elder. So sometimes then, I too will call it water elder, with its almost-maple leaves and its berries like cranberries, although they're not. This tree then, has an almost quality to it, a not-quite this or that, evading names and clear-cut definitions, it seeks shade, obscurity, not limelight, it likes archways and outbuildings, it tends towards the solitary, does not flourish in groups, it is drawn to edges and borders, it favours liminality, its red berries display its bright feelings, its deep, joyous emotions. 
We are passing through rivers of history – where places of learning were erected, a printing house, a monastery, a church, icons were removed, defaced and used as target practice, lost, hidden, recovered, restored. The academy too, a ruin twenty years ago, no books or chairs, nothing at all, against all odds, has been restored.  
The honey, savoured and ringing like soft bells through the sunlight settling on the tree, kalyna, as if it meant to stay there forever. The path to the castle of Ostroh, the home in the Middle Ages of the Prince Ostrovsky. The castle museum, and the etching of the angel, forever sowing light on this land, eternity's light fingers touch us and we do not know it then, not really, just this sensation of a different light, that something has changed, has arrived in our hands, and we cannot pinpoint it precisely, just sense a wondering, that we haven't always lived in light like this, and a faith, always renewed, that now will never leave again, it will remain with us forever. 
In late afternoon, colourful with leaves and berries, with the honey gatherers, the settling sweetness, we drive back to Rivna, riding over road stitches, patches and darns, and there's the bunched lacework of mistletoe in trees and a scent of burning leaves that lingers…
*
The Ukrainian writer Andrey Kurkov has written several novels but his non-fiction Ukraine Diaries (2014) describes the Maidan events of 2013-14 and if you read it you will understand the spirit of the Ukrainian people. They occupied the Maidan in Kyiv and succeeded in overturning their government when it went back on its agreement to bring Ukraine closer to Europe and away from Russian influence. The book will show you what these people are made of. They will never surrender their country.