Z for Vendetta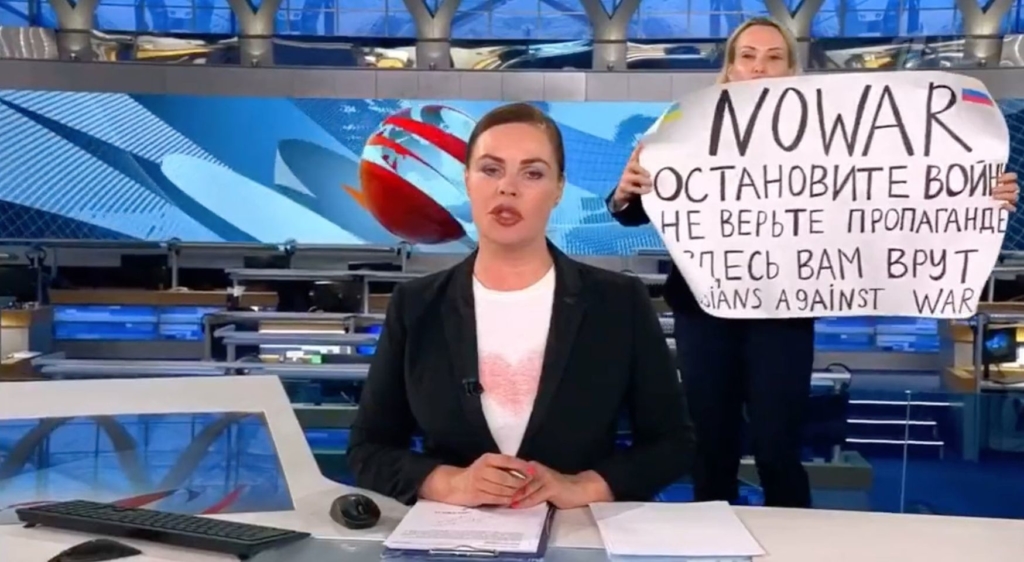 No to War! Shame and dissent in Putin's Russia.
As domestic resistance (and repression) escalates the extent to which the Russian state can control the message is faltering.
Marina Ovsyannikova, who staged this protest during a live broadcast, is a Channel One editor. The sign says: "No War. Stop the war! Don't believe the propaganda! They're lying to you here! Russians against war."
She was immediately arrested and faces charges for violating Russia's new ban on speaking against the invasion of Ukraine. Ovsyannikova had pre-recorded the following statement:
"What is happening in Ukraine is a crime. And Russia is the aggressor here. And responsibility for this aggression rests on the conscience of a single man: Vladimir Putin. My father is Ukrainian. My mother is Russian. And they've never been enemies. And this necklace I'm wearing is a symbol of that fact that Russia must immediately end this fratricidal war. And our fraternal peoples will still be able to make peace. Unfortunately, I've spent many of the last few years working for Channel One, doing Kremlin propaganda, and I'm deeply ashamed of this. Ashamed that I allowed lies to come from the TV screen. Ashamed that I allowed the zombification of Russian people. We were silent in 2014 when all this had just started. We didn't protest when the Kremlin poisoned Navalny. We just silently watched this anti-human regime at work. And now the whole world has turned its back on us. And the next 10 generations won't wash away the stain of this fratricidal war. We Russians are thinking and intelligent people. It's in our power alone to stop all this madness. Go protest. Don't be afraid of anything. They can't lock us all away."
This is the English translation of her pre-prepared statement:
English translation of Marina Ovsyannikova's statement before her on-air protest and subsequent arrest tonight.@JuliaDavisNews subs pic.twitter.com/qs28QcgHM9

No War! Shame and Dissent in Putin's RussiaNo War! Shame and Dissent in Putin's Russia— Expat in Kyiv (@expatua) March 14, 2022
It's interesting that protest is coming from all sections of Russian society. Marina Ovsyannikova was, as she outlines herself, part of the apparatus, she was an enabler. She states: "Unfortunately, I've spent many of the last few years working for Channel One, doing Kremlin propaganda, and I'm deeply ashamed of this."
It's a powerful honest statement and her action will have been seen by millions.
We thought she was now under house arrest – but are trying to confirm this. President Macron has offered her protection in the French Embassy in Moscow.
She faces the possibility of fifteen years in prison.
OVD-Info is providing legal aid to those arrested and is sharing information about the detentions. They report:
"On Sunday, March 13, anti-war rallies took place once more across many Russian cities. According to our data, as of 21:42 pm more than 866 people in 37 cities were detained. We know of people protesting against the war in Moscow, St. Petersburg, Khabarovsk, Novosibirsk, Vladivostok, Yekaterinburg, Komsomolsk-on-Amur, Irkutsk, Barnaul, Tomsk and Perm. This is not a complete list.
On Moscow's Manezhnaya Square, where Alexei Navalny had called for a protest, space was cordoned off with police rails starting from the morning. Passers-by, who were rare, had their phones checked for protest-related information. On the nearby Theater Square, police went through bystanders' personal belongings. Many police officers had images of the Latin letter "Z" on their helmets, which has become a symbol of Russia's invasion of Ukraine.
In Vladivostok, a detained girl was beaten up. According to Anastasia Kotlyar, she was thrown into a small police bus where an unknown policeman then entered. He called the girl a "bitch," hit her head on the table and began choking her. Then other police officers entered the bus, after which the attacker left. Kotlyar was taken to the hospital with a suspected concussion.
Many detainees had their cell phones taken away and many police departments do not give them access to defense lawyers or attorneys. This has happened in different cities.
In Kazan, a woman told a police chief that her niece "was killed by your people the day before yesterday." This police chief then ordered her to be detained.
Additionally, people displaying police IDs showed up at the apartment where activist Gleb Kondratyev lives. They broke into his room and beat a friend of the activist who was there at the time. He was hit in the face and fell to the floor, where they continued beating him. The man was then taken away in an ambulance. The people who broke into the apartment smashed certain equipment that they found. They painted the entryway with "Z"s and threatening messages against Kondratyev."
In a move that feels straight out of a dystopian novel, Russian soldiers patrol the streets of Ukraine in cars and armoured vehicles marked with the "Z" symbol. As local government officials and Mayors are kicked out of office or kidnapped, local radio stations are blaring out Russin pop and Soviet ballads in between excerpts of Putin's speeches.
This doesn't seem like such a great idea.
But equally Ovsyannikova's statement "Don't be afraid of anything. They can't lock us all away" seems incredibly naive. Maybe the naivety of someone who has been inside the system? More power to her. It does seem like Russian resistance is mounting and gaining momentum, but like the war itself, it is likely to be brutal and drawn-out unless there are key defections from within the police and military. It is a test of three things: Putin's influence and how much real belief in him there is through the system; how much fear and realisation there is that this is all a disaster with disastrous implications for Russian troops and the economy; and what alternative leadership (s) can emerge under such repression?
Finally, it's been documented that the Soviet Union was undermined by the technology of the photocopier and the ability to create a dissident press and mass pamphleteering to bypass state propaganda. To what extent can new channels and apps such as Telegram do the same in 2022?

Help to support independent Scottish journalism by subscribing or donating today.