Schrödinger's Scotland and Restoration England
A few weeks ago we noted the new consensus emerging from our senior scribes: "Scotland's commentariat have decided: independence is over. It's because of the war, and also because we're too poor. Sorry about that."
The phenomenon has intensified. As the event horizon looms for the referendum that no-one (apparently) believes will happen the Corporal Jones-levels of panic seem to have jumped-up a few levels. It's difficult to know entirely why the Top Writers & Editors are so exercised. Certainly watching the British government descend into venal chaos and unprecedented disgrace is alarming. Certainly the sight of the First Minister being welcomed in Washington by Nancy Pelosi triggered many into spasms of ink-spilling. Sure the unwillingness of the present UK govt to lift a finger for those spiralling into poverty is an embarrassment for the grand narrative that the Union provides unique economic security and stability. The 'broad shoulders' argument of economic security is in need of a deep-tissue massage. For a wee snapshot of British values and economic security, here's government minister Kit Malthouse telling police officers not to let shoplifters off if they are stealing food out of desperation due to the cost of living crisis.
It doesn't exactly ooze Stronger Together does it?
Comprehensive Constitutional Reforms
In lieu of Gordon Brown's much-promised (and strangely absent) plans for 'comprehensive constitutional reform'? the nation's guardians are reaching for other sticks to beat the Scottish Government and prop up the depleted case for the Union. Iain Martin joined the oleaginous cult with a stirring column declaring apocalyptically that 'Scottish independence is a threat to the West'.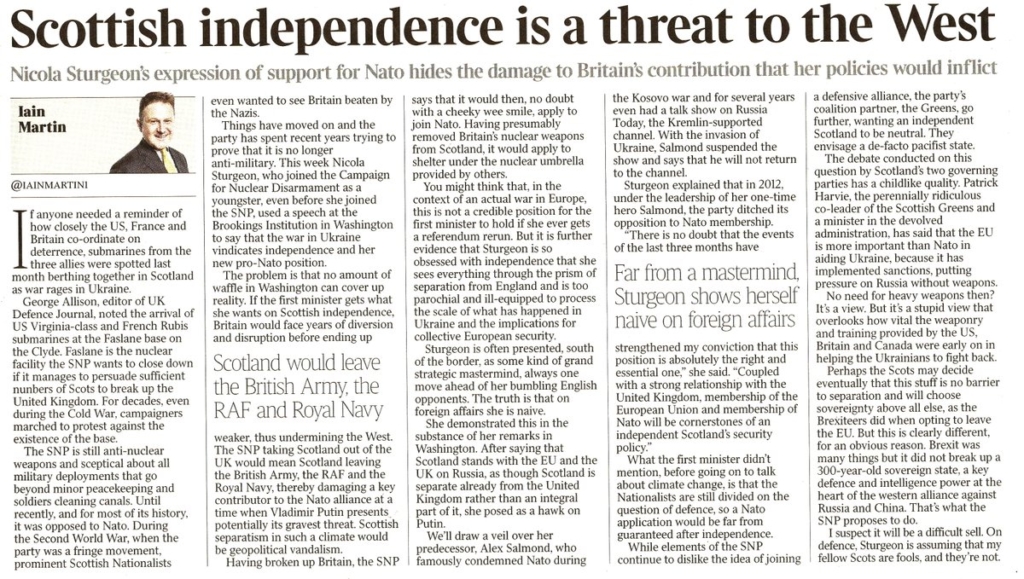 Not since Theresa May announced in 2017 that those who argue for self-determination for Scotland are comparable with ISIS, or Philip Hammond's claim in 2014 that an independent Scotland would be more vulnerable to alien attack – have these levels of hysteria been witnessed.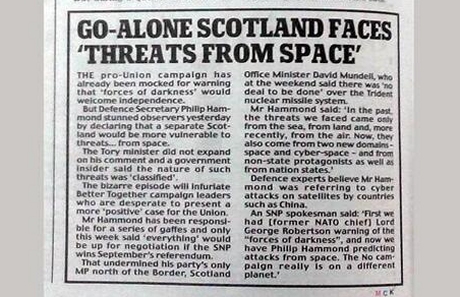 Iain Martin's analysis is a manifestation of Schrödinger's Scotland; a nation that haunts the commentariat – an entity simultaneously too wee and poor to be independent at all – and yet so geo-politically pivotal as to be absolutely crucial, not just to Britain's global status, but to the ENTIRE WESTERN WORLD!
Martin's logic goes like this: "If the first minister gets what she wants on Scottish independence, Britain would face years of diversion and disruption before ending up weaker, thus undermining the West. The SNP taking Scotland out of the UK would mean Scotland leaving the British Army, the RAF and the Royal Navy, thereby damaging a key contributor to the Nato alliance at a time when Vladimir Putin presents potentially its gravest threat. Scottish separatism in such a climate would be geopolitical vandalism."
Now you can understand Martin and his colleagues feeling deeply uncomfortable about the state and status of Beloved Britannia, but to keep things real, the vandals aren't really the future democrats of Scotland (and Ireland) they are the current occupants of No 10 and the faithful scribes who support them. Martin's Times column is like a ransom note written by someone who has locked himself in a jail and thrown away the key only to start screaming wildly at the other inmates.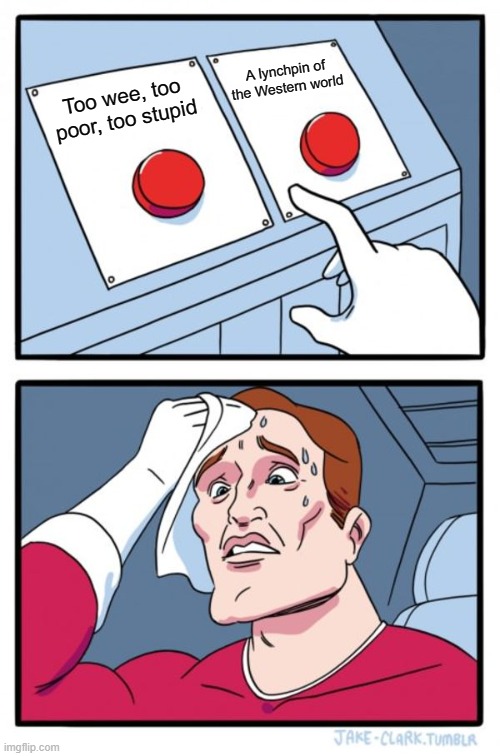 Martin & Co quite rightly delight in celebrating Ukrainian sovereignty, but the concept seems to have strange invisible parameters. It would not be "the SNP" taking Scotland out of the UK, it would be the Scottish people, but yes this would mean "Scotland leaving the British Army, the RAF and the Royal Navy", a prospect Martin seems to find so alien that it causes some kind of existential shock. Self-determination is a thing, and countries vote to change their constitutional status. It's happened quite a lot. Now we know that statistically Scots have traditionally contributed far more than their proportionate fair-share to the armed forces (for reasons that aren't exactly great), but the idea that Scottish independence would mean the fatal undermining of the British armed forces is a strange one: Hearts of Oak and all.
That idea from Martin stems from some extraordinary exceptionalism: Britain only has its standing in the world because it 'has' Scotland and because we host WMD. That's it.
Others are more upbeat.
A Golden Future
Over at the Daily Mail, Peter Hitchens is looking forward to a Golden Future ('Why England should leave the UK instead of persuading the others to stay and embrace a golden future').
This is like Global Britannia except much much better. Instead of the modest Brexitty 'Sunlit Uplands' we have visions of a shimmering English Reich-Utopia, freed of any bothersome residual Empire-guilt and having finally shed its draining Celtic appendages.
Hitch explains: "What are we waiting for? All the other nations of the UK are set on tearing themselves away from England. I have given up trying to persuade them to stay. Let us leave them instead."
"You could not call this 'independence' since England has never depended on the other countries in these islands. I would call it the Restoration of England, in recollection of that other great moment in our history when Oliver Cromwell's nightmare republican junta crumbled in 1660 and we returned with relief to our ancient laws and liberties."
Ah, ancient liberties, yes.
He thunders: "It would be surprisingly easy, since so much of our government and law is already English, borrowed by others from us. No more will we have to speak of our country abroad as 'the Ukay', a weary set of initials that denies a thousand years of illustrious history and reduces them to a bureaucratic nothingness.
We have the laws of England. Our great founding documents, the Great Charter and the Bill of Rights, are English. We have the literature of England, a possession beyond price (did you ever hear anyone speak of 'British' literature?)
We have a Queen of England. We have the Church of England. Many of our government ministries nowadays only operate in England. The break-up of the BBC and the creating of a new English Broadcasting Corporation would be a superb opportunity for desperately needed reform.
In fact, this would be part of the point. We have no need to set up an 'English Parliament' … The Parliament at Westminster is English already, since the days of Simon de Montfort, and has simply given hospitality to others during the long adventure of the Union. By becoming wholly English again, it could recover much of its force and its purpose."
There's so much to take in here.
First the idea that all of the British institutions are – kinda – English, is fun, especially for the Civic Unionist Brigade and those seriously arguing that Britain is some kind of reformable entity or that this union is one of equals. Secondly, the idea that "England has never depended on the other countries in these islands" is great, but why didn't you mention this before?
Hitchens sounds unhinged, but maybe he's not? You gotta love the bravado (and hypocrisy) of the fella: "Have a referendum if you must, but I reckon that any party that puts an English secession from the UK in its general election manifesto will win a smashing majority."
I mean who knew it was so easy. Just get a majority you say?
He might be right. Maybe the strange beast that we were always told was a manifestation of British nationalism could morph further into a full-blooded English nationalism. Is that the end-game?
Having chundered on about how the (British?) Empire was far better than all other bad ones he declares: "we are still unconquered for almost a thousand years."
Now this is all very Accidental Partridge and good to laugh at, but maybe not? Who knows anything anymore? It now looks like we have a war between British Nationalists (increasingly unsure as they survey the carnage of their own creation) and English Nationalists (increasingly bellicose and confident as they wallow in their own revisionism).
These two competing visions (one of The Glorious Past and one of A Glorious Future) are incompatible and ridiculous, but also kind of fun.

Help to support independent Scottish journalism by subscribing or donating today.