On NATO and Stewart MacDonald
In New York, in July 2017, after a decade of hard graft, we banned the bomb.
This happened at the United Nations Conference to Negotiate a Legally Binding Instrument to Prohibit Nuclear Weapons, Leading Towards their Total Elimination, when 122 member states of the UN voted to adopt the Treaty On the Prohibition of Nuclear Weapons, the TPNW.  
The International Campaign to Abolish Nuclear Weapons (ICAN) had supported nuclear survivors, academics, disarmament campaigners and all the countries in the UN who  opposed the nuclear threat, and ICAN was awarded the 2017 Nobel Peace Prize for its contribution to the treaty. Scotland and its government and Parliament were hugely supportive, but we are (mis)represented at the UN by the UK Government, one of the world's nine nuclear-armed states. ICAN collected signatures from parliamentarians across the world for a pledge:
" to work for the signature and ratification of this landmark treaty by our respective countries, as we consider the abolition of nuclear weapons to be a global public good of the highest order and an essential step to promote the security and well-being of all peoples." 
This Pledge was signed by every one of Scotland's SNP and Green Parliamentarians at Holyrood or Westminster, each committing to supporting the TPNW.
Stewart McDonald's weird remarks to the BBC last week about 'mebbe aye and mebbe hooch aye' to nuclear-armed subs sailing round Scotland are completely incompatible with that commitment. 
For those who have not read it, (and Stewart Macdonald should certainly not be one of those) the TPNW is a very straightforward and fully comprehensive prohibition agreement between the states that have joined it. Nuclear weapon activities it covers include 'developing, testing, producing, acquiring, possessing, stockpiling, using or threaten to use nuclear weapons'. The Treaty additionally outlaws any 'deployment of nuclear weapons on the national territory of its members, and the provision of assistance to any State in the conduct of prohibited activities'. 
The year the Treaty was adopted the First Minister declared to the SNP party conference, "No ifs, no buts, no nuclear weapons on the Clyde – or anywhere," despite the SNP NATO policy ('subject to an agreement that Scotland will not host nuclear weapons'). 
The news from Sweden and Finland possibly joining NATO in response to the invasion of Ukraine by their neighbour may further challenges exactly how a future Scotland's non-nuclear accession to both NATO and the TPNW is defined. Or it may challenge NATO's nuclear policy, (which currently seems to be that they can do anything they like). The Greens position is not obfuscated by any confusion about NATO but within the SNP, Mr MacDonald's idea of what all this means seems to be at odds with that of our First Minister. Perhaps a lack of attention to the detail allowed him to put his signature to supporting the TPNW.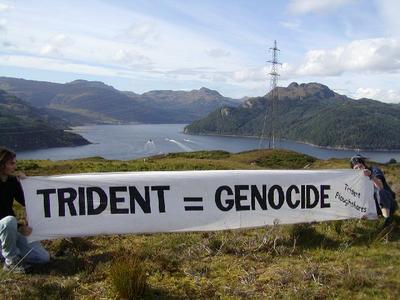 That may explain why he may think that the TPNW is compatible with nuclear-armed states having future access to a Scottish ports and water. Perhaps further lack of attention means that he is unaware the NATO's nuclear policy is just a policy (that could be usefully ditched and make us all a bit safer in our beds) rather than part of the North Atlantic Treaty itself.  Finland and Sweden are now making moves (albeit currently resisted by Turkey's Mr Erdoğan) towards joining NATO, but they will be attending the First Meeting of the TPNW in Vienna at the beginning of June, before the next NATO summit, along with Germany and Norway – maybe even Australia in light of the election. If and how NATO maintains its current nuclear policy in light of the TPNW's progress (with another ratification from Congo this week the TPNW now has 61 UN Member States) is a likely topic for discussion.  One hopes that a Stewart MacDonald that continues in a senior post in the SNP reads the North Atlantic Treaty more carefully, especially given how difficult it is to get out once you are in.
Scottish independence and accession to the TPNW was certainly understood by Nicola Sturgeon when she endorsed The Scottish Women's Covenant in support of the Treaty with this message:
"While the Scottish Government is unable to become a Party to the Treaty, as First Minister I strongly support the principles of the Treaty and the work of the Women's International League for Peace and Freedom. An independent Scotland would be a keen signatory and I hope the day we can do that is not far off."
In February, Stewart MacDonald said that "joining NATO is a mark of our values. An independent Scotland will aspire to be a good global citizen, playing its part in protecting peace and common security."
While threatening to use nuclear weapons is certainly a terrifying thing to do and has no part in peacebuilding or conflict resolution, NATO also relies on threats of violence as its starting point and main tool. Is this not just a thinner end of the same wedge? Scotland's anti-nuclear aspiration will not be served if those we elect are not prepared to put in the real and necessary work on cooperation, diplomacy, and taking sustainable steps to look after each other and the planet, instead of quick-fix sound-bites about common security that describe actions that imperil everyone. A nuclear weapon policy, the UK's or Mr Putin's is no 'big stick' to empower us. Its not a big stick, its a lethal instrument with the capacity to indiscriminately melt millions of civilian children, women and men in homes, hospitals and schools without warning. Its impact is beyond the control of those who choose to – or accidentally – open a Pandora's box that, instead of hope, at the bottom only holds the promise of irreversible climate degradation, famine and the loss of the medical, humanitarian and technological prospect of remedy.
Along with the vast majority of countries, Scotland has rejected them and deserves politicians to work for the treaty that can prohibit and eventually eliminate them.
Learn more about the First Meeting of the TPNW at www.nuclearban.scot

Help to support independent Scottish journalism by subscribing or donating today.