Moving On
'Moving on' and 'drawing a line' are the key lines we're hearing in the aftermath of the latest episode of the Conservative Party's joyous attempts to drag the whole of Britain into the gutter with them. But we've been told this on a loop for twenty years as the Tories internal-fighting overshadows anything remotely like 'the national interest' and creates drama and crisis on a monumental scale. British politics has been dominated by the internal power-feuds and pathologies of this strange group of people for decades as they cling desperately to power.
Now this seething mob of idiots have been emboldened and are touring the tv studios snarling and dribbling from their self-entitled mouths. The competition is hot for who looks more ridiculous. Here's a toss-up between Adam Holloway and Lee Anderson …
F'kin WOW. Adam Holloway MP says:

1. Voters knew Johnson was immoral.
2. He did brilliantly during the pandemic, because he had a baby and almost died.
3. #Partygate amounted to nothing, despite 150 criminal penalties.
4. The BBC is to blame.
5. We should be thanking Johnson. pic.twitter.com/Q5HTO5I8JL

— Alex Andreou (@sturdyAlex) June 6, 2022
The unfathomably thick, aggressive and arrogant Lee Anderson has a 5,777 majority, for the love of fuck Ashfield, dispatch this cretin at the next election. pic.twitter.com/zbl3dBX02c

— Supertanskiii (@supertanskiii) June 7, 2022
While Anderson and Holloway are howling at the moon, others have some explaining to do. The perpetually-humiliated Douglas Ross has once-again (mis) read the room and come up with a statement and a position that makes him look more ridiculous than he did last week. But if Ross's chameleon-like performance renders him desperately exposed, the whole body of Scottish Tories can't be a happy group:
Alister Jack – confidence
David Duguid – confidence
Douglas Ross – no confidence
John Lamont – no confidence
David Mundell – no confidence
Andrew Bowie – no confidence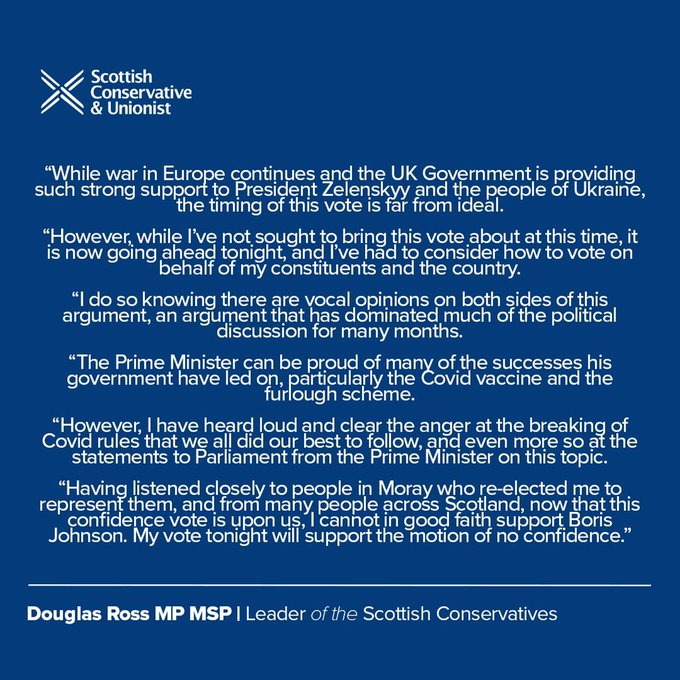 Now the Tories are divided between the blind loyalists who have ensured Johnson's future and the timid rebels who are now cowering and pretending they didn't say the things they said.
The narrative has quickly shifted from a more defensive and downbeat 'he was ambushed by a cake' to a more feral 'seek out the rebels and defund the BBC'.
Even as the Tory in-house newsletter the Telegraph hosts a headline: "The 'greased piglet' wriggles free again, but this PM's mutinous party still smells blood" the party line is: 'Everything's Fine'.
But it's not and I'm not thinking about Boris's political career. He is highly likely to play to his base, assuage the Anderson and Holloway tendency and double-down on his lurch to the right. Once again there will be a 'purge' of the supposed 'rebels' and once again the Conservative Party will be reduced further to a gaggle of the swivel-eyed loons that inhabit a tiny sub-culture of Westminster. Next up? Northern Ireland:
Once again the North will be collateral damage in Tory in-fighting & chaos, not one f**k given!

A United Ireland is within reach, let's do it. pic.twitter.com/B8v70mKHZN

— Sarah (@Sal_feeko) June 7, 2022

Help to support independent Scottish journalism by subscribing or donating today.