Preventable: How a Pandemic Changed the World
Preventable: How a Pandemic Changed the World and How to Stop the Next One, by Devi Sridhar, Viking Press £20.
Belief in science and expertise has had a bit of a resurgence as a result of the Covid 19 pandemic. Admittedly, this is not universal as there has also been a countervailing and worrying trend towards science scepticism.  Some academics have risen in prominence and Professor Devi Sridhar is one of these with a significant profile in both mainstream and social media. As Professor and Chair of Global Health at Edinburgh she was well placed to advise and comment on the pandemic having been involved in monitoring and researching other infectious diseases of global concern such as Ebola. She has drawn on this experience and expertise in her new book, Preventable: How a Pandemic Changed the World and How to Stop the Next One.
At one level, Preventable is a sobering account of both the global and our national response to the pandemic which Richard Horton, editor of The Lancet has described as the greatest policy failure of a generation. It provides a comprehensive historical record of the period from the first signs of SARS-CoV-2 in Wuhan to mid 2021 with a short afterword written in January 2022. 
Through evidence accrued by Chinese doctors and often shared with the world at considerable personal risk, and the unfortunate experiment that was the Diamond Princess cruise ship, a remarkable volume of information about incubation and transmission of the disease via both symptomatic and asymptomatic individuals and the likely case fatality rate was known very early on. The response by countries with previous experience of serious infectious disease showed that timely and comprehensive introduction of the recognised public health measures of communication, testing, tracing, isolating with appropriate financial support and restricting travel had a profound effect on the incidence of Covid19. Drawing on her international knowledge, Sridhar highlights the case of Senegal which, despite being one of the poorest countries in Africa, was ranked second after New Zealand for its strategic response in 2020 because of its systematic use of public health measures.
As we know to our cost, these early efforts were met with a shocking level of complacency amongst certain Western countries, Sridhar rightly pointing out each of the opportunities missed to make a different set of decisions. Where certain prescient countries such as the Czech Republic and Greece acted fast and pre-emptively drawing on precautionary principles, decision making in the UK initially relied on a toxic combination of wait and see, false premises such as herd immunity, belated lockdowns and an over emphasis on modelling.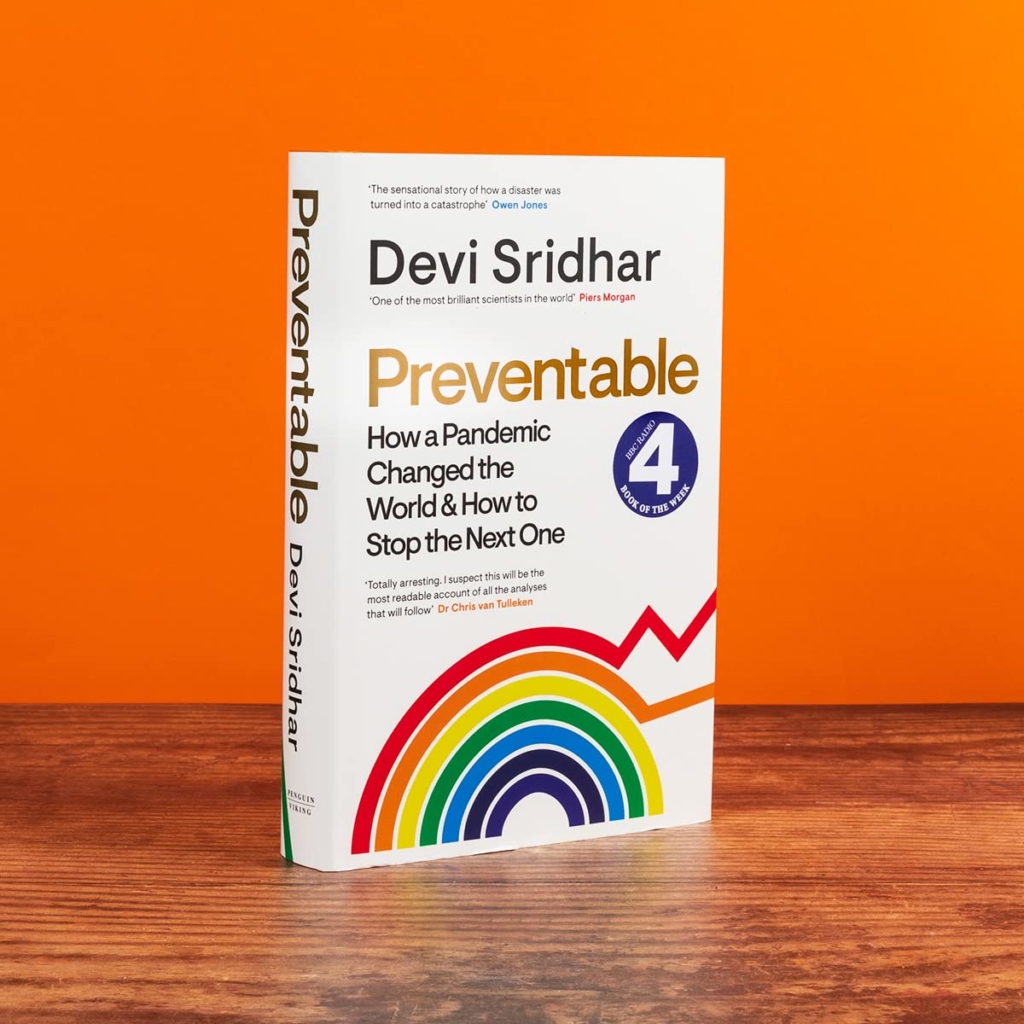 In a devastating chapter, "Britain, herd immunity and follow the science," Sridhar details the lack of both scientific and political leadership by the UK Government. By contrast, she lauds Scotland's attempt at elimination which, despite the significant error in relation to care homes, was more successful until the disease was re-seeded as the result of travel relaxation and then exacerbated by new variants. Notably, local public health teams were deployed for contact tracing rather than the expensive and ineffective private company arrangements that were on offer in England.
Now, despite the success of vaccines and the knowledge accrued from the range of national experiments undertaken as the result of different political decisions, countries with populist leaders invariably doing worse – these are well chronicled in the book – Covid 19 appears to have stabilised but has not gone away. Independently minded scientists are still highlighting the risks and activist groups such as Zero Covid Scotland campaigning for improved school and workplace conditions.
We have a legacy of millions of excess deaths, Long Covid, decimated health services, infants missing out on socialisation, massive educational disruption, poorer mental health, disrupted economies. So, on the face of it, it does appear that the pandemic changed the world, or at least part of it. Threaded throughout the book however is commentary on who suffered most, in short those already experiencing the effects of social and economic inequality. To that extent Covid 19 has merely amplified pre-existing structural conditions, people in poverty more likely to be exposed to the disease and more likely to die because of underlying poor health, poor countries unable to access sufficient vaccine because of the greed of both richer countries and the pharmaceutical industry.
In this respect, Sridhar is not hard hitting enough, describing but not analysing, neglecting to highlight who actually benefited from the pandemic and in whose interests the world was designed to stay exactly the same if not better. Tax Justice UK for example has highlighted that by September 2021, six companies in the UK, including Serco who were given the disastrous test and trace contract, had made £16 billion in excess profits.
In view of this drive by capitalism, and its supportive politicians, to ensure that profiteering remains unimpeded despite a global threat such as Covid 19, how likely are we to avoid another pandemic and to what extent does this book help us? From the start Sridhar appears to have undue faith in certain centrist politicians (Merkel, Obama, Biden), so-called philanthropists (Gates) and the altruism of the World Bank, naively ignoring that they have contributed to the problems which allowed the pandemic to flourish in the first place. 
The next pandemic is potentially around the corner, either as the result of a novel flu virus to which we have no immunity or a new virus resulting from animal to human spillover. The likelihood of the this is greatly exacerbated by the inroads we are making to natural animal habitats through deforestation, poor agricultural practices and pollution. Climate change is also a significant factor in creating the conditions for spillover and transmission. If we are serious about prevention then the threats of our unfolding ecological disasters and the mass movement of people associated with this have to be addressed at a level for which there is no current sign.
Sridhar makes no reference to this, an important omission. She rightly argues for improved global surveillance and sequencing of new viruses to make vaccine development easier to achieve but fails to fully explain what it would take to make this likely and where and how the global institutions such as the World Health Organisation and other arms of the United Nations should operate differently. Further, what mechanism would need to be put in place to guarantee that the vaccine inequality that she describes does not occur in the future?
Making the right decisions once a virus with pandemic potential occurs is undeniably complex and some mistakes will be inevitable even by the most committed governments. To minimise the risks, the public need to know what to expect and what resources are required to ensure that the fundamental public health measures are fully in place. There is pandemic planning in the UK but we now know from the most recent exercise into a possible mass flu outbreak, Cygnus, that there were significant gaps in readiness, all of which added to the confusion and to the burden of disease when Covid arrived. Most significantly there has been an erosion of the public health function at local level as the result of underfunding and NHS reforms. This is likely to continue and to further undermine the ability to quickly mount a robust testing and tracing regime if required. 
This book was presumably written as an aid to public education but would have been greatly enhanced in this function had the conclusions been far more comprehensive, setting out the all the requirements for pandemic containment at global, national and local level – a manifesto if you like – and where in the author's estimation the most significant shortfalls still remain. Not only would the general reader have been able to make a better judgement about the ongoing risks but it would have had the further benefit of acting as a set of demands around which campaigning could be organised. 

Help to support independent Scottish journalism by subscribing or donating today.