Film Ceilidh: Who Owns the Land?
This Sunday join us at the Folk Film Gathering for a 'film ceilidh': Who Owns the Land? with music, film and discussion with Iain MacKinnon and Kirsteen Shields.
See the full programme of events here.
Described as "the world's first folk film festival", the folk film gathering screens films that celebrate the lived experiences of communities from around the world.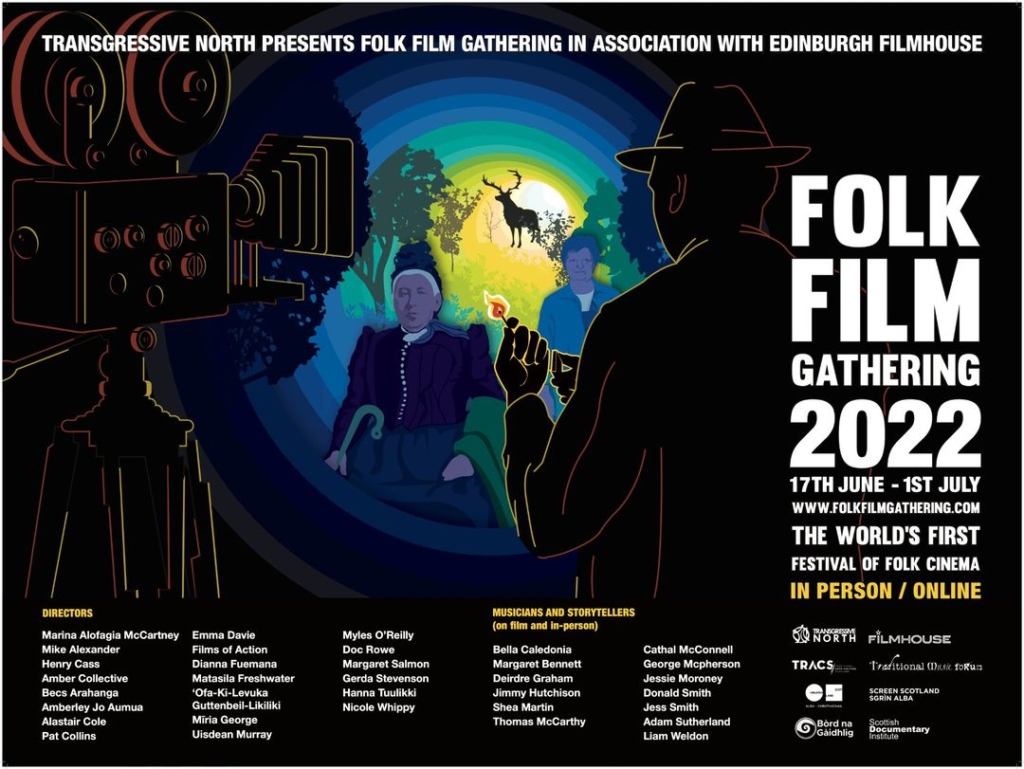 Bella is delighted to be collaborating with Transgressive North to host the session of film and music and discussion: the Film Ceilidh: Who Owns the Land? on Sun 26 Jun, 15:00.
Join us for a special event of music, film and discussion exploring the ongoing question of land rights in Scotland. In the drama The Glen is Ours, a returning soldier leads his community to oppose the sale of the Scottish glen in which they live, whereas the documentary Gigha: Buying Our Land, filmed in the early 00s follows a year in the lives of the Gigha community as they experience the highs, lows and responsibilities of owning their own island home. 
The films will be introduced with a short set of live music from  Adam Sutherland and followed by an audience discussion on land reform in Scotland led by a panel with Iain Mackinnon and Kirsteen Shields.
Iain MacKinnon is a Scottish Gàidheal whose work investigates the historical and contemporary condition of his people. In 2020 he was co-author, along with Glasgow University historian Andrew MacKillop, of the report Plantation Slavery and Land Ownership in the West Highlands and Islands: Legacies and Lessons, and in 2009 he co-authored 'The State of Crofting in Camuscross' with Susan Walker. He has also published academic and popular articles on the history and consequences of the domestic colonisation of the Scottish Gàidhealtachd.
Kirsteen Shields works on governance and rights questions in relation to land and food. She is Director of the new Sustainable Lands and Cities MSc, at Edinburgh Futures Institute, University of Edinburgh, and leads on the RSE Groundwork network. New forthcoming publications include 'Dances with Lairds: Lessons from Scottish Land Reform', in Wolford, Goldman, & Peluso, 'The Social Lives of Land', Cornell University Press, 2022, and with Adam Calo and Alistair Iles, 'Using property law to expand agroecology: Scotland's land reforms based on human rights', Journal of Peasant Studies, 2022.
Adam Sutherland has devoted his entire life to composing, performing and teaching Scottish fiddle music. Some of his tunes have become well known in Scottish, Irish, Quebecois and Galician sessions in many far-flung corners of the planet. On stage, Adam has become very well known from touring with well loved bands such as Session A9, Treacherous Orchestra, Peatbog Faeries, Croft no Five. With his long term friend and musical collaborator Hamish Napier, he is one half of the daredevil duo Nae Plans. As a teacher, Adam has been described as "highly empathic, warm, encouraging and – incredibly – often believing himself to be hilarious."

Help to support independent Scottish journalism by subscribing or donating today.