Thinking of Tomorrow from Today: The limits of growth and innovation
What do we owe the future? A million-year view, William MacAskill, Oneworld Books
Review by Hillary Sillitto
William MacAskill is a young Scottish philosopher now working at Oxford University. Taking a million-year view is quite a challenge. Indeed, as he says, "there are few attempts to make predictions … more than a decade in advance." Having co-authored a book attempting to look ahead 50 years, I am in awe of anybody trying to look much further, never mind 20,000 times further. How does he do it, and how seriously should we take his conclusions?
A key decision for any author is " what not to attempt to cover". I have a major quibble with a couple of his choices, which I will come back to later; but the book is a fascinating Illustration about how to think about possible futures in a world that is inherently unpredictable.
Every chapter is full of unexpected insights and memorable quotes. At the start of the book, we are challenged to imagine we had lived every single human life. Something like 50 billion people have lived since the start of human existence, of whom about 15% are alive now. As for the future, if human life is not extinguished by meteorite or our own stupidity, our species' "compound life" to date could be but a small fraction of the sum total of human existence. 
The author asks us to think about our responsibility towards these billions and billions of lives that are yet to come. Are we doing them a favour by creating the possibility they could exist, or are we condemning them to a life of misery? How should we think rationally about such questions? This is the branch of philosophy MacAskill has chosen to pursue, and some of the answers he comes up with are quite surprising – many are deeply counterintuitive.  
One is the most useful aspects of the book is his description and justification for techniques we should use to think about the future, and to understand how much our activities and decisions today can influence the future lives and even the very existence of countless billions of people yet unborn.
He focuses on two aspects of the problem. The first is the possibility that we could cause total extinction of the human race – for example by unleashing nuclear holocaust, uncontrollable biological warfare, or catastrophic climate change. The second is the possibility that we could lock in a value system that is deeply damaging to the well-being of our descendants. 
The author is an optimist so he is more than happy to consider good scenarios as well as bad; and he offers a number of useful techniques for thinking about the bad ones without being overwhelmed by them. 
Expected Value Theory is familiar to any successful gambler. It is a useful tool for making decisions in the face of uncertainty. Greater uncertainty should prompt more concern about worst case outcomes. For example, the damage caused by climate change could be less than forecast, but could also be considerably worse.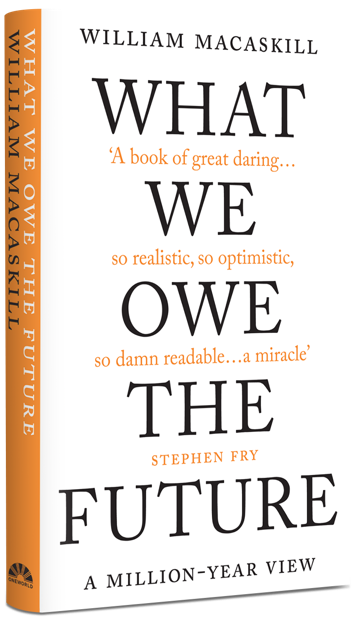 His "SPC (Significance, Persistence and Contingent) Framework" is new to me. Is a possible outcome Significant in the long-term? He thinks the abolition of slavery was. Is it persistent? Total extinction of humanity would certainly be. The "Contingent" category is the most interesting. If an event is inevitable in the long-term it doesn't much matter exactly when it happens or who does it. He speculates that ending slavery might have been highly contingent, because it is not obvious that it would have happened, now or ever, without the dedicated efforts of a small band of extremely committed reformers.
The world economy is currently growing at 2% a year. At this rate, says MacAskill, in 5,000 years every atom within humanity's reach would need to produce multiple trillions of present-civilisation's outputs. (I haven't checked his maths…) So growth will inevitably stop, probably within 100 years. The consequence of this can only be stagnation or collapse. 
If the outcome is stagnation, pursuit of material wealth will become a zero-sum game. If we can't find out how to live with "enough", human civilisation as we know it would then collapse, or at best revert to an extreme form of totalitarianism. "In a stagnant world, the economic reason for engaging in critical thinking and scientific inquiry would be much weaker. Instead, other values would be selected for, such as those favouring hierarchy and conformity." It may be chicken and egg. "One hypothesis for why the Islamic Golden Age came to an end is that there was a rise in a particular anti-scientific religious ideology that helped political elites to entrench their power."
After collapse, civilisation might re-emerge, perhaps many times. Making an interesting connection, MacAskill says we need to leave oil and gas in the ground so that future civilisations can re-boot themselves using fossil fuel technology, in case the information required to go straight to renewables is lost in the collapse. 
But collapse, or even a zero-sum world, may not be inevitable. Human population will peak at 9-11 billion later this century and then decline. If the birth rate drops to 1.5 worldwide, as it has done already in parts of Europe, the human population will drop to be 100m in 500 years. Because "additional progress becomes harder the more progress one has already made," such a drop in population would mean innovation dropping to almost nothing –unless handed over to "AGI" (Artificial General Intelligence), the current nirvana for the AI community. MacAskill is very worried about AGI, as it could lock in value systems not conducive to human (or to planetary) wellbeing. Imagine if values of slavery or the Roman forum had been locked into our society for ever.
Meanwhile, we live in a period of rapid growth and change unparalleled in human history. While it lasts, civilisation's structures are 'plastic'- highly malleable, easy to change, but likely to set rigidly before long. Then they will lock in whatever values were dominant at the end of the period of plasticity. 
What we do now can have a massive effect on future generations, for good or ill. There are many ways of benefiting the future that also have major benefits to the present. However, such is the Delphic nature of this book that we are also reminded that "history is littered with people doing bad things while believing they were good", 
What do I think he missed? 
First, his viewpoint is extremely anthropogenic. He talks lot about climate change, and he rates it – in my view correctly – as a threat to humanity at least on a par with the risk of global nuclear war. However, he ignores the other crises marching in step with global warming – notably biodiversity loss (let's be blunt, this means a cataclysmic level of species extinction as well as rampaging habitat loss, such as destruction of the Amazon rain forest) and chemical degradation of land and water. 
My other big issue is that he talks blithely about human beings exploring and settling in space. To be fair to him, had he been writing such a book in some parts of the world in 1480, the notion that humans might cross the oceans to find other continents might have seemed far-fetched, never mind that one day they would travel by air. But in fact we know now that people were crossing oceans in antiquity. We also know that while the laws of physics we have unlocked in the last few centuries place no barrier to intercontinental travel, they place apparently insuperable obstacles in the way of manned exploration even of our own galaxy never mind others. The energy required to transport more than a handful of people much further than Mars is simply not available on our planet. Perhaps he has been influenced on this more by association with Elon Musk than by rational analysis. 
This segues neatly into a final fascinating observation: Albert Einstein transformed physics in one year (1905), writing seminal papers on special relativity, quantum physics, and Brownian Motion while working as a patent office clerk. Peter Higgs, who once shared an office with my father at Edinburgh University, wrote his paper on what is now called the Higgs Boson in three weeks in the 1950s. But it cost billions and took thousands of people many years to confirm Higgs' theory with the Large Hadron Collider in the last few years. This illustrates the massive increase in the cost of discovering new knowledge now compared with even a century ago. "One you've invented the wheel it's very difficult to come up with something else similarly useful."
So should you read this book? Not if you want an accurate prediction of what your descendants will be doing in a million years. But yes, if you want to discover useful ways of thinking about what they might be doing, and what ups and downs the history of the intervening million years might describe – and indeed, how likely it is to be written.