Let the People Decide
The Radical Independence Campaign organised a demonstration outside the Supreme Court in London on October 11th.  It was well covered by the media, including The National and Daily Record in Scotland.  We did not go down to London to press the Supreme Court to take a favourable stance on a new Scottish independence referendum.  We thought that when it comes to the exercise of self-determination, the Supreme Court had no role to play and we called for 'Let the People Decide'.
Today's Supreme Court ruling has unwittingly reinforced this principle.  It says only Westminster can decide.  This is the political equivalent of telling a woman who wants to separate from her abusive partner that she has to get the permission of the in-laws first.
I would like to quote Scottish author, George Gunn in yesterday's Bella Caledonia about the uselessness of depending on the UK state and its institutions to help us.  
"A future for Scotland in a Tory run post-Brexit Britain will mean starving and malnourished children from Caithness to Carlops. Democracy will be reduced and eroded like a sea stack by the relentless surge of reactionary ideology. Corruption will become a way of life and race and gender crimes will increase like a virus. Illiteracy, social decay and destitution will afflict more and more people – daily, surprisingly, fatally. These are the real and overwhelming legacies of Tory rule. And increasingly it will be ruling as opposed to governing."
The people of Scotland have been slower than the Irish and all peoples of the British empire to appreciate the fundamentally anti-democratic nature of the UK state.  Part of this lies in the benefits a Scottish-British elite drew from these connections.  But as the empire has gone into decline, so has the Union designed to back it up.  The UK is not based on the sovereignty of the people but on the sovereignty of the Crown-in Westminster, backed by a whole host of anti-democratic Crown Powers and an unwritten constitution that allows its rulers to make it up as they go along.  That is what we are seeing today with the Supreme Court ruling.  And it was a Tory MP, Sir Geoffrey Nabarro, who best described the British legal system – "the best that money can buy".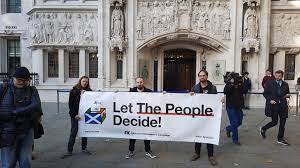 As slow learners we in Scotland have had to assess each of these UK institutions as they have impinged on us.  Back in 1999, when the Scottish Parliament was set up, we were told that the UK is now based on the equality of four nations.
But the British Broadcasting Corporation did not change its name and thinking in 1999 to the 4 Nations Broadcasting Service?  No, it remained very British. We saw this during the IndyRef1 campaign. The BBC gave Nigel Farage of UKIP with no councillors, MSPs or Scottish MPs, far more coverage than the Scottish Greens, with elected representatives.  It posted regular briefings from the Far Right, whilst virtually ignoring RIC, which held conferences of 800, 1300 and then 3000. And I'm sure Nicola Sturgeon would agree that the way the BBC interviewed SNP spokespersons was very different from how they schmaltzed before Gordon Brown and Alistair Darling.  And anyone who thinks the BBC is independent of the state needs only to look at its coverage of the death of Queen Elizabeth.  North Korean TV could hardly have been more supine.
Back in 2014, The Guardian revealed the British High Command plans if Scotland had voted 'Yes'. The area around Faslane and Coulport were to be detached from Scotland to form, in effect, the British West Clyde Territories.  Another way of looking at this, would be to see these as Scotland's Guantanamo or Guatanamac Bay.  Jackie Baillie would probably have been made governor-general!
Therefore, following George Gunn's advice, we should not be waiting for the Supreme Court, future Westminster elections or even Westminster's devolved branch office, Holyrood.  Holyrood cannot organise an independence referendum, because that requires local councils to organise the vote.  These are nearly all headed by deeply unionist chief executives who will certainly not break the law.
Therefore, it falls on us, the people, to devise ways, to withdraw our support from the institutions of the UK state.  So, which British institutions do we need to question?  Not far from Holyrood is the UK government hub, Queen Elizabeth House.  This Hub is not designed to give Scottish citizens any influence on those matters reserved for Westminster.  Quite the opposite.  It's a UK government propaganda outlet, with the government wanting to curtail the Scottish Parliament's powers.  It's BOS – British Occupied Scotland.  We are capable of imagining and humorous ways of getting this across.
Next year we have Charlie's coronation. Back in 2003, the queen, who had hardly been a supporter of Scottish self-determination, even in its limited devolutionary form, was called upon to open the new Scottish Parliament at Holyrood.  It would have been far more fitting if those who had campaigned for this parliament, like Lesley Riddoch backed by the Proclaimers, had opened it. 
Nevertheless, there was a well-attended and colourful protest on Calton Hill that day.  And the democratic republican, Declaration of Calton Hill was proclaimed.  Next year, on May 6th, Our Republic have booked Calton Hill for another protest event.  Accepting any Charles III means accepting all the state's Crown Powers and their long reach, as the evicted people of the Chagos Islands in the Indian Ocean well know. 
And it's no wonder the monarchy is so strongly supported by the Unionist Right. They royal family pay few taxes, can ignore laws covering workers' pay and conditions, the protection of ethnic minorities and environmental rights, and they can privately lobby not only Westminster, but Holyrood too, to ensure their interests are promoted – a Brexiteers' paradise! 
RIC and others aim to make May 6th not just a fun day, but part of the Scottish people's ongoing withdrawal of support from the institutions of the UK state.  However, there is also a role for our elected representatives. Gwynedd council, in the heartland of Welsh-speaking Wales, has voted by 46 to 4, to call for the ending of the Prince of Wales. In Scotland independence supporters may be behind Ireland in challenging the UK state, but we do like to think we are the pacemakers for the Welsh.  So, how can we do better than Gwynedd council? 
It is to the credit if the SNP that they refuse to take part in the UK's House of Lords.  But there is another even more anti-democratic and secretive part of the Westminster set-up, and that is the Privy Council.  Past and present Scottish First Ministers are members.  However, they are banned from telling the Scottish people what goes on there.  It was the Privy Council which Boris Johnson used to prorogue Westminster, supposedly the UK's sovereign body.  It has the powers to topple governments.  If Nicola Sturgeon was to withdraw her participation, that would be a powerful indicator that Scotland was serious in wanting to create a new democratic order. 
In a democracy, sovereignty lies with people, that is the essence of republicanism, not whether or not there is an unelected head of state. 
There was nothing democratic about the election of Donald Trump in 2016.  He came second in the vote.  And US corporations are given massive political and legal rights, as if they are people. There is nothing democratic about Putin's Russian Federation that is run for the benefit of an oligarchy of kleptocrats. There is nothing democratic about XI Jinping and his one-party dictatorship in China. These are all republics, but none are based on the democratic principle of the sovereignty of the people.
The UK state victory in 2014 turned out to be pyrrhic and the Unionists know that.  The issue of Scottish independence became mainstreamed, as all subsequent election results have shown.  When it came to Brexit, the rules were very different.  The overall 'No' result was only achieved by excluding 16-18 year olds and most EU residents, all of whom had been given the vote in IndyRef2. An ethnically-based franchise for British subjects, which bolstered the Hard and Far Right's 'Project Hate' was their answer to the Scotland's civic national franchise looking to maximise the number of citizens.  In 2019 the Scottish Parliament voted to extend the franchise to even more people.  Meanwhile Westminster is looking to ways to further restrict the franchise.  Hopefully the bill recognising transgender self-determination will soon go through Holyrood.  Meanwhile every form of social reaction – transphobia, homophobia, misogyny and national chauvinism are growing at Westminster every day.  We had an amazing rainbow alliance in 2014 and we need to remain Scots, united in our diversity,
And lastly, RIC's 'Let the People Decide' ballot box has Scottish, Welsh and Irish flags on its sides.  The former British colonies of Bahamas, Barbados, Jamaica., Grenada, Antigua and Barbuda and St Kitts-Nevis are also voting to become republics.  Many of their descendants migrated to the UK, where they have recently become victims of such scandals as Windrush and Grenfell Towers.  Just as the banksters are being compensated today for their 2008 Crash, which has created millions of victims, so the slaveowners were compensated from 1833 to 2016 for their slaves' emancipation.   Therefore, we are not alone in wanting to challenge the British political and social order.  We can unite on the basis of our 'Internationalism from Below' so 'Let the Peoples of these islands Decide'.
Allan Armstrong, by agreement of RIC National Forum