The Changing Scottish Music Scene of the 1960s and Early 70s
Next up in Bella's Top 20 Series, Angus McPake explores the Scottish Beat scene of the 1960s and early 70s. [you can listen to previous Top 20 playlists by Grant McPhee here and by Iona Lee here]
The rate of change in styles and development of western popular music could arguably be said to be at its most rapid between the the years 1962 and 1972.  After the Rock & Roll revolution of the late 50s new fads were ever quickening sometimes only lasting for a couple of months before being replaced by the latest sensation. The Scottish music scene was no different during this period and, away from the evergreen traditional and country music genres, many youngsters were actively listening to the latest raves being proffered UK wide and internationally on TV and radio. They would also likely be dancing to homegrown singers and groups at their local Locarno or Palais De Dance. Some of these would-be local pop stars had their brief moments in the limelight when they were picked up by talent scouts or made their weary way to London, (or maybe even Hamburg) to secure a record deal. These sometimes rare forays on vinyl open an insight on the enormous pool of talent that Scotland had to offer during this period and highlight the sad truth that much of it was overlooked.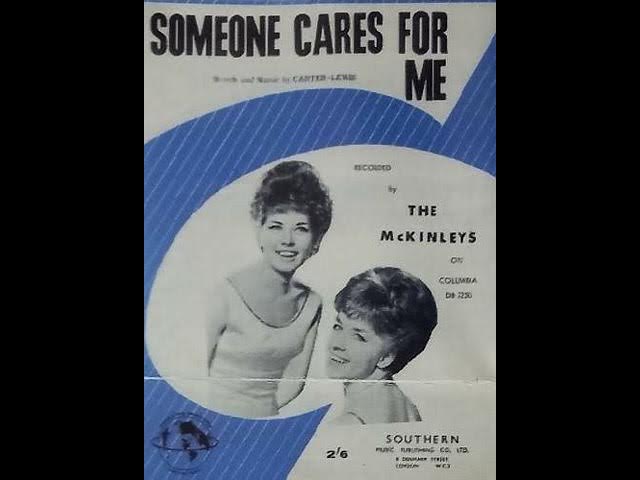 1.    THE MCKINLEYS – SOMEONE CARES FOR ME
Edinburgh's Sheila & Jeanette McKinley followed in the Beatles footsteps kickstarting their professional career in Hamburg in the early 60s. A lucky meeting with arrangers and producers John Carter and Ken Lewis (both later of The Ivy League) led to them being signed to the prestigious EMI label Columbia and to this, their first 45 in 1964. The obvious homage to the Phil Spector wall of sound is so accurate that this could easily be passed off as the genuine article! Another three brilliant singles followed but alas, topping the charts was not to be for them.
2.    THE BOSTON DEXTERS – NOTHING's GONNA CHANGE ME
The B-side of their second 45, released on the local Contemporary label saw Edinburgh's Boston Dexters tackling the type of frantic R&B that bands such as The Rolling Stones, Pretty Things and Downliners Sect were popularising down south. Their singer, one Tam White, would go on to have a lifelong career in music but their three singles released in '64 and the two more singles released nationally on Columbia in '65 saw only minor success.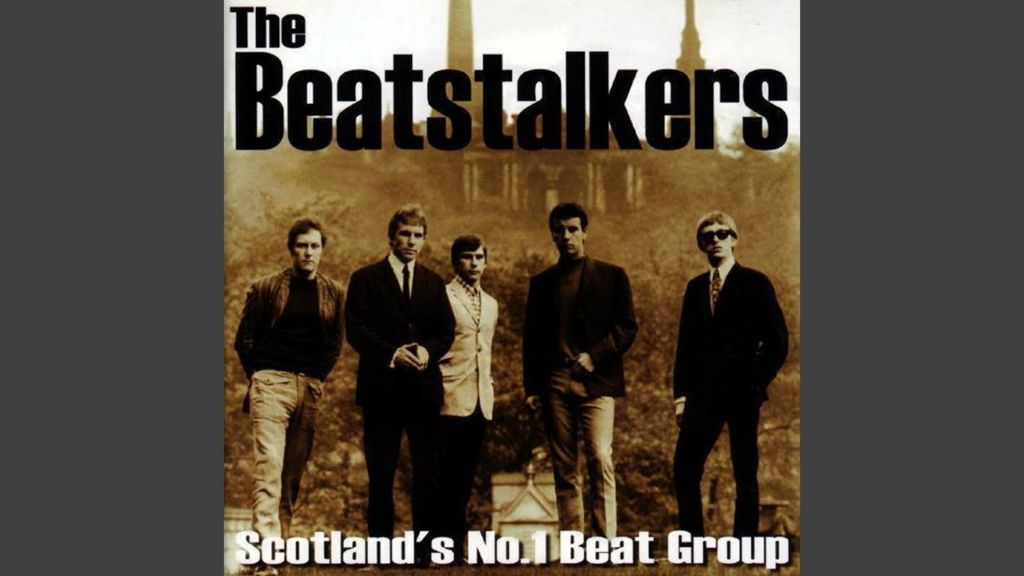 3.    THE BEATSTALKERS – BASE LINE
One-time residents at the Barrowland Ballroom, The Beatstalkers were a legendary combo with near Beatlemania erupting every time they were seen in public in their native Glasgow. Base Line, unusually for them an instrumental, was the B-side of their 3rd 45 released on major label Decca in 1966. This fuzzed up 'Green Onions' type number was written and produced by Tommy Scott. This tune would become the blueprint for the song 'I Can Only Give You Everything' recorded by Van Morrison's Them and The Troggs. Beatstalker bassist Alan Mair later moved to London to become a cobbler and bootmaker to the stars and had Freddie Mercury as an employee in the early 70s before becoming one of the driving forces behind The Only Ones of 'Another Girl, Another Planet' fame.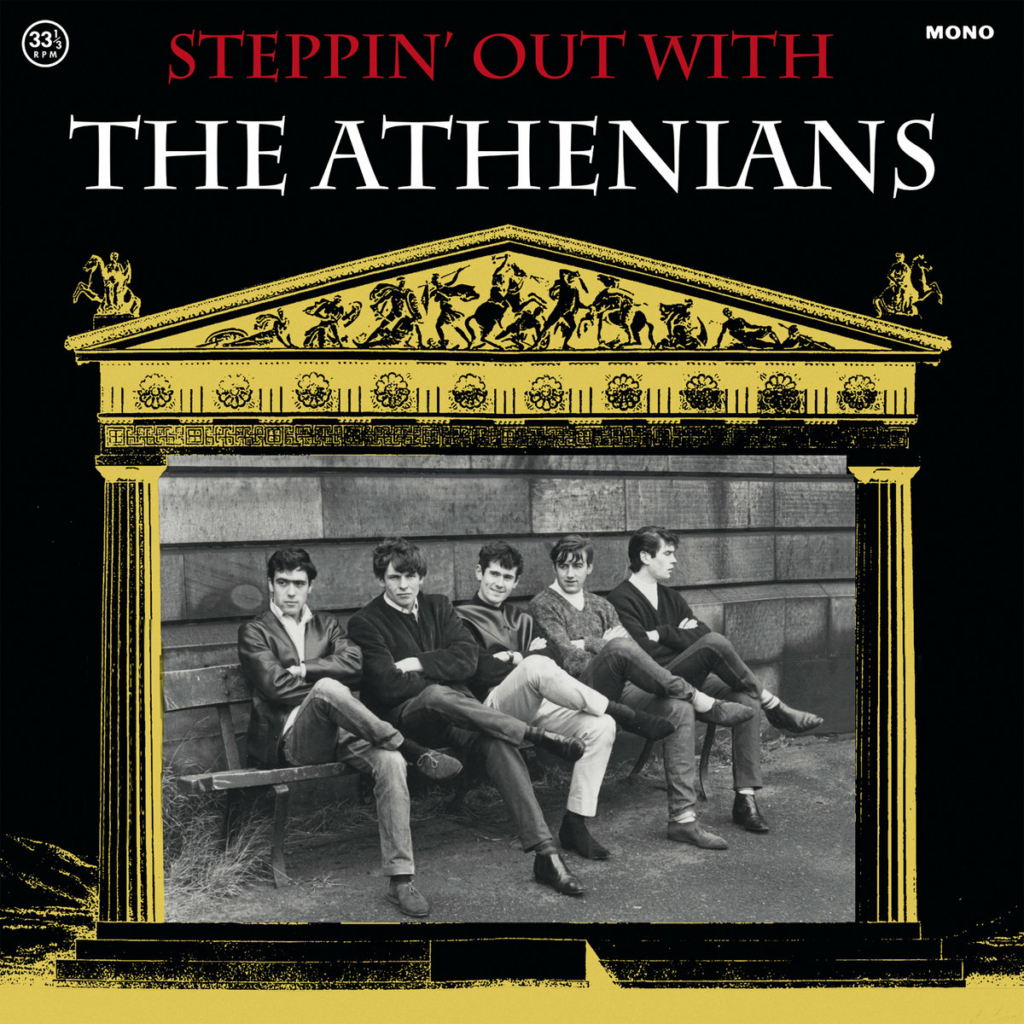 4.    THE ATHENIANS – STEPPIN' OUT
Probably the first Scottish beat group to release a single, the extremely popular Athenians (from Athens of the north, geddit!) had been active for three years when they recorded this cover of Paul Revere & The Raiders minor US hit in '66. It was destined to find itself on an Edinburgh University Charities EP 45 featuring various other artists. They contributed to another charities ep and a charity single featuring just them. Two 45s on Waverley records completed their limited 60s output but a cracking LP released recently catalogues their entire output and adds some unreleased tunes. Well worth seeking out.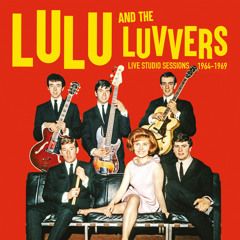 5.    LULU – I'LL COME RUNNING OVER
Lulu needs no introduction here as she was possibly the most well know Scottish artist of the 1960s, even having her own TV series by the end of the decade. What maybe less known about her (beyond her version of the Isley Bros 'Shout') was her early Beat/RnB material. Before her output was lavishly adorned with strings and horn arrangements she released a clutch of feisty 45s and one great LP on the Decca label. 'I'll Come Running Over' was never released as a single in the UK unfortunately, if it had been, and was a hit, perhaps her career would have taken a different path. This stomping rocker sure sounds like Jimmy Page was on session duties the day it was recorded judging by the guitar breaks.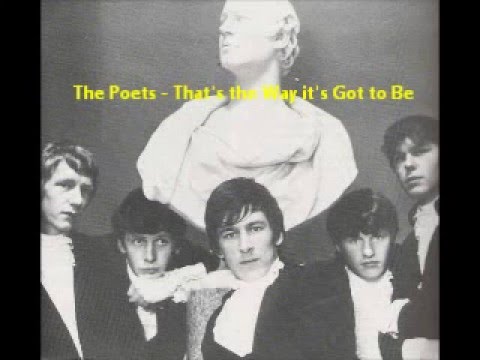 6.    THE POETS – THAT'S THE WAY IT'S GOT TO BE
Legend has it the Andrew Loog Oldham, then manager of The Rolling Stones, discovered The Poets on the cover of a magazine in Glasgow airport. He was returning to London after marrying his 16-year-old girlfriend at Gretna Green, so the story goes. The Glasgow band were decked out in ruffled shirts reminiscent of Rabbie Burns in the picture Oldham saw and he was more taken by their look than by anything else. He auditioned them, signed them up and got them a deal on Decca records, even getting them on the Thank Your Lucky Stars and Ready Steady Go tv shows with their first 45 'Now We're Thru'. The single even graced the bottom of the charts for a few weeks too. The Poets are a unique band, their sound being often ghostly and melancholic, often noticeably more downbeat than their contemporaries. They released eight singles during the 60s, all worth a listen. This was their second and arguably the most powerful. It might be that the huge success of the Stones lead to the Poets being overlooked by Oldham who clearly had his hands full. In an alternative universe The Poets are still touring and playing to tens of thousands every night.
7.    THE ANTEEEKS – I DON'T WANT YOU
What to say about Kilmarnock's obscure Anteeeks? What we do know is that not long after forming they made their way south to the big smoke. While supporting The Animals at the Tiles night club in Oxford Street they gained the attention of Philips Records. Philips promptly released this slice of US style garage punk complete with Farfisa organ and blistering overdriven guitar, de rigueur in '66.  One member, guitarist Billy Gray, went on to work briefly with David Bowie but beyond that little else is known of this terrific sounding combo.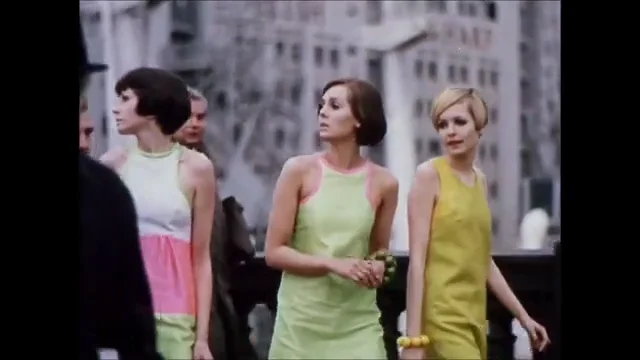 8.    DONOVAN – SUNNY SOUTH KENSINGTON
Another artist who needs no introduction. Donovan Leitch was born in Maryhill, Glasgow and came to fame at the tender age of 19 in 1965. He successfully mixed many different genres together as this rare US b-side from '66 demonstrates. Folk? Psych? Jazz? Answers on a postcard please.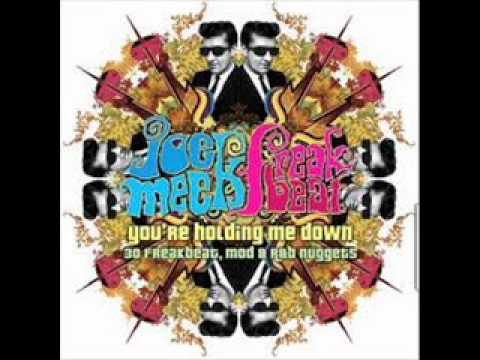 9.    THE BUZZ – YOU'RE HOLDING ME DOWN
Quite an insane record really. Vocalist Tam White and guitarist Johnny Turnbull (of The Boston Dexters, see above) having decamped to London found themselves in the clutches of legendary renegade and fiercely independent record producer Joe Meek at his Holloway Road studio. What followed, and even by Meek standards this was well over the top, is one of the most unhinged musical offering ever committed to vinyl. Stick with it until the end as the screaming never stops! The release was set for April the 1st (1966) so perhaps there's a clue in there somewhere to Meek's intentions? This was The Buzz's only release, apparently the band hated the record.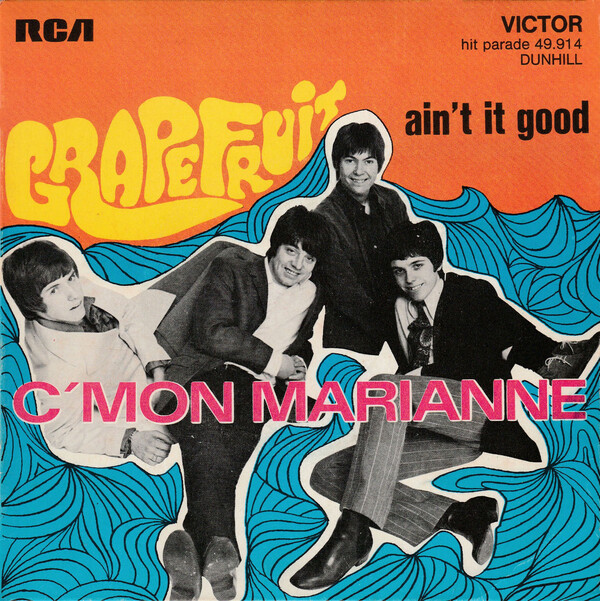 10.   GRAPEFRUIT – AIN'T IT GOOD
Perhaps a little tenuous in this list as the only Scot in Grapefruit was the singer, one Alexander Young. He had decided to stay in Scotland when the rest of his family moved to Australia. His brother George formed The Easybeats, who went on to have worldwide success with 'Friday On My Mind' and his other two brothers, Malcolm and Angus, went on to form AC/DC. While Grapefruit failed to be as prominent as Alexander's brother's endeavours, they were signed up to Apple Music and the band were given their name by John Lennon. From 1967 Grapefruit released a clutch of poppy singles and an LP until their last release in 1971. This track is the flip of their fourth single 'C'mon Marianne' from '68 and show off their most Psych stylings.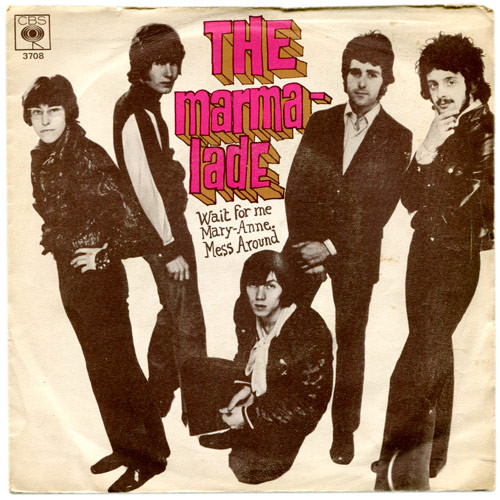 11.   THE MARMALADE – MESS AROUND
What comes after grapefruit for breakfast?!  Glasgow's Marmalade. They had moderate chart success between 1968 and 1972 most noticeably with their best forgotten cover of The Beatles 'Ob-La-Di, Ob-La-Da'. To discover their edgier work though it's best to look to their early output through CBS records. Although it's a mixed bag there are quite a few Soul and Pop-Psych gems to be found amongst those first singles and LP. 'Mess Around' is a very catchy and funky groove giving a nod towards early Deep Purple or even Hendrix.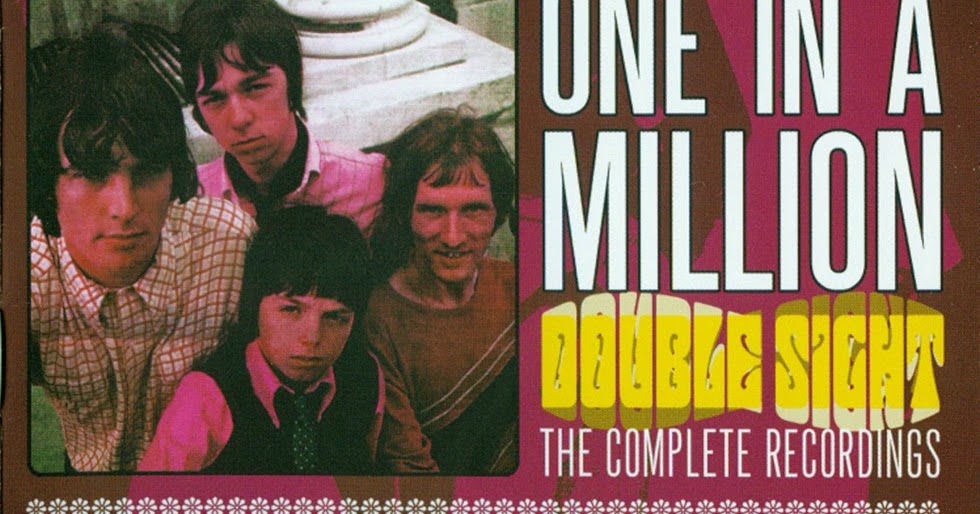 12.   ONE IN A MILLION – DOUBLE SIGHT
Cumbernauld's One In A Million released only two singles in '67 and this is the B-side of their first. A slice of zeitgeist psychedelia not sounding a million miles away from some of the Small Faces more outré offerings. The band were to share a stage with The Pink Floyd, The Who, David Bowie and The Jeff Beck Group during their short career.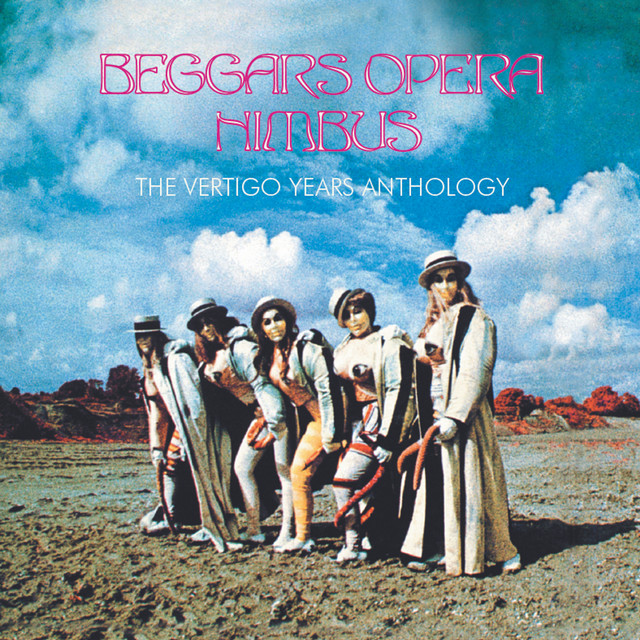 13. BEGGARS OPERA – SARABANDE
Based in Glasgow, Beggars Opera started very much in the mould of The Nice and Emerson, Lake & Palmer blending classical music with their own progressive sound. They were an early signing to Philips Records subsidiary prog label Vertigo in 1970 and went on to release seven LPs during the decade. 'Sarabande' is their first single which did comparatively well across Europe but failed to make any impression at home.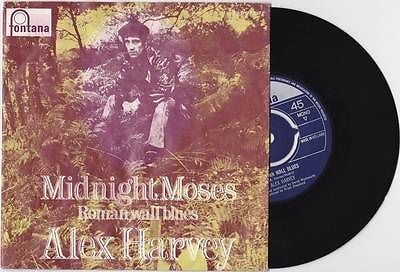 14.   ALEX HARVEY – MIDNIGHT MOSES  
By the time Harvey released this wonderful and original 45 in 1969 he had already had an enviable, if slightly low-key career. Starting in Glasgow (apparently Lulu nicked his live version of 'Shout') and continuing in Germany he had released sixteen singles and a couple of LPs under his own name or as Alex Harvey & His Soul Band. His inclusion as a member of the pit orchestra for the London stage version of the musical 'Hair' led to another LP including some of his own compositions and a brief stint in a project called Rock Workshop spawned yet another LP. All this prior to the Sensational Alex Harvey Band making him a household name.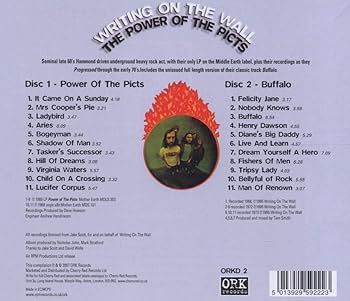 15.   WRITING ON THE WALL – VIRGINIA WATERS
Originally known as The Jury then changing their name in 1968, Edinburgh's Writing On The Wall were a favourite of John Peel (they did two sessions in '68 & '71) They made the inevitable move to London early in their career, had a brief a residency at The Marquee Club and were signed to the incredibly fashionable but niche progressive label Middle Earth.  This track comes from their only officially released LP from '69 entitled 'Power Of The Picts'.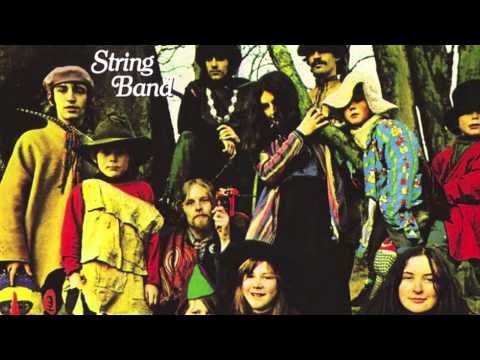 16.   THE INCREDIBLE STRING BAND – WITCHES HAT
Originally based in Edinburgh and starting as a folk duo the ISB grew quickly into a rag tag group of exotic musicians and singers. They created a unique mix of traditional and world music elements possibly becoming the original folk psych band.  American musicologist and producer Joe Boyd signed the band to Elektra records, a label they shared with The Doors, Stooges and MC5 and in 1967 invited them to the Newport Festival where they played with Joni Mitchell and Leonard Cohen. By 1968 the ISB were filling the Albert and Festival Halls in London.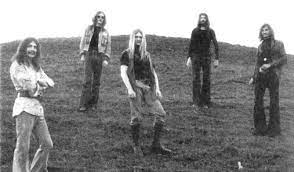 17.   BODKIN – AUNTY MARY'S TRASHCAN
Another fairly mysterious band.  Seemingly they were itinerant musicians with their members spread right across southern Scotland. Bodkin released their only LP in 1972 and probably only 100 copies were pressed originally. We do know their album was recorded in Falkirk and only hand drawn sleeves adorned its initial release. Most likely only sold at gigs originals now are a holy grail for collectors. If anyone can dig up more info on this amazing heavy/prog band (beyond them supporting Wishbone Ash and their organist later becoming a miner in South Africa) please drop us a line!
18.   THE HUMBLEBUMS – SATURDAY ROUND ABOUT SUNDAY
Before embarking on his life as a comedian Billy Connolly had been in the wonderfully monikered Humblebums along with Gerry Rafferty. Their five year career kicked off proper in 1969 with two LPs and two 45s, including this marvellous folk/psych single written and sung by the Big Yin.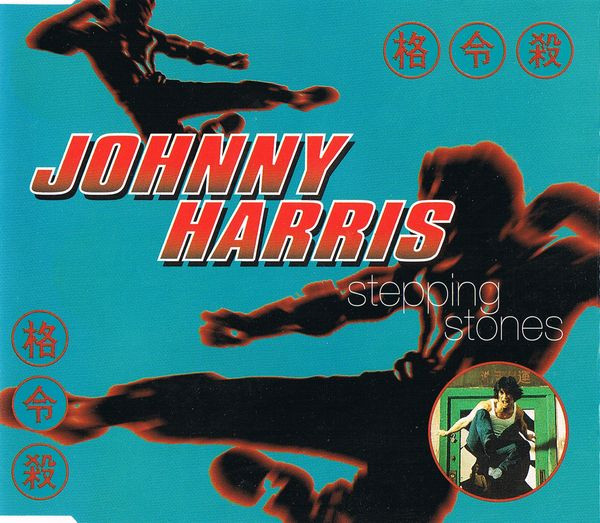 19.   JOHNNY HARRIS – STEPPING STONES
Harris, a native of Edinburgh, graduated from Guildhall School of Music and spent rest of the 60s as a composer, arranger and orchestra leader for a wide range of singers including Nancy Sinatra, Tom Jones, and Lulu. By the end of the decade he was also to gain many prestigious television and film credits. This piece of cinematic funk, reminiscent of Isaac Hayes, Roy Budd or Quincy Jones film soundtracks from about the same period comes from his fabulous Warner Brothers LP 'Moments'.  Almost never out of print since its initial release in 1970, it is well worth seeking out. Harris would uproot himself in the early 70s to Las Vegas where he worked with Elvis and Paul Anka.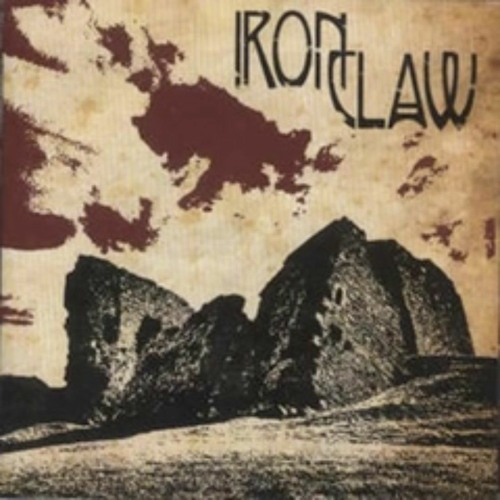 20.   IRON CLAW – SKULLCRUSHER
Iron Claw's bassist Alex Wilson tape recorded what would become the first known live recording of Black Sabbath in 1969 at a youth club in Dumfries, where Iron Claw were based. The band were clearly big fans of Black Sabbath and although none of Iron Claw's studio offerings were released at the time, they did amass enough recordings during the early 70s for a full length bootleg to appear in the late 90s. Classic Rock magazine listed them in an article of 'Lost Pioneers Of Heavy Metal', this doomy dirge, probably recorded late '71 seems to bear that out.
Listen to the full playlist here …